After witnessing several blockbuster deals — none of which involved Carmelo Anthony — the New York Knicks and their All-Star forward find themselves standing in an NBA trade edition of musical chairs.
The NBA offseason has been headlined by a bundle of blockbuster trades. Whether it be draft night, the eve of free agency or in the dog days of summer, there has been a blockbuster deal in every part of the offseason.
But incredibly, New York Knicks forward' Carmelo Anthony, has not been one of those players dealt. And in an offseason that featured a plethora of monster deals, Anthony and the Knicks are now left standing in an NBA edition of musical chairs.
Going into the offseason, the first name that slithered off someone's tongue, in regards to who would be dealt, was Anthony. After a year-long feud with former president Phil Jackson and a fourth consecutive losing season in the big apple, the expectation among many was that trading Anthony is going to be priority number one; whether they received expiring contacts, young assets or draft picks, his departure seemed inevitable via trade.
But with training camp now nearly one month away, Anthony remains a Knick — which is truly remarkable.
After Jackson was fired three days before free agency, Anthony and the Knicks began to go forth with potential landing spots. But in reality, Anthony had his sights set on one landing spot — the Houston Rockets.
After acquiring superstar point guard Chris Paul to go alongside James Harden, the Rockets put together a potentially formidable backcourt — which is a big part of Anthony's fascination in joining Houston. The other reasoning for Anthony salivating at the chance to play there is his friendship with Paul.
Despite the near two-month interest in Houston, Anthony remains a member of the blue and orange. How is that even possible?
Throughout the duration of their trade negotiations with Houston, the Knicks have been insistent on two things — getting back young talent and not taking on undesirable contracts. The contract the Knicks have been reluctant to take on from Houston is Ryan Anderson.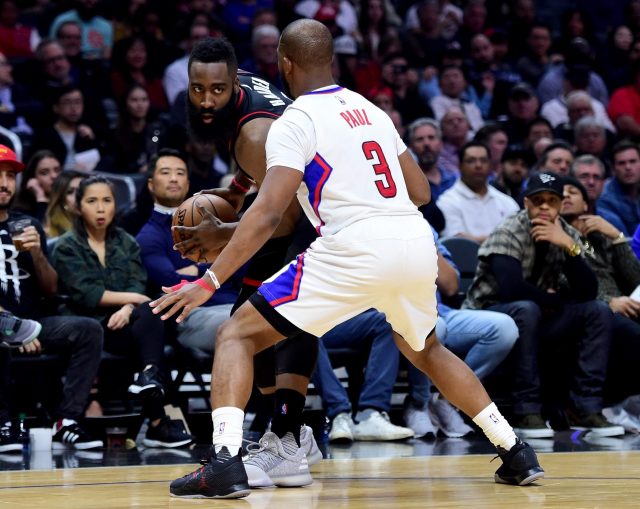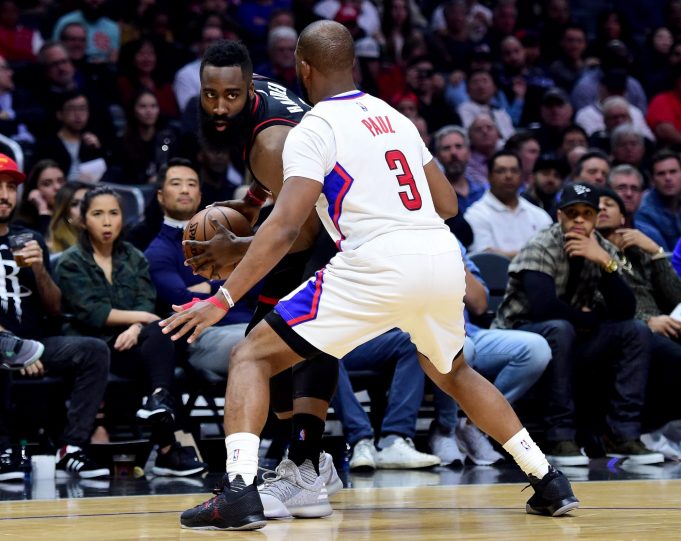 The veteran sharpshooter (Anderson) has roughly $60 million remaining on his four-year deal — which he inked last summer. Based on that figure, as well as the young big men they have under contract (Kristaps Porzingis, Willy Hernangomez), the Knicks are wise to not take on Anderson's cap number. The other factor influencing them to not take back Anderson is the money they have dished out themselves.
After signing Joakim Noah to a four-year, $72 million deal last summer and Tim Hardaway Jr. on a near-identical contract just a month ago, the Knicks, as of late, have taken some serious gambles in free agency. Adding Anderson's deal would only worsen their cap room and in reality isn't worth it, considering how a big man is the last thing this team needs at the moment.
To try and work around the Knicks unwillingness to take on Anderson's deal, both sides have looked at potential three and even four-team deals. But after two months, nothing has come to fruition.
At this point, if a deal is made between the two teams, it'll be because someone caved in — which appears unlikely.
Now, Anthony and the Knicks find themselves in an awkward situation. It's been made clear that the veteran forward wants out of the big apple and while the Knicks have attempted to deal him, they've been unsuccessful.
The lone fact that they haven't been able to trade him is remarkable. And the Knicks are now left standing up in what has become an NBA trade version of musical chairs.
Look around the association. Paul was dealt to Houston. Dwight Howard was dealt to Charlotte. Jimmy Butler was dealt to Minnesota. Paul George was dealt to Oklahoma City. Just recently, Kyrie Irving and Isaiah Thomas were swapped for one another. Anthony has not been traded.
After the NBA regular season, no star or big name player was expected to be traded more than Anthony. And in Anthony's case, his chances at being traded appeared as good as hitting traffic on a morning commute to New York.
But Anthony is a New York Knick. So who's fault is it that he hasn't been traded?
On one hand, the Knicks could be blamed for being severely stubborn. In talks pertaining to Anthony, they didn't want to take back bad contracts or even ones that would've granted them cap relief; they simply wanted young players and/or picks.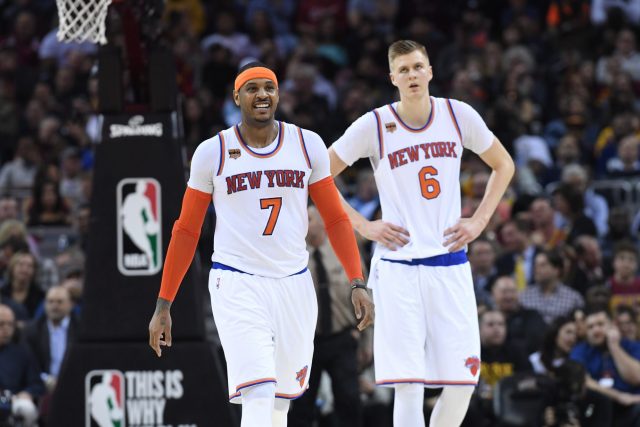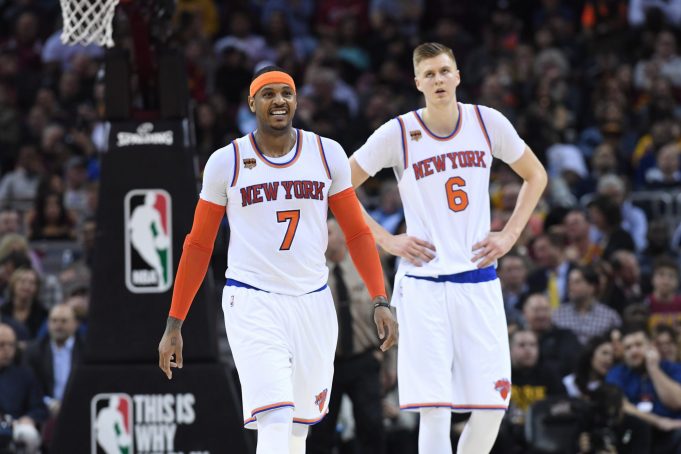 That approach is an admirable one, based on the fact that they would like to begin building around Porzingis. With Porzingis, Frank Ntilikina, Hernangomez, Hardaway and another young piece, the Knicks could all of a sudden possess a very bright core — even if some bad contracts are present.
But they've stuck with their stubborn mentality which currently has them in position to carry Anthony into training camp this fall.
On the other hand, Anthony needed that no-trade clause and has remained insistent on Houston.
If Anthony never demanded or signed up for a no-trade clause, in all likelihood, he'd be gone. But he signed up for it and knew the consequences in doing so. Now, Anthony's own stubbornness has him in the last position he wanted to be in — that being a member of the Knicks. And it's his own fault.
Would Houston be a powerhouse team in the West with Anthony? Yeah, of course. A big three consisting of Anthony, Harden and Paul would be incredible. But it wasn't his only route to success.
Outside of the Rockets, there are others teams who would be a fit for Anthony. How about the Portland Trail Blazers? With an elite young backcourt of Damian Lillard and C.J. McCollum, as well as center Jusuf Nurkic, Anthony could join an upward trending young and ever improving core.
How about Cleveland? Teaming up with LeBron James — another friend of Anthony's — would instantly make the Cavs the favorites to make it out of the East. While they do think highly of Hernangomez, the Knicks may very well have been willing to take back Kevin Love, to put alongside Porzingis. Now, with their acquisition of Thomas and Jae Crowder, acquiring Anthony appears highly unlikely for Cleveland.
Hey, what about Washington? With John Wall and Bradley Beal in the backcourt and the Wizards making it to the second round, Anthony could maybe give them the boast they need to play spoiler to the Cavs and Celtics NBA Finals' aspirations.
While it was maybe the most intriguing, the Rockets were not the only option for Anthony — there were plenty of fits out there. But given his no-trade clause, the Knicks could only negotiate a trade with one team, because he'd just veto any deal that didn't involve Houston.
At the end of the day, talks between the Knicks and Rockets have not progressed. While news breaks once every few weeks that talks are back on, what more is there for the two sides to discuss?
They've each made their intentions clear and with September around the corner, there's nothing more to negotiate.
Based on there being no deal available and the options he's limited himself to, Anthony is all but likely going into training camp as a Knick. And after watching the plethora of blockbuster deals that took place, it's astonishing to think, that of all players, Anthony has not been traded.
With no Anthony trade on the horizon, the Knicks now find themselves standing in an NBA trade edition of musical chairs.