Steven Matz is supremely talented but can't stay healthy. It's time for the New York Mets to consider a new role for the southpaw.
T
here has always been an argument to be made that even though he was oft-injured,
Steven Matz
could be counted on as a highly productive starting pitcher when he was on the mound.
A young left-handed pitcher who carried an impressive 3.16 career ERA and a fastball that topped out in the high-90s into the 2017 season, Matz was a rare commodity.
Unfortunately, Matz's oft-injured status has struck again, bringing his 2017 season to an end.
Matz was diagnosed w/ irritation of the ulnar nerve in his left elbow. Surgery is recommended & will be scheduled in the next few days.

— New York Mets (@Mets) August 22, 2017
This latest injury only feeds into the narrative that Mets fans have long pushed about the 26-year-old: That he's fragile. That he's soft. Those are legitimate points, of course, as Matz's inability to stay on the field has been well documented.
Now set for his second elbow procedure in the span of a year, Matz is at a career crossroads. He was been downright ineffective this season, going 2-7 with a 6.08 ERA and 1.53 WHIP. Since 2016, he's made just 35 starts.
There's no doubt that his elbow pain has had an effect on his results. It also forced him to change his approach. He had to cut down his slider usage due to the stress that it put on his arm—and pain that it caused.
Sources: Steven Matz has pitched through pain all season. Been diagnosed with similar nerve issue as deGrom last year. May need surgery.

— Marc Carig (@MarcCarig) August 21, 2017
It seems that with all that has happened, especially after the public disappointment displayed by the Mets organization this spring with Matz's injury that kept him sidelined until June, that nothing will be guaranteed for him moving forward.
When the Mets report to Port St. Lucie next spring, Matz should not be assured a turn in the rotation. Instead, the team should look to the case of one Andrew Miller for guidance.
Miller was just like Matz, a top left-handed pitching prospect with electric stuff. But he was rendered useless as a starter. After losing out in the battle for the final spot in Boston's 2012 rotation, Miller moved to the bullpen. The rest is history.
He's transformed himself into a perennial All-Star and one of the games elite relievers. Of course, we won't know how successful Matz could be as a reliever until we actually see him in that role. But, it is useful to compare how Matz's situation compares to Miller's.
Miller was 27 years old when he made the switch, the same age Matz will be in 2018. His transition to the bullpen allowed him to throw his slider far more often.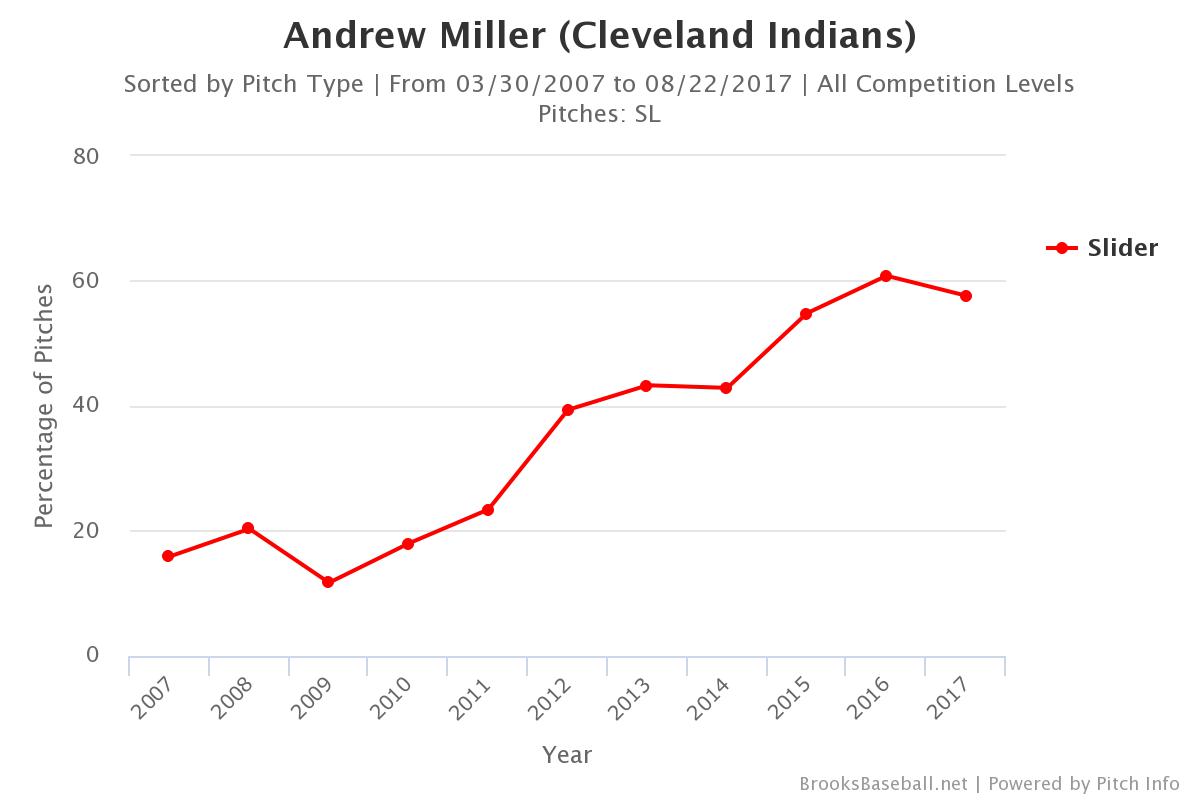 In the above chart, you can clearly see the huge jump in his slider usage once he became a full-time reliever in 2012. It essentially doubled—and has continued to trend up, until this season.
In shorter relief appearances, Matz would be able to use his slider, one of his better pitches, more often. His stuff should play up in shorter outings, limiting the fatigue on his elbow that results from throwing 90-plus pitches in a game.
When Miller made the switch to a relief role, his average fastball velocity increased from 92.5 mph to 94.9 mph. His slider saw a similar increase, jumping from 78.5 mph to 82.8 mph. This year, Matz's average fastball velocity is at a career low (93.1 mph) and his slider, when he does throw it, is down a few ticks to 85.7 mph.
If he's only being asked to throw one inning (two at the most), there's a real possibility that Matz's velocity could increase across the board.
For Matz, the other promising aspect of the transition going for him is his performance as a starter compared to Miller's. Take a look at how they stack up.
Miller: 5.70 ERA, 1.73 WHIP, 7.1 K/9, .296 BAA, .834 OPS
Matz: 3.99 ERA, 1.30 WHIP, 8.1 K/9, .270 BAA, .734 OPS
As a reliever, Miller has pitched to a 2.46 ERA, 0.99 WHIP and 13.5 K/9 rate. Opponents are hitting just .173 with a .535 OPS against him out of the bullpen.
Considering their similar talent levels and Matz's superior starting stats, there's no reason to think that Matz couldn't become baseball's next elite reliever and a far more potent weapon for the Mets.