For eight seasons in New York baseball with the Yankees and Mets, Curtis Granderson, the Grandy Man, perfected professionalism.
O
n a no-name night featuring the New York Mets against a no-name team, Curtis Granderson was the club's last shot.
It was the 2016 season, one that now seemingly blends in with the rest. The injury-riddled Mets threw out another mashup lineup while looking to spark that push that would eventually get them one game in the NL Wild Card.
In Slack, the platform Elite Sports NY uses to communicate across all lines, I proclaimed that "Curtis Granderson" was the most clutch Met in the lineup. Sure, Yoenis Cespedes was and still should be the greatest of the Mets hitters (Michael Conforto aside), but Grandy would be the man I would choose to dig into that batter's box if my life was on the line.
He always adjusts to the situation. He shortens his swing. He understands situational baseball and would act accordingly with team over player in mind every day of the week. Cespedes, on the other hand, always approaches every at-bat the same way: with a long swing and power in mind.
Of course, Grandy grounded out in a big spot to end the game. This prompted one of our ex-ESNY writers to label Granderson with the following term:
"Hot Garbage."
It's cute, right?
Firstly, you know the term came from one of the younger, uneducated baseball people of today's social media world. Only one of these new aged casual sports kids could put the words "hot" and "garbage" together with such elegance.
More importantly than verbiage is the idea that anybody could bash Curtis Granderson to such a degree.
The number of individuals in Major League Baseball who are more respected than Curtis Granderson can be counted on just one hand. Never are 10 fingers needed and more accurately, only a thumb and an index finger should be part of the equation.
He's a professional. He's a such a professional that many fans of the New York Yankees actually believe Granderson was part of the 2009 World Series team. That offseason, the Steinbrenners went nuts with offseason spending and brought in the likes of Mark Teixeira, Nick Swisher, C.C. Sabathia and Curtis Granderson in an attempt to bring that trophy back to the Bronx.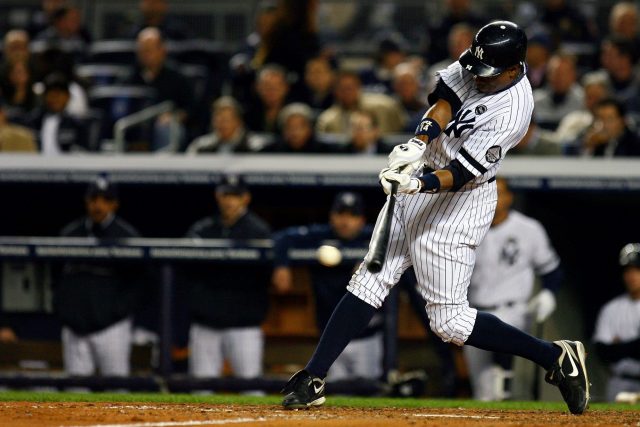 Wrong.
Grandy wasn't acquired until the Hot Stove season that followed the Yankees six-game triumph over the Philadelphia Phillies. It was a heist of a deal that saw the Yanks bring in Granderson while shipping Ian Kennedy to the Arizona Diamondbacks and Austin Jackson and Phil Coke to the Detroit Tigers. But the moral of the story is that Grandy's unique blend of professionalism and team play force many to think he was there in 2009 during Alex Rodriguez's lone October triumph.
This is Curtis Granderson in a nutshell. He's such a low-key tremendously gifted teammate who blends into perfection that you don't even realize he was brand new a season after a title.
For four seasons, Grandy used that short right-field porch in Yankee Stadium to his absolute benefit. Tallying 115 home runs, 307 runs batted in while hitting .245 with an on-base of .335, Grandy was one of Joe Girardi's secret weapons. He could bat the two-time Yankee All-Star anywhere in the lineup without hesitation.
Twice he went over the 40-home run and 100-RBI mark in a single-season (2011, 2012). And, of course, Grandy's lefty power prompted one the greatest home run calls in Yankee history:
"The Grandy Man Can … oh, the Grandy Man can."
Then Jacoby Ellsbury happened.
After a bitterly disappointing 2013 campaign that saw the Yanks finish with just 85 wins, finishing third in the AL East, a roster makeover was sprung to action by Brian Cashman and the suits in the front office. In was Jacoby Ellsbury. Out was Robbie Cano and Curtis Granderson.
Ask Yankees fans now who they'd rather have: a prime Ellsbury or Granderson?
Sandy Alderson and the soon-to-be up-and-coming New York Mets pounced, signing the three-time MLB All-Star to a four-year, $60M deal. From the word "go," Grandy and Mets fans everywhere created a mixed narrative together.
At times, he was abused. This was nothing new for the veteran lefty. He also heard the boo-birds in the Bronx during portions of his career. Fans could never quite get over the subpar batting average and weak arm that was continuously showcased from center field or either of the corners (as, of course, he would play catcher if the manager asked).
In his first season in Queens, Grandy clubbed only 20 home runs and 66 runs batted in while hitting a terrible .227. This rocked the boat in the eyes of Mets fans who were always ready for that first shoe to drop as it pertained to incoming free agents. The name of Jason Bay was fresh.
In 2015, Granderson responded. He compiled 26 home runs and 70 runs produced while getting on-base at a .364 clip. He was the de facto leadoff man for Terry Collins's ball club who caught fire and won the NL Pennant.
We know what Daniel Murphy did. The man who's now one of the scariest hitters in the National League represents everything that's gone wrong for the Mets the last two seasons. But guess who the Mets most feared hitter was during October of 2015? Hint: it was not Yoenis Cespedes.
Granderson only trailed Murphy as the Mets best and most clutch hitter in October of 2015.
Murphy clubbed an incredible seven home runs and 11 runs batted in while hitting .328 in 14 postseason games. Grandy smacked three home runs while knocking in 12 runs while hitting .283 in those 14 extremely important baseball games.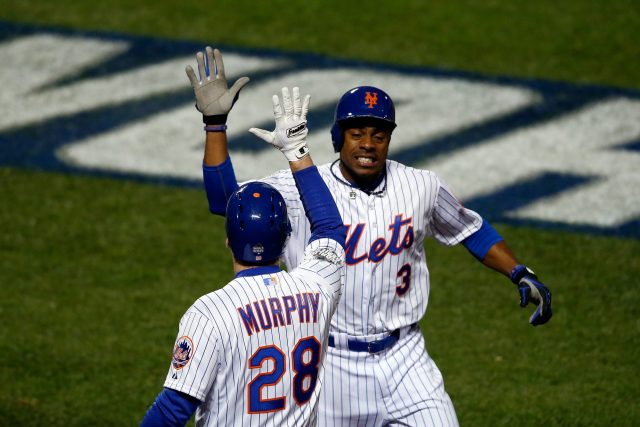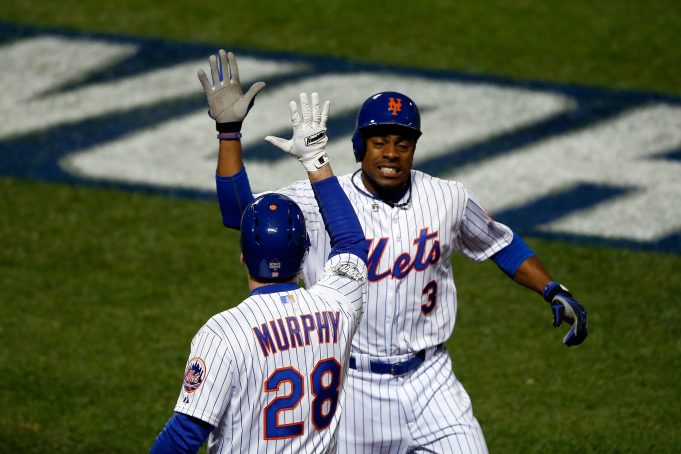 This brings us to the real narrative surrounding Granderson in a Mets uniform. Despite the abuse, when the pressure was turned up, the Mets greatest professional hitter knocked 'em dead.
Who was it that hit a big home run in Game 5 of the World Series when Cespedes was doing nothing? Who was it that led the team in home runs (3) and runs produced (5) in the World Series when Murphy cooled down a bit? Who was it that literally carried the Mets in August and September of 2016 when the Mets needed it most and he was at his absolute worst to begin the season?
Curtis Granderson.
He even knew what to say upon his arrival to the Mets from the Yankees, via Mike Puma of the New York Post. He threw all of his chips to the middle of the table in knowing this is how he could properly be announced as a Met.
"A lot of the people that I have met in New York have always said that true New Yorkers are Mets fans, so I'm excited to get a chance to see them all," Granderson said.
"True New Yorkers are Mets fans," and yet he was often treated so horribly. Not even a Marvin Miller Man of the Year nod in 2016 could sway these narrow-minded fools.
The moment the term "hot garbage" was spewed out of the mouth of an ex-ESNY writer was the moment I truly understood that kid would never "get it."
He was acting like one of the fans. He couldn't decipher Grandy's intrinsic value, the stuff that the fans don't see and his teammates and coaches hold close to their hearts.
During that 2016 season, Granderson was terrible. Naturally (and always), fans were calling for his starting job. By the time Aug. 1 came around and the "hot garbage" term was already thrown out, Grandy was hitting .234 with 16 home runs to his name. The outfield was clogged and fans were just about done with the old washed-up vet.
What he then did in August and September is what he always does. He came through in the most clutch of fashions for his teammates.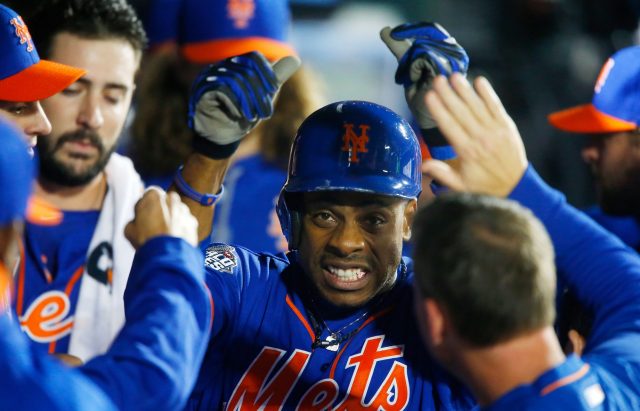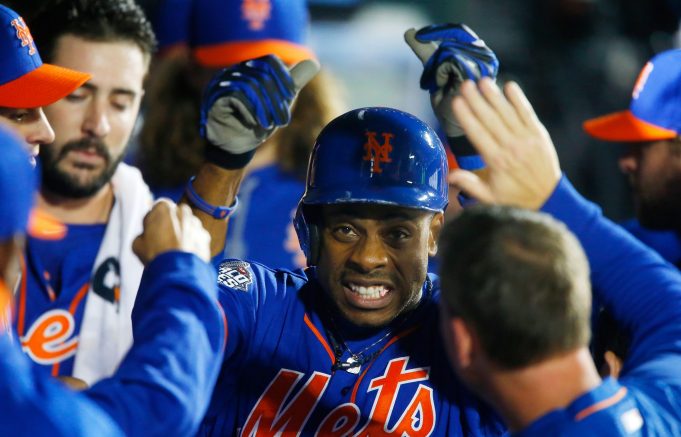 In August, he smacked six home runs. In September in the midst of an NL Wild Card chase, he tallied eight home runs, 21 runs knocked in while hitting .286 in helping a team who had no business making the postseason to the No. 1 Wild Card berth.
Oh, and he did all of this while paying no attention to the abuse coming out of senseless fan's minds on WFAN and/or social media.
This is Curtis Granderson.
You can crap all over him as much as you'd like. You can rue the day your organization acquired him. You can make fun of his little girly arm in the outfield.
Just make damn sure you pay attention to what his teammates and the entire landscape of baseball think of him. Just make sure you understand that he's your most clutch hitter and ball player on the club.
Michael Conforto: Losing Granderson is 'like a punch in the gut.' https://t.co/iTwAI3m0t1 pic.twitter.com/5zFXbr5O3y

— theScore (@theScore) August 19, 2017
Even in 2016, we've continuously witnessed Grandy's clutch moments.
https://twitter.com/EliteSportsNY/status/875168331803832320
https://twitter.com/EliteSportsNY/status/882044782935252992
https://twitter.com/EliteSportsNY/status/897245780175712256
And guess what? He'll continue doing it now for a Los Angeles Dodgers team that is arguably the best we've seen since the '98 Yanks.
If there was ever a perfect man to round-out that ball club, it's Curtis Granderson.
Grandy, we'll be watching in October. Those who understand your value will know what to expect. Those who spew "hot garbage" will finally, maybe come around to just how important and valuable you are.
For eight seasons in New York, it wasn't just about what the "Grandy Man can." It was about what the Grandy Man "did."
The true diehard New York baseball fan loves Curtis Granderson, despite allegiance. Has there ever been another player who's accomplished that across both Bronx and Queens?