Three-time NBA champion Dwyane Wade is working towards a buyout with the Chicago Bulls. Could his decision have an impact on any Carmelo Anthony trade?
A
long, long time ago, on a beach vacation far away.
Dwyane Wade
,
Carmelo Anthony
,
LeBron James
, and
Chris Paul
all vow to one day play together for a championship.
Now, Wade and Anthony are both preparing for the final moves of their career, with James facing free agency next summer. Is this all operation banana boat in the works behind the scenes?
Even if it's not, Wade's buyout will be monumental to teams shopping for that one extra piece to lift them over opposing contenders. How does this affect Anthony, and his potential relocation?
Anthony and the Knicks have been stalled in trade talks, as he'll only waive his no-trade clause for one team—Houston—so he can join friends James Harden and Paul on the Rockets.
Originally, Anthony had agreed to waive his no trade clause for the Cleveland Cavaliers as well. However, after it surfaced Kyrie Irving had requested a trade, he crossed them off the list.
Wade and the Bulls have been working towards a buyout this summer, as he sits one year into a two-year, $47 million deal. Chicago formed a core of Rajon Rondo, Jimmy Butler, and Wade. A new big three, to test the waters of the Eastern Conference.
The experiment failed terribly, and since then the Bulls have traded Butler and waived Rondo, who signed with New Orleans. Now, stuck as the last man standing, he's ready to be freed and bring his talents to a contender.
That's the background. Now, as for how this affects Anthony and the Knicks.
---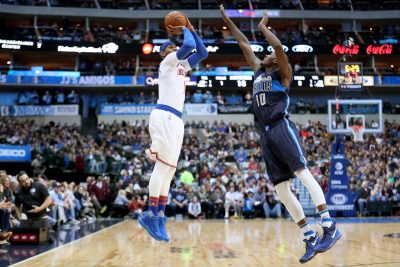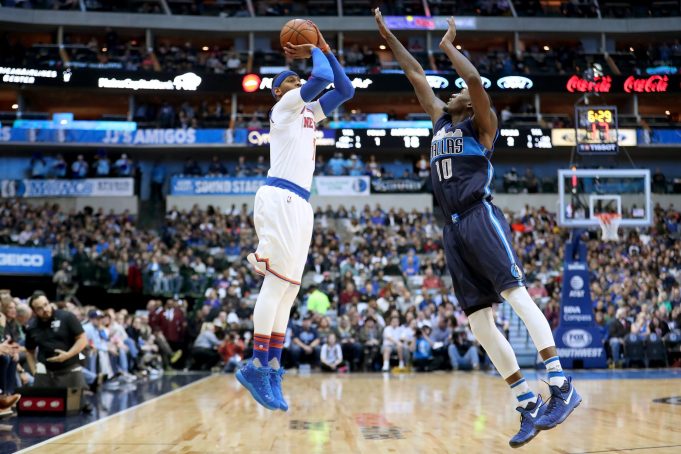 ---
Anthony's career is based heavily on his talent for one-on-one scoring, and he's undoubtedly been one of the best of his generation.
However, at this point in his career, he's viewed as someone who can't be a team's number one option. His talents are more suitable as the second-or-third option on a contending team.
The same holds true for Wade, who was drafted the same year as Anthony (2003) but has led teams alone in years prior. Nonetheless, numerous scenarios are in play for Wade's next move, and all have ties to Anthony.
Dwyane Wade Signs with the Cleveland Cavaliers
There's no doubt Wade would accept the minimum to contend alongside LeBron, one of his longtime friends. With an Irving trade in the air, Cleveland will certainly reach out, and there's a history of mutual interest.
Should Wade sign with Cleveland, two things are bound to happen.
One, Anthony's value will immediately sky rocket. No pun intended, the Houston Rockets will amp up their offer to New York and get more aggressive in their pursuit. There's no doubt they'll pursue Wade, and after losing him, will take the next best option in their hopes of conquering the Warriors.
Two, Anthony will have to revisit the possibility of being traded to Cleveland. Despite Irving's uncertain future, the opportunity to play alongside James and Wade alike may be too tempting for him to pass up. He can give New York the green light, and trade talks can resume.
Dwyane Wade is Traded from the Chicago Bulls
With a buyout imminent, this is an unlikely option. Contenders know that if no trade breaks ground right now, he'll be available again at the deadline. It's about how badly Chicago wants him to move him now as opposed to later.
What the Bulls receive in return for Wade will have a direct play on Anthony's market value, despite his situation with the team. He does have a no-trade clause in his contract, giving him more leverage, but not even Anthony himself can alter his price tag.
That being said, the availability of Wade affects Anthony's value as well. Should Chicago ship him off to a small market team in exchange for assets, the Knicks' forward will see a steady rise in his stock.
For contenders, both Anthony and Wade will be free agents next summer. If they really feel the stars aligning for that championship run, there's no doubt these are two guys they'll want to acquire.
However, contending teams are built from the ground up. No one's going to give up essential core members to acquire someone they can sign after being released, or in free agency next summer.
---
---
Last season, Anthony averaged 22.4 points and 5.9 rebounds per game. Wade posted 18.3 points, and 4.8 rebounds on the year.
These two players are on the brink of becoming seasoned veterans, and both are looking to win another championship.
Dwyane Wade's immediate future means everything for the Carmelo Anthony sweepstakes, no matter what happens next.