After spending two years away from the Big Apple, the New York Knicks brought back Tim Hardaway Jr. at the perfect time.
F
ormer first round pick
Tim Hardaway Jr.
has found his way back to the New York Knicks in free agency. With nothing to lose and everything to gain, get ready to see him like never before.
After two seasons with the Atlanta Hawks, this young guard has been primed for success.
Hardaway Jr. was drafted with the 24th pick in the 2013 NBA Draft by the Knicks. After just two seasons, he was traded to the Atlanta Hawks in exchange for the 19th overall pick in the 2015 NBA Draft (Jerian Grant).
He bounced back and forth between the Hawks and the NBA's D-League in his first year with Atlanta. He would, however, go on to prove himself towards the end of the year and earn a roster spot for the 2016-2017 season.
The New York Knicks should be thankful he did.
Hardaway's development in his second year with Atlanta was monumental. Though he only started 30 games, his time on the bench pushed him to work that much harder. In 79 games, Hardaway averaged 14.5 points while shooting 46 percent from the floor.
---
---
In an interview with Steve Serby of the New York Post, Hardaway maintained confidence that fans will be impressed by his new work ethic.
"I just want them to know that they're gonna get the best of Tim Hardaway Jr. 24/7, 365 days of the year, and they won't regret it."
After signing a four-year, $71 million deal, all eyes will be on the guard this season. If he showcases the talent he displayed in Atlanta, he'll certainly earn the praise of Knicks' fans.
He's grown a lot in two years, something Atlanta head coach Mike Budenholzer attested to in an interview with the New York Post's Brian Lewis.
"It started with he made a great commitment to his body and to his conditioning. He just got a lot stronger, got in elite shape to compete. And on the defensive end, he made huge strides. That's what got him on the court."
That's great news for Knicks' fans, who've seen nothing shy of inadequate defense over the last few years. With Hardaway ready to push the offense and hold down the defense, he may just fit the $71 million price tag bestowed upon him.
---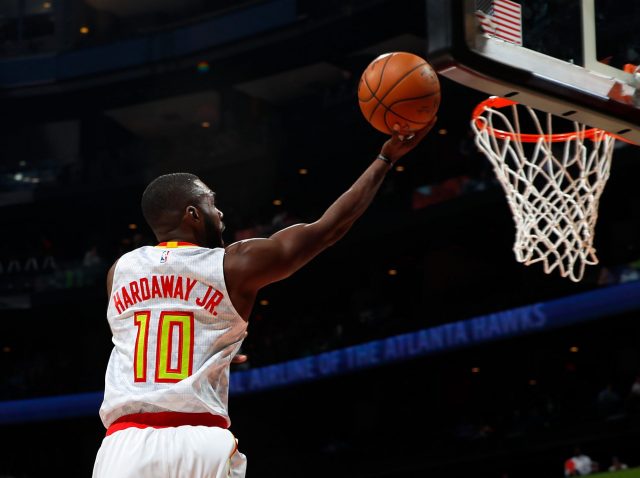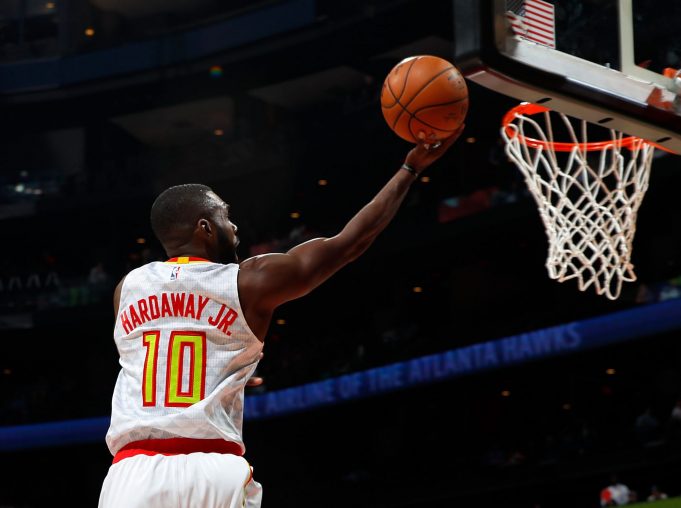 ---
Hardaway's dedication and commitment to improving his work ethic, body, and overall conditioning have served noticeable results. His offense is cleaner and his defense is more precise.
Most apparent, however, is his three-point shooting. From behind the arc, Hardaway has the shots falling like never before, averaging 36 percent on 5.9 attempts per game.
Last season, the Knicks ranked 21st in three-point attempts per game. In three-point percentage, New York ranked 21st, and in those made per game, they were 24th.
Putting time into Hardaway's three-point skill will be key for any Knicks' success. With new veteran guard Ramon Sessions in town, his pass-first mentality will give Hardaway every chance to knock down shots.
On the defensive end, he's a lockdown defender on the perimeter. Last season with Atlanta, he held opponents to 33 percent on shots from deep. Hardaway also recorded 55 steals on the year. To put that into perspective, Courtney Lee led the Knicks with 81 thefts.
Effort on the defensive end was a requirement in Atlanta. It's no different in New York, where Hardaway was told to up his game in every way.
Tim on Knicks: "They said straight up, 'You have to obviously improve a lot more on defense and improve a lot more on the offensive end.'"

— Steve Popper (@StevePopper) July 10, 2017
At only 25, Hardaway also fits the theme of the Knicks' new game plan of building around youth. With Kristaps Porzingis (22) and rookie Frank Ntilikina (19), the three could form the centerfold of New York's youth movement.
Additionally, Hardaway picked up some valuable postseason experience while with the Hawks. In 12 playoff games, Hardaway averaged 12.8 points per game.
More than anything, this guard seems motivated to get back to New York and prove the man that traded him wrong.
---
---
So, to sum it up Knicks fans.
Yes, he's back.
And yes, he's a whole lot better than you remember.