Two young stars in New York. One plays for the New York Knicks, and one plays for the Brooklyn Nets. Who's poised to have a better third year?
T
he 2015 NBA Draft class was one of the best yet, and some real talent has emerged from it.
D'Angelo Russell and Kristaps Porzingis are two lottery picks out of that draft, that now both play in New York.
Both players are walking out of a season that ended with question marks. Which one will come out first with the answer?
Kristaps Porzingis
was drafted with the 4th overall pick of the 2015 NBA Draft by the New York Knicks. His selection was met with criticism by NBA fans worldwide, but he would soon prove them wrong.
Through two years with the Knicks, Porzingis holds career averages of 16.1 points, 7.3 rebounds, and 1.9 blocks per game. A look at the past and potential future of his career.
---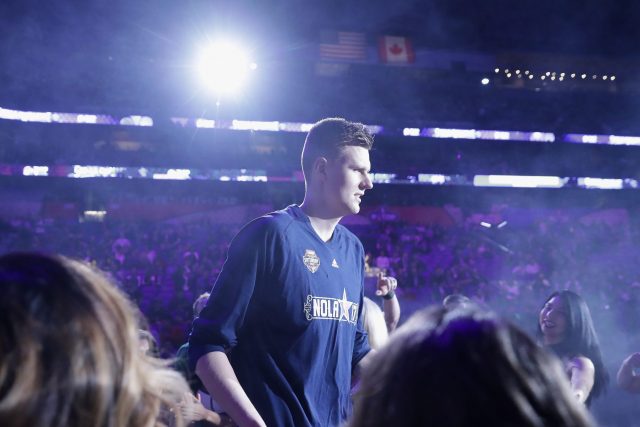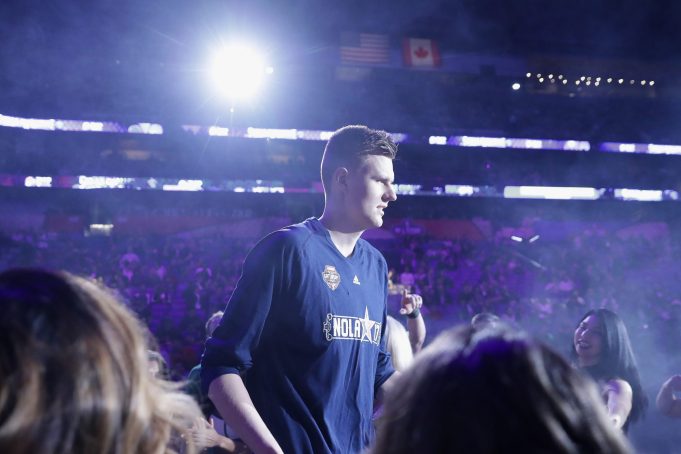 ---
Seasons One and Two
This Latvian star's first season in the NBA was a huge hit, putting a real exclamation point to his rightful place in the league.
He became the first player in NBA history to post 45 blocks and 55 three-pointers made through their first 25 games. Showing his versatility and limitless range of talent on the floor.
Porzingis appeared in 72 games, missing only 10 to injury. He averaged 14.3 points, 7.3 rebounds, and 1.9 blocks per game.
The Knicks finished with a 32-50 record, missing a playoff berth by a long shot.
---
Year two saw Porzingis post career highs of 18.1 points and 2.0 blocks per game, improving his shot from both the field (45 percent) and behind the arc (36 percent).
The young forward maintained his dominance with long threes and monster, in-game dunks. Like this one over Atlanta Hawks center Dwight Howard.
Kristaps Porzingis POSTERIZES Dwight Howard despite getting hit in the facepic.twitter.com/sQ8jf0wx2q

— Sportando (@Sportando) January 29, 2017
His biggest improvements lied in three-point shooting, and thus, overall scoring. Against the Detroit Pistons back in November, Porzingis recorded a career-high 35 point game.
In comparison to his rookie season, Porzingis' sophomore campaign was a bit disappointing. He missed 16 games due to injury and finished the year second in personal fouls per game.
But he developed some solid footwork, a nasty jump shot, and a handle equivalent to your team's starting point guard.
His attitude towards the Knicks soured, and he ended the season by skipping his exit interview and going silent.
No one from the Knicks organization has been in touch with Kristaps Porzingis since he skipped exit meetings, per league sources.

— Ian Begley (@IanBegley) June 20, 2017
There were some rumored trade talks after a tumultuous end to the season but, with former team president Phil Jackson gone, he remains with the Knicks.
---
---
Year Three
The New York Knicks as a whole are bracing for a defining year in the shaping of their franchise. That goes the same for Porzingis and his career.
Entering year three, the young forward is facing more than one obstacle. His team is in near limbo, trying to keep its eyes focused on a rebuild. As opposed to the Nets, the Knicks don't feature the right veterans to help develop young talent.
For Porzingis, the team's veterans may actually hinder his development, both in scoring and on the glass.
From both angles, the lineup is clogged. With Carmelo Anthony and Tim Hardaway Jr starting alongside Porzingis and the likes of  Courtney Lee and Michael Beasley coming off the bench, we may see a scoring drop from the young Latvian.
Things don't get any clearer in the middle, where Kyle O'Quinn, Joakim Noah, and Willy Hernangomez are all going to see time at center. Their presence at the five is only going to inhibit Porzingis' ability to clean the glass at the four.
Porzingis is an All-Star in his own right and has a chance to be a cornerstone piece of the team's future success. But should he struggle to take the next step in his development, the team's new regime could deem potential assets more valuable than the talented big man.
D'Angelo Russell
was drafted with the 2nd overall pick of the 2015 NBA draft by the Los Angeles Lakers. His selection was supposed to commence a new era with the Lakers. That era ended almost as quickly as it began.
Russell was traded to the Brooklyn Nets along with Timofey Mozgov in exchange for Brook Lopez and the 27th overall pick of the 2017 NBA Draft. A look at his past career, and potential future with the Nets.
---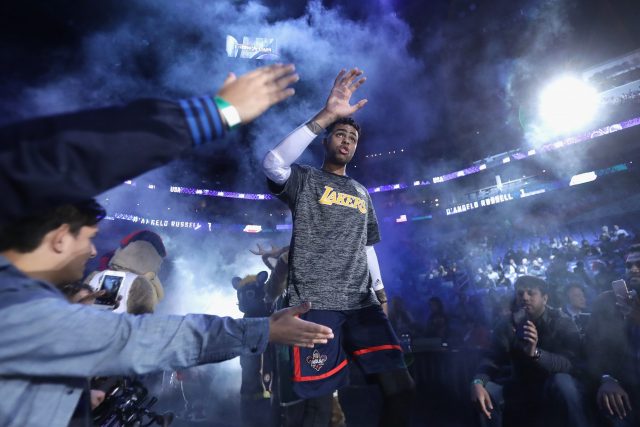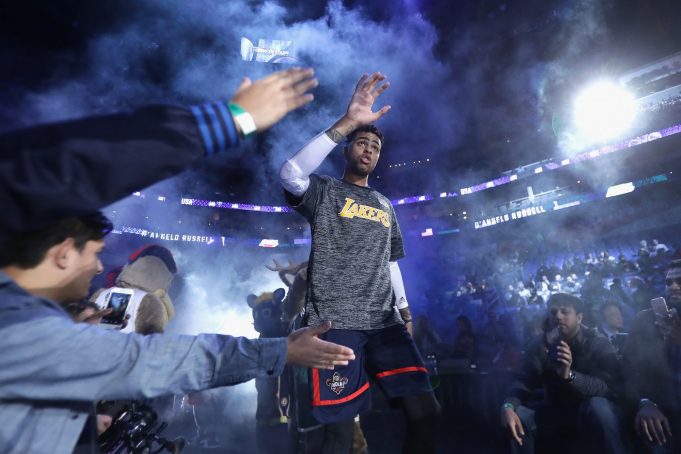 ---
Seasons One and Two
Russell's rookie year was met with heavy anticipation after the Lakers lost the previous lottery pick (Julius Randle) to injury for his rookie season. The hype was quickly silenced, as Los Angeles fell to a 17-65 record, worst in the West.
Though he was the second overall pick, Russell fell behind Jordan Clarkson in the rotation. Nonetheless, Russell still made 48 starts, averaging 13 points, 3.3 assists, and 1.2 steals per game.
But his first year wasn't met without controversy. In March of 2016, Russell exposed teammate Nick Young by posting a video of Young admitting to an affair on wife Iggy Azalea.
It received national attention, paired with disapproval from both the fan base and teammates alike.
Mixed reviews for D'Angelo Russell's intro in tonight's starting lineups pic.twitter.com/IcdHNmkgVk

— Serena Winters (@SerenaWinters) March 31, 2016
For a short time, the Lakers lost trust in their point guard. But all was resolved in time for his sophomore season.
---
Russell saw immense growth in year two and was once eyeing the NBA's Most Improved Player Award.
One of D'Angelo Russell's goals this season: win the NBA's Most Improved Player award.

— Mike Bresnahan (@Mike_Bresnahan) October 20, 2016
He came out the gate running, with the Lakers' offense alongside him. He averaged 4.8 assists per game and dished out more than 300 in total. Russell was on his way to breaking the point guard mantle molded for him in LA.
In addition, his scoring picked up, finally fitting the All Star confidence he's carried since his days at Ohio State. He averaged 15.6 points per game and had a career game against the Cleveland Cavaliers in mid-March.
There were shining moments and silver linings, but Russell's injury prevented him from really helping the Lakers improve.
In order to make room for the next point guard experiment, Lonzo Ball, he was traded to Brooklyn prior to the draft.
Russell didn't break out as a star player last year, but he showed his maturity and development in the works.
---
---
Year Three
Headed into next season with a chip on his shoulder, Russell has a new city to wow. The flashy and confident young guard has the potential to become the face of the Brooklyn franchise, should it fit his aspirations.
Russell will be one of two starting guards, positions undefined, next to Jeremy Lin. Similar to the Houston Rockets experiment with Chris Paul and James Harden, two point guards will be featured in the same Brooklyn back court.
Whether this means for their assist numbers remains unclear, as neither are known for their passing ability. Russell averaged 4.8 last year with as many offensive weapons as he has in Brooklyn. There should be no immediate impact here.
One big change we can expect to see—more scoring. In an offense built upon the veteran role player (DeMarre Carroll, Mozgov, Trevor Booker) Russell will thrive. His quick, confident, and highly efficient shot will be head coach Kenny Atkinson's favorite new toy.
Regarding his productivity in year three, the ball is in Russell's hands, literally. In a rebuilding offense with the right cushion a young star needs, this year could be redefining on his journey to a successful NBA career.
---
---
After being mentioned in trade talks aplenty this summer, Porzingis is out with something to prove. His future in New York may rely on it.
Russell was recently traded and will be on the court playing harder than ever, looking to remind the Lakers of what they gave up on.
Though the Knicks forward is preparing to make gain as an individual on the court, D'Angelo Russell is in place to actually make year three his best one yet.