While trading Carmelo Anthony has been a priority all offseason, the New York Knicks cannot afford to force a deal, as doing so only worsens their future.
I
t's mid-August and
Carmelo Anthony
remains a New York Knick. After the drama infested year he endured with management last season, it seemed virtually impossible that the Knicks and Anthony would be in the position they're in today. But being that trading him has been categorized as a priority, will the Knicks become desperate to deal him as training camp inches closer?
It's no secret that Anthony wants out of New York and it appears clear that the Houston Rockets are his first choice. But given that both teams have held onto their reservations in trade negotiations over the past month, how could they possibly come to terms on a deal? The only way for such an occurrence to transpire is if someone blinks. Whether it be with Houston or any other team that's reportedly been linked to Anthony, the Knicks cannot force a deal.
In talks with the Rockets, the Knicks have made it known that they do not want to take back the contract of forward Ryan Anderson. Despite his outside jumper, the remaining $60 million on his deal over the next three years is off-putting for the Knicks. But if a deal still doesn't come to fruition a month from now, Scott Perry, Steve Mills and company may become desperate to get Anthony off their hands. That mentality could very well lead them to force a deal, which could result in them taking back an undesirable contract—like Anderson's.
The same goes for any other team they engage in trade talks.
In addition to Houston, the Portland Trail Blazers have been in the mix for Anthony—in two polar opposite ways.
Portland's original involvement in a potential Anthony trade was serving as a third team in a deal which would've ultimately shipped him off to Houston. But the status quo has changed.
As opposed to being a facilitator for Houston, the Trail Blazers now have an interest in acquiring Anthony for themselves, rather than for the betterment of the Rockets—which makes sense.
If Portland feels that it can compete in the Western Conference with another piece, why would they ever try to assist a conference powerhouse in their efforts to overthrow the almighty Golden State Warriors?
If Anthony is thrown into the fold, the Trail Blazers would become another intriguing force in the West. With an elite backcourt of Damian Lillard and C.J. McCollum, as well as center Jusuf Nurkic already in place, Anthony would only add to the up-and-coming firepower that's been established. It also helps that Lillard and McCollum have publicly endorsed Anthony's potential arrival in Rip City.
But much like Houston, what deal could the Knicks make with Portland that actually benefits them?
One name that would make sense for the Knicks is forward Maurice Harkless. Harkless, a two-way wing, would be a nice piece going forward. The issue is that Harkless' $10 million per year salary won't match up with Anthony's $26 million figure. Plus, if Portland was to match his salary, it would result in the Knicks having to take back undesirable contracts such as Evan Turner (who is under contract for roughly $18 million per year over the next three seasons) and/or perhaps Myers Leonard, who has three years remaining on his four-year deal.
If the Knicks take back Turner's contract (which is the most likely scenario), it'd be the equivalent of taking on Anderson's deal with Houston.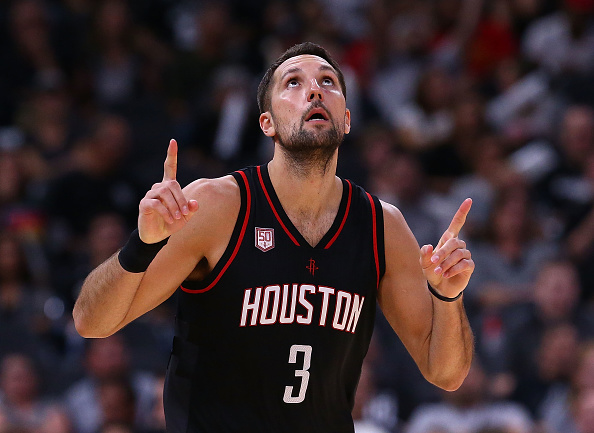 The Knicks are stubborn upon their asking price for Anthony; they do not want to take back any bad contracts in a potential trade—which is the right approach to take. But given the limited amount of options at their disposal, the Knicks may not have much of a choice when it comes to dealing Anthony. The fear is that they become desperate.
While Anthony's departure helps pave the way for Kristaps Porzingis to officially become the focal point of the Knicks' offense, it's not worth forcing a deal and taking back a bad contract or two.
Keeping Anthony is not the best-case scenario for the Knicks, but letting him play out the 2017-18 season and opt out at year's end is better than adding on unwanted contracts; it allows the money to open up rather than continue to worsen.
This is a team that just forked over $71 million to Tim Hardaway Jr. While he has improved his scoring arsenal, dishing out that amount of money to a player who's not adept at playing both ends of the floor is an immense gamble. With that in mind, adding another hefty deal like Anderson's or Turner's only worsens the Knicks' cap situation going forward.
If the contract they're taking back is that of a Harkless (who's under contract for roughly $30 million over the next three years) then there's no issue. He's a young two-way player. But if the Knicks only option becomes taking back a hefty deal with a player who is not ideal in a rebuild, then the Knicks are better off holding onto Anthony and letting his contract run through.
Holding onto Anthony is not the sexy thing to do, but it's better than forcing a deal that'll only hurt their cap space in the long run.