Fans of the New York Mets are used to disappointment. Does the 2017 season rank among the most disappointing in team history?
It's not easy being a fan of the New York Mets.
Whether it's questionable decisions by ownership and the front office or refusing to promote top prospects (#FreeDominicSmith), there's nothing Amazin' about cheering for the Mets.
Yet that's exactly what we do. Maybe it's because Mets fans are eternal optimists. Maybe we believe that things can't possibly get any worse. Or maybe, deep down, we just love the torment that comes along with cheering for the orange-and-blue.
Whatever the reason, Mets fans remain loyal to their team. Loyal in spite of the fact that, far too often, the team has failed to deliver. Disappointment, we know you all too well.
So let's take a trip down painful memory lane, shall we? What follows is a look at the most disappointing teams in Mets history. These rankings are largely subjective, but we did consider the expectations heading into that particular season.
Dishonorable Mention
2001: 82-80, Third place in NL East
After making deep postseason runs in 1999 (National League Championship Series) and 2000 (World Series), expectations were high for the Mets in 2001.
But the Mets struggled out of the gate. By mid-August, they were 54-68, nearly 14 games out of first place. But they finished August strong, going 10-3 in their last 13 games.
September started just as well, with the team winning seven of its first nine games. Then the tragedy of 9/11 struck and baseball shut down for a week.
While the Mets remained hot and Mike Piazza delivered one of the most memorable moments in NY sports history, it wasn't enough. They'd finish the season six games out of first place.
5. 2017: 50-61, Fourth place in NL East
You know the story—you've lived through it. Injuries decimated the team, ruining whatever chances the Mets had to contend early. The last time the Mets were within 10 games of first place? July 2.
So far, Jacob deGrom has been the only starting pitcher to avoid the disabled list. Yoenis Cespedes, the $110 million man, missed more than a month due to injury and hasn't come close to living up to expectations.
Sure there have been some bright spots, like Michael Conforto's resurgence and Amed Rosario finally getting the call to the majors. But they only leave fans wondering 'what if?' 'What if this team could have stayed healthy?' That's disappointing.
4. 1988: 100-60, First place in NL East
Unlike the previous year, the Mets stayed healthy and rolled to their second division title in three years. Once the club took sole possession of first place on May 5 it never looked back, winning the division by an impressive 15 games.
Cone (20-3), Darling (17-9) and Gooden (18-9) led baseball's best rotation. Darryl Strawberry (39 HR, 101 RBI, .915 OPS) finished second to Los Angeles' Kirk Gibson in the National League MVP voting.
But for all their success, it was Gibson and the Dodgers that would bring the Mets season to a disappointing finish. Darling got shelled in Game 7 of the National League Championship Series (1 IP, 6 H, 6 R, 4 ER), while Orel Hershiser tossed a complete-game shutout, scattering five hits en route to the World Series.
3. 1987: 92-70, Second place in NL East
The Mets were riding high after winning the World Series in 1986—literally.
Staff ace Dwight Gooden tested positive for cocaine during spring training. He wouldn't make his regular-season debut until June 5, when the Mets were a fourth-place team with a .500 record (25-25).
Gooden wasn't the only starting pitcher to miss time. Rick Aguilera, David Cone, Ron Darling, Sid Fernandez and Bob Ojeda—who was out from early May to early September—wound up on the disabled list at one point. Had that group been on the field all season, who knows how good this team could have been.
Sure, a 92-win season is nothing to be upset about. Fans would love to see the Mets win 92 games again. But coming off of a 108-win, World Series-winning campaign, not cracking triple-digits and missing the playoffs made the 1987 season a disappointing one.
2. 1992: 72-90, Fourth place in NL East
Remember when some people claimed that the late George Steinbrenner was trying to buy a World Series victory for his New York Yankees? That's exactly what the Mets tried to do in 1992.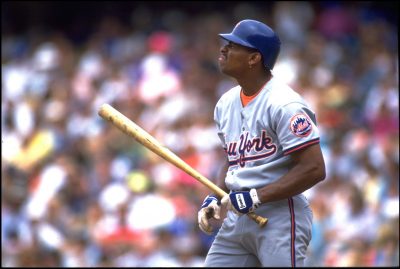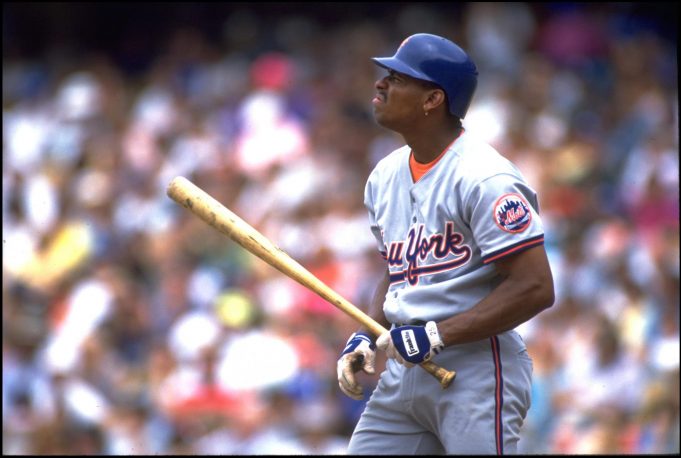 But instead of being the best team that money could buy, the Mets were one of the worst. Only three teams—the Los Angeles Dodgers (63-99), Philadelphia Phillies (70-92) and Seattle Mariners (64-98)—had worse records than the Mets.
Free agents Bobby Bonilla, Vince Coleman, and Eddie Murray were brought in to inject life into an offense that scored the sixth-fewest runs (640) in MLB the previous season. Instead of boosting the offense, they helped kill it.
The Mets scored only 599 runs in 1992, tied with Boston for the fifth-lowest total in the majors. They never got within five games of first place after July 29 and finished a whopping 24 games back in the division.
In terms of dysfunction, this team had it all. Bonilla wore earplugs during home games to drown out the hecklers. Manager Buddy Harrelson, per Sports Illustrated's Tom Verducci, sent coach Mel Stottlemyre to make a pitching change at home out of fear of being booed.
1 (tie). 2007: 88-74, Second place in NL East
Most of us lived through these painful seasons.
The Mets were one of the best, if not the best team in baseball for most of 2007. Carlos Beltran and David Wright both delivered 20-20 seasons (Wright went 30-20). Jose Reyes stole 78 bases. The offense, it was dynamic.
With 17 games left to play, the Mets held what looked to be an insurmountable seven game lead over second-place Philadelphia in the NL East. But they'd go 5-11 over their next 16 games.
And then, one of the most horrific first innings in team history happened on the final day of the season. For those who are faint of heart or have a weak stomach, I urge you to look away.
Nobody, not the umpires, not a future Hall of Famer like Tom Glavine—nobody—could do anything right. Unless they were wearing a Marlins jersey, that is.
1 (tie). 2008: 89-73, Second place in NL East
The Mets finished strong in 2008, overcoming a nearly eight-game deficit in mid-June to take control of first place. With 22 games remaining, they held a slim three-game lead over second-place Philadelphia.
Just like in 2007, the season came down to the final series, against the Marlins. And just like they did the previous season, the Marlins crushed the Mets' playoff dreams.