Carmelo Anthony and the New York Knicks are ready to part ways after seven long seasons. Here's a look at what Melo brings to the table for teams looking to contend next season.
C
armelo Anthony is on the move and wants to play for a title at this point in his career. At 33 years old, does he benefit some of today's top NBA contenders?
The Golden State Warriors
The Dubs have been to three straight Finals and dominated last year in light of recent acquisition Kevin Durant. From point guard to stretch four, each player on the reigning champs' roster can score and facilitate all on their own.
Klay Thompson is the Warriors designated off ball guy, and even he can turn heads with his play making in transition. Carmelo has averaged 3.1 assists in a career where he's been relied on to keep things moving.
Those numbers would take a significant drop in Golden State.
Carmelo Anthony simply wouldn't fit the mold. All his career he's been known as a "ball hog," and this role with the Warriors wouldn't prove mutually beneficial.
Anthony would have to adapt to a sixth man role to not interfere with Golden State's "Death Lineup," which is something he would never agree to. This isn't a fit that works, and without playing that bench role, he can't complement the Warriors (very few) needs.
The Boston Celtics
These guys are the most recent to climb the ranks into contention and finished as the top seed in the East last year. Their depth was really put on display when point guard Isaiah Thomas fell to injury in the Eastern Conference Finals.
The Celtics pulled out one win over Cleveland without their star player, which is enough to show they'll be back again. Now, they've added All-Star forward Gordon Hayward, and are preparing for a title run.
Boston would have to utilize an underrated skill of Anthony, his rebounding. Last season, the Celtics ranked 27th during the regular season in rebounds per game. It didn't get better in the playoffs, as they ranked 14th out of 16 teams.
Last season was Carmelo's worst rebounding year since his days in Denver. At 6-8 and 240, he averaged 5.9 per game, including a season high of 13 on three different occasions.
It would mean playing the four, but Anthony could seriously complement the Celtics inability to perform off the glass.
---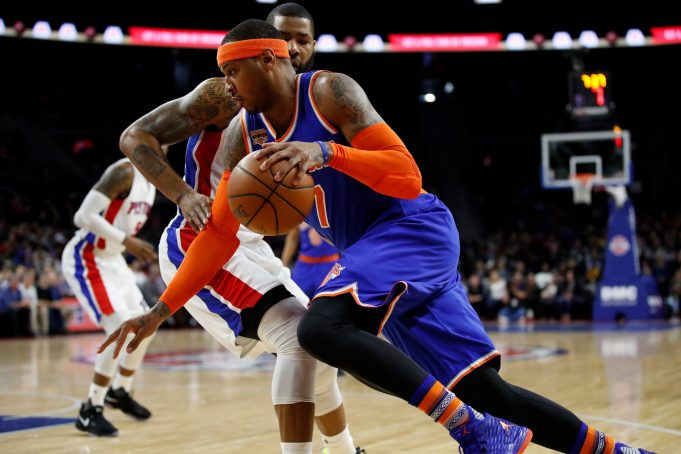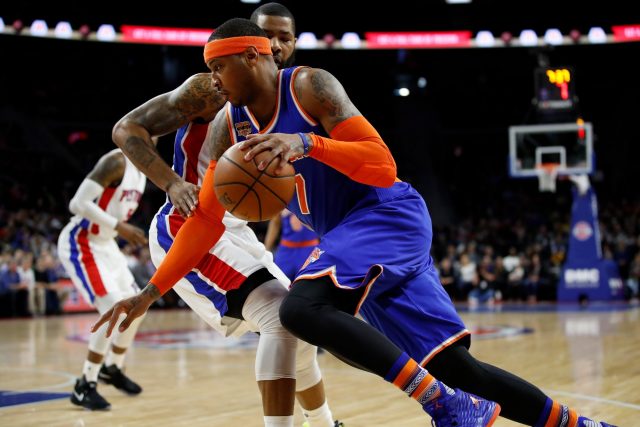 ---
The Houston Rockets
The exciting western team took some huge strides last season, and ended the year as one of the top scoring teams in the league. Their playoff path didn't go as expected, but they are making moves to ensure it doesn't happen again.
Most recent, the Rockets acquired All Star point guard Chris Paul, notably a close friend of Anthony's.
Under new head coach Mike D'Antoni, Houston blazed their way to the best three-point shooting in the league. They averaged 14.1 per game, while attempting 40.3, also a league best.
What do Carmelo and this Houston team have in common? Shooting. Sure, Anthony's shot from deep has been slightly inconsistent, but so has his point guard situation.
On his fourteen year career, the All Star forward has averaged 35 percent from behind the arc.
With capable passers in both James Harden and Paul, his shooting should see a career-high with the Rockets. Open looks will no longer be a luxury, and he'll be set up for success.
The Cleveland Cavaliers
The beasts of the east have met Golden State in the last three Finals, and left victorious only once. Once Durant teamed with the Warriors, the balance was tipped, and the talent gap was wide open.
So, the Cavaliers signed forward Jeff Green, and point guard Derrick Rose. For a team that's outweighed in overall talent, trading for Carmelo Anthony adds another contender.
At 33, the longtime Knick is still everything the Cavaliers need for their match up with Golden State. He's an additional scorer, three-point shooter, and destination for the occasional touchdown pass from close friend LeBron James.
Last season, the Cavaliers ranked second to Houston in nearly every three-point category, something that's not to be overlooked. They are a team that thrives off shooting the three ball. Similar to Houston, Anthony can get back to marksman shooting on the other end of passes from James and Kevin Love.
Additionally, the stress on James defensive match up will be relieved. He and Carmelo alike can guard Durant for minutes at a time, and switch between him and Draymond Green.
The difference will make an immediate impact in LeBron's energy, and the Cavaliers chances at winning a title.
---
---
Last season Carmelo Anthony averaged 22.4 points and 5.9 rebounds per game.
Whether it's this year or the next, expect Anthony's skill set to be deemed valuable by a team with aims of winning a championship.