The New York Knicks would be wise to keep Carmelo Anthony in the orange and blue next season, for more reasons than one. 
S
tar forward and franchise player Carmelo Anthony's time with the New York Knicks has been nothing short of turbulent. He's gone from beloved to the trade block, from winner to loser — and most recently, to public enemy number one.
Both the Knicks and Anthony alike have been pushing towards a trade that would send the forward to the Houston Rockets (his preferred destination).
However, the assets just aren't there–and they won't give him up for pennies on the dollar. With only two months until the start of the NBA season, it may be time to accept their fate.
Contrary to popular belief, keeping Carmelo in New York may prove beneficial for both parties.
---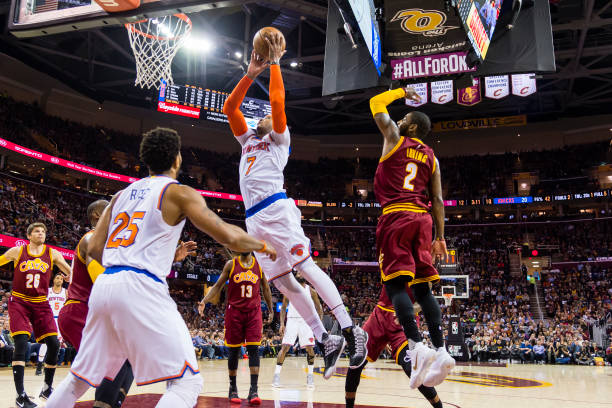 ---
The Knicks are investing in youth after drafting both Kristaps Porzingis and Frank Ntilikina in recent years. They also signed 25-year old Tim Hardaway Jr. this summer and would love additional young talent in return for Anthony via trade.
But since they won't give in to a poor trade package, Anthony can still have a role on the team next season.
Without the right assets on the table, the Knicks could use the forward to their advantage. He's one of the greatest scorers of his generation, a title that isn't earned by just showing up for practice.
Cap Space
Sure, the Knicks could trade Anthony now in exchange for other players. Or more notably, other salaries.
Talks stalled with Houston over the lack of a third team to take on Ryan Anderson's contract. He's set to earn around $60 million over the next three years. If New York isn't ready to take on that kind of salary now, why not wait to shed Anthony's contract until next summer?
With a player option featured in his deal for the 2018-2019 season, it's likely he'll opt out to pursue other options. For New York, this could be the difference between taking on a bad contract and signing a young player of their choosing.
Team Chemistry
Carmelo Anthony is very close with two high-value members of the Knicks: Hardaway and Porzingis.
When Hardaway was traded on draft night in 2015, Anthony reportedly called his teammate and expressed his discontent with the move.
Carmelo, according to source, called Tim Hardaway Jr. late Thursday to express his displeasure with Phil Jackson's draft night moves. Oh boy

— Frank Isola (@FisolaNYDN) June 26, 2015
The Knicks signed Hardaway to a four-year, $71 million contract in early July. Could this make Anthony a happy camper for this upcoming season?
In a recent interview with ESPN, former fourth overall pick Kristaps Porzingis was very open on his likeness for Anthony.
"He's an All-Star, an incredible player and I've learned so much from him,"
The young Latvian star went on to explain that he still has things to learn from Anthony and that he wants him to stay in New York.
"I would love to have him around and keep playing alongside him."
After Kristaps skipped his end of season exit meeting, many questioned his future with the franchise. Keeping him happy has to be the top priority for New York, and keeping Anthony around may do just that.
---
Carmelo Anthony is nearing the end of his prime, whether some of us accept it or not. His days of winning alone are behind him, though he's still one of the top scorers in the league.
Market Value
If Anthony can go out and leave it on the floor every night this season, he just might boost his value for next summer. Entering a potential contract year, he'll need to be at the top of his game in order to get paid next summer.
Though he wants to contend, Anthony's never been the kind of player to accept the veteran minimum to play for Golden State. Should New York not find an acceptable trade for the franchise player, next year's Carmelo may be the best version yet.
He Wants to Win And That's Not Changing
Throughout his career, Anthony's one goal has remained unchanged: He wants to win.
For the younger players on this Knicks squad, it may be worth something to see the most hated man in New York put all things aside and do what's best for the team. Recording a better record than last season could even serve as a morale boost to carry this team into their first season without Anthony.
---
---
Last season, Carmelo Anthony averaged 22.4 points and 5.9 rebounds per game.
If he and New York can't reach an agreement on a trade, maybe they can agree to disagree–and win together for each other's future.