It's hard to blame Derrick Rose for not wanting to play the role of mentor to rookie point guard, Frank Ntilikina. 
L
ast week, point guard Derrick Rose's departure from the New York Knicks became official. Agreeing to a one-year minimum deal with the Cleveland Cavaliers, Rose's brief tenure in the Big Apple has come to a close.
The Knicks acquired Rose from the Chicago Bulls just a year ago, envisioning him as their long-term solution at point guard. But the Knicks, as a whole, were unable to coexist with one another enough to make a playoff push.
Enduring just a 31-win season, the Knicks missed the postseason for the fourth consecutive year. Unfortunately for Rose, the team's struggles as a whole clouded his relatively productive year.
Averaging 18 points per game, Rose put forth the highest nightly scoring output of his career since his ACL tear back in 2012. Rose was also productive in terms of this efficiency.
Shooting 47.1% from the field, Rose saw his most efficient season in seven years — another impressive feat for the former MVP.
At the end of the day, Rose had a productive year in the New York. He was a reliable product on the offensive end and showed that he still has plenty of high-octane play left in him. But despite his 2016-17 campaign, Rose still inked a veteran's minimum deal. In fact, the Knicks themselves reportedly never even made an attempt to match that low figure, according to Marc Berman of the NY Post.
Based on the fact that they're looking to trade Carmelo Anthony in an effort to go forth with a true rebuild, retaining Rose never made a whole lot of sense. But bringing him back for the veteran's minimum would've certainly been intriguing. On the other hand, no such offer from the Knicks would've peaked Rose's interest.
The reasoning for his lack of interest in staying? Not wanting to mentor rookie point guard Frank Ntilikina.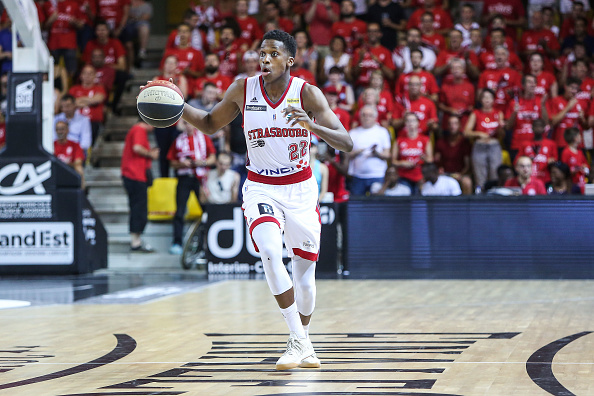 The Knicks selected the Frenchman with the 8th pick in the NBA Draft and were searching for a mentor to help groom the 19-year-old. Rose wanted nothing to do with taking on that role, given that he's in the prime of his career. Rose's agent B.J. Armstrong explained his stance.
"You're a mentor when you no longer can play," Armstrong said. "This league you get paid to perform. You don't get paid to be a mentor."

Armstrong then explained why Ntilikina needs to start from day one for the Knicks: "That kid [Ntilikina] was drafted in [the] lottery. He's got to play. One of the most coveted things in the NBA is experience. The kid needs to play. The new [collective bargaining agreement] is constructed to build through the draft. … Let that kid play and make mistakes and see what you have in four, five years. Maybe the kid turns out to be Steph Curry"
Rose also didn't want part of the Knicks' rebuilding efforts. Armstrong elaborated on his stance:
"Did we miss something? Is there something going [on] in New York we didn't see?" Armstrong asked. "We all would agree they are on a different timeline than Derrick — a young team with great young talent there and trying to build something for the future. They're not on the same timeline as players who are a little older and experienced."

Armstrong continued: "It doesn't take a rocket scientist to figure out Derrick's best basketball is right now. The Knicks aren't ready to compete at that level right now. It could be three, four years."
In reality, Rose's reasoning for not wanting to be a part of the Knicks' rebuilding efforts is understandable. He's still just 28 and is coming off a productive year; there's no reason for him to throw in the towel at this stage of his career.
Rose possesses an alpha dog mentality. Throughout the duration of his career, he has played with passion and confidence. By building a bridge for Ntilikina and accepting a diminished role with the Knicks as a mentor, he'd be stripping himself of both traits — ones that make up his character as a player.
Rose's career has been plagued by injuries, which as a result, have made many skeptical about his long-term stability. But Rose isn't going to let anyone get in his head; he's going to stay of the belief that he can rekindle his past heroics or, at the very least, produce at the level he did last year.
Rose wants to continue being a go-to scoring outlet — ideally for a winning team — and given that he's still in the prime of his career, you can't blame him. It would be asking a lot for him to take a severely diminished role.