Most of the moves that the New York Mets made leading up to this year's non-waiver trade deadline aren't going to help in 2017. But 2018 is a different story.
A
fter an injury-riddled first half to the 2017 season, the New York Mets found themselves in a position they did not envision being in—selling at the non-waiver trade deadline. With the rotation decimated and a lackluster bullpen, the Mets came to the conclusion that 2017 was not going to be their year.
So general manager Sandy Alderson did what any good GM would do—he made moves with an eye on 2018 and beyond.
Last Thursday, the Mets shipped long-time first baseman Lucas Duda to the Tampa Bay Rays. This move made a ton of sense for two reasons.
First, Duda was going to become a free agent after the season. With Dominic Smith waiting in the wings, the team wasn't going to re-sign him. The Mets might as well have gotten something for Duda while they could.
That something, or someone, was relief pitcher Drew Smith.
Smith is an almost MLB-ready arm who, as Joel Sherman of the New York Post noted, has a live fastball.
Scouting report on Drew Smith: Fastball up to 98 mph. Has late-game potential. was requested by several teams recently in #Rays talks. #Mets

— Joel Sherman (@Joelsherman1) July 27, 2017
Between his heater and his career stats—a 1.83 ERA while walking fewer than three batters per nine innings of work—it's no wonder, then, that multiple teams were interested in acquiring Smith, ranked as Tampa Bay's No. 30 prospect by MLB.com.
Smith has closer potential, something the Mets farm system lacks. It wouldn't be surprising if he won a spot in the 2018 bullpen during spring training.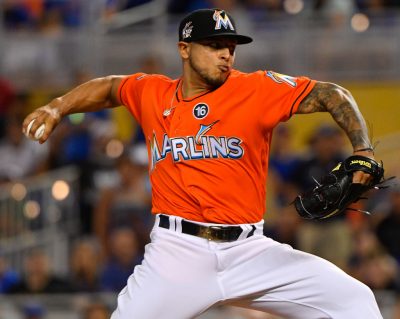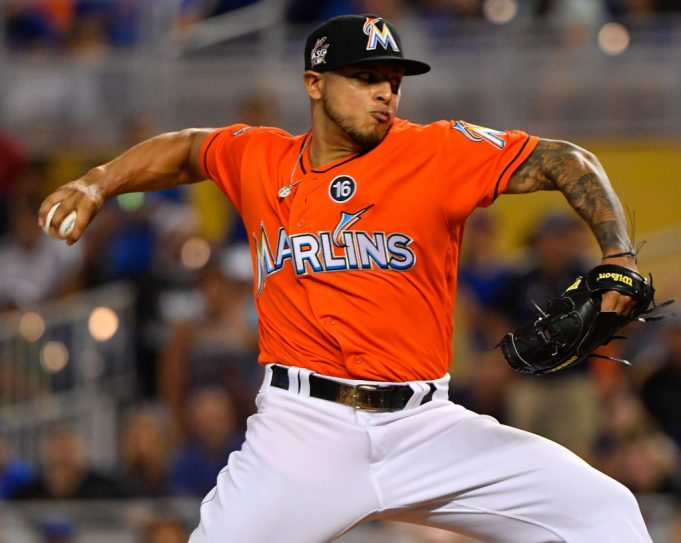 The Mets sent a pair of quality prospects, right-handed pitcher Merandy Gonzalez and outfielder Ricardo Cespedes to Miami in exchange for AJ Ramos.
While the trade was a bit stunning at first, acquiring a former All-Star reliever like Ramos is actually a very smart move. It wasn't an example of the Mets 'buying' for 2017, but rather, for 2018 instead.
Essentially, Sandy Alderson traded two players who are far from being MLB ready for an experienced, controllable reliever. Ramos can't become a free agent until after the 2018 season.
Ramos has solid career numbers—a 2.82 ERA and 1.23 WHIP—and will play a vital role out of the bullpen next season.
Having Ramos as the right handed set up man, along with Jerry Blevins as the lefty set up man, is an excellent bridge to closer Jeurys Familia. The backend of the Mets 2018 bullpen looks to be incredibly strong.
Addison Reed was rumored to be traded before the Mets acquired Ramos. But with Ramos on board, there was no question that Reed's time in Flushing was nearing an end.
So it came as no surprise to see the veteran reliever dealt to the Boston Red Sox on deadline day in exchange for a trio of pitching prospects: Jamie Callahan, Gerson Bautista, and Stephen Nogosek. MLB.com had all three ranked among Boston's top 30 prospects.
Of the trio, only Callahan is close to MLB ready. He has a low-to-mid 90s fastball and a solid splitter. Like Smith, he's got a chance to factor into next year's bullpen mix.
Bautista and Nogosek, on the other hand, are each works in progress. With a fastball that routinely hits triple-digits, Bautista has the higher ceiling and could move quickly through the Mets farm system.
Reed was tremendous for the Mets in his brief tenure but is a free agent after the season. Like Duda, getting something for him now made a lot of sense. Also, the Mets have not ruled out re-signing him in the offseason.
It was clear that Alderson had one goal going into the deadline: acquire young, controllable relief pitching. He accomplished just that, adding four intriguing youngsters to the mix.