While there has been talk about potentially utilizing him at the position, the New York Knicks should simply avoid playing Ron Baker at point guard in 2017.
L
ast Friday, the Knicks inked veteran point guard, Ramon Sessions, to a one-year, minimum deal. Given his veteran presence and selfless mentality, chances are the 31-year-old, Sessions, will get the starting nod at point on opening night. Before Sessions' signing, the Knicks were looking at rookie Frank Ntilikina and even second-year guard
Ron Baker,
as potential options to start at point. Despite him now being out of the starting equation, the Knicks would still be wise to avoid utilizing Baker as a point guard in 2017.
The Knicks signed Baker as an undrafted free agent last year after he spent four years at Wichita State — where he played the off guard. In his rookie season, Baker panned out to be a pleasant surprise for the 31-win Knicks.
Playing tight on-ball defense and diving after loose balls, Baker played with a grit on both ends of the floor — which was a facet of his game that was much appreciated on a team who, as a whole, surrendered the 8th most points in the association.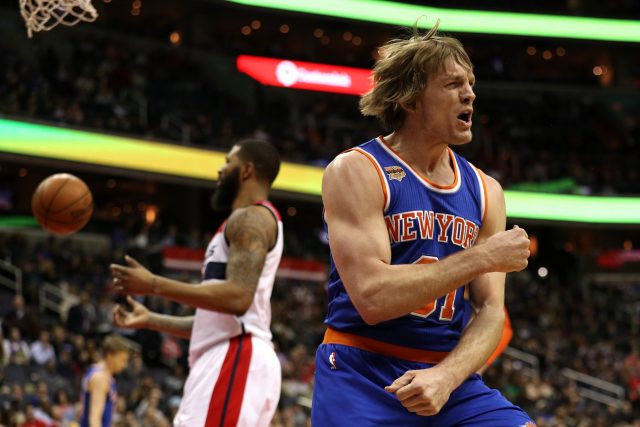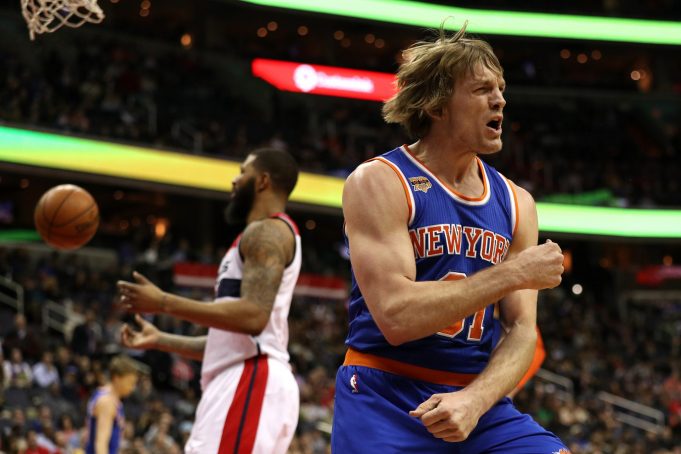 As a result of his impressive first-year play, the Knicks opted to bring Baker back on a two-year deal, worth a total $8.9 million. The question surrounding Baker now pertains to what position he'll play in his sophomore season?
In his rookie year, head coach Jeff Hornacek played Baker at the two and also utilized him at the point as the year came to a close, but him doing so was influenced by injuries and the team essentially tanking.
Based on the fact that they were out of playoff contention in the waning moments of the season, Hornacek opted to play his youngsters as the year came to a close — Baker was part of that young bunch.
While he did play the point at times, the reality is that Baker is a natural shooting guard and should be utilized as one in the years to come.
With Sessions now in the fold to help the 19-year-old Ntilikina, the Knicks aren't in dire need of another lead guard, at the moment. What they do need is a handful of wings who can serve as "three and d" weapons.
While they do have defensive-minded forward, Lance Thomas, and two-way guard Courtney Lee, the Knicks bench, as a whole, doesn't contain many "three and d" weapons.
The other factors working against such a wing foundation is the uncertain future of Carmelo Anthony, as well as the mediocre defense free agent signee Tim Hardaway Jr. provides. With Anthony potentially being traded in the coming months and Hardaway not being much an asset defensively, the Knicks will need some crafty two-way players to help fill the void out on the perimeter.
Based on their lack of defensive weapons, Baker is best suited playing and defending the two, as opposed to the one.
He has shown a willingness to compete on the defensive end, which is encouraging to see from a rookie in year one. He will now need to work on being consistent and efficient with his jumper.
Shooting 37.8% from the field and just 26.7% from beyond the arc, Baker will need to improve his efficiency on the offensive end, in order to be considered a modern-day "three and d" player. But for Baker, it's better off that he endure shooting struggles, as opposed to defensive ones.
When a player comes into the NBA his rookie year, you can tell pretty quickly whether or not they're going to be a defensive presence or not. It's not often that you see players developing a defensive mindset in the middle of their careers, but you do see some developing their jumper over the course of time — which is what Baker will be working to improve upon this upcoming season.
At the end of the day, while he did spend some time at the position in his rookie year, Baker simply isn't a point guard.
While he isn't a turnover machine, Baker is more adept to playing out on the perimeter and guarding shooters on the outside; he's not a ball dominant guard.
The Knicks now have their starting point guard under contract, whether that be Sessions or Ntilikina, making Baker an unlikely candidate to start at the position anyway. But talk that took place before the decision was made should've been disregarded to begin with; Baker is a natural two-guard, who has the potential to grow into a "three and d" player.