Friday, the New York Knicks announced the signing of veteran point guard Ramon Sessions to a one-year deal.
A
fter a one-year experiment with
Derrick Rose
, the Knicks decided to go in a different direction. Now that they've signed veteran Ramon Sessions, have they upgraded or downgraded at the point?
French guard Frank Ntilikina was selected by New York with the 8th overall pick in this year's NBA Draft, and they'd like him to be the point guard of the future.
But regardless of his professional background in France, it'd be foolish to throw him in into a starting spot.
The Knicks needed a veteran, one who could not only start but serve as a mentor to the teenager. They got their man in Sessions, who agreed to a one-year deal for the veteran minimum, $2.3 million.
With Rose out and Sessions in, has New York bettered themselves or dug a deeper hole? Let's explore.
---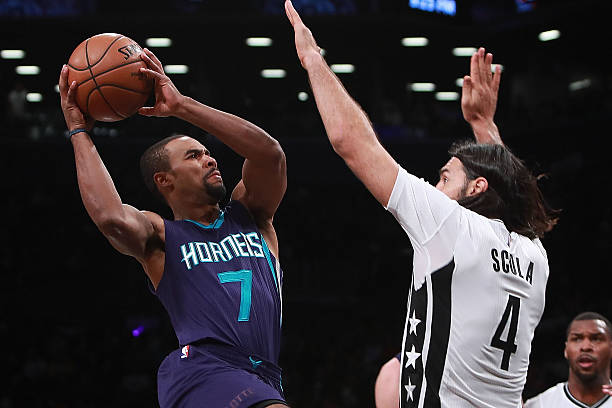 ---
Ramon vs Derrick, Statistics and More
The New York Knicks have found themselves at a crossroads.
Do they try and work out a Kyrie Irving trade with hopes of contention?
Or do they invest in the young Ntilikina, working more towards a future with Kristaps Porzingis?
Each category is based on how the point guard compliments/complimented the Knicks as a franchise.
Age: Downgrade
While pushing for a younger team, the average age in New York is 27 years old.
Guys like Carmelo Anthony (33), Joakim Noah (32), and Courtney Lee (31) attribute to the older side of that.
Like Lee, Sessions is also 31, giving him three years on the 28-year-old Rose. As far as the idea of getting younger goes, signing Sessions does nothing to reach that goal.
Scoring Capability: Downgrade
If nothing else, Derrick Rose was a scorer. He could drive the lane and drain the mid-range shots. From behind-the-arc, well, that was another story.
Last season with New York, he averaged 18 points a game, including a season-high 30 on two separate occasions.
Sessions' best scoring days are behind him, and he's shifted his priority to feeding his teammates. Last season with Charlotte, he averaged 6.2 points a game.
However, after signing guard Tim Hardaway, replacing Rose's scoring isn't a problem.
---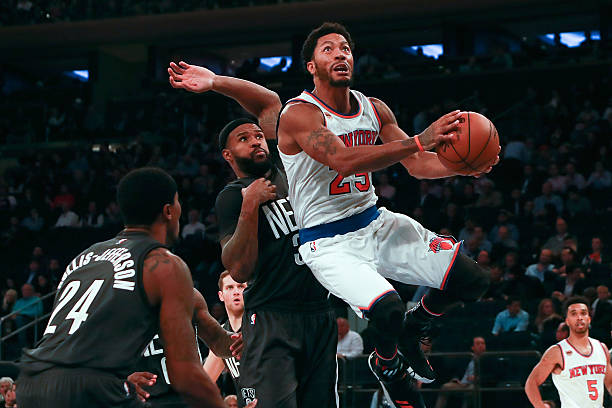 ---
Distribution: Upgrade
One of the biggest criticisms of Rose's game was that he thought about scoring before anything else. While Knicks fans saw plenty of kicks out to the wing, he's a guard that needs the ball in his hands to put points on the board.
He averaged just 4.4 assists per contest last season. With the right mindset, that number could have been significantly higher.
Sessions played with the Hornets, who are, to be frank, offensively lacking in comparison. As a result, he averaged only 2.6 dimes per game last year.
Per 36 minutes, however, he's superior to Rose, dishing out 5.7 assists to Rose's 4.9. Furthermore, his assist percentage transcends as well, with 24.2 to 22.8.
For their careers, Sessions has 2,730 assists, while Rose has 2,799. That's roughly only 70 helpers less than Rose, which is even more impressive when you consider that, for the bulk of his career, Sessions has come off the bench.
New York has plenty of weapons, so you can expect to see his assist numbers jump provided he gets the right minutes.
For the Rebuild: Upgrade
All the signs point towards young Ntilikina taking the mantle at the point once he proves that he's ready for the challenge.
New York didn't just require someone to take over at the point, but someone who wouldn't bury the young rookie on the bench. The Knicks get that in Sessions, whereas Rose would need extensive playing time to be effective.
Despite his recent role change in Cleveland, Rose is still seen as a starting caliber guard. He would have eaten into Ntilikina's minutes, leading to more rifts in an already chaotic locker room.
Sessions will likely see 15-to-20 minutes a night, provided he starts (that hasn't been confirmed yet). It's hard to see where newly signed Ron Baker fits in the mix, but after spending $9 million to keep him around, he'll assuredly be part of the rotation.
Salary: UPGRADE
Derrick Rose was on the books for over $20 million last season, and rightfully so.
However, the production the Knicks may earn from Sessions, who is being paid just the veteran's minimum, makes him all the more a bargain.
It's also worth noting that this season, Baker will be paid just $100,000 less than Sessions and Rose combined. He may become the regular starting point guard at some point during the season.
Medically: Eh, Maybe Both
Sessions missed the last 32 games in the 2016-17 season with a knee injury but has been fairly durable over the course of his career. Rose, however, has never fully recovered from a torn ACL suffered in 2012 and is visibly less mobile than he used to be.
Still, before re-injuring his knee last year, Rose paced the floor just as well as anyone. He's had surgery as recently as last season.
It's hard to say that Sessions is an upgrade medically, especially given his advanced age.
---
---
Overall: Upgrade
Though Rose is a more efficient scorer, this signing is an upgrade for the Knicks.
The veteran guard has the potential to display his true court vision on this young Knicks team. Furthermore, his salary and purpose in the rebuild make this deal all the sweeter for the Knicks.
While he's certainly not the point guard New York has longed for, he's arguably the best fits for what the team currently needs.