Amid the disaster of a season the New York Knicks just endured, the latest attention has been planted on what jersey Carmelo Anthony will be sporting next season.
Carmelo Anthony has made it clear to the front office that he wants out of New York.
However, Anthony and his $24 million a year salary is a tough package to sell to teams, especially for a New York front office that hasn't made a good trade since the beginning of time. Aside from his cumbersome contract, Melo brings little playoff experience, no defensive advantage, and has been both ridiculed and devalued by his own organization.
So what team could turn him into a valuable asset?
Houston might have too many ball-dominant players and not enough pieces to send to the Knicks. News recently started brewing about a potential trade to Oklahoma City, but the Knicks would most likely be reluctant to take Enes Kanter and his $17 million cap hit next season (Kanter's name has emerged in trade rumors). A trade to Cleveland may seem like a good fit, and it probably is. But it would require the Knicks to most likely ship a future first round pick to cushion the hit Melo's salary would have on the Cavs, and a team in rebuilding mode like the Knicks may not be willing to send away a future first round pick.
And that leaves us with the final team that has been mentioned as a possible Carmelo destination: Portland.
The Portland Trail Blazers star backcourt of Damian Lillard and C.J McCollum has been actively recruiting the Knicks veteran. Though Melo in a Trail Blazers uniform would be almost as weird as Melo's ego residing in a city like Portland, there is reason to believe a trade to Portland would evoke parts of Melo's game we would have never seen.
It was only a few years ago the Cavaliers made a blockbuster trade to acquire Kevin Love from Minnesota. The Timberwolves big man had established a reputation as one of the more prolific post players in the NBA, in addition to being a double-double threat each night he stepped on the floor. Fast forward to 2017, however, and the once bruising, scrappy big man finds himself spotting up on the 3-point line for a Cleveland team that is in title contention every year.
Even this past summer we saw Golden State acquire former MVP Kevin Durant. The addition of Durant, one of the more prolific scorers of our generation, meant that Golden State and their already dominant offense would have to adjust to the acquisition. In doing so, we saw the emergence of Klay Thompson as one of the most versatile defenders in the NBA.
In short, when players are forced to adjust to new personnel, new aspects of their game are shown, and a player can have his career turned around.
For the first time in his career, Melo would not be the first option on offense. We have never seen Melo not be "the guy" on a team, and in year 15 of his career, it's probably time to see Melo take a lesser role.
So what would a big three of Lillard, McCollum, and Anthony look like?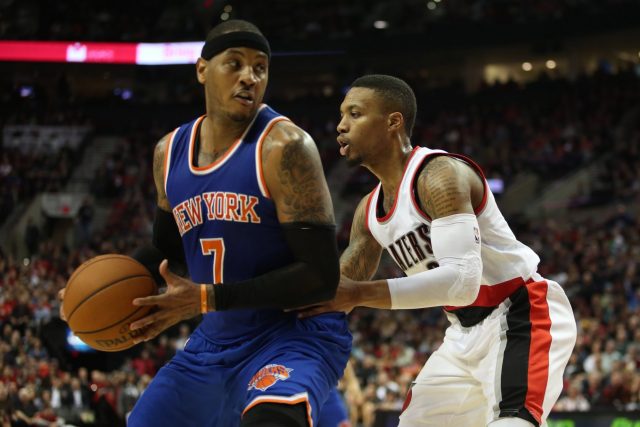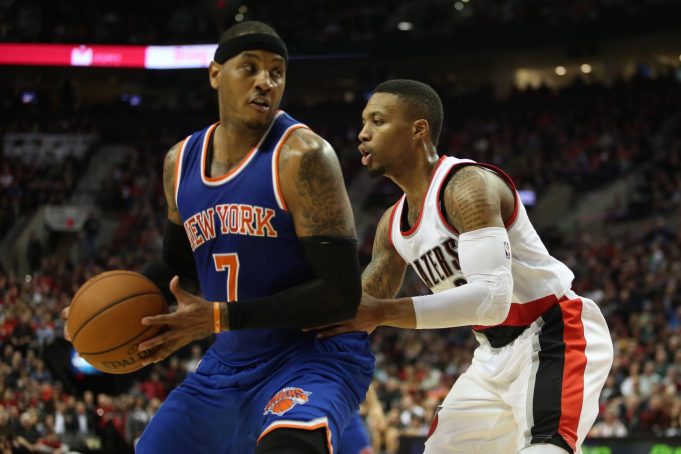 It's no secret that the backcourt is one of the more dominant duos in the NBA. McCollum has emerged as an elite shooter, and Lillard is one of the most explosive, clutch players in the NBA. A trio like this would spread the floor much more than the current trio of Lillard, McCollum and Allen Crabbe. If Melo is allowed to become more of a spot up shooter, the 33-year-old would likely find more open looks than he ever could have dreamed of having in New York.
Perhaps one of the more perplexing aspects of Melo's career has been his defense. Though he has a reputation as one of the worst defensive players in the league today, he has had some surprisingly good defensive performances against LeBron James. In other words, we know it's there, we know Melo is capable of playing defense.
That said, having Melo be the third option on a team would significantly lessen his offensive workload, and if you paid any attention to what's happened with Klay Thompson in Oakland, you'd know that when a player has to take on less of an offensive load, he typically improves on the defensive end of the floor.
It works the opposite way, too.
The same thing happened with Kawhi Leonard. The retirement of Tim Duncan, decreasing skills of LaMarcus Aldridge and Tony Parker forced Kawhi Leonard to take on more offensive responsibility. With that added scoring responsibility, Leonard's defensive numbers dropped significantly.
Carmelo Anthony in Portland has potential to be a great fit. The big three of Melo, Lillard, and McCollum would be exciting and make the West even more interesting than it already is.
However, the thought of Melo in Portland is worth nothing unless Melo is willing to set aside his personal brand and commit to being a lesser role. If we've learned anything about Melo throughout his career, it's that he's a businessman almost as much as he is a basketball player.
A city like Portland just might be too small for a personality like Anthony's.