Kyrie Irving has become available for trade, and the New York Knicks are in the running. Without moving Carmelo Anthony, however, is there any chance for them at all?
A
fter three straight Finals appearances and winning one championship, Kyrie Irving wants out of Cleveland and could be in on joining the New York Knicks.
Chris Haynes of ESPN was first to report on the point guard's preferred landing spots.
ESPN Sources: On Kyrie Irving front, Cavs were given four preferred landing spots: New York, Miami, San Antonio, Minnesota.

— Chris Haynes (@ChrisBHaynes) July 21, 2017
Close to a month ago, news broke that Carmelo Anthony would waive his no trade clause for both Cleveland and Houston. As of Friday, July 21, however, the Knicks' forward remains focused on Houston as his destination.
Frank Isola of the New York Daily News spoke with a close source regarding the matter:
A source close to Carmelo says his focus remains Houston. He must waive his no trade. Does he go to Cavs without Kyrie & LBJ gone in 2018?

— Frank Isola (@FisolaNYDN) July 21, 2017
Isola brings up a good point, that Carmelo may not approve a Cleveland trade if he's already seen the writing on the wall.
That being said, the Knicks don't seem any less interested in the point guard and may be front runners in the sweepstakes. Could New York attempt a trade that doesn't include Carmelo?
It's hard to believe, but the Knicks remaining assets may be enough to win Cleveland over. Here's a look at what both teams could find themselves with on either end.
Cleveland Cavaliers
The 2016 NBA champions have no other option than to part ways with their former number one pick (2011). That being said, there's no way they get underpaid. Irving is a top ten point guard in the league, and arguably the best finisher at the rim.
In return, the Cavaliers will require an abnormal, future based package from New York.
Let's Blow It Up
Should the Cleveland front office firmly believe that LeBron James is on his way out next summer, they very well may prepare for a rebuild.
Reminder: Even without Kyrie, the Cavaliers could potentially still compete for a title out of the weakened Eastern Conference. Though they can't give their starting point guard away for nothing, they'll likely head into next season without him.
In a preliminary strike for rebuilding, the Cavaliers will need some young talent and draft picks. Anyone specific come to mind?
The New York Knicks just drafted French point guard Frank Ntilikina. At 18 years old, he's still yet to see the court but has incredible potential to be a defensive minded one in this league. He'll have to be a part of a Kyrie deal not involving Carmelo.
Beyond that, the Knicks have their first round draft picks for the next two years — something they haven't had a lot of in recent years. Packaging Ntilikina alongside two future first round picks may just get the deal done.
Hold the phone, because the Cavaliers will still need to fill Irving's scoring void temporarily.
For the cherry on top, New York can offer up shooting guard Courtney Lee, who averaged 10.8 points this season while shooting 40 percent from deep. In Lee, they get a wing defender, and a perfect option for a LeBron kick out pass.
---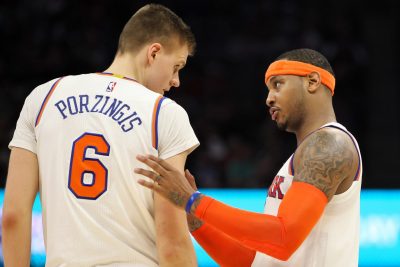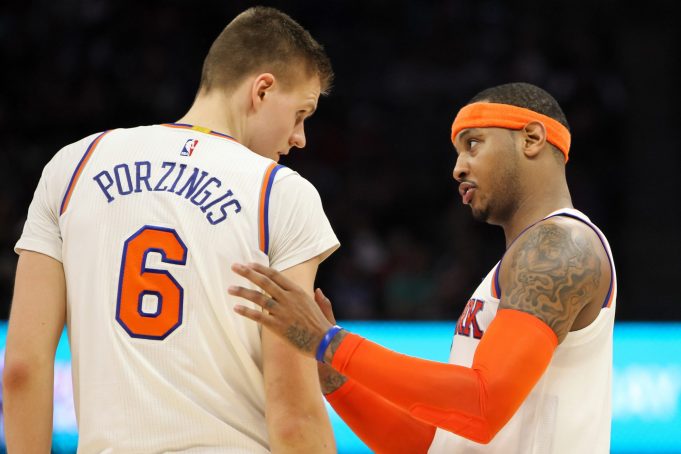 ---
New York Knicks
It's clear at this point that the Knicks want Irving, and are willing to offer up anyone but forward Kristaps Porzingis.
If New York is preparing to settle in with Carmelo Anthony for the long haul, they'll need a win now point guard.
Forget a Rebuild, Let's Win Now
In return for assets set to rebuild the franchise, the Knicks will acquire Kyrie Irving, and anything else is a bonus.
Throughout his entire tenure in New York, Carmelo Anthony has never had a real point guard. The closest thing he's had was Raymond Felton back in 2012. This could be game changing.
Sure, Irving's assist numbers haven't been fantastic. But he's been playing alongside LeBron James, one of the best facilitators in the game. In an offense without a real point guard, he could thrive, and so could everyone else.
The Knicks just recently signed offensive focused shooting guard Tim Hardaway. Paired up with Irving in the back court, the defense will be horrendous — but there will be shots galore.
Playing on a move for Kyrie now opens the Knicks back up in the playoff race, and it's more than just an eighth seed chase.
---
---
What Are the Chances This Is a Package Offered?
Honestly, though determined to receive the best package, the Cavaliers may find that New York offers the most assets.
As a safety net for a LeBron James exit, they may opt to plan for the future. Trading for Ntilikina and future first rounders sets them up for a worst case scenario.
For the Knicks, however, it's a fork in the road. If you have a chance to trade for one of the best guards in the game, you have to do it. Regardless of Carmelo's status, you pull the trigger and make the best move for your franchise.
They'll likely start the bidding at Ntilikina, Lee, and on the first rounder. If the salary doesn't add up, New York could throw in big man Kyle O'Quinn. Is this resetting a youth movement in New York? Yes.
Does this set them up for their first playoff experience in what will be four seasons? Yes again.
If This Doesn't Work?
Should the two teams find trade talks stalled, they could call in a third team. New York won't have to pay the king's ransom for Irving, and Cleveland can receive more in return.
One team that comes to mind is the Portland Trailblazers, who traded shooting guard Allen Crabbe Tuesday afternoon in a salary dump trade. They've been rumored to be involved in a Carmelo deal, all the while not receiving him. It makes sense.
While they were mostly rumored in talks between Houston and New York, they may decide to be involved regardless. They did already shed the salary.
Bringing in a third team could really get this moving. Both Cleveland and New York could avoid an expensive deal, and the third team will assuredly be rewarded for aiding the blockbuster trade.
---
---
Will Cleveland set the bar this high, for one-third of their Big Three?
Is New York that desperate to finally settle in at the point guard position?
For the Knicks and Cavaliers, this trade will likely be franchise-defining. It's a matter of how much this trade defines them that comes into question.