Kyrie Irving in the Big Apple with the New York Knicks would be incredible, but only at the right price.
K
yrie Irving is one of the best point guards, let alone players, in the NBA. Given his crafty ability to put the ball in the cup at ease, Irving has been a sight for basketball eyes throughout the duration of his career — which he has spent with the Cleveland Cavaliers.
Despite his scoring prowess, could Irving be dealt away by his own club? It's the hot talk in the NBA today.
Friday afternoon, the NBA world got turned on its axis, when news broke that the Cavs' star requested permission to be traded.
With Irving reportedly looking to move on from Lebron James and company, his sights are set on being "the man" elsewhere — which he simply cannot be with James present.
Four teams that reportedly peak his interest include: the Miami Heat, Minnesota Timberwolves, San Antonio Spurs and New York Knicks. The Knicks, in fact, have gained some traction on a potential deal to land Cleveland's star guard.
Per Yahoo Sports' Jordan Schultz, the Knicks have engaged in talks with the Cavs and the Phoenix Suns about a potential three-team deal.
Source: #Knicks and #Cavs in serious talks centered around Carmelo Anthony and Kyrie Irving+possible 3rd team (maybe #Suns). https://t.co/wb5uB85SUZ

— Jordan Schultz (@Schultz_Report) July 21, 2017
Source: #Cavs trying to work #Suns into a deal. Bledsoe and Chandler would be part of it. Suns want Frank Ntilikina and other picks. https://t.co/KhVPdHCGDJ

— Jordan Schultz (@Schultz_Report) July 21, 2017
ESPN's Ian Begley countered with a report stating that the Knicks would be willing to surrender forward Carmelo Anthony (who they've been shopping all offseason) and future first round picks to land Irving.
In theory, Anthony and a couple first rounders is a small price to pay for a star point guard, as Irving is. He'd immediately change the Knicks' fortunes, in regards to being a playoff contender, mostly due to pairing up with budding star Kristaps Porzingis.
Porzingis, the present and future of the Knicks, has grown into being one of the more unique players the NBA has ever seen. Ranging from his high flying dunks, to his swarming blocks, to even his perimeter shooting, Porzingis has captured the eye of many around the association, just two years into his NBA career; chances are he'll only get better in the years to come — which makes the 25-year-old Irving a great fit alongside him.
If acquired, Irving and Porzingis would be a formidable duo going forward. Both players' youth and ability to produce at a high level would be a major asset for the Knicks in both the short and long-term.
While a ball dominate guard, Irving likes to get out and start the fastbreak — much like Porzingis.
While a seven footer, the Latvian sensation is adept to finishing off fastbreaks — which is rare to see in a player his size.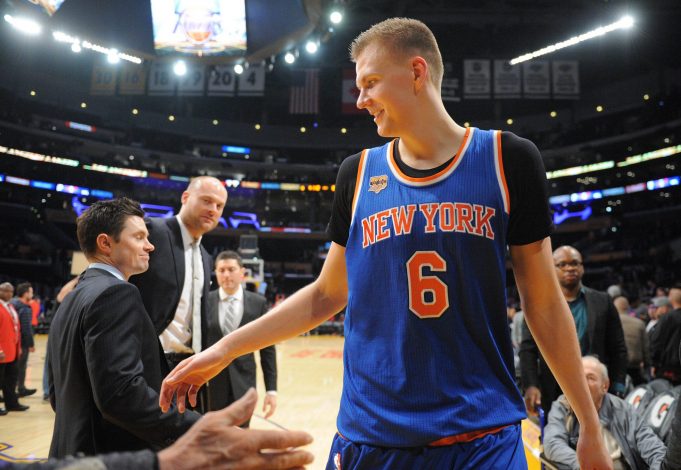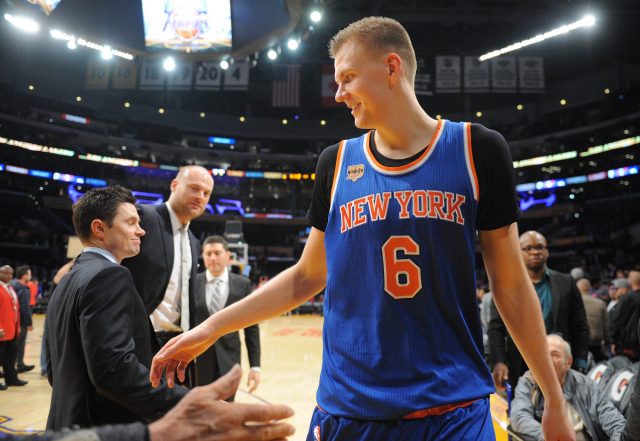 With Irving and Porzingis pushing the tempo and forcing the issue, the Knicks would have a lethal one-two scoring punch.
While their fit together is clear as day, finding the right deal to get Irving in New York is a whole nother animal.
While giving up Anthony and a first round pick works for the Knicks, it likely won't be enough to execute a deal, especially if a third team is thrown into the mix.
The Cavs will not sell low on Irving, nor should they, but that's where the problem lies for Steve Mills, Scott Perry and the Knicks.
While getting a star point guard like Irving would put the Knicks back on the NBA map, Mills and company have to be smart when handling these negotiations.
One name that teams will likely look to get back from the Knicks is rookie Frank Ntilikina.
The frenchman, Ntilikina, was selected 8th by the Knicks in last month's NBA draft, but if the Knicks are intent on getting Irving, he'll likely never be able to run the show at point.
Another young piece that the Cavs or a third team will have their eyes on is Willy Hernangomez.
The Spaniard, Hernangomez, impressed in his rookie year. Posting 8.2 points and 7.0 rebounds per game in just over 18 minutes a night, Hernangomez showcased an ability to play in the post and hit the boards — skill sets that would intrigue teams in trade talks.
The question becomes how far will the Knicks go when putting together a package for Irving?
Anthony will be involved in any deal made (assuming he waives his no-trade clause), it's all about what else the Knicks are willing to offer.
Are they willing to already deal away their first round pick, without seeing him play a single game, or even their next two first round picks? What about Hernangomez?
Surrendering one of those packages would be understandable, but offering all or even two out of the three would be overkill.
Going into the offseason, the prevailing notion amongst NBA minds was that the Knicks' organization was destined to finally go forth with a full-on rebuild; trading Anthony was a big part of that plan, but the idea of trading him was to essentially get worse, as the Knicks were looking for young players with some upside.
Now, the Knicks focus has shifted to using Anthony as a trade chip to lure the Cavs into giving them Irving — quite the 180.
This is a team that 48 hours ago seemed ready to move on from Anthony and begin a true rebuild, but now it appears those plans have altered — they're looking to make a big splash of their own on the trade market.
Trading away Anthony to essentially get worse appeared to be the status quo, but that plan has changed — they want to compete in the Eastern Conference this season.
At the end of the day, it's Kyrie Irving. The player who was James' sidekick in Cleveland the last three seasons. The player who is one of the best scorers since the turn of the new century. The player who hit arguably the biggest shot in NBA history in the 2016 Finals.
If the Knicks can get Irving in the big apple, alongside Porzingis and the rest of their youth, they have to try to execute a deal — they'll regret it forever if they don't give it their all. But they cannot overpay for him. They can give away Ntilikina and a second rounder or maybe a first and a second — in addition to Anthony — for Irving, but they can't give away all of their young and intriguing assets.
If the Knicks can get Irving, it's an opportunity they cannot pass up, but only at the right price.