The New York Knicks have struggled to move star forward Carmelo Anthony in recent weeks. Without a third team to help take on salary, it seems a trade is impossible. Could the Brooklyn Nets be that team?
T
he New York Knicks and Houston Rockets have hit a roadblock along the road to a Carmelo Anthony trade. His name is
Ryan Anderson
, former New Jersey Net.
Houston needs to shed his salary to take on Anthony's, and the Knicks are looking to strictly shed salary at this point–Anderson's near-$20 million a year doesn't fit that plan.
Cue the Brooklyn Nets, who hold the most cap space among NBA teams as of Sunday morning. One of few teams left with the salary to take on Anderson's contract, there's more than one reason Brooklyn would consider.
Once a Net, Always a Net
Ryan Anderson entered the NBA drafted by the New Jersey Nets back in 2008. He played one season with the team, where he averaged 7.4 points and 4.7 rebounds.
For Brooklyn to draft him in the first place, they had to have taken interest in the young forward, seen some sign of the player he's developed into.
"Anderson From Deep!"
The Brooklyn Nets had one major statistical flaw last year. Yes, they were the worst team in the league, but fundamentally speaking. Three-point shooting.
Didn't anyone notice they were relying on their center to do it? That wasn't by choice, he was simply the only reliable shooter from that range.
In Anderson, they find that and plenty of it. More important is where they find it. The power forward position is likely their weakest in depth for the time being, and in Anderson, they add a (somewhat) star. Last year for Houston, he came up big. 
Apart of the three-point focused Rockets, he posted a career-high 40 percent average from deep last year. Beyond that, he connected on 204, despite the loaded Houston roster. That's 60 more threes on the season than big man Brook Lopez posted (134).
---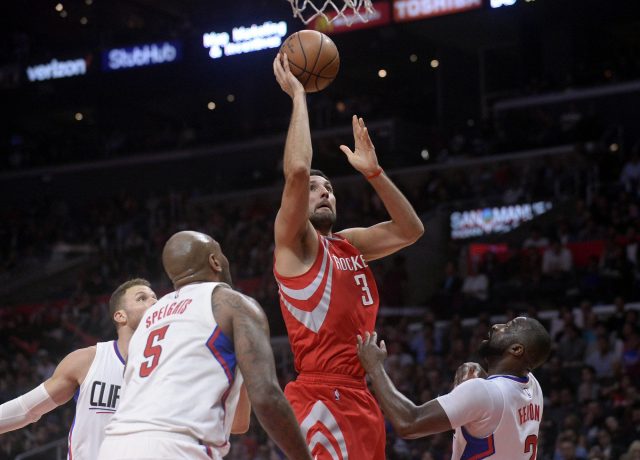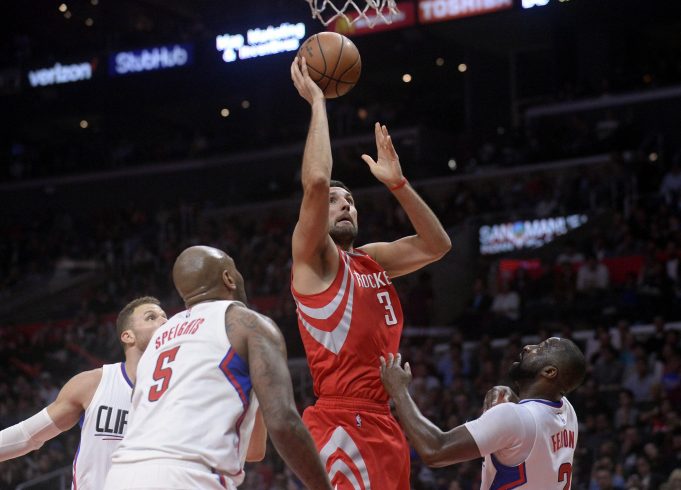 ---
An Asset For the Future
Obtaining Anderson now would feel better if he came with an asset. Maybe the Knicks 2019 pick for example.
In both salary dump trades this summer (Toronto, Los Angeles), the Nets have received something for their assistance. In the Timofey Mozgov deal, it was D'Angelo Russell, a young and developing talent. In the DeMarre Carroll deal, it was a first and second round pick.
In this deal involving Ryan Anderson…you fill in the blank. Nonetheless, it's unlikely to find the Nets involved in a trade this summer if there's nothing in it for their future.
Additionally, despite his terrible contract, Anderson will be easier to move next summer when his deal is less intimidating. In an open court such as the Nets, where he's arguably the most offensively capable-expect to see him thrive.
What Does A Potential Trade Look Like?
It's hard to imagine what the Nets could offer up beside their willingness to take on salary, which is why it may come to four teams in total.
Nothing's definite, but for example. If the trade feature both Houston, New York; and then the Suns and Nets for filler purposes.
What's the Motive for Each Team?
For New York, they get themselves a point guard, a young player, and more substantial- they rid of Anthony at last. Th one thing New York has to walk in to next season with is a point guard, and no Carmelo Anthony. This trade handles both.
The Houston Rockets dump Anderson and Ariza's expiring deal while receiving Carmelo and some help in a backup center. Would Daryl Morey give up Ariza's prime value contract? Not sure, but he'll have to in order to obtain the last piece of his big three.
For Phoenix, they get rid of Brandon Knight's three-year deal, and in return receive two valuable, but expiring, veterans. This trade puts them in an even better spot for the free agency chase next summer.
The Brooklyn Nets receive Ryan Anderson. The last piece to an young team on the hunt for eighth seed, he'll make an immediate impact. If he gets better, the Nets can trade him later to free up salary themselves. Who knows, maybe they'll let him retire where he started.
For the Suns and Nets alike, some pick(s) will have to be involved. Those are TBA, but you can count on them assuredly.
Sure this trade moves seven players, and it's complicated. But if it was going to be simple, it would have passed already. Plugging Brooklyn in as the mediator when no one wants Anderson's contract, greases the wheels and gets this trade rolling.
---
---
As of Saturday morning, Carmelo's main focus remains being traded to the Houston Rockets.
Teams will have to get creative with options and would be wise to call upon Brooklyn.
With so much cap and a strong need for a power forward, this could be the addition that puts the Nets back in the playoffs. They'd be wise to initiate talks, and land Ryan Anderson, but only for the right asset(s) in return.