Um… you guys… what's up with Mjoilnir's handle? (cc @andysignore) pic.twitter.com/mD7BYXSo12

— Jared Diamond (@jareddiamond) July 19, 2017
There's something just a little suspicious about the New York Mets Jul. 22 giveaway that is a Noah Syndergaard bobblehead.
Clearly, the New York Mets organization may need to rethink this one.
A few months ago, we reported on what was perhaps the coolest baseball giveaway in history, the Thor Bobblehead. There he was, Noah Syndergaard, in all his glory via Marvel and Mets fans who attended the Jul. 22 game at Citi Field would receive a taste.
However, just three days prior to the giveaway, courtesy of Jared Diamond of the Wall Street Journal and shared with Andy Signore, the organization may have to put an age limit on the free giveaway: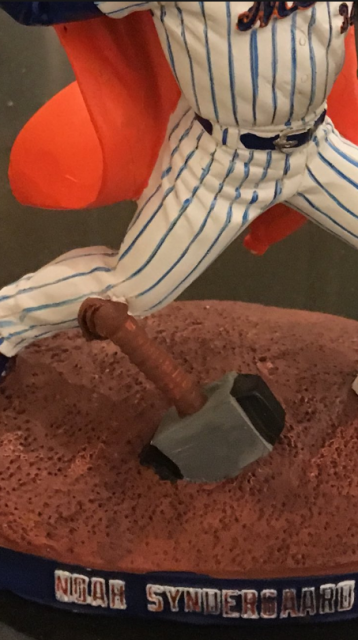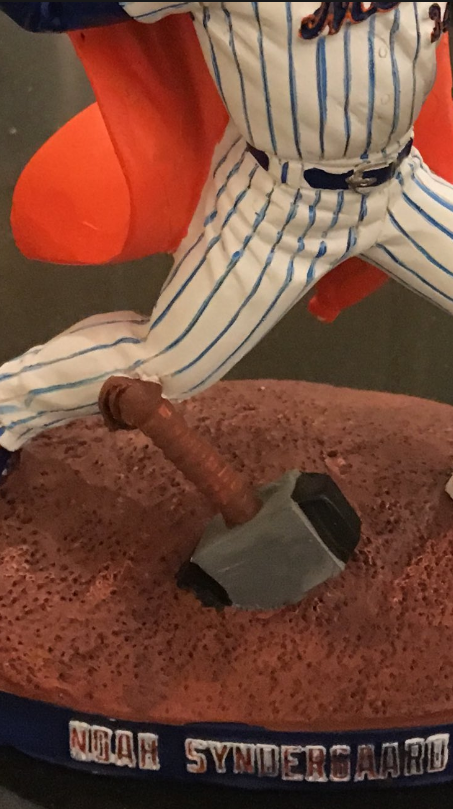 Clearly, imagination isn't needed in this specific situation.
What is up with Thor's handle? Honestly, I don't even know what Thor calls his weapon and now, I don't want to find out.
Back in March when we discussed this awesomeness of a Thor Bobblehead, the photos didn't really look quite like the above:
Here is your first ? at the @Noahsyndergaard–#Thor Bobblehead that we'll giveaway on 7/22 thanks to @Marvel. ? https://t.co/E8bLdbrjPM pic.twitter.com/HhvPqPGvH9

— New York Mets (@Mets) March 13, 2017
In any event, come one, come all. While you receive the Thor Bobblehead, Noah will be rehabbing with his lovely ball.