As the trade deadline rapidly approaches, whispers have started to circulate regarding the possibility of a Jacob deGrom trade.
T
o preface this article, I am not advocating for the New York Mets to move
Jacob deGrom
. I am, however, in agreement with
Joel Sherman
of the 
New York Post
, who recently suggested that the Mets should at least listen to offers for their ace.
https://t.co/k2Jv7LnHNm The case for #Mets LISTENING to offers for deGrom. #Dodgers #Astros #Brewers #Yankees #Braves

— Joel Sherman (@Joelsherman1) July 17, 2017
Sherman's argument that the Mets would be selling high on a valuable asset in a market that's short on pitching of deGrom's caliber is spot on. But just how much could the team fetch for their homegrown flamethrower?
Similar Returns
In order to gauge a rough estimate for the potential value of deGrom, we must first examine similar pitchers that were recently dealt.
There's been a handful of aces that have changed cities in recent years, but deGrom belongs to a specific category of pitchers under team control.
Two years ago, the Braves cashed in on a talented young pitcher by the name of Shelby Miller, when they sent him to the Diamondbacks before the 2016 season.
Miller had three years of team control after the trade, the same amount deGrom would possess if moved at the deadline.
The trade was notable for the lopsided amount of value received by the Braves. Atlanta received Ender Inciarte, Dansby Swanson, and Aaron Blair in the deal.
Inciarte is arguably the best defensive center fielder today's game has to offer, and pairs that elite tool with a developing bat.
Swanson was the number one overall pick in the 2015 draft and was regarded as a future star at the shortstop position. Add in Blair, a right-handed pitching prospect, and the Braves walked away with an already established young outfielder and two top 30 prospects for a team controlled Miller.
Another deal that can be used for measuring stick purposes is the recent Jose Quintana pact. The Chicago White Sox sent their ace across town to the Chicago Cubs but received more than adequate compensation.
The Sox got Eloy Jimenez, Dylan Cease, Matt Rose, and Bryant Flete for Quintana's services. Jimenez is the headliner of the deal and recently was ranked as baseball's fifth-best prospect on Baseball America's 2017 Midseason Top Prospects List.
But that's not all, Cease himself is ranked 83rd on the list and possesses loads of potential as a top-flight, right-handed pitcher, while both Flete and Rose have some upside as well.
Now that we have two deals for pitchers with similar years of control we can lay a groundwork for what interested teams would have to part with to obtain deGrom, who is a higher-caliber pitcher than both Miller and Quintana.
A Deal With the Astros
Of the likely deadline buyers, Houston is the only team to have legitimate links to deGrom. This is because they have all but openly admitted to loving deGrom, per Sports Illustrated's Tom Verducci, while also being equipped with a top farm system to offer the best possible combination of prospects.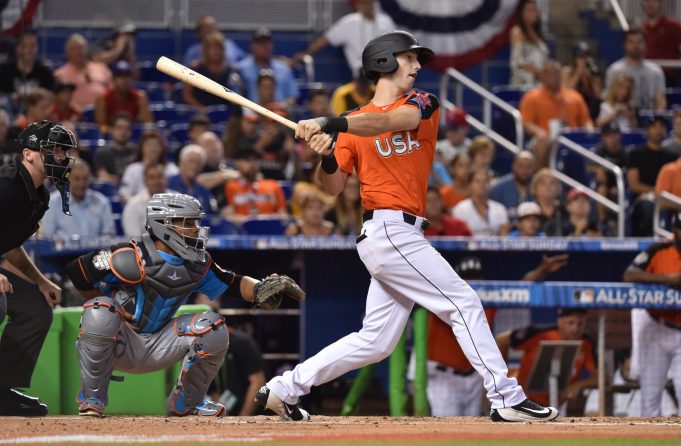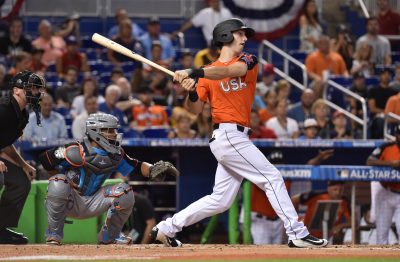 Any package that the Mets discuss with the Astros will surely start with Kyle Tucker, the talented center fielder who is a former fifth overall selection. He currently ranks as the 11th prospect in baseball and would certainly need to be included for the Mets to entertain the idea of moving an established pitcher in his prime.
After Tucker, the Astros have four more top 100 prospects on Baseball America's list. Since the Mets would be perfectly content keeping deGrom as their ace for the next three-and-a-half years, the Astros are going to have to offer at least one of those prospects to make it worth New York's while.
The Cubs gave up two top 30 prospects for Quintana, a lesser pitcher than deGrom, so the Mets can require that one of Houston's top pitching prospects on that list, such as Francis Martes, is included in any deal.
On top of that, the team could also ask for other ancillary pieces at positions of need, such as catcher Garrett Stubbs and third baseman J.D. Davis.
This would round out a package that is highlighted by Houston's top two prospects, while also including two other top 15 prospects. If the Astros balk at these demands, the Mets can walk away from the deal with their 29-year-old ace in hand.
In today's MLB landscape, an ace with three plus years of team control is worth an elite package of prospects. The Mets are not in a position where they must trade deGrom, therefore the Astros (or any team) with interest in the deGrominant one should be prepared to hand over a monster haul.