At this stage of the game, folks just have to get the idea that Carmelo Anthony doesn't fit in with the New York Knicks, Kristaps Porzingis.
O
ver the course of the last few seasons, those irrational, in your face so-called "Melo defenders" have come up with some beauties.
A famous one revolved around the thinking that Carmelo Anthony had "everything in place" to finally win the NBA Championship, or at least go further during the 2012 and 2013 NBA Playoffs. If not for some bad luck (J.R. Smith, Amar'e Stoudemire fire extinguisher and other nonsensical excuses), Melo would have reached the promised land.
A more recent dandy, now that he's a little older and most of Knicks fandom finally understands he isn't that lead superstar we thought he was, is the idea that he can be the Knicks version to Dirk Nowitzki in 2011.
Mind you, during that chip-winning campaign, Nowitzki averaged 23 points and seven rebounds a contest while shooting a red-hot .517 from the floor. The last two seasons have seen Melo average 22.4 and 21.8 points a night while shooting .433 and .434 from the field.
Nowhere are these two players comparable.
Both are future Basketball Hall of Famers. At one point in Melo's career, he represented one of the scariest one-on-one scorers in NBA history. But now, at this age with no knees and a sluggish body, his capabilities are nowhere near that of a 32-year-old Dirk in 2011.
He just doesn't fit in. Not that he fit in with anybody over the course of his 14-year career (Jeremy Lin, Mike D'Antoni, Amar'e Stoudemire, Allen Iverson, Phil Jackson, etc.), but it's now slapping us in the face to the point of delirium.
Even still, many are arguing that keeping Anthony is the better course of action rather than shipping him off to Houston or even Portland. Even if New York receives nothing back but cap space (which I understand is an impossibility thanks to the CBA), ridding themselves and turning the page is an enormous victory.
Melo Takes Pressure off of Kristaps Porzingis: False
One of the more laughable thoughts about Melo's two-year partnership with young Kristaps Porzingis is that he somehow takes pressure off the young Latvian.
Listen, the Knicks can lose without Melo or they can lose with him. He's not good enough to hold the value that a superstar NBA player does when he can actually affect the standings in a fruitful way. So exactly what pressure is he taking off KP? This squad is a losing team stuck in a losing culture.
If Melo was still the star his blind backers claim him to be, he'd definitely be able to at least get his team near the .500 mark with guys like KP, Derrick Rose (for all his faults), Willy Hernangomez, Justin Holiday, Mindaugas Kuzminskas, Kyle O'Quinn and Ron Baker. Look around the league. Was the Knicks talent that far off from the Indiana Pacers, for example?
We're not talking chips here. We're just talking 38 wins.
What Melo does that hurts KP's progress is easy to see.
A season ago, Melo finished a remarkable 10th in the league in field goal attempts with 18.8. Two seasons ago, he finished eighth with 18.2. Did you listen to that and allow it soak in? The man, while shooting a pathetic .433 from the floor, is still ranking in the top 10 in shots a night.
Meanwhile, Porzingis has averaged just 12.3 and 14.9 in the same categories in back-to-back seasons. For a possible "once in a generation" player, this is inexcusable. Obviously, we don't want KP chucking up Russell Westbrook type usage numbers, but come on, let's go. Let's make KP the focal point and put the right players around him.
(Oh, and for good laughs, champion Dirk Nowitzki averaged just 16.2 shots a game during his crowning season and he didn't have a big three or too many superstars around him either.)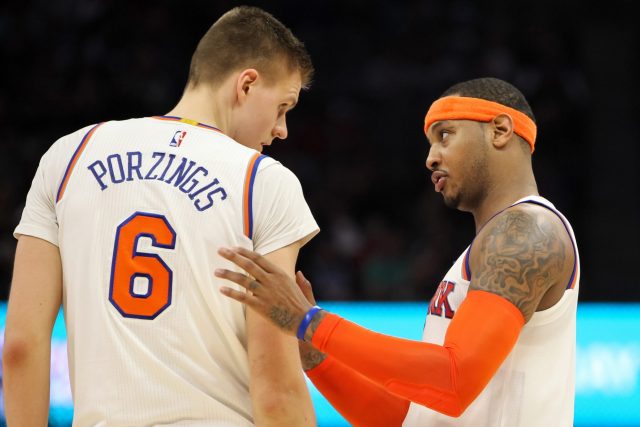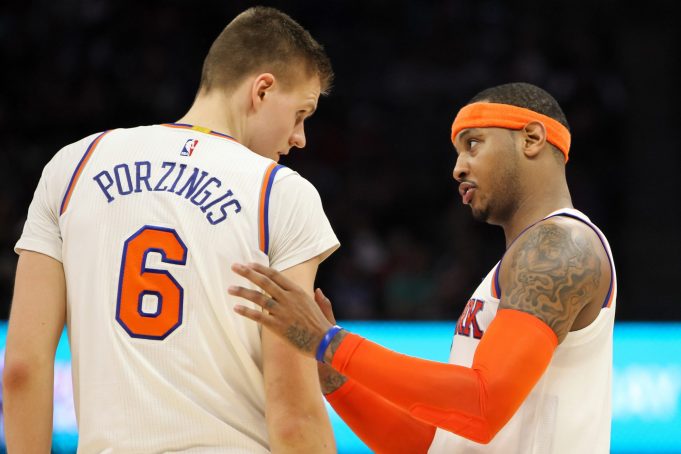 He Doesn't Fit Anywhere Defensively
If there's one area where Melo receives the short end of the stick, it's his toughness.
The man doesn't flop. He's a big boy at 6-foot-8 and when he does pound it down low, he does some damage.
Think back to his only 50-plus win season with the Knickerbockers. Mike Woodson played Anthony at the four almost exclusively and the team thrived. When New York threw out a lineup with Tyson Chandler at center and Melo at the four, basketball stuff could get done on both ends of the floor.
Two problems have occurred since then.
Phil Jackson loves big lineups.
Melo doesn't want to play the four.
Since Jax took over, Anthony has mainly played the small forward spot and major pain has commenced. Melo simply cannot keep up with the quicker (average) small forward in today's game.
This goes for any team right now: Melo is best used at the four. He can stretch the court with his shot making ability and not kill you on the defensive end in that spot.
There's a catch, though. If Melo is playing the four, you must make sure a legit, big-bodied center is in the lineup next to him.
This is where the bad fit with the Knicks comes in.
There's no chance Melo can play the four next to Kristaps Porzingis. On offense, it may be an extremely scary proposition. But offense is just half of the equation pertaining to winning basketball.
Should Melo and KP start in the frontcourt, the opposition would have a field day against them attacking the basket. KP is a solid defender. He gets it done in certain areas, most specifically, as a weakside help man. But when he's manning up a post body or closing out on the perimeter (when playing the four), he struggles mightily.
If Melo plays the three, this means KP is at the four. In this instance, as we saw it the last two seasons, the Knicks defense is entirely too slow.
It just doesn't work.
Here's a cold-hard basketball fact: If Porzingis and Anthony are in the same lineup together, for a championship team to commence, the other three positions must be absolutely stellar defensively. Since that's too tough a task, it just doesn't make sense.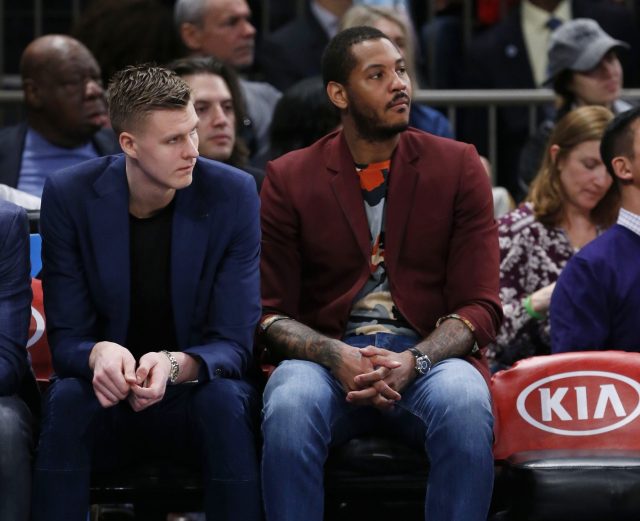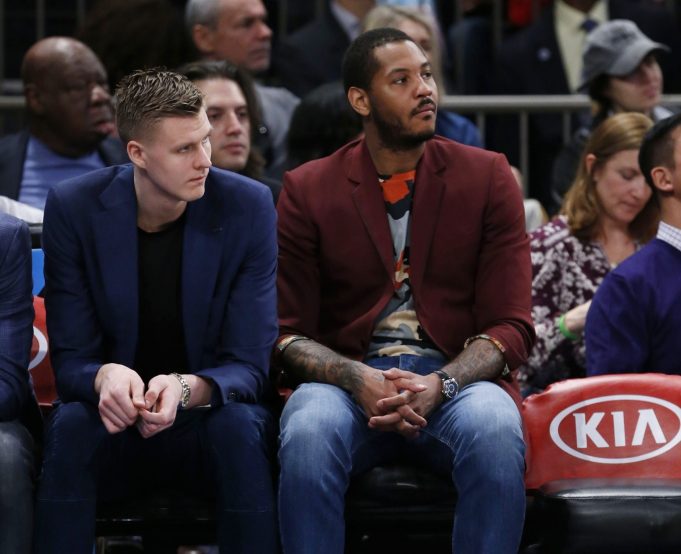 No Melo Leadership
When the 2015-16 season began, I and many others developed a newfound respect for Carmelo Anthony. With the advice of Jackson, he came out a new man, looking for the open man while attempting to play percentage basketball.
As a result, he finished with a career-high 4.2 assists per game.
It soon faded and Melo was back doing his regular low-percentage thing on the court.
With the addition of Derrick Rose — a non-traditional point guard — you'd think Anthony would take it upon himself to take over that point-forward role. No dice. In fact, last season may have been his worst in terms of sharing (2.9 assists, 2.1 turnovers a contest).
It honestly doesn't matter how much KP might like Melo. He's a guy who has a hard time fitting in with the team. He has trouble surveying the landscape and looking to provide in the areas the team is lacking. Rather, he still gets "his" in terms of shots and points despite the pieces around him.
These Knicks can lose with him. These Knicks can lose without him. It simply doesn't matter if he's here when we're discussing wins and losses.
It does, however, matter when it comes to the development of Kristaps Porzingis, other young pieces and the rest of the organization moving forward.
Carmelo Anthony in New York didn't work. Oftentimes in the NBA, a step back is 10 steps forward.
You just won't know until you see it unfold on the court.