New York Knicks forward Carmelo Anthony has never sailed smoothly at any point during his NBA career. It's been one giant quandary.
T
he
New York Knicks
journey with
Carmelo Anthony
hasn't always been the smoothest ride — one loaded with unfulfilled expectations of an athlete that has all the basketball talent and physical gifts you could ever ask for in a player in the professional ranks.
For six and a half years with the Knickerbockers, Melo could never reach the lofty goals that New York fans and the media set for him.
His game suggested he should have, but his actions convinced Carmelo believers otherwise.
I clearly remember when the Knicks were able to obtain Carmelo from the Denver Nuggets in a trade on Feb. 22, 2011. There was instant excitement from Knicks fans and that acquisition alone gave NYC hope that the Knicks could rise back into contention for the first time since the Latrell Sprewell–Allan Houston-Jeff Van Gundy days in the early-2000s.
The Knicks already possessed Amar'e Stoudemire on the roster (which they acquired in free agency during the offseason in 2010) and the thought of having two of the league's 15 best players on the same team only enticed fans even more.
Carmelo Anthony was a star performer. He was from Brooklyn. He wanted to be a Knick. He soaked in the spotlight and wanted to carry the burden of having to be the man to lift the franchise out of obscurity. The dude was a 6-foot-8 beast of a scorer (holds a career 24 PPG average) that could take over a game by using brute strength, skill, his size and a plethora of inside-outside offensive moves that only the likes of Kobe Bryant had at the time.
In hindsight, he was the Knicks version of Bernard King all over again with the only difference being that Knicks fans prayed he stayed healthy for a least a decade, whereas Bernard got hurt in his fourth season in New York.
Staying on the court was never the issue with Carmelo; it was what he did or for better purposes, what he didn't do while on the hardwood.
Carmelo was labeled "____" during his stint with the Nuggets and it carried over with him to the Big Apple.
If you guessed "ball-stopper," then come on down to select your prize. Carmelo likes to hold the ball — I mean hold it a lot to the point where there's no need for the opposing team to focus on the other four players on offense.
Having that label as the star and key offensive player for all these years has seemed to give him all the justification he needs to shoot the ball at will and take matters into his own hands on a nightly basis.
But that has happened too many times and the bigger issue lies in the fact that Carmelo thinks he's saving the team by playing that way but what he's really doing is holding his teammates hostage from forming any semblance of a team by trying to jell together, establishing an identity and just plain enjoying the game of basketball.
In many ways, Carmelo Anthony has disabled the Knicks these past couple of years more so than even that blundering Knicks owner, James Dolan.
Melo won't change his game at this stage of his career. He never did want to tweak his game, his attitude, his approach and his work ethic for the advancement of the team.
Where has his passion been all these years when it came to winning a championship? Have you ever seen any frustration out of him after a loss or just a small inclination of frustration these past four seasons, as the Knicks have missed the playoffs in the lowly eastern conference?
I haven't.
I've seen the likes of superstars like LeBron James, Kobe Bryant, Chris Paul and Kevin Durant disappointed, hurt and distraught after losses, but I can't recall No. 15 reacting in any way but in a relaxed, calm and cool manner.
Where's his fire at?
That's the perplexity of Anthony's Knicks career.
He just never wanted it bad enough. You would think the competitive drive of his Banana Boat amigos would have rubbed off on him all these years, but, sadly, that hasn't been the case.
You know why I know Carmelo Anthony doesn't want to win bad enough or wants to adapt his game for the betterment of the team? Here is some conclusive evidence over the course of his career that suggested so.
Reason No. 1: The Banana Boat Strategy
Back in the summer of 2006, Carmelo and his rising star buddies LeBron, Dwayne Wade and Chris Bosh each had just finished the third year of their rookie contracts and were eligible for an extension that could go up to five years.
As the story goes, LeBron convinced the crew to all sign a three-year extension that would make them free agents in 2010 at the primes of their careers and provide them with the possibility to play together and win multiple titles.
The drawback was a shorter deal that would mean lesser money. Signing a longer deal would have meant more guaranteed money. However, James, Wade and Bosh wanted the flexibility and desired to keep their options open. You already know what happened: they each signed a three-year, $60 million extension that would leave them as free agents in 2010.
We all know how that turned out.
As for Melo, he took the five-year deal that would pay him $80 million and make him a free agent the following summer in 2011.
Melo could have been a Heat and been a part of a super team that won two titles, but one could only assume his reason was that he went for the guaranteed money over a chance to form a championship-caliber team.
Maybe it was his reason. Perhaps it wasn't.
You decide.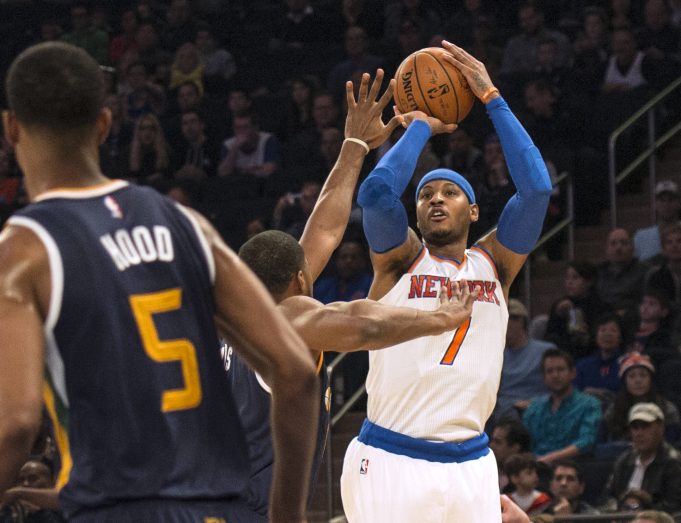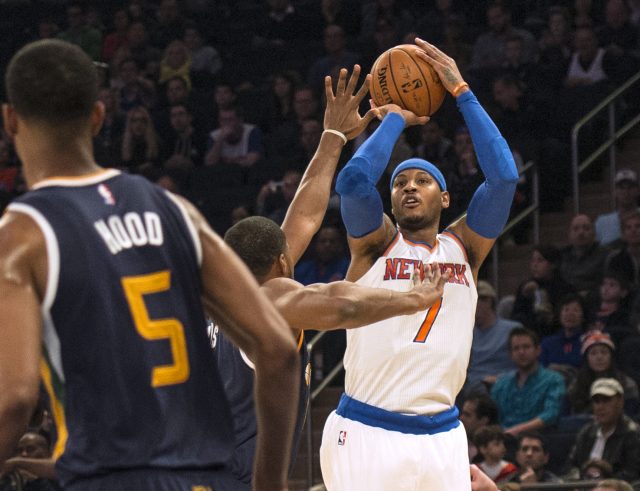 Reason No. 2: The Green
Early in the 2010-11 season as a member of the Denver Nuggets — before he was eventually traded to New York — there were continuous reports that Carmelo wanted to be traded before he hit free agency that offseason and the Knicks were his preferred destination.
Well, instead of waiting to sign with the Knicks in the summer of 2011 as a free agent, he forced his hand and got his wish at the midseason point which kept his previous contract with Denver intact. That resulted in more money for Carmelo as he signed a three-year, $65 million extension with the Knicks.
(There was speculation that Anthony was so concerned about the impending NBA lockout in the summer of 2011 because that could have prevented him from getting the mega payday he was seeking due to the current CBA deal expiring that led to him and his agents forcing a trade to the Knicks during the season.)
The pitfall of that trade going down led to the Knicks having to deplete their roster filled with young assets (Danilo Gallinari, Wilson Chandler), a solid big man in Timofey Mozgov, Raymond Felton, who was playing the best basketball of his career that year under head coach Mike D'Antoni's favorable offensive system, and a 2014 first-round draft pick.
In attempt to find a better situation for himself, Carmelo ended up creating a predicament for not just himself (if he signed with the Knicks in the offseason like he should have done, then the roster stays intact and they have a better chance at competing and maybe even beating LeBron's Heat and the Celtics Big Three of Kevin Garnett–Paul Pierce–Ray Allen in the East playoffs over the next three years), but for the Knicks franchise by breaking up a core group that was playing respectable and a up-tempo brand of basketball for D'Antoni (more on that coming up) before the trade occurred.
Through this period, it looks like winning wasn't on his mind … again. Only the moolah.
Reason No. 3: All About Amar'e
To piggyback off reason No. 2, let's dive into the Amare Stoudemire-Carmelo Anthony partnership during their first season in New York.
Signing Amare Stoudemire during the much anticipated and hyped 2010 offseason was the move that propelled the Knicks back into relevancy heading into the 2010-11 season and boy did it start off well for STAT (Stoudemire's nickname if you didn't know).
In December 2010, Stoudemire set a franchise record by notching 30-plus points and shooting 50 percent or better from the field in nine straight games. He was thriving as the No. 1 offensive option in Mike D'Antoni's east coast version of the famous "Seven Seconds or Less Offense" they ran together during their Phoenix Suns days.
Stoudemire became the first Knicks player since Patrick Ewing in 1997 to start in an NBA All-Star Game, averaging 26.1 points and 8.6 rebounds per game through the first 54 games (28-26 record before the trade) and was a legit top-five MVP candidate in the first half of the season.
Suddenly, Carmelo comes in after the trade and Amare Stoudemire's game was never really the same during the rest of his duration as a Knick (he suffered his share of injuries too).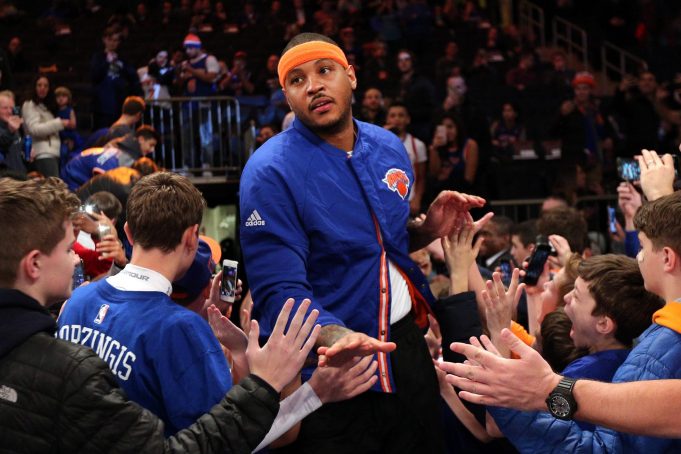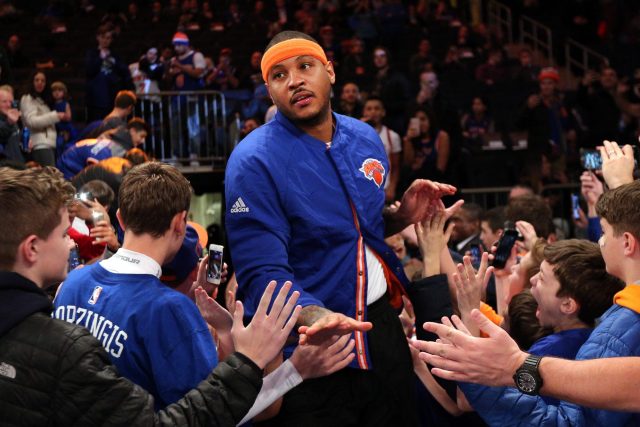 Carmelo instantly became the No. 1 option and Stoudemire's play and numbers dropped drastically in the final 28 games of the season. Stoudemire saw fewer touches, there were fewer opportunities to score and finish in transition and in pick-and-roll situations (his bread and butter), and basically felt regulated on the court playing beside Carmelo.
Having two stars of that stature in their prime is supposed to be a win for a team, but instead, it turned out to be anything but that for the Knicks. Those two together should have accomplished something special.
The biggest knock on Carmelo during his time in New York is that he couldn't figure out how to play nice with other stars or role players. He never could adjust. He never wanted to. He never fully realized that in order for the team to take the next step, he needed to adapt and mesh his talents in with not just Stoudemire but with the rest of his teammates.
In his 2013 season (his best as a Knick individually and team-wise), he exhibited some traits of elevating his team but fell flat in the following seasons.
Kobe figured it out. Jordan did as well. Melo never did and really, I don't think he ever wanted to fine-tune his game.
Reason 4: Linsanity
To stick to the subject matter of Carmelo not being able to click with his teammates, well that extended to the 2011-12 lockout season when a little unknown point guard from Harvard named Jeremy Lin snatched the spotlight away from the Knicks franchise player and grabbed the hearts and minds of New York sports fans from February 2012 thru March 2012.
Linsanity was such a major hit that it landed the Asian-American on the cover of Sports Illustrated in back-to-back weeks and on Time Magazine during that two-week stretch. Not only did the sports country/media embrace Lin, New York did as well.
Best of all…the Knicks were playing winning basketball, were fun to watch and the team seemed to gravitate completely to Lin's effective play. This all happened while Carmelo was sitting on the sidelines due to injury for a period of time. When he came back in late February, somebody seemed to have a problem with all the newfound attention a certain teammate was getting.
Amar'e Stoudmeire even said last year that Carmelo was jealous of all the success and shine Lin was receiving.
Lin never fit in with Carmelo the way the Knicks envisioned (they lost in the first round of the playoffs 4-1 to the eventual champion Heat) and in the offseason, Lin signed with the Houston Rockets.
That's a classic example of Carmelo not being able to or wanting to adjust his game for the sake of the team and meld his style of play with a player that had the team on the right track.
Instead, yours truly upset the rhythm of the band by forcing his ball-dominating ways on everyone involved.
The dude might as well have been playing 1-on-5 out there.
Reason No. 5: The 2014 Decision
Summer of 2014, otherwise known as the Summer LeBron Returns to Cleveland.
Carmelo Anthony was a free agent and his top three teams were the Knicks, Chicago Bulls and Los Angeles Lakers.
Here's what his options were:
Door 1: Sign a five-year, $122 million deal with the Knicks to play for another inferior team that was going nowhere anytime soon.
Door 2: Seize a four-year, $97 million deal with the Lakers, become the Next Lakers Superstar in line after Kobe walks away, and take over a team that was on the verge of going downhill and into the lottery.
Door 3: Sign a four-year deal for less money with the Bulls to become the go-to guy down the stretch and No. 1 scoring option for a title-ready team in the East that already had Derrick Rose, Jimmy Butler, Joakim Noah, Pau Gasol, Taj Gibson, Nikola Mirotic and Kirk Hinrich on the roster, with one of the five best coaches in Tom Thibodeau in place.
Sure, he would have had to take less money, but hooking up with a Bulls team that was primed and built to win the 2015 title that season would have been an ideal fit for Carmelo.
If your priority is winning, wouldn't you walk through Door 3, especially if your contract was still a pretty large sum?
I would have.
You know what door Carmelo Anthony chose to walk through and was fully satisfied with his decision?
Yep, Door 1. I rest my case.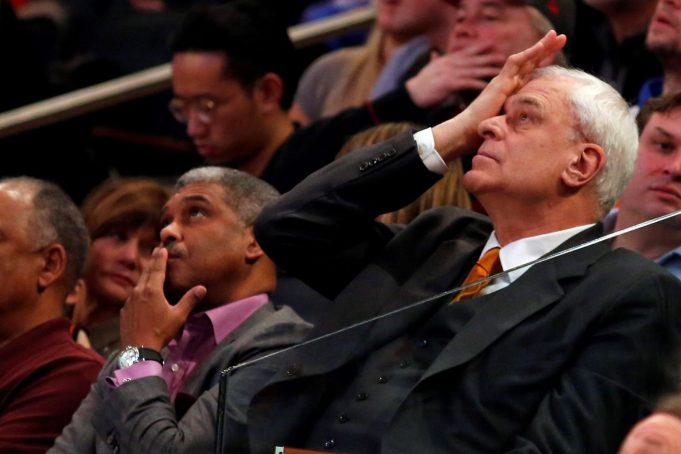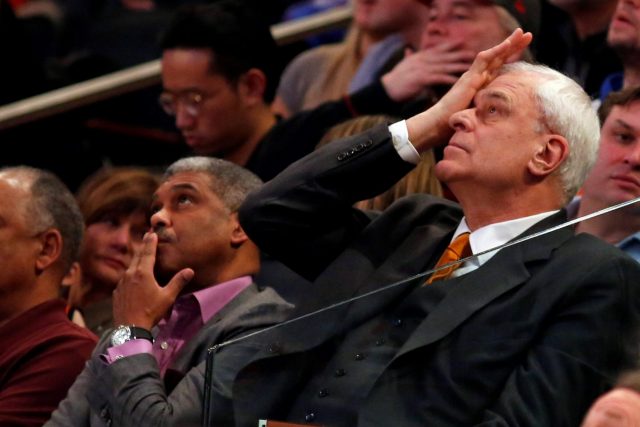 Reason No. 6: The Zen Master
My last reason pretty much highlights why former Knicks President Phil Jackson had been dogging out and pushing Anthony out of New York this past season.
I admit how Phil Jackson handled the Carmelo Anthony situation wasn't the brightest. He tried to alienate and ridicule the guy into waiving his no-trade clause so they could rebuild and start fresh without him.
Like I said, I won't defend Jackson's approach, but was he really wrong in what he said in his comments.
Have you ever wondered why Jackson gave Carmelo a no-trade clause (which players rarely receive) when he signed back with the team in 2014?
That no-trade clause represents leverage and the power for a player to exercise their option regarding where they desire to play or don't want to play in the future.
By granting Carmelo with a no-trade clause, Jackson — who took over in March 2014 and was heading into his first full season as Knicks President — was signaling to his star player that he was putting his trust in him to evolve from a premier scorer into a player that was more invested in team goals that could lead to a championship.
Jackson thought he could change his star player's mentality and make his number one priority about winning. He thought he would adapt. He thought he could convince Carmelo to embrace the Triangle Offense (which Melo would fit well in).
He thought he could empower Carmelo to find the right balance between dominating a game offensively, while playing with intensity and effort on defense, and involving his teammates, by staying within the concept of the game the same way he was able to do with Michael Jordan and Kobe Bryant.
And what did that lead to: Championships. Multiple at that.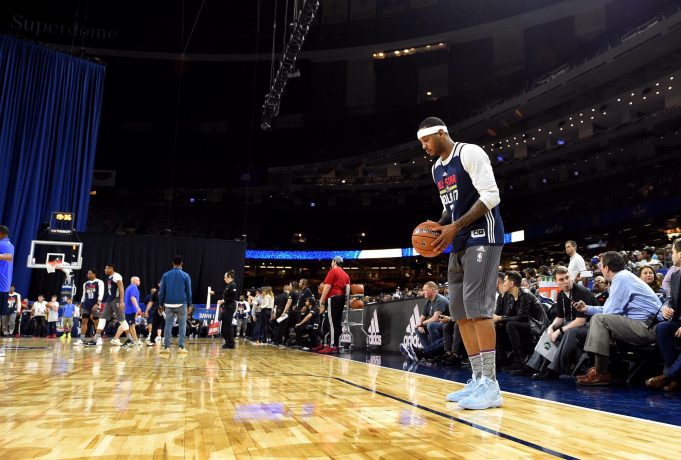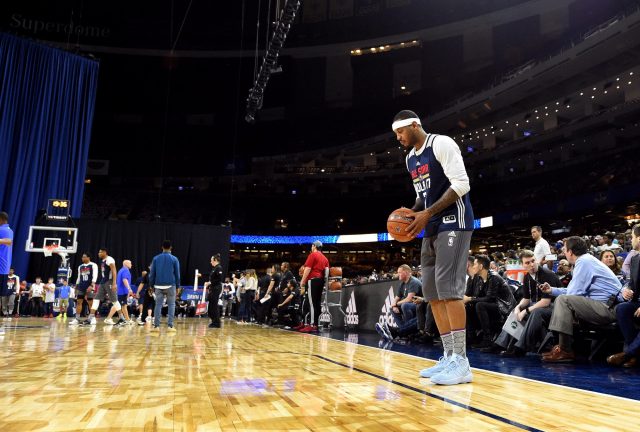 Jackson has been pushing the man out because his experiment with Carmelo didn't work because Carmelo didn't make an attempt to try something new. He had real ambition to build his own brand, but not to win and improve as a player.
The thing about wanting something in life is that people can want it for you all they want but if you don't want it for yourself bad enough, then it really doesn't matter.
I've come to the conclusion about Carmelo Anthony's basketball career, that he just didn't want it bad enough.
Can't blame Phil Jackson and his teammates for that.