The New York Mets are going nowhere fast and must soon decide whether to retool or blow up their current model and build towards the future.
The New York Mets enter the 2017 All-Star break with a 39-47 (.453) record, 12 full games behind the Washington Nationals in the NL East and 10 1/2 games back of the Colorado Rockies, who hold the second wild-card spot.
At this rate, the Mets will lose nearly 90 games, not the outcome the team anticipated coming out of spring training.
They are a team that isn't getting the pitching, hitting or defense when they need it. That's a bad combination in this business.
The Amazins aren't creating their usual buzz, even in defeat. They are a flat bunch and as bland as a team can be. There is no drama, no intrigue, and little spark. Case in point: They are 0-38 in games where they are losing after eight innings and only 1-33 when trailing after seven. Yuck.
Here's some more yuck: The Mets have been outscored by 49 runs (455-to-406) and served up 122 home runs—not a winning formula.
Think we're done with the ugliness? Think again. Their pitching staff has a WHIP of 1.47 and has allowed teams to hit .271 against them. Only Baltimore (1.52 WHIP, .276 BAA) is worse. San Francisco's arms (.271 BAA) have been just as hittable as New York's.
They have logged in just 36 quality starts in their first 86 games, though injuries have contributed to that figure.
Those injuries have ruled the team's headlines in the first half. The Mets currently have 10 players on the disabled list, an ongoing theme that has fans up in arms over the way the team trains their players and manages their ills and ailments.
That's a legitimate gripe, as the Mets have sent 23 players to the DL in the first half alone this season, some players making more than one trip.
An interesting side note is that the Mets have not been caught totally on the wrong end of the home run frenzy this season. They have gone deep 129 times, sixth-best in the majors.
In fact, according to Elias, they enter the All-Star break with 79 home runs in 43 road games, an average of 1.84 homers per road game, the highest ever posted by a team before the Midsummer Classic.
But, there is little optimism the team will turn this listing ship around and make a second-half run. Soon, GM Sandy Alderson and his lieutenants will have to make the decision on whether this season is salvageable or not and then plan for the future.
That is if Alderson chooses to stay on as the team's GM.
He may retire, as might manager Terry Collins. Alderson is closing in on 70 and may feel rebuilding is too much of a heavy lift at this stage. Collins, 68, might not want to stick it out, either. He looks as if he's had enough.
Even though starters Noah Syndergaard and Matt Harvey are expected to return in August, among other players, the Mets figure to have already made up their minds that 2017 is a lost cause long before their back on the field.
They have an aging roster with veterans that contenders may find useful in the second half of this season.
Those players include reliever Addison Reed, OFs Curtis Granderson and Jay Bruce, SS Jose Reyes, RHP Fernando Salas, 1B Lucas Duda and catcher Rene Rivera, all who will be free agents after this season. The Mets are unlikely to bring any of them back in 2018, so they should take what they can get for them in trades over the next few weeks.
Other players that could be dealt are SS Astrubal Cabrera, 2B Neil Walker, and reliever Jerry Blevins.
One must take note that several of the aforementioned players have spent time on the DL this year, which decreases their value even further. The two most marketable at the moment are Reed and Bruce, both who've had solid first halves.
The Mets want to move forward with their young players and some free agent imports in 2018. Their rotation, which has failed them, for the most part in 2017, will remain the cornerstone of the franchise for the foreseeable future.
Syndergaard, along with Jacob deGrom and Steven Matz creates a strong front of the rotation with Zack Wheeler, Seth Lugo, and Harvey filling out the backend.
The issue, of course, will be to keep them healthy for a full season. If the Mets can do that, they will compete.
As for the daily lineup, well that will be a work in progress.
We know that two-thirds of the outfield will consist of Yoenis Cespedes and Michael Conforto, the team's lone All-Star this season. Both have been dogged by injuries, but we know what they can do when healthy,
Brandon Nimmo and Juan Lagares will be back but the Mets might want to make a free agent splash here, relegating the pair to reserve duty. No, Tim Tebow is not the answer.
The 2018 infield will feature Amed Rosario at shortstop, that much we know. At least we think we know. If Alderson is still calling the shots, Rosario could be stuck in Triple-A forever.
Keeping Walker would be ideal, but the cost may be too great. They have several young players we could see assume more prominent infield positions, including former first-round picks Gavin Cecchini and Dominic Smith.
Free agents Eric Hosmer and Mike Moustakas are possibilities if the Mets decide to bring in outside help.
Catcher is still an issue. Rivera has been a real find for the Mets, but Travis d'Arnaud and Kevin Plawecki have been less than impressive to put it kindly. The club may explore several options here, including a trade.
But this season is over. We all know it. They may play better in the second half, but to what avail? As fans, would you like to see what the future might hold, or what the past has wrought?
Let's not rule out the Tebow factor here, either. If the Mets tank, there is a distinct possibility that he gets a September call up.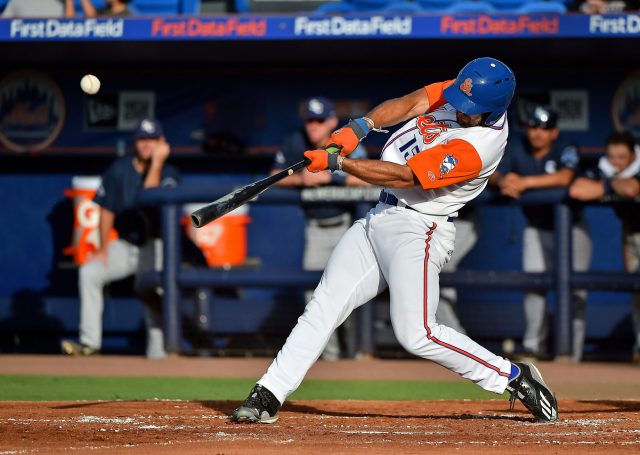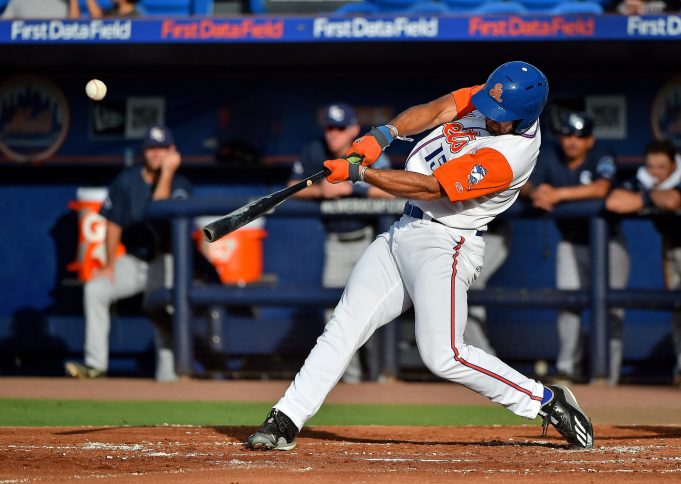 You'd be surprised how many fans will turn out to see the former Jets QB and Heisman Trophy winner don a Mets uniform. For curiosity purposes if nothing else.
Yes, that's what it's coming to … the Tim Tebow show.