We examine the top five teams, outside of the New York Knicks, that would best suit Carmelo Anthony for the 2017-2018 NBA season.
C
armelo Anthony wants to stay a Knick.
Former New York Knicks President Phil Jackson was pushing him to waive his no-trade clause and leave New York.
Well, it was reported this past weekend that Anthony is willing to waive his no-trade clause to join title contenders like the Houston Rockets and Cleveland Cavaliers should those teams engage in a trade with the New York Knicks.
I'm sure Anthony's openness to waive his no-trade clause and possibly depart from New York City stems from his close friend, Chris Paul being traded to Houston this offseason. The threesome of CP3, Anthony and James Harden sounds like one hell of a combination in H-Town.
Teaming up with his boy, LeBron James in Cleveland is also a preferred location for Anthony due to the chance to compete for an NBA championship and most importantly to stay close to his 10-year-old son, Kiyan — as Anthony continues going through a separation from his wife, La La Anthony.
I'm not sure what the Knicks organization's objective with Carmelo Anthony is right now but just in case he is traded or gets bought out of his contract and goes to another squad, here are his five best options (not involving the Knicks) in terms of basketball fit, location (we all know Carmelo cares about this factor) and chances of winning a title.
I'm starting at five and going in reverse order.
5. Boston Celtics
If Carmelo is looking for a team that has built a strong basketball foundation over the last few years that comprise of players who are good character guys, are smart, tough defensively, and hustle and play with an edge every night, then Boston is the place for him.
If the 10-time All-Star desires to play for a coach who gets the most out of lesser skilled players, is highly clever about the game, youthful, relatable and is terrific at utilizing a player's strength by finding how that player can fit in within the team philosophy, than Brad Stevens is your guy.
Who has a better chance next year of dethroning the Cleveland Cavaliers, the winner of the Eastern Conference the past three years other than the Boston Celtics?
With Gordon Hayward on board to join Boston in free agency, the Celtics nucleus of Hayward, Isaiah Thomas, Al Horford, Jae Crowder, Avery Bradley, Marcus Smart, Jaylen Brown and rookie Jayson Tatum will easily be a top-two team in the East in 2018.
If Carmelo somehow gets bought out of his Knicks contract and signs with Boston, what a boost that would be for the Celtics offensively. I'm sure Stevens would be apprehensive of Carmelo's horrid defense but on the offensive side of the ball, he's got something left.
What will help Carmelo is that he won't be forced to carry the load as much with a team that already has players who understand their roles. He just has to jump in and follow suit.
Location wise, I'm not sure Boston would be appealing for Carmelo, however, if he's on the market, your move to make Danny Ainge.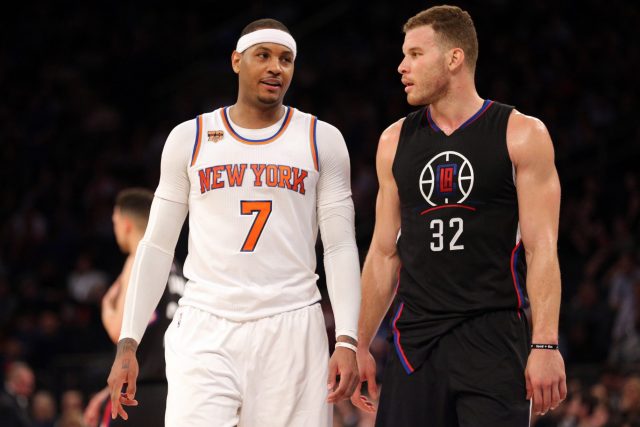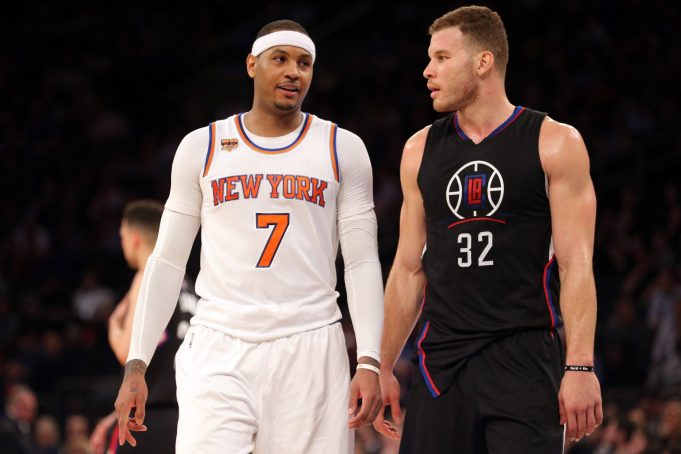 4. Los Angeles Clippers
This move would have been very conceivable if Chris Paul was still there, but he's gone.
Blake, DeAndre and Doc still reside in Clipperland but with their point guard now running the show in Houston, the notion of Carmelo in La La Land doesn't seem bright anymore.
The 2013 scoring champion would have been plugged into the three spot position (small forward) that the Clippers have been trying to fill for years, plus the idea of living and working in Los Angeles — one would have to think — will entice Anthony.
However, while the Clippers would still be a plausible fit for Carmelo, I see the move to Los Angeles as highly unlikely now.
3. Washington Wizards
This is my sleeper pick, folks.
As of right now, the Washington Wizards are not sure whether they will bring back free agent small forward Otto Porter next season. However, if they can't, snagging Carmelo Anthony would be a pretty good consolation prize.
The Wizards are on the verge of really elevating themselves with the Cavaliers and Celtics at the top of the Eastern Conference but they need more reliable scoring to support the backcourt of John Wall and Bradley Beal. Carmelo could provide that for the Wiz.
If Washington loses Porter, Carmelo could slide into the small forward position and provide outside shooting (which they lack), instant scoring and give the Wizards a proven star that could serve the role future Hall of Famer Paul Pierce did for Washington in the 2015 season.
As for the city, Washington D.C. might not be Carmelo's ideal spot to live in. The Wizards are on the rise and he might be the player that could take the franchise to the conference finals for the first time since 1979.
2. Houston Rockets
This is a team that has picked up steam in the Carmelo Anthony sweepstakes in the last week, due to acquiring Chris Paul and pairing him with the 2017 NBA MVP runner-up, James Harden.
Given Houston Rockets General Manager Daryl Morey's aggressive mindset when it comes to going all in to build a capable championship team, going after the Knicks star will be second nature for him.
A Paul-Harden-Anthony trio could be devastating offensively and could really push this year's NBA champion Golden State Warriors in a seven-game series.
Houston, which has no state tax is a plus and the fact that with Melo joining the Rockets, I'd rate them as the second biggest title favorite behind the Warriors going into the 2017-2018 campaign.
If there's one team outside of New York I'd like to see Carmelo play for, it would be the Houston Rockets.
1. Cleveland Cavaliers
The No. 1 destination for Carmelo Anthony next season — in my view — would be in Cleveland with his buddy LeBron James and Kyrie Irving (and maybe even Kevin Love, if he's not traded for him).
With LeBron and Kyrie carrying most of the ball-handling and playmaking duties for the Cavaliers, Carmelo could basically be a spot-up long distance shooter and force teams to zero in on him, as that would open up more scoring opportunities for not just LeBron and Kyrie but for everyone else.
With Melo on the floor, that's just another major threat opposing teams would have to deal with.
Playing in Cleveland would give him the best chance in his career of playing in the NBA Finals (the path through the East playoffs as we all know is a cakewalk) and he could be the piece that could elevate the Cavs past the Warriors next year (Golden State would still be the favorite in my opinion).
Obviously, defensively is the Knicks star's biggest achilles heel and Cleveland's as well, when they face one of the best offensive teams ever but Carmelo could help the 2016 champs make an attempt to outscore the 2017 champs — which is your best bet anyway.
Carmelo might not enjoy Cleveland (most don't) but the lesser role he plays and the winning part might do just fine for him.
Whatever happens with Carmelo Anthony this offseason will surely be newsworthy.