With the triangle now out of the equation, the New York Knicks should look to ink a starting point guard, moving Frank Ntilikina to the two guard.
W
ith NBA free agency now just a few hours old, the
New York Knicks
are attempting to round up what their intentions are before the clock strikes midnight. Those intentions though, are likely much different than they were 72 hours ago. With team president
Phil Jackson
being fired Wednesday morning, the Knicks are now free of the triangle offense — the system that Jackson was insistent on the team running.
As a result of his departure, the Knicks will now look to formulate a roster that can be competitive in the Eastern Conference. Could doing so feature a pursuit of a point guard on the free agent market?
While the Knicks selected Frank Ntilikina with the eighth pick in the NBA draft, it's well known and documented that he can play both guard positions. Standing at 6-foot-5 and possessing a near seven-foot wingspan, Ntilikina has the makeup to play backcourt positions. Playing him at the two would also make some more sense when you take into account Jeff Hornacek's history with versatile guards.
Back in his days with the Phoneix Suns, Hornacek ran his offense with two point guards — Goran Dragic and Eric Bledsoe. By starting the two together, side by side, the Suns were one of the quicker and more high profile offenses in the association. In fact, they scored the seventh most points per game in the association that year, which was key to their 48 win season.
In addition to starting these two, side-by-side though, Hornacek also went with Bledsoe and Brandon Knight after Dragic's departure via trade in 2015.
With the fact that Hornacek is adept to starting two point guards side by side in mind, adding a lead guard makes sense for the Knicks.
When it comes to their options, two players stick out, one being Jeff Teague.
According to ESPN's Ian Begley, the Knicks and Teague have "mutual interest" in inking a deal; snatching him would be a huge get for the Knicks.
Teague, the longtime Hawk and former Pacer point guard, is hitting the free agent market for the first time in his eight-year career.
Throughout the duration of his career, Teague has been known to be a weapon on the offensive end. Ranging from scoring in isolation to shooting off the dribble, to even attacking the rim, Teague is a well-rounded scorer; he's also adept at finding his teammates. Over the last three seasons, he has averaged 6.9 assists per game.
Given his well-rounded play, Teague could very well pan out to be the Knicks' solution at the point guard solution. Another option though, if they opt to go for a more defensive savvy player, is George Hill.
Last year, Hill really came into his own with the up and coming Utah Jazz. After spending time with the Spurs and Pacers before arriving in Salt Lake City, George was known for mostly being a defensive stopper. However, this year he began to develop an offensive game to add on to that arsenal.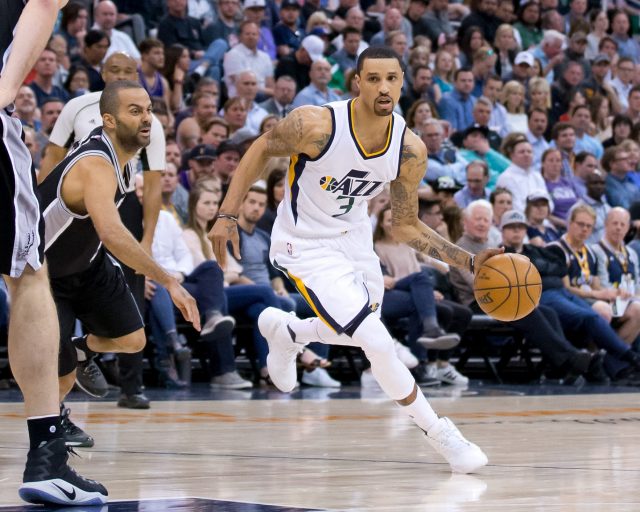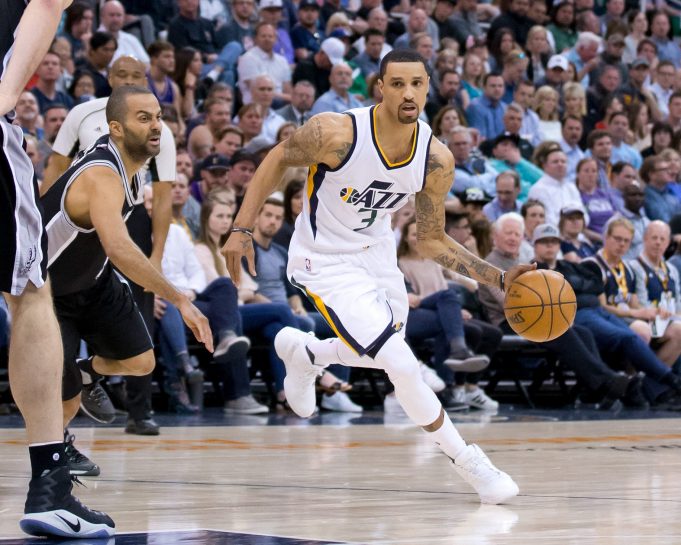 Averaging a career high 16.9 points per game and shooting 40.3% from beyond the arc, Hill put together an impressive and breakout 2016-17 campaign on the offensive end.
If signed, Hill would come in and be the team's starting point guard from the get-go and provide them with an asset on the defensive end.
If the Knicks are to make a run at Teague or Hill though, they'll, of course, have to clear cap space.
Possessing approximately 13 million in cap room ( after Maurice Ndour's release), the Knicks will need to clear more money in order to make a run at either guard. They can do by renouncing the cap rights to Sasha Vujacic and Derrick Rose, which would clear roughly four million. In addition to renouncing their rights, the Knicks would also have to trade away Courtney Lee (who they should be able to deal) and/or Carmelo Anthony (unlikely).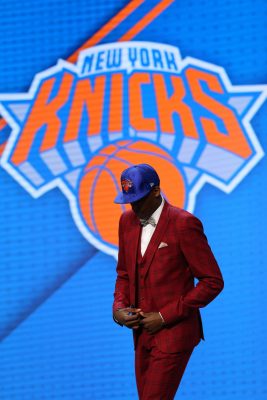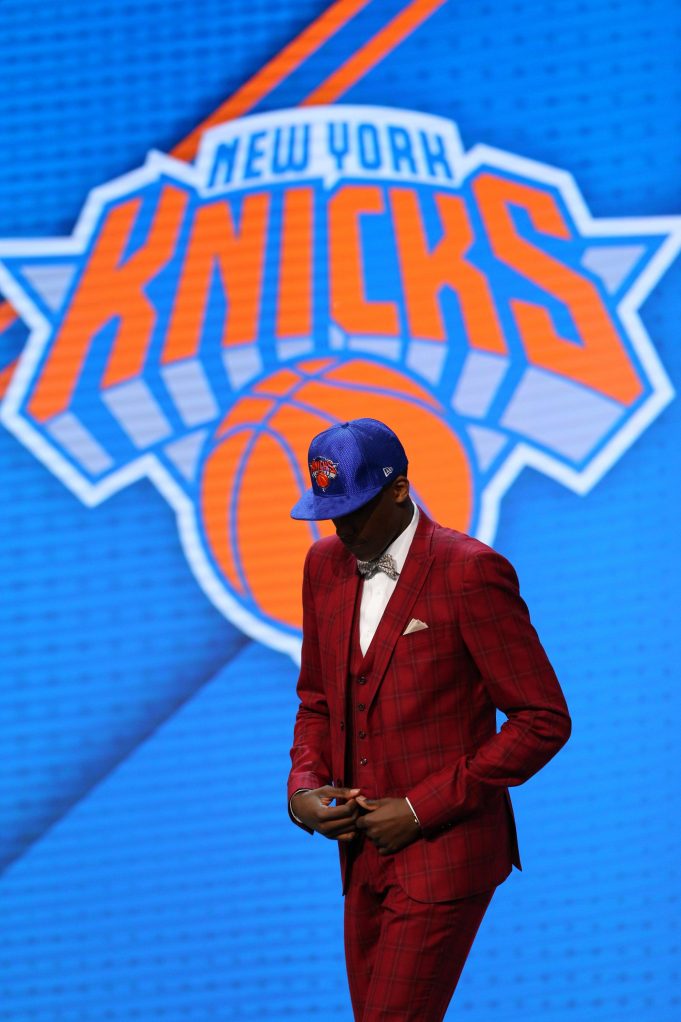 Realistically, the Knicks clear enough cap space to have about $29 million to play with – enough to sign Teague or Hill. If they do and can go through with snatching one of them, the focus shifts to what Ntilikina's role becomes? While the first thought is to have him be Teague's backup, it would actually be more beneficial to play him at the two guard.
With a number of scouts and even the Knicks claiming that Ntilkina can play both guard positions, starting him at shooting guard alongside a free agent signee makes sense. The logic behind it?
Say the Knicks are of the belief that Ntilikina will ultimately pan out to be a point guard, however, they ink a starting player at that position, they could start both players in their backcourt in what would be an effort to remake and run the offense to Hornacek's liking. The other important factor to keep in mind is the reaction the Knicks may receive if Ntilikina isn't starting from day one.
The Knicks selected Ntilikina with their lottery pick and with that selection the general consensus is that you're drafting a starter. However, if Ntilikina doesn't start from day one, the Knicks would be doing him, as well as their fan base a disservice.
This is a team that passed on proven college products such as Dennis Smith Jr. and Malik Monk — both players who would've started from day one without question. With Ntilikina though, it's not set in stone that he'll be in the starting five. The way they can avoid dealing with the pitchforks that come with not starting him at the one, though, is by playing him at the two. Doing so allows whoever they bring in at the point to run the show, while Ntilikina plays and learns alongside him; it would also be the type of backcourt Hornacek salivates over.