Wednesday morning, New York Knicks owner James Dolan finally came to grips and cut ties with team president Phil Jackson; him doing so saves the public portrayal of the Knicks as a whole. 
A
fter three long, drama infested years under his rein, team president Phil Jackson will no longer be associated with the New York Knicks.
According to Adrian Wojnarowksi of The Vertical, Knicks owner James Dolan has cut ties with Jackson, ending his three year tenure as president of basketball operations. Jackson is still owed $24 million on the five year, $60 million dollar deal he inked back in 2014.
Owner James Dolan is weighing the future of Phil Jackson as New York Knicks President, league sources tell @TheVertical. Story online soon.

— Adrian Wojnarowski (@wojespn) June 28, 2017
Update: Knicks, Phil Jackson partnership could end as soon as Wednesday, league sources tell @TheVertical. https://t.co/kXbnS4jCiq

— Adrian Wojnarowski (@wojespn) June 28, 2017
When you view the situation from all angles, Jackson's firing is long overdue. Ranging from his insistence on running his beloved, yet extinct triangle offense, to his public bashing of his own players, Jackson displayed pure arrogance through utter embarrassment in his time with the Knicks – such embarrassment that was rubbing players off the wrong way.
After the 2016-17 year transpired, second year phoneme Kristaps Porzingis reportedly skipped his exit meeting as a result of the "lack of direction" with the Knicks organization. Then, once the offseason began, Jackson opted to take trade calls on the young Latvian, essentially flexing his muscles to show that he's the man in charge – even though Porzingis was the only reason why he was still employed.
Also, the most recent series of events featured Anthony coming to Jackson and the Knicks in hopes of pursuing a buyout – a request which they were resistant towards doing. Anthony's motive in asking for such a drastic transaction is most likely due to a desire to win yes, but also because of the way Jackson treated him.
By going on a TV show to talk about Anthony's selfishness with the ball, as well as tweeting about his flaws and even saying in a press conference that he would be better off elsewhere, Jackson operated with no conscious when it concerned his star player.
With Jackson now out of the picture, general manager Steve Mills will be the man in charge for the Knicks; Mills was in charge of operations before Jackson was brought in back in 2014. With Mills taking back control and Jackson getting kicked out the door, Dolan deserves credit.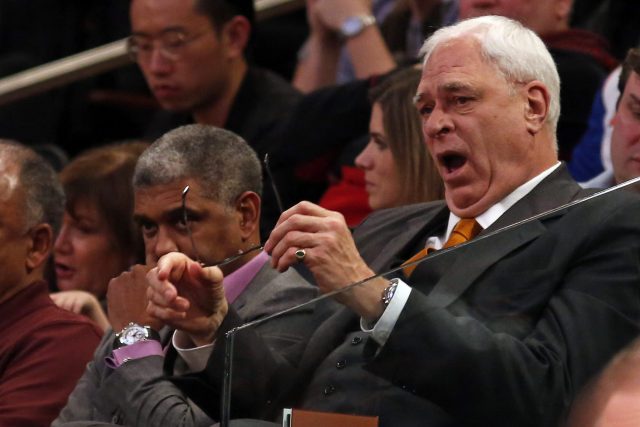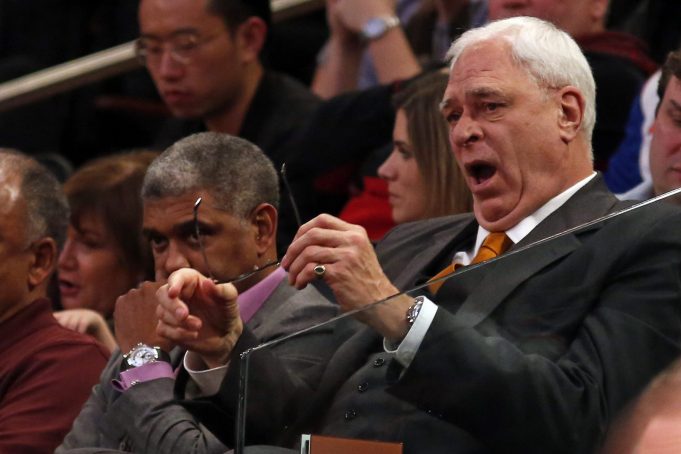 Would firing Jackson before the draft or opting out of his deal with him have been a smarter move? Most likely because it would've allowed the Knicks to make a selection based off the offense that head coach Jeff Hornacek wants to run (hint: it's not the triangle). However, regardless of timing, Dolan deserves applause for finally pulling the trigger on letting go of Jackson.
Over the course of the last few seasons, Dolan has been in hiding. Ever since his hiring of Jackson, Dolan has told fans and media to "ask Phil" when it came to questions and concerns regarding his team. Dolan even declined to comment about the current state of the Knicks on the Michael Kay Show back in February.
In that segment though, Dolan also said that he planned to remain loyal to Jackson, regardless of the team's lack of success in his tenure. However, four months later, Dolan's mindset changed and doing so was for the betterment of the franchise.
With Jackson out the door, the triangle talk is dead. The drama with the organization and the players is gone – with Anthony and Porzingis especially.
By firing Jackson, Dolan will be eating his rather large contract, but he'll more importantly be ridding the Knicks of their biggest liability – Jackson's presence. With that liability dismissed, the public portrayal of the Knicks has and will change for the better.
Given his clouded judgement and stubbornness when it came to evaluating talent and making maneuvers, Jackson was painting the image that the Knicks should be a last resort for any free agent to player. While they're still unlikely to land any big fish this summer even with Jackson gone, the Knicks as a whole are in a much better place than they were 24 hours ago.
Despite going on the record, saying that he will not make such a drastic decision, Dolan took notice to the clown-show that Jackson was running. As a result, he decided to take action and do what had to be done – fire him.
In his three years with the Knicks, Jackson recorded a 80-166 record.