The New York Knicks are expected to part ways with team president Phil Jackson. We looked at five potential replacements for the Zen Master.
Y
ou can't make this stuff up. Just six days after the NBA Draft and three days before the start of free agency the Knicks have reportedly decided to fire Phil Jackson. It's a decision from James Dolan that's long overdue, but that's the problem.
Now the Knicks must scramble for the Zen Master's replacement. According to ESPN's Marc Stein, former Raptors executive Tim Leiweke is leading the search.
The internet and social media have already started running wild with familiar names who New York should target. General manager Steve Mills will guide the team through free agency, but the Knicks need a leader for the long haul.
Whoever comes in next will have a big decision to make about the future of Carmelo Anthony. Kristaps Porzingis on the other hand hopefully, has his place on the team safe again.
Here are the five best potential replacements for Phil Jackson. You'll know some names better than others.
---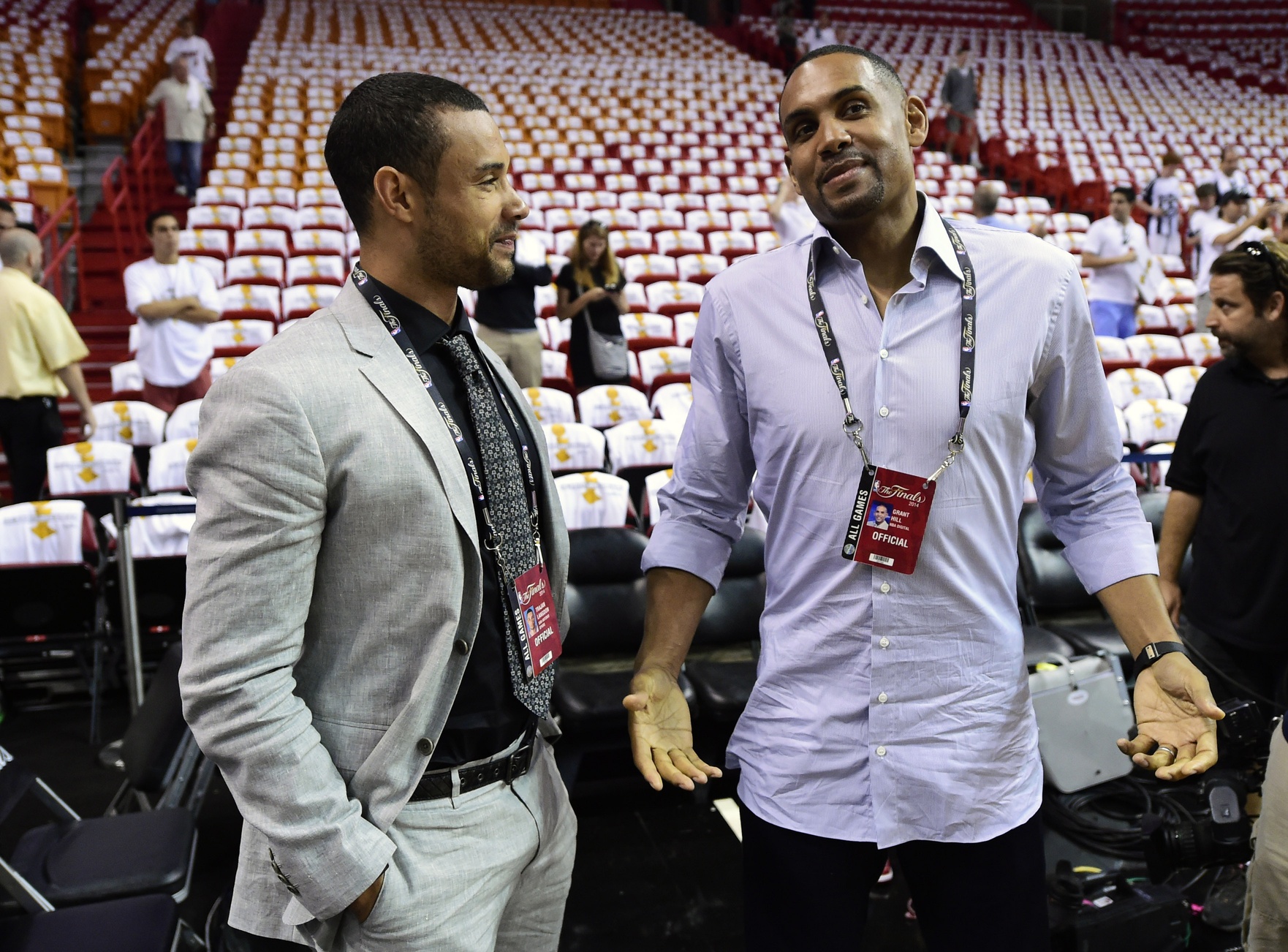 5. Trajan Langdon: Brooklyn Nets Assistant GM
Three-time First-team All-ACC at Duke University
No. 11 pick in 1999 NBA Draft by Cleveland Cavaliers
Played three NBA seasons before thriving in Russia
Scout with San Antonio Spurs (2012-2015)
Named Nets Asst. GM alongside Sean Marks in Mar. 2016
Trajan Langdon is a long shot for sure. James Dolan wants to hit a home run, and Langdon's not a big name. However, that doesn't mean he wouldn't be a good hire.
The former Blue Devil has put in work in the right places during his short time in the Association. Anybody who used to work for the San Antonio Spurs is automatically a contender anywhere, and Sean Marks trusted him enough to bring him to Brooklyn as his No. 2.
The Atlanta Hawks were reportedly interested in Langdon for their general manager position before ultimately going with Golden State Warriors assistant general manager Travis Schlenk. Can't argue that move.
Back to Langdon. He was labeled just another Duke NBA bust after three mediocre seasons with the Cavs and dominated the European basketball circuit. When he came back to the league, he had something to prove.
---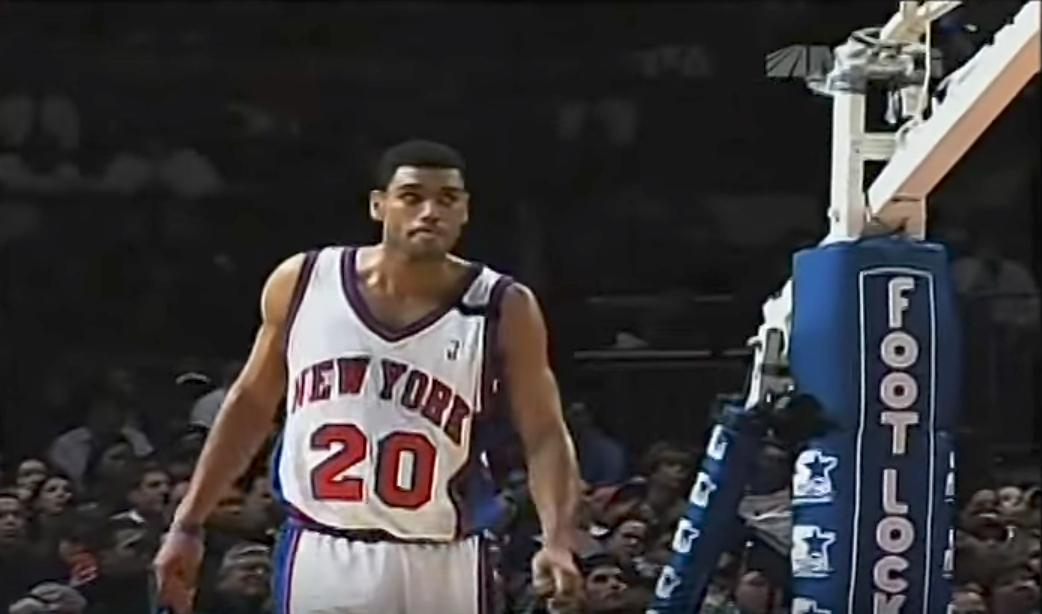 4. Allan Houston: New York Knicks Assistant GM
Played 12 seasons in the NBA, 9 with Knicks
Key member of 1999 NBA Finals team
Two-time NBA All-Star
Second in Knicks history in three-point makes and attempts
You might not know it, but ex-Knick Allan Houston has quietly been a key member of the Knicks front office for awhile now. Following a failed comeback attempt in 2008, Houston was appointed a special assistant to Donnie Walsh and the rest is history.
Houston is currently the general manager of the Westchester Knicks and the assistant general manager of the main squad. Giving a job like this to another former Knick, not with the profile of Jackson, but still beloved in New York is risky.
There's always the concern that Dolan will go back to having too much control with Houston in charge. The two are in fact, good friends.
However, Houston is smart and knows the game of basketball and unlike Jackson knows New York. He'll be able to handle the pressures of the New York media and won't let the job get to him.
He handled the pressure on the court pretty well.
---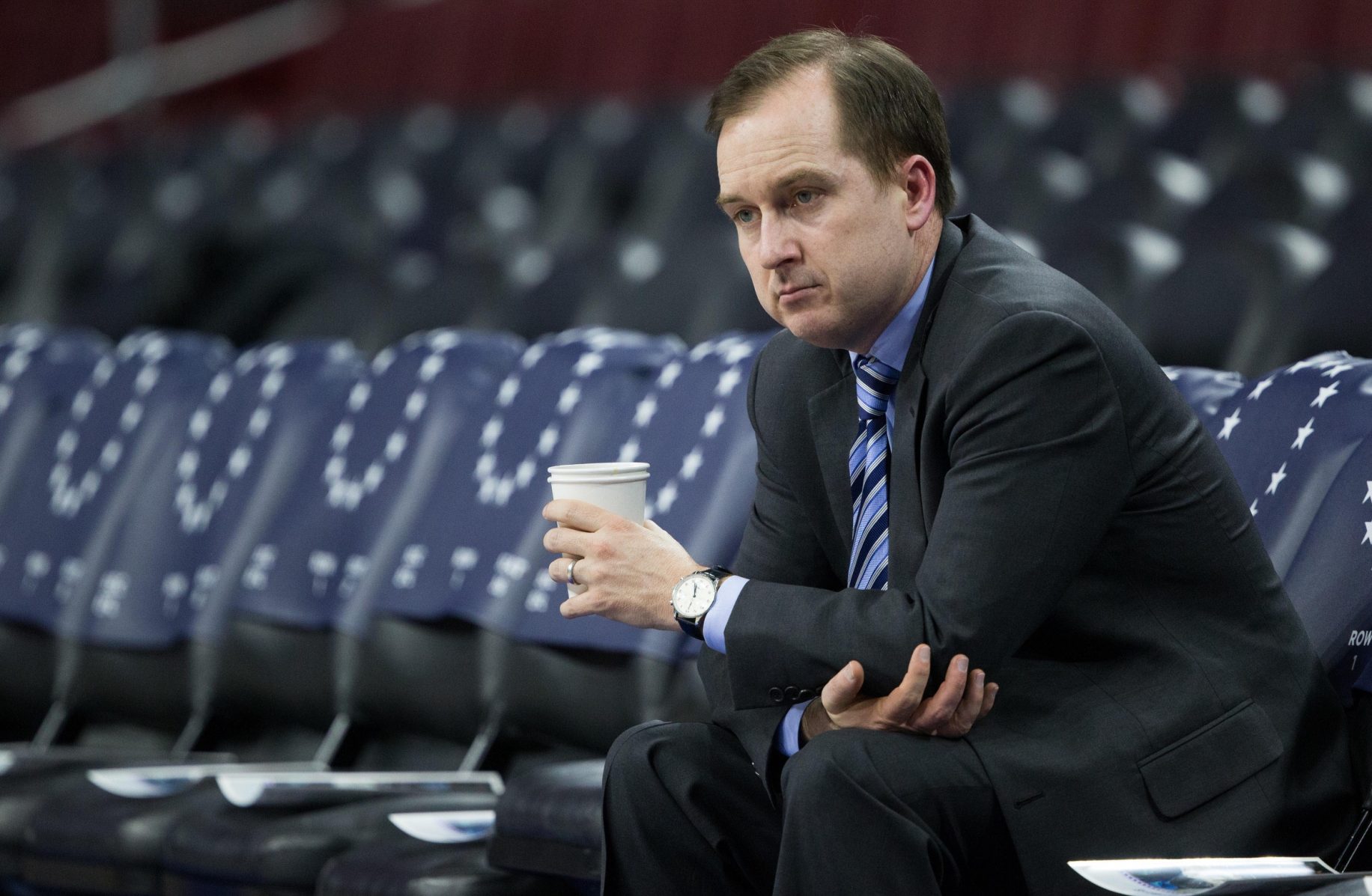 3. Sam Hinkie: Former Philadelphia 76ers GM
Member of Houston Rockets Front Office
Architect of The Process
What else needs to be said?
Sam Hinkie has become almost something of a cult hero since the Colangelo family pushed him out of Philadelphia last season. His process of orchestrated losing, while condemned at the time, has resulted in a loaded young Sixers squad.
Much like Mike D'Antoni in Houston, Hinkie has gained some respect after the Sixers landed Markelle Fultz with the No. 1 overall pick in this year's draft. That doesn't happen without the assets Hinkie acquired in various genius trades.
The phrase "Trust the Process" was coined as a way of being able to trust what Hinkie was doing. That Hinkie's alternative plan would result in long-term success.
Now, how would Hinkie work in New York is the real mystery. In Philly, he was notorious for his privacy and keeping his plans hidden from the media and fans. That won't go over well.
He's gone now, but the Sixers are on their way.
---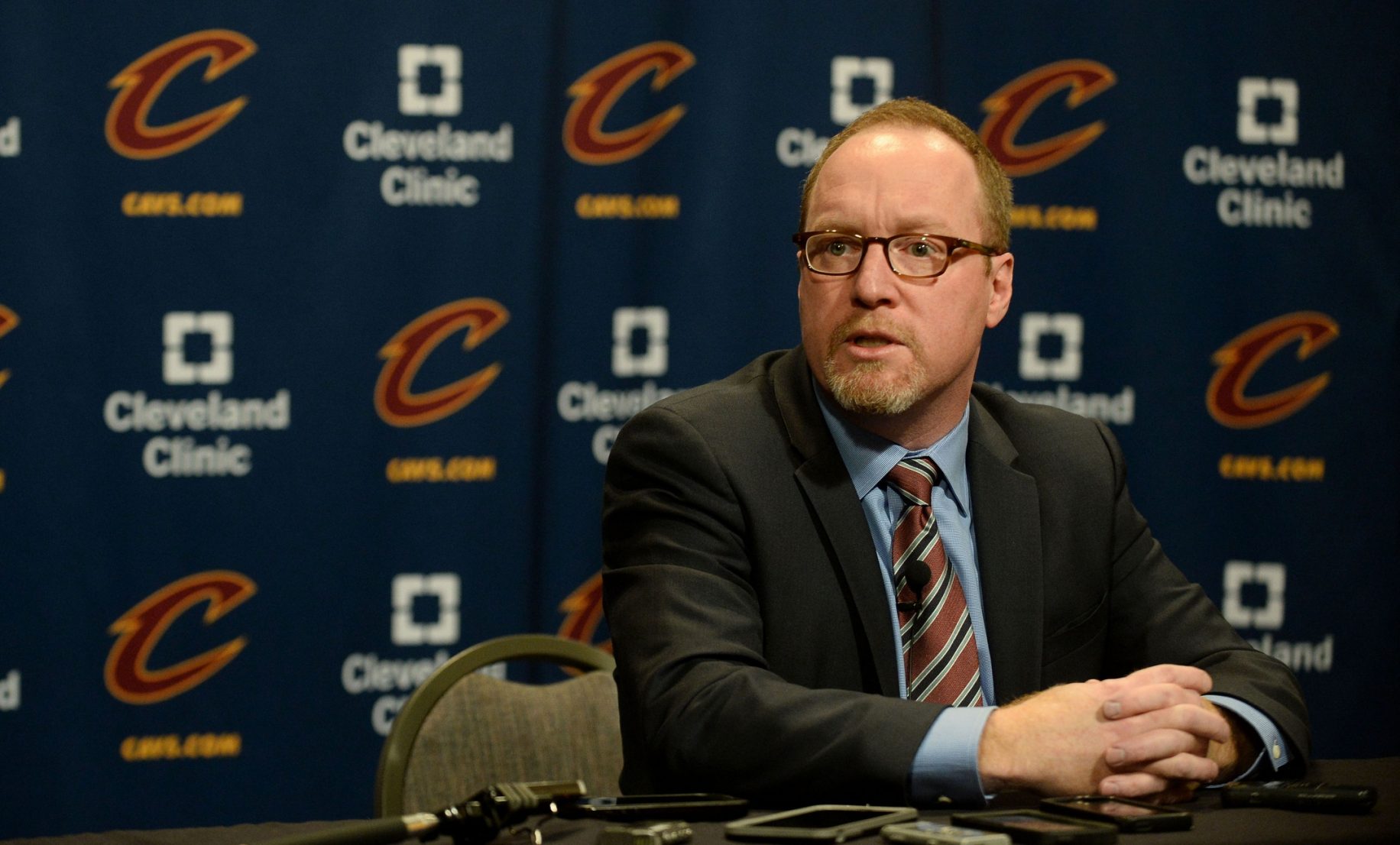 2. David Griffin: Former Cleveland Cavaliers GM
Worked for Phoenix Suns for 17 years
Started with the team as an Intern in college
Moved to the Cavs in 2010, Named GM in 2014
Was with the team for three straight Finals appearances
Let go after his contract expired this summer
David Griffin began his basketball career with the Phoenix Suns as an intern while at Arizona State. 14 years later he had worked his way up to the team's senior vice president of basketball operations. Talk about a grinder.
After getting the general manager job in Cleveland, Griffin had one of the hardest jobs in the NBA. That's working with (for) LeBron James. However, Griffin handled it well and did whatever James asked.
He made key trades like the one for J.R. Smith and Iman Shumpert. Despite never getting any credit when the team succeeded, Griffin was well liked by the team and even James wanted him to stay.
The reports were that Cavs owner Dan Gilbert didn't want to pay Griffin a fair salary. That won't be a problem in New York.
---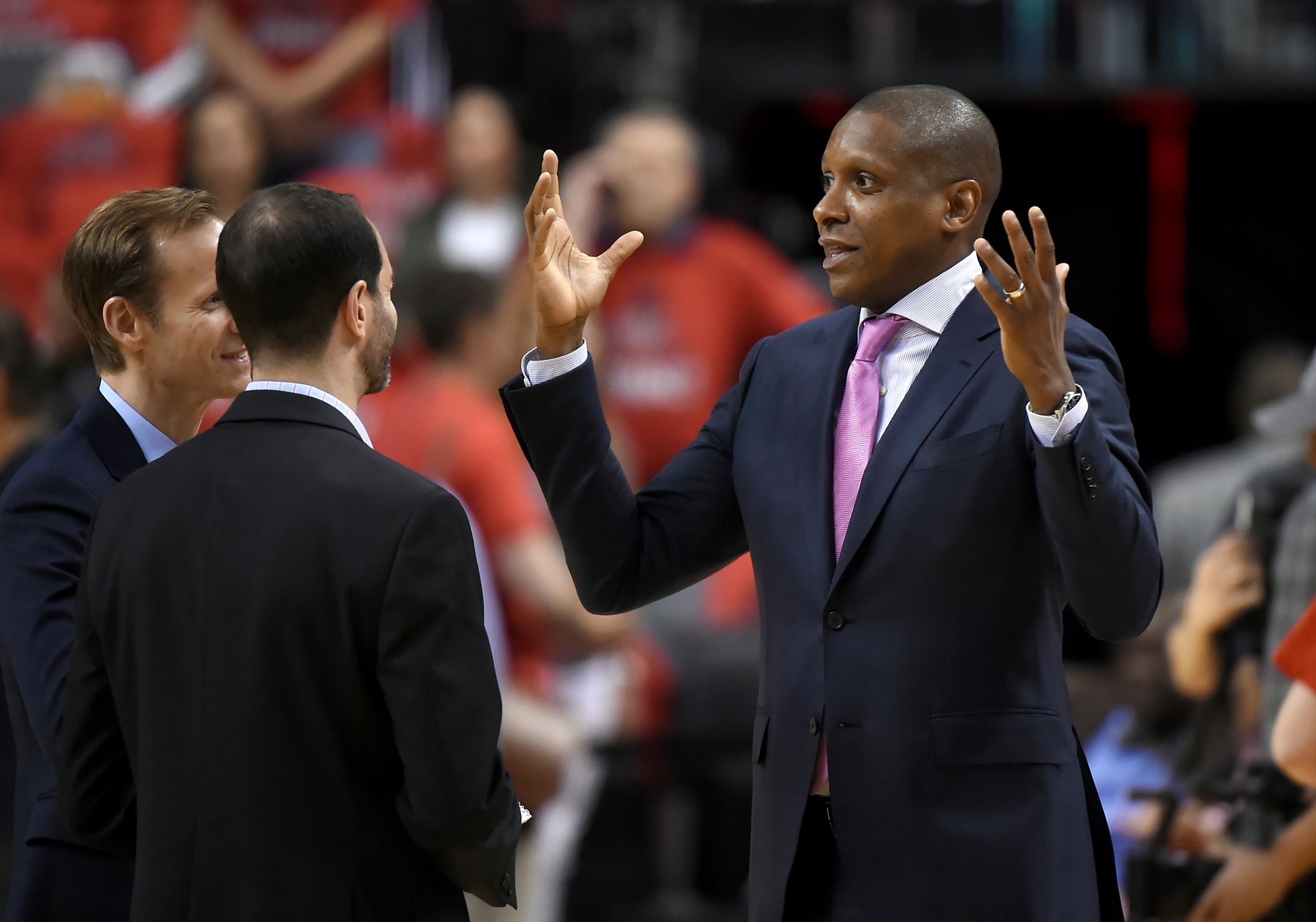 1. Masai Ujiri: Toronto Raptors GM
Started as an unpaid scout for the Orlando Magic during Doc Rivers' tenure
Worked in Denver Nuggets front office during Carmelo Anthony trade
Raptors general manager since May 2013
Won Executive of the Year Award in 2013
Adrian Wojnarowski of The Vertical reported that James Dolan is targeting Masai to fill Phil Jackson's spot. Dolan has been enamored with the man who ripped New York off not once, but twice, in trades over the course of his exceptional executive career.
It's not a coincidence that the man who Dolan put in charge of this search, Tim Leiweke, is the same man who hired Ujiri in Toronto. The former Executive of the Year is New York's first option, and he should be.
He's much more than the guy who ripped off the Knicks in the Carmelo Anthony deal and stole a first-round pick from them for Andrea Bargnani. Ujiri built the Raptors back to respectability after the departure of Chris Bosh.
Toronto hadn't made the playoffs once in the five seasons before Ujiri arrived. They've been in the postseason in all four seasons of his tenure, including an Eastern Conference Finals appearance.