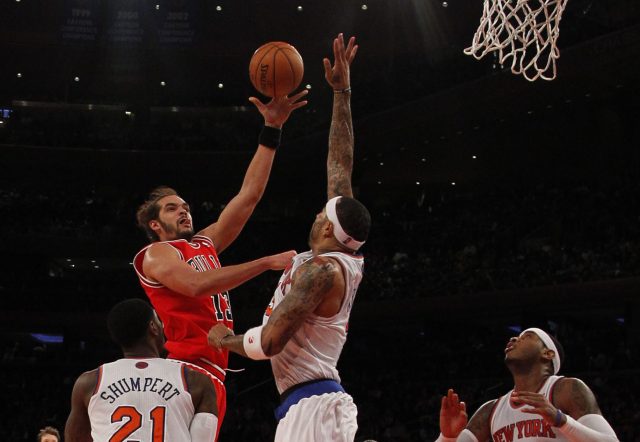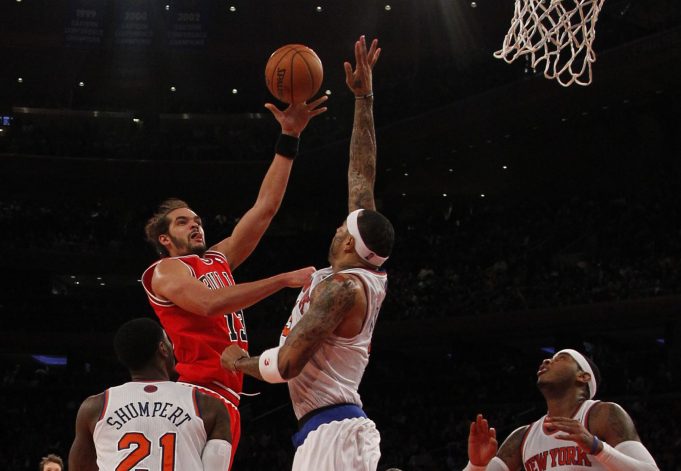 Kenyon Martin may be 39-years-old, but he still thinks he can trash New York Knicks big man Joakim Noah today. Challenge? 
Oh, it's on like Donkey Kong.
In the blue corner, we have a 39-year-old retired former NBA All-Star who played 15 years in the league. His nickname K-Mart is probably more appropriately tagged to his current occupation. Despite the humble lifestyle, he's looking to challenge a certain NBA'er to Mortal Kombat.
While in the red corner, the fro that just won't go — the $72m man, Joakim Noah. Who honored his contract with an amazing 2016 campaign with five points per game. Which should put him in the Most Improved Player of the 2016-17 campaign with that whopping .7 tenths of an increase on his ppg. I'm sure his mother is proud.
Noah hasn't averaged more than 10 points per contest in four years. When Kenyon Martin was still in the league.
Speaking of K-Mart, during an interview with Hot 97's Peter Rosenberg and Ebro Darden on Friday, he went ham on New York Knicks' center Joakim Noah.
"Picking talent? That ain't his strong suit, as you can tell," he said of Phil Jackson. "The man gave Joakim Noah $70 million. Boy can't hit his ass with both hands. … That boy sucks."
He didn't waste much time going for the jugular when discussing Noah's "highlights" from his inaugural season with the Knickerbockers.
"Listen, that man shot a free throw…look it up," K-Mart told the hip-hop personalities. "And the face he made? I've never shot a ball and made that face. I've been playing basketball for a long time."
But he didn't stop the roasting with that burn, he laid out an interesting proposal. We've all heard of racing for a pink slip, but how about for a contract?
"I'll play him for his contract. Play him for his contract. Right now, off the couch," Martin said. "… [Stephen Jackson and I] look at people's skills, and we feel we should still be playing, and we can play. Just [give us] the opportunity. And you give a guy like that kind of money for nothing?"
Maybe Kenyon can put a good word in for Noah for a manager position at K-Mart? It's the least he could do.