The New York Knicks did not trade their unicorn, Kristaps Porzingis, on Thursday night but did select three guards with huge upsides in the 2017 NBA Draft at Barclays Center in Brooklyn. 
Another draft is in the books and the New York Knicks had three picks. In a draft where there was an abundance of talent. It was disappointing that Phil Jackson didn't get another pick, especially in the first round.
But with that being said, let's give grades to the players that were picked by our beloved Knicks.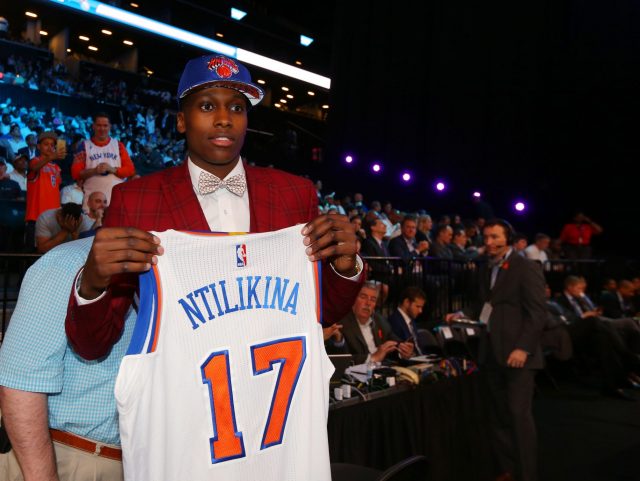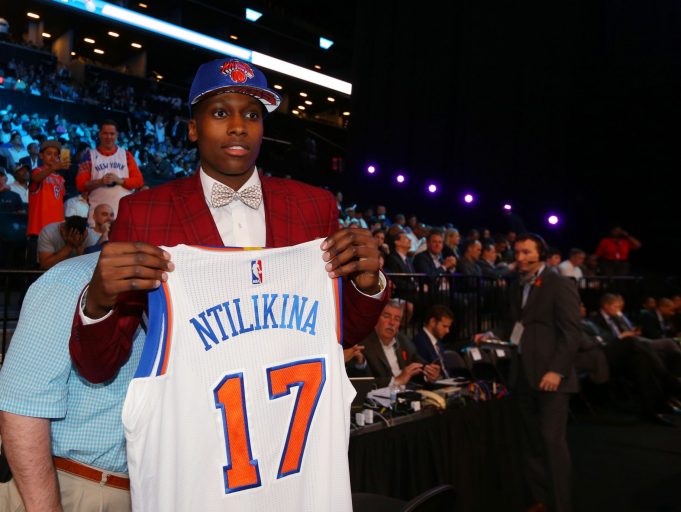 Ntilikina was the obvious choice for the New York Knicks. They say they are committed to running the triangle offense. So if that is true, then finding the right guys for the system is important.
Ntilikina is the best rookie option to fit the triangle offense and is the guy Jackson wanted. The first thing that stands out with him is his size.
He is 6-foot-5, but with a wingspan that reaches at seven feet tall. That length really helps him on the defensive end. His size not only allows him to cover guards but forwards as well.
Ntilikina is a guy that can create havoc on the defensive end and create turnovers. According to Ian Begley of ESPN, It was Ntilikina defensive abilities that Jackson really loved about him and played a big reason for taking him.
"A lot, it has a lot to do with it," Jackson said. "He's up court playing full-court defense. He's aggressive. He likes to do that. He thinks that's a big part of who he is."
It is nice that the Knicks finally have a guy that commits himself on the defensive end. They need more guys with this kind of mindset.
On the offense of side of things, he has some work to do. First of all, he is a pass first guard, which is another aspect that Jackson loves about him.
Ntilikina has made improvements towards his jump shot but still needs to work on being a more consistent shooter. He also has difficulty finishing around the rim.
A big part of why that is, he's only 170 pounds. He needs to add some weight and muscle to himself to be able to absorb contact and finish around the rim.
Bottom line he gets a B grade. He has great potential on being a lockdown defender. His wingspan and athleticism is something that really excites you.
But he is a project, especially with his offensive game. Guys like Dennis Smith Jr and Malik Monk, who the Knicks passed on, are more NBA ready, so hopefully, he works out.
He likes to run the pick and role and believes that he and Kristaps Porzingis would be a great combination together. That would be a dream come true.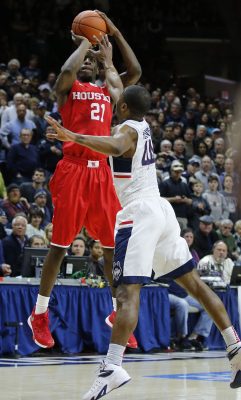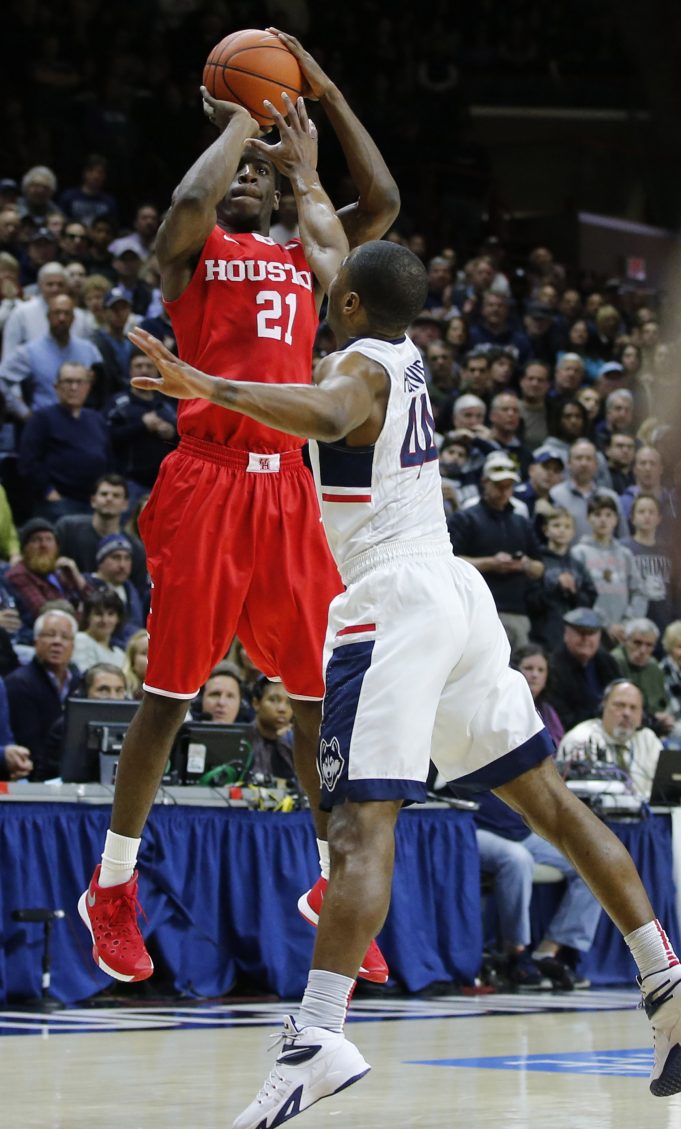 Dotson is a guy that New York Knicks needed. They needed to find a guy that is a knocked down shooter and that is what Dotson is.
It would have been nice if the Knicks could have landed a guy like Josh Hart, who was taking with the 30th pick in the first round. But Dotson is a solid pick for the Knicks in the second round.
Dotson started his collegiate career at Oregon but transferred to Houston. It was his time at Houston that made a name for himself and put him on the radar for NBA teams.
Shooting will be his bread and butter at the NBA level. Dotson is great at running off screens and getting open. He sets his feet quickly and has high elevation when shooting the basketball that helps him get his shot off.
Dotson shot 44.1 percent from behind the arc during his senior year. Also, he shot 7.7 three-point attempts per game. That's like J.R. Smith type numbers, he has the when and doubt shoot mentality.
As long as his shots are going down, then it's all good keep shooting them! Furthermore, Dotson can shoot off the dribble shooting 41 percent.
He is also very athletic that will help him in the NBA. He has some bounce in his jump with a 38-inch vertical. Dotson can throw down some nasty dunks.
A wingspan of 6'9″ and being a physical on-ball defender makes Dotson a solid ball defender. There is a three and D potential here with Dotson.
Also, Dotson is a guy that gets into the rebound action. As a shooting guard, he averaged 6.9 boards per game this past season. He is a guy that plays with a high motor and that is something else the Knicks needed
Overall he gets the grade of a B-. He is a second round pick for a reason and has plenty to work on when it comes to his game. Such as getting stronger.
Also, he must start attacking the basket he is a guy that only gets to the foul line 1.7 times per game. If his jump shot is not working he can be useless on the floor.  It's another project for the Knicks but he has the chance to be a solid player, I like this pick.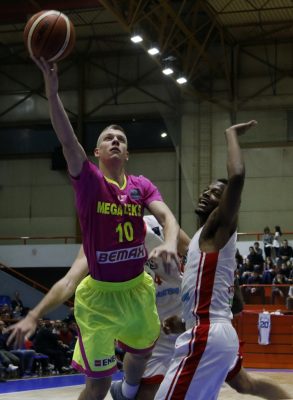 Oh man, it going to take me a while to figure out the correct way to pronounce Jaramaz name. I am sure I am not the only one though.
Not much was known about him until last night when he was picked with the 58th pick and I started my homework on him.
He is a guard that has size and speed. Also, Jaramaz has a ton of athletic ability. He loves to attack the basket and push the ball in transition.
With his speed, it certainly helps him get to the rim where he looks to throw it down. He displays good vision and finds his teammates for good open looks.
He can be a guy that is a weapon in the pick and roll situation being a good ball handler and passer. But has some work to do with his jump shot. Especially with his three-point stroke, he shot only 28 percent from downtown.
Defensively he does a great job of staying active and can pressure the ball. Overall he is given a C+ grade. Not much is known about him. More will be known about Jaramaz when he plays in the summer league but he is a stash player and won't be on the regular season roster.
The Knicks draft was a solid one. I do, however, think the better talent was on the board when the Knicks took Ntilikina but only time will tell.
The Knicks did a great job though finding defensive guys and getting Dotson as a shooter was a smart move.
Overall draft grade – B