The New York Mets dropped their third straight game on Wednesday night to the red-hot Los Angeles Dodgers, 8-2, at Chavez Ravine. 
For the third consecutive night, the New York Mets were bombed out by the Los Angeles Dodgers and their home run-happy lineup. They have been outscored, 30-8, over the course of the three games with six of those eight runs coming off three-time Cy Young Award-winner Clayton Kershaw.
The Mets' starting pitchers have continued to struggle, surrendering 12 homers and 19 earned runs in 12 1/3 innings of work. That's an ERA of 14.13 for those of you keeping track. If you are, keep your calculator handy. There's one more game tonight.
6/21/17: Dodgers 8, Mets 2
After two rough games in La La Land, the Mets were looking to set the tone on Wednesday night, and they did, but the high didn't last very long.
In the top of the first, CF Curtis Granderson hit a leadoff to right center field off Dodgers starter Rich Hill, and the Mets quickly found themselves up 1-0.
https://twitter.com/TheRenderMLB/status/877712384483348482
However, the bats went dry from there. A sacrifice bunt from Rich Hill tied the game at three in the third inning, and after 3B Logan Forsythe's double gave the Dodgers a 2-1 lead, OF Yasiel Puig went up to the plate with two on.
Puig cranked a three-run shot off Mets starter Tyler Pill, extending the Dodger lead to 5-1, and the outfielder took his time rounding the bases.
https://twitter.com/TheRenderMLB/status/877734799082889216
Mets 1B Wilmer Flores took clear exception to Puig's cocky move, as the two exchanged harsh words as Puig rounded first. During Flores' post game interview with James Wagner of the New York Times, he claimed that he asked Puig to simply "run the bases".
Flores then went on to say that Puig responded with a simple "F*** Y**". Mets catcher Rene Rivera also exchanged words at home plate, but it appeared as if he was trying to calm everyone down.
Despite all of this, Flores had every right to be angry. Virtually no first basemen would feel comfortable watching someone take their time running the bases the way Puig did. It took him over 32 seconds to cross home plate.
Yasiel Puig really admired this 409-foot HR off the #Mets. He took 32.1 seconds around the bases, the 2nd-longest trot of the year. #Dodgers pic.twitter.com/gfBaPEgUvX

— David Adler (@_dadler) June 22, 2017
Between innings, Mets veterans SS Jose Reyes and LF Yoenis Cespedes relayed their thoughts to Puig as the teams exchanged sides.
Just a week ago, Puig received a one-game suspension after flipping off Cleveland fans at Progressive Field, Puig clearly had no intention of slowing down his behavior.
Yasiel Puig suspended one game for obscene gesture in Clevelandhttps://t.co/oau5FzRUDg pic.twitter.com/vDIptfi0pG

— WKYC Channel 3 News (@wkyc) June 14, 2017
Many believe that the incident between Chase Utley and Ruben Tejada during the 2015 NLDS has already resulted in the two teams absolutely despising each other. According to Yasiel Puig and Wilmer Flores, the Mets and Dodgers have absolutely no respect for each other.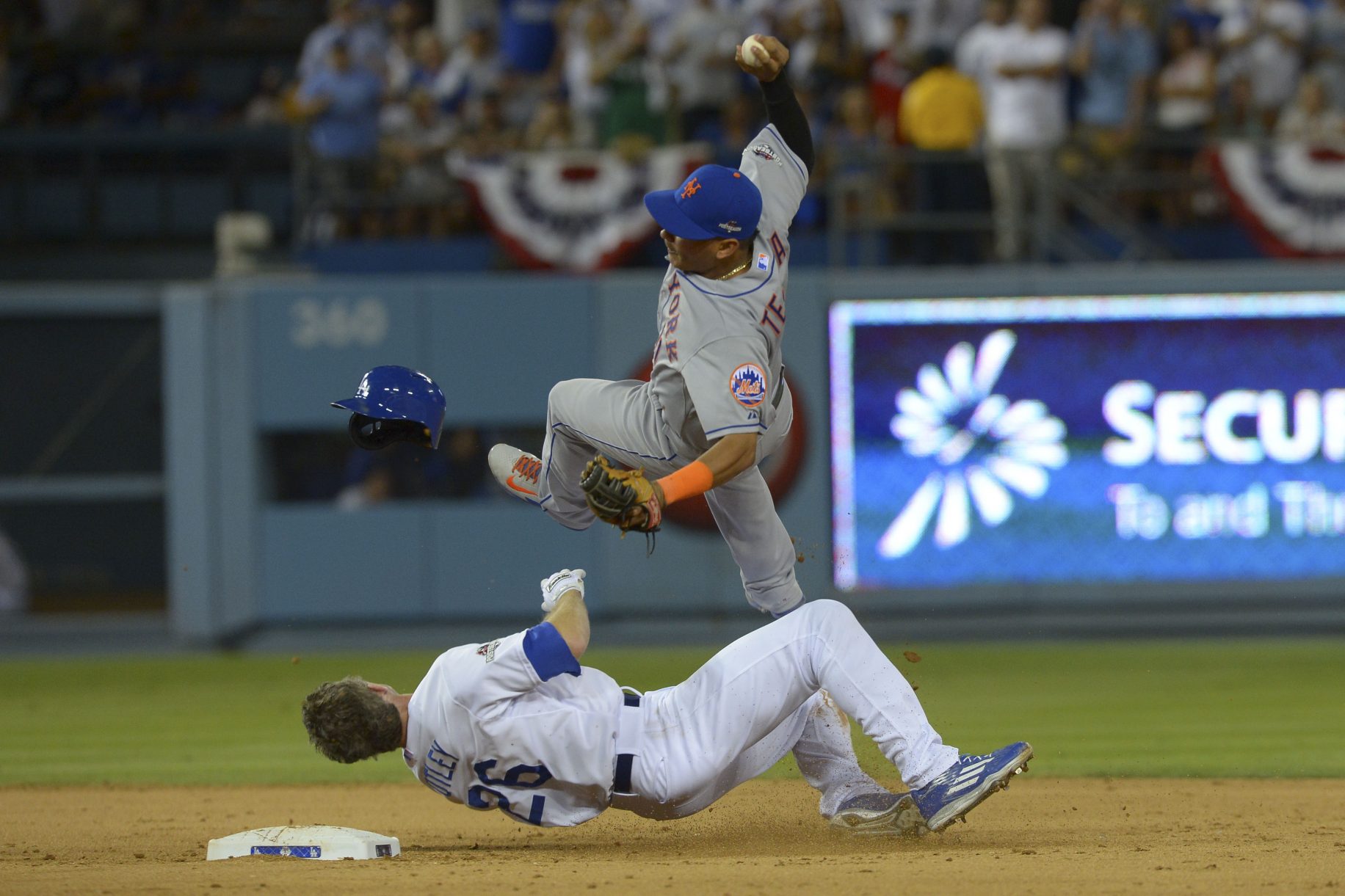 The long ball had been haunting the Mets all series, and continued to do so last night. Dodgers catcher Yasmani Grandal hit two solo shots, one in the sixth inning, and one in the eighth.
https://twitter.com/TheRenderMLB/status/877755003321991169
The top of the ninth inning saw Granderson continue to be the only contributor for New York, doubling in Michael Conforto who was aboard via a fielder's choice pinch-hitting for reliever Eric Goeddel.
When all was said and done, the Dodgers took this one 8-2, captured first place in a tough NL West division, and are a huge reason why the Mets are now nine games under .500.
The series finale is tonight, and hopefully Steven Matz (1-1, 3.21) will continue his fairly strong start to the season, and get New York back on track vs the Dodgers' Hyun-Jin Ryu (3-6, 4.35).
Other Mets Stories, News:
Sad news in New York Wednesday, as longtime Mets groundskeeper Pete Flynn passed away at 79
Injuries continue to pile up for the Mets as Zack Wheeler has been placed on the 10-day DL