The New York Mets aren't pitching well thus far in 2017 and the hitting hasn't been good enough to bail them out. 
The 2017 New York Mets (31-39) will need an eight-game winning streak just to get back to .500, and for a team that has a hard time sustaining winning streaks, that's a lot to ask.
The Mets came into the season with the expectations that their starting pitching would be the decider. Every game, they would send an arm to the mound that would give them a chance to win. In theory, that was a great strategy. In practice, however, that is what has killed them.
Their starting pitching has been awful. Granted, they have been without Noah Syndergaard since the end of April and Matt Harvey has been a shell of himself, and that's putting it kindly. They are getting knocked around all too often and are not pitching deep enough into games. That is what seems to be ailing this team the most. The bullpen has been taxed to the point where it's become unreliable. The loss of closer Jeurys Familia for the season hasn't helped, either. But they have stood up when asked to perform their traditional roles.
Consider this. When the Mets' starter goes eight or more innings, they are 3-0. When the starter goes seven or more, their record is 11-5. Six or more, they are 18-14. The problem is, they aren't getting the quality starts (six innings, three ERs or less) they need to get to compete.
They are 18-11 when the starting pitcher logs in a quality start. In non-quality starts, the Mets are a paltry 13-28. Who's to blame? Everyone. From GM Sandy Alderson right down to the guy who paints the lines on the field. This is an organizational fail. They counted chickens they didn't have and haven't set their roster up to get in on the home run craze. It's killing them on both sides of the ball.
The Mets are currently using a six-man rotation in which Syndergaard is not one of those men. Without Thor, the Mets' rotation has been Jacob deGrom and pray for rain. He has nine quality starts in 14 trips to the mound this season. Everyone else has been nothing short of disastrous.
Robert Gsellman, Zack Wheeler and Harvey have combined for just 13 quality starts in 40 outings. The team has not hit for Wheeler (3.9 runs per outing) but they have hit for Gsellman (5.1 runs per) and Harvey (6.1). They just haven't pitched up to snuff.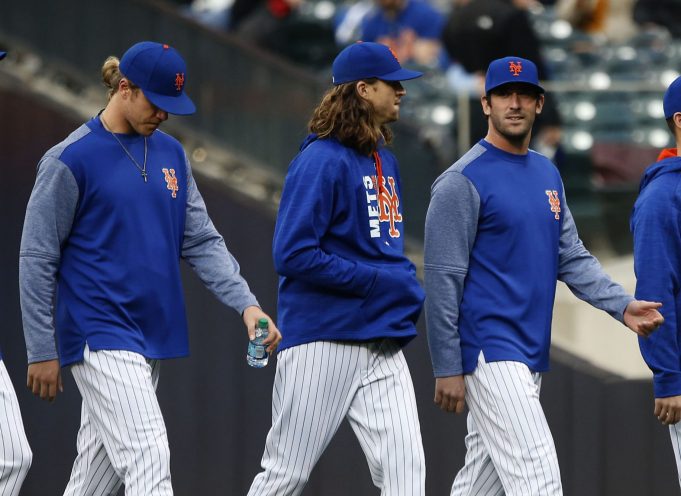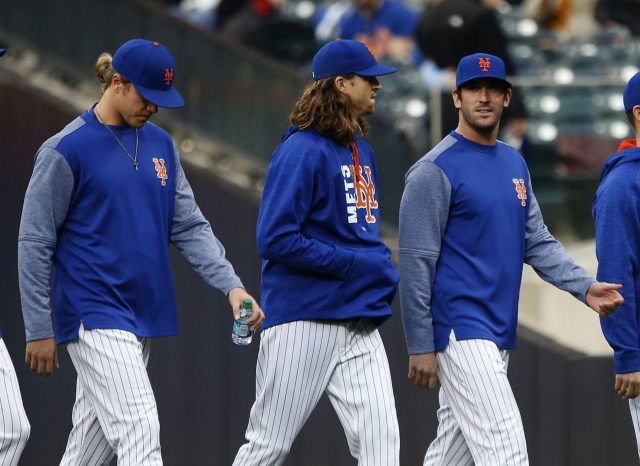 The truth is Harvey (4-3, 5.25 ERA, 1.45 WHIP) is not the same pitcher he once was. Injuries and surgeries have robbed him of the special ability to put the ball where he wants it when he wants it. Control was his forte and he no longer has that. He probably should not have come north with the team, He is currently on the DL with a sore shoulder.
Wheeler (3-5, 5.29 ERA, 1.54 WHIP) is returning after missing two seasons to Tommy John surgery and the complications thereof. He has displayed some of his old arm strength but he also has been touched up more often than not. He is also on in innings limit, so he may find himself in the bullpen after the All-Star break.
Gsellman (5-5, 6.04 ERA, 1.62 WHIP) has shown flashes but for some reason the team thinks he's a starter. the injuries to Steven Matz and Seth Lugo forced him into the starting rotation in April, but after nearly three months we've seen enough. Put him in the bullpen or some place where he can't hurt you.
The pitching is only half the story. The hitting has been better than in years past but, as always with the Mets, it's when they hit that matters. They just haven't been clutch this year.
They are 0-31 in games when trailing after eight innings, meaning when they're behind you can turn off the TV and go to bed early. They ain't coming' back.
Their 104 homers are third most in the National League and they are seventh in runs scored. They should be winning but the pitching is holding them back. If they could just pitch a little better, they'd be alright…
Can they turn this season around? Sure, it's early enough for a turnaround. But how?
Syndergaard isn't coming back until August at the soonest and Familia is as good as gone for the year. deGrom can do his part and Matz and Lugo are just getting back into form. They have to find another starter here and as you can see, Harvey, Gsellman and Wheeler are too risky to keep putting out there.
They have promoted Tyler Pill again. He could be part of the solution but that's asking a lot of him. Rafael Montero is still bumming around but remains unreliable in just about any role they put him in.
The answer could be they need to hit more. The ball is livelier this season. Ask anyone. The baseball is wound tighter, making it harder. It travels further when hit and pitchers can't make it break the way they want it to. It's become a hitter's game.
Everyone is going deep. The Mets slammed four fingers off of Clayton Kershaw the other night. The Dodgers have, in turn, killed them with long balls.
Home runs are up. Read what my pal Ted Berg over at USA Today's For the Win reported about the spike in home runs this season:
"Entering play Wednesday, Major League hitters have combined to hit 2,701 home runs in 2017. That puts them on a pace for about 6,186 longballs on the season, a total that would shatter the previous record high of 5,693 from 2000, in the thick of the sport's so-called "steroids era."
In 2017, home runs make up over 14% of all hits, which is the most in the history of the game. Look at this graph from the Washington Post: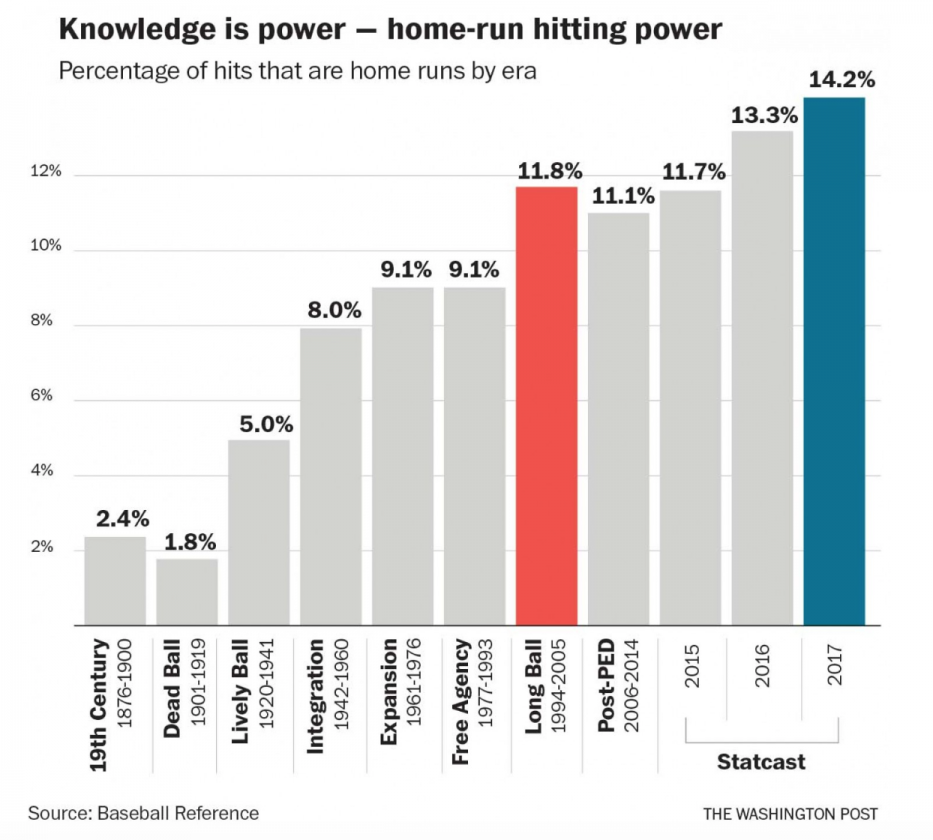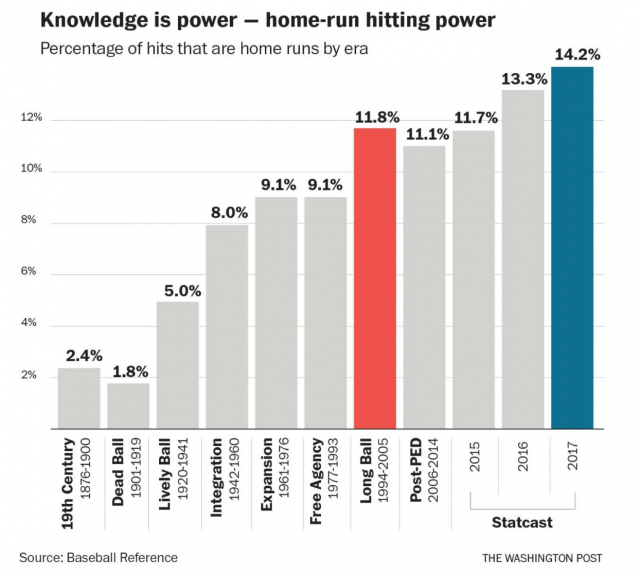 The Mets are a home run team and although they are bombing them at a historic rate, so is everyone else. They need Yoenis Cespedes and Co. to step up the effort. That's the only way they have a chance here in 2017.
Alderson must check the trends and get himself an offensive roster. Manager Terry Collins has to play his best hitters, defense be damned. Its the only way the Mets can fight their way back into contention.