The New York Knicks hold the eighth pick in the 2017 Draft, but they could end up with more and possibly a few cornerstones for the future.
I
t may come as a surprise to some, considering the history of New York's front office, that the Knicks control their
fate rather than another team
backing off of the orange and blue's failure. In addition to their
lottery pick, New York own
two second-rounders
(44th, 58th) but
ideally
, Phil Jackson would like to trade for additional first round picks.
Please keep in mind this is my own, personal opinion on what I would like the Knicks to do and what I think is the best case.
The Eighth Pick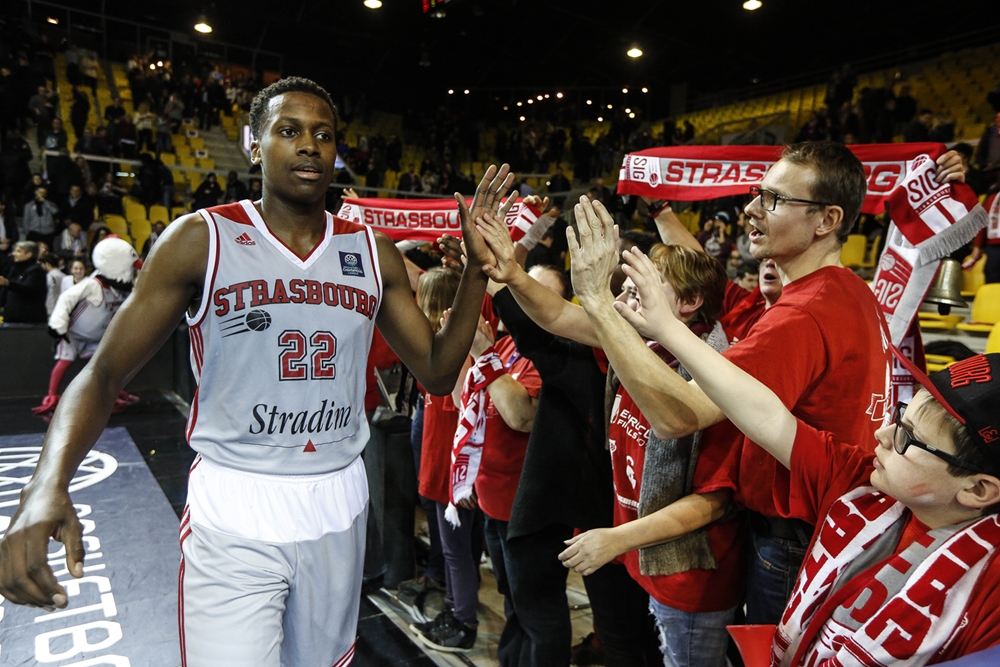 The New York Knicks should continue their European trend and select French prospect, Frank Ntilikina. The wiry guard has been labeled as possibly the best defensive guard in the class, and this is emphasized by his reported seven-foot-one wingspan which would be the longest of any point guard in the NBA.
New York hasn't had a component perimeter defender at the point guard spot since Chris Childs and Charlie Ward in the late 1990s.The Frenchman would easily be the best since that time, and he only has more room to grow. Ntilikina may not be the speediest guard this year but he is incredibly long, and his lateral strides are both fluid and long which makes up for the lack of speed. Ntilikina's length also allows him to get into the passing lanes and create turnovers as well as being able to pick pockets and ignite transition basketball.
He has the potential to grow into one of the premier defenders league-wide.
Offensively, the 18-year old has far more polish than people give him credit for. Over his three-year professional career Ntilikina has connected on 40.1 percent of his three-pointers, and in his French team's playoff run right now he is converting on 44 percent of his three-pointers which in pressure situations is more than respectable.
He is also able to knock down shots from distance off the dribble, namely when his defender goes under the screen. Aside from his jump shooting capabilities, Ntilikina has a decent floater game, and his length allows him to take long strides to get around his opponent and to the basket.
The 18-year-old's best aspect offensively, however, is his unselfishness. Ntilikina has been praised for his team first game by scouts. Draft Express states that he is not ball dominant, he prefers to make the first pass, and he does not force things offensively.
For example, he does not over dribble and for the most part his shot selection is high quality. Some fans seem to be scared as Ntilikina's statistics don't stuff the stat sheet but that's mainly due to not being the go-to guy who has to touch it on every possession like collegiate basketball players.
In addition to this, Ntilikina wants to be in New York and play within the triangle offense. He believes he already has a good enough handle on it to come in and execute straight away, especially with Kristaps Porzingis whom he would relish playing with.
Ntilikina is one of if not the best defensive guard in the 2017 draft class and his offensive game is well rounded for an 18-year-old. He looks more than capable of becoming a great two-way player which is something New York has lacked for far too long.
Moving Courtney Lee for the Backcourt of the Future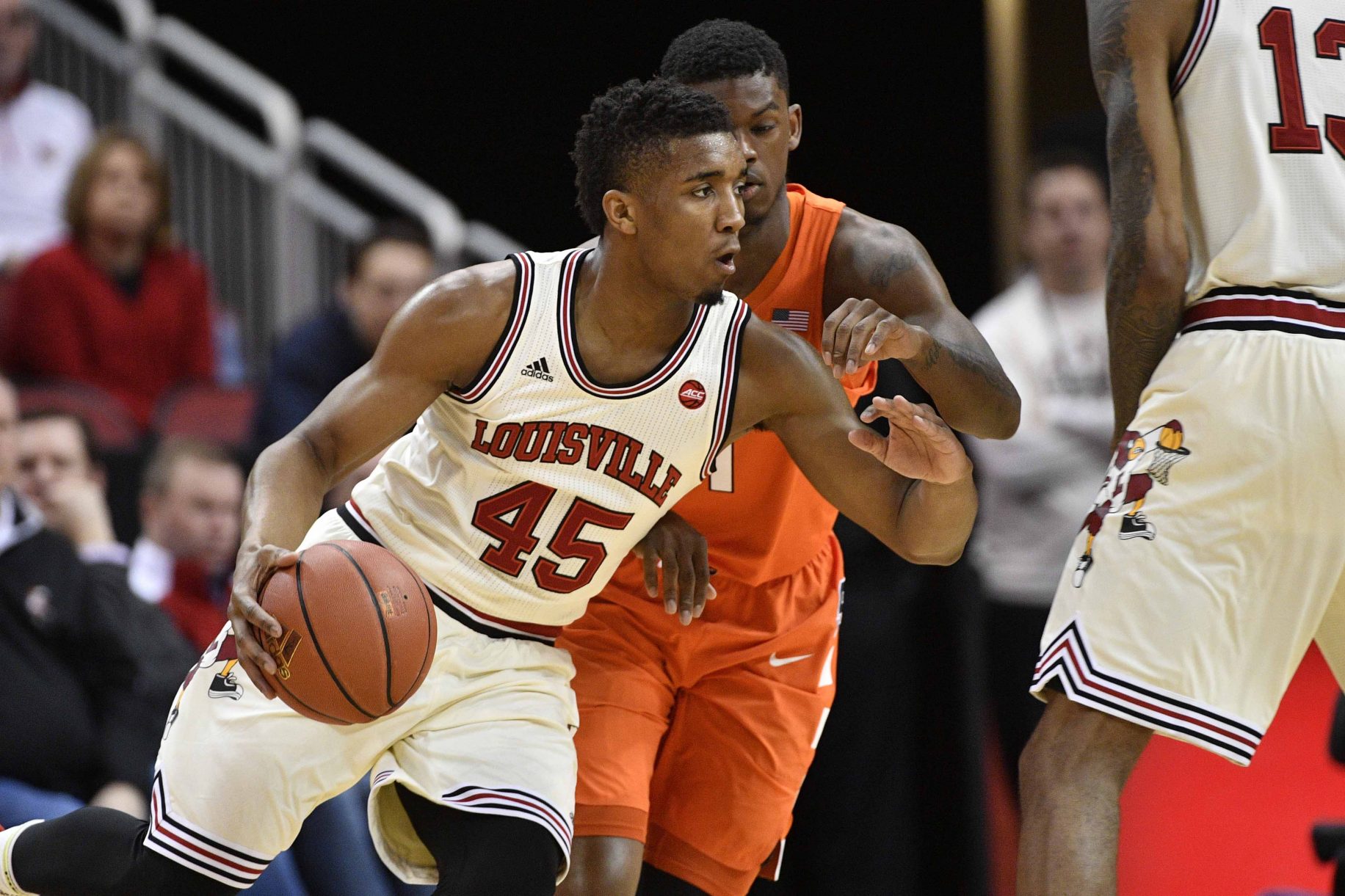 New York added Courtney Lee on a four-year deal last July, but he did not sign up for a rebuild. Therefore, it would be best and logical for both sides to part ways. Stan Van Gundy is willing to part with Detroit's twelfth overall pick in exchange for a win-now veteran, and Courtney Lee is a name that has been thrown around by NBA insiders. If this deal becomes a viable option, the Knicks shouldn't even hesitate on pulling the trigger. The Knicks could add another cornerstone to their rebuild, and that's exactly what they could do.
If the Knicks acquired this pick, they should take Louisville' guard Donovan Mitchell. Mitchell is like Ntilikina in that he is one of the top-five defensive prospects at the guard position in this draft. The 20-year-old stands at six-foot-three and has a six-foot-ten wingspan. He is incredibly long for his size. In addition to his size, Mitchell has an NBA ready body; he's built like a house, and he has swift feet which enable him to cover the floor and stay in front of his opponent and as Draft Express says "generally make life difficult for opponents."
Offensively Mitchell has great potential as a scorer both in the half court and in transition. He is quite explosive and is very creative when finishing around the basket. As was previously mentioned his a solid unit and he can absorb and continue through contact en route to the basket, and this should translate well to the NBA.
Mitchell is also a significantly improved three point shooter. His percentage rose from 25 percent as a freshman to 35 percent as a sophomore, and he connected on 80 threes which was 62 more than his freshman year. That is quite a leap. The 20-year-old is solid shot greater due to his ability to balance and rise while continually holding his mechanics. Moreover, in his Sophomore year, he improved his ball handling and was available to become a combo guard and as the season went on his playmaking and passing vision improved significantly.
A backcourt of Frank Ntilikina and Donovan Mitchell would be scary for opponents defensively down the track. Both players are extremely long, and they would wreak havoc and display grit on the perimeter which a New York crowd would appreciate like they did back in the day. Both of the young stars have improved their offensive games respectively as time has gone on and they will only continue to get better.
Capitalize on Portland's Idiocy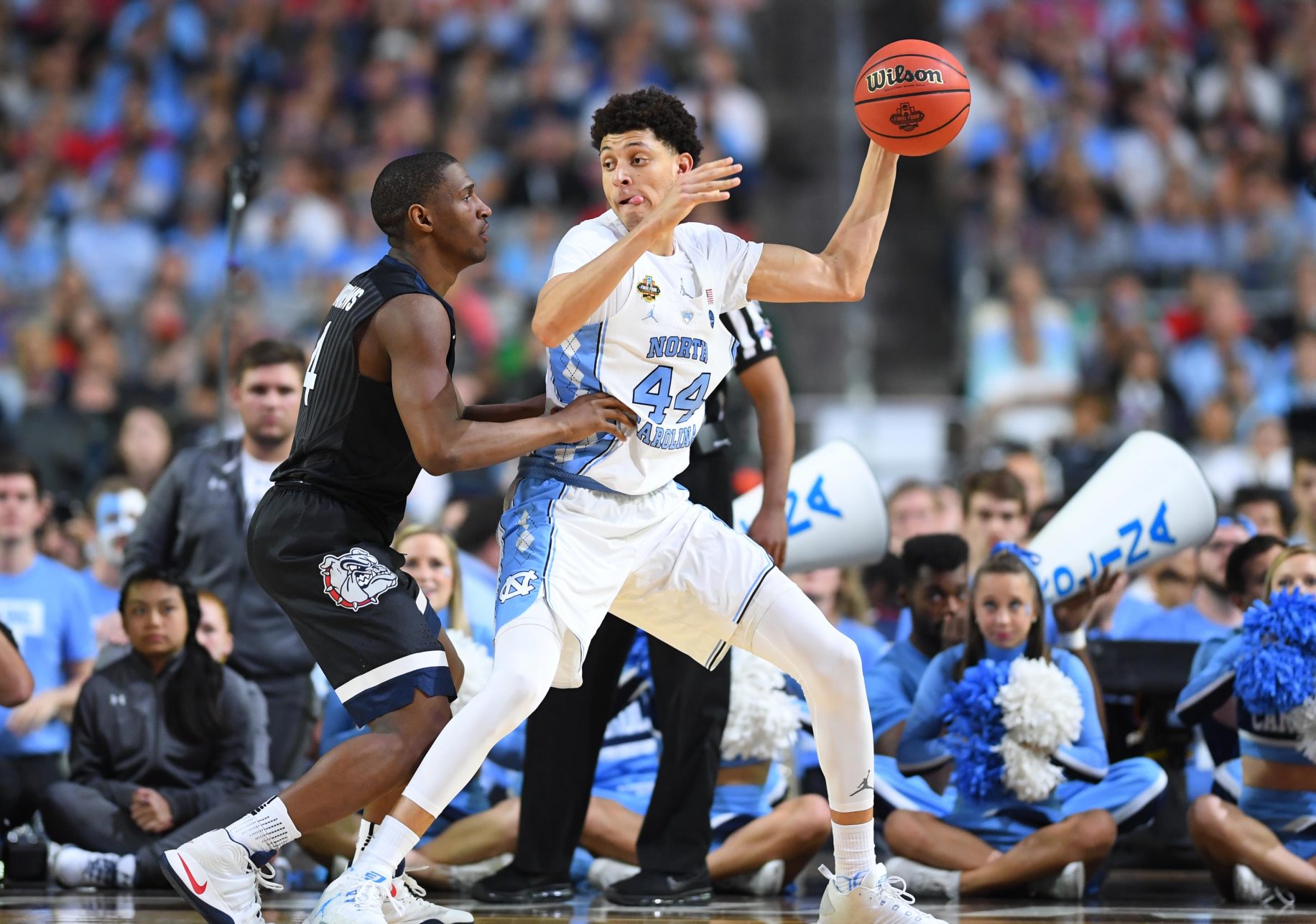 The Portland TrailBlazers and New York Knicks have held talks regarding draft picks and salary dumps, and it would be a small price to pay fro New York to acquire the first pick outside of the lottery.   Last summer Portland added Evan Turner on a four-year deal and brought back both Maurice Harkless and Allen Crabbe while already having Al-Faruq Aminu on the roster. They have a small forward log jam and then some. They also have first round picks.
The Knicks should look to acquire Portland's fifteenth or twentieth pick, with the latter being the more realistic and, take on the salary of New York native, Mo Harkless who has the most affordable contract.
If the Knicks manage to land the fifteenth overall selection somehow, Justin Jackson would be the young man to draft. Jackson's junior year was a breakout season which has catapulted his draft stock right up the boards league wide. The 22-year-old averaged 18.4 points last season and knocked down the long ball at a 37 percent clip which contributed to him taking home the ACC Player of the Year.
Jackson upped his percentage by eight percentiles, and he more than doubled his attempts which is a huge improvement. Jackson also fixed his mechanics which gave him a quicker relate which contributed to the improved his percentage and also enabled him to improve his mid-range shot and off the dribble shooting. The six-foot-eight forward also has great off ball movement and awareness which when coupled with his ability to drain open looks make him a reasonable piece to surround Kristaps Porzingis with. Jackson doesn't have to be 'the guy,' but rather a solid contributor who makes trades from game to game and year to year.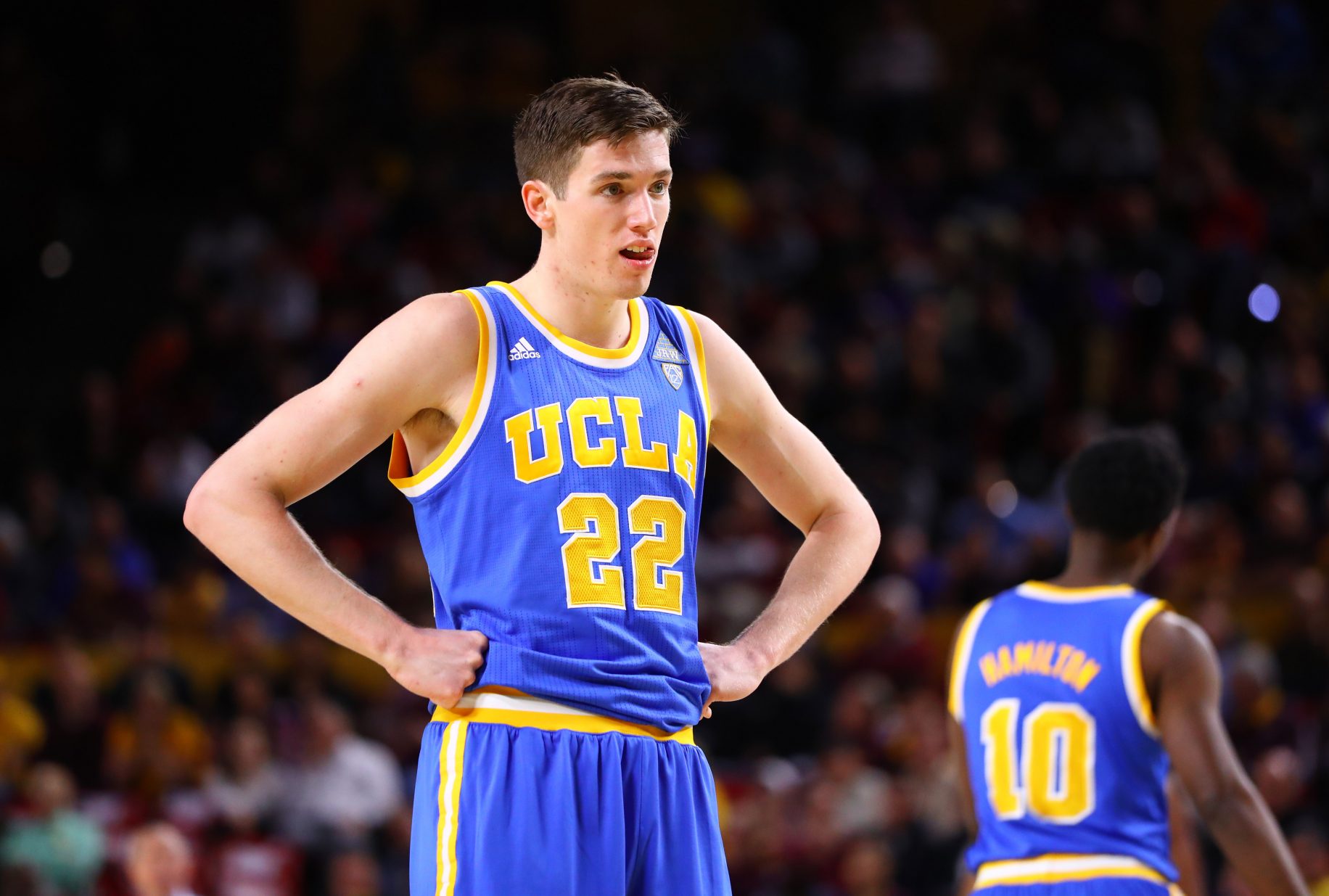 If New York is unable to land the fifteenth selection and snag, the twentieth Phil Jackson should consider UCLA freshman forward T.J. Leaf. The 20-year-old played second fiddle to projected top-three pick, Lonzo Ball, at UCLA but Leaf still had an outstanding year and made a name for himself. As it stands right now, New York doesn't have a backup four under guaranteed contract. However, Leaf could potentially fill this void.
Leaf has a somewhat similar playstyle to Knicks' centerpiece Kristaps Porzingis in that he can stretch the floor and run the floor too. The big man converted 46 percent of his three-pointers in his freshman year which goes to show he can't be left open for half a second. Furthermore, he converted on 65 percent of his two-point attempts and its not like he didn't take shots, Leaf averaged 16.2 points per game while taking 9.2 two-point field goals a contest.
Leaf, in a similar mold to Porzingis, is a solid ball-handler for a big man. He can grab and go off a defensive round and run a successful one man fast break without Tragic Brunson-ing it up. The Israeli native is also athletic for a big man, and he can get up above the rim for highlight plays, and it was more so displayed when rebounding the ball as he pulled down 8.2 rebounds per game.
Justin Jackson could fill the void at small forward and make it an easier decision to trade Carmelo Anthony. T.J. Leaf, despite not possessing superstar potential could develop into a reliable backup big man for New York and be a part of the young core for the decade to come.
In an ideal world, the New York Knicks would get out of the 2017 NBA Draft with three high-quality first round talents which would be the building blocks for the future alongside Kristaps Porzingis and Willy Hernangomez as well as making use of their two second rounders if they don't give them up in trade scenarios.