With the Paul George craziness and other happenings, the New York Knicks looking to trade Carmelo Anthony might now be a lost cause.
T
he
New York Knicks
front office would prefer that
Carmelo Anthony
is no longer a part of this team. The much we do know as the Zen Master hasn't been so crafty with his intentions. However, with who is currently available and going to be available in the coming weeks, Anthony is virtually untradeable for the time being.
Over the course of the Knicks most recent disastrous season, the trade value of Carmelo Anthony diminished from day to day. He was alienated, critiqued and demeaned publicly by Phil Jackson which shrunk the already small market for Anthony and further lowered the value of what New York would receive in return.
At the end of the season, the 10-time All-Star's value was close to worthless but in light of recent news it is now valueless and it will continue to be so for the foreseeable future. In simpler terms, if Anthony was to be traded today, New York would receive spare change in return.
Here's why: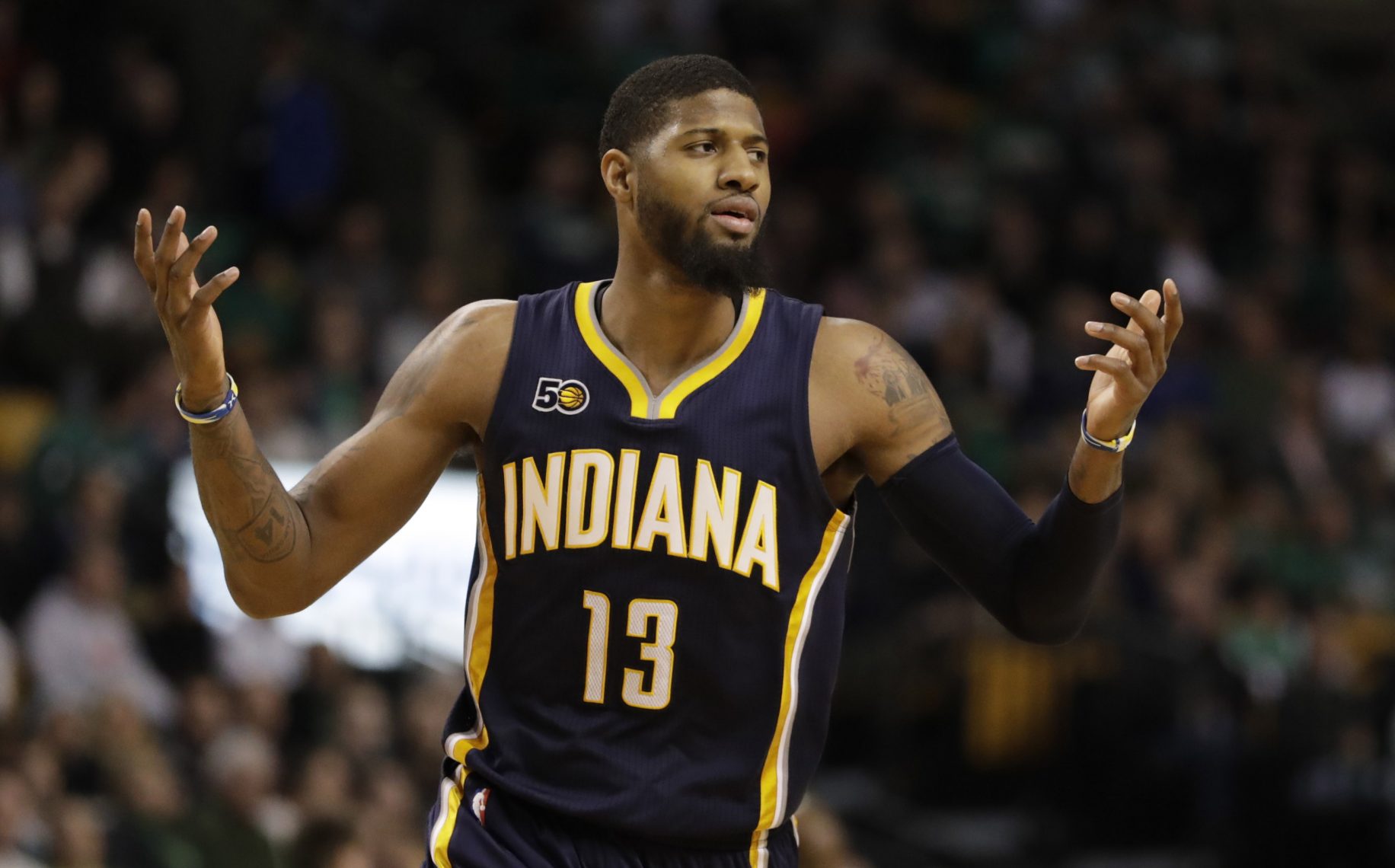 Indiana Pacers All-Star forward Paul George has informed the team that he will be heading to the Los Angeles Lakers during the 2018 free agency period. Consequently and as you would expect, Pacers' management is fielding offers for George. It is quite simple really. George is in his prime at 28 years of age and a superior talent to Anthony who is now a 14-year veteran.
This past year, George posted a career-high 23.7 points per game while shooting 46 percent overall and 39 percent from long distance while Anthony averaged 22.4 points per contest while shooting just 43 percent overall and 35 percent from long range. The 33-year-olds conversion rate was the worst since his sophomore season and his 5.9 rebounds per night were the worst mark in a decade.  Moreover, the comparison on the defensive end isn't even close and doesn't even warrant an explanation.
In comparison, George is on an upward trend whereas Anthony is on the decline. Another aspect to refer to would be contractual. Anthony is slated to be paid 26.24 million dollars next year compared to George who will earn 19.5 million dollars. Anthony, as a result of his no-trade clause, has a trade kicker which will further add to his salary which makes it far easier for teams to trade match salaries in a trade for George.
All in all, George is a better basketball player than Carmelo Anthony and his contract is far more affordable which therefore negates Anthony's trade value.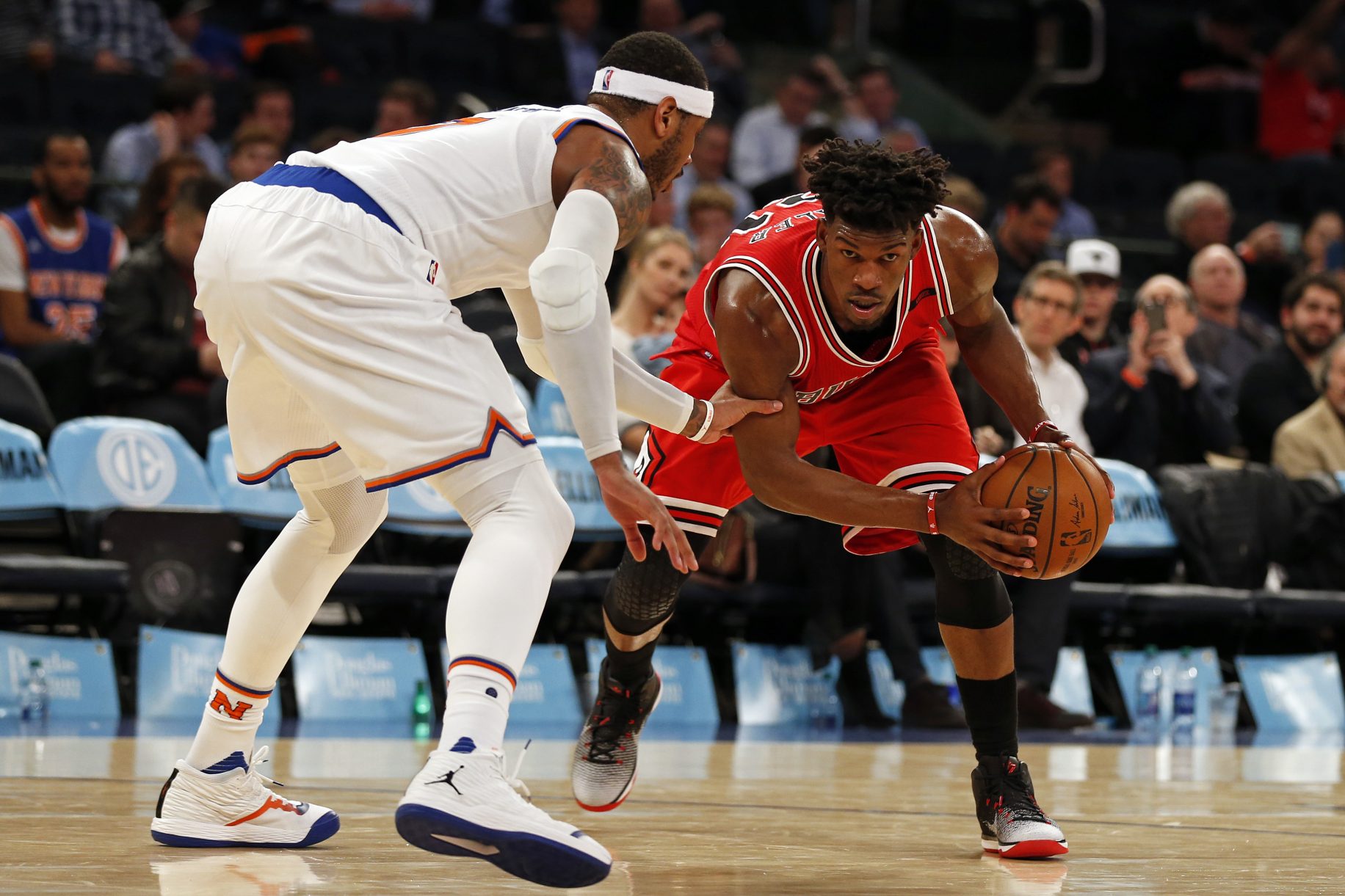 Although the Chicago Bulls seem adamant on keeping Butler, the reports still swirl that Butler is available via trade and that Chicago is willing to part with their three-time NBA All-Star. The guard-forward is another player who further lowers Carmelo Anthony's worth.
The 27-year-old Butler absolutely stuffed the stat sheet last year, posting 23.9 points per game, 6.2 rebounds per game, 5.5 assists per game and 1.9 steals per game while shooting 46 percent overall and 36 percent from three point range. In comparison to Anthony, Butler is the far more well-rounded player who can consistently perform on both sides of the ball.
Additionally, the Bulls star is slated to earn a little over 18 million dollars next season which alike to George, makes him far more moveable and it isn't an arduous task to match salaries. Butler is one of the premier two-way players across the league and his value is exponentially higher than Carmelo Anthony's. If he were to be made available publicly by the Bulls management, the trade worth of Carmelo Anthony would hit an all time low.
Free Agents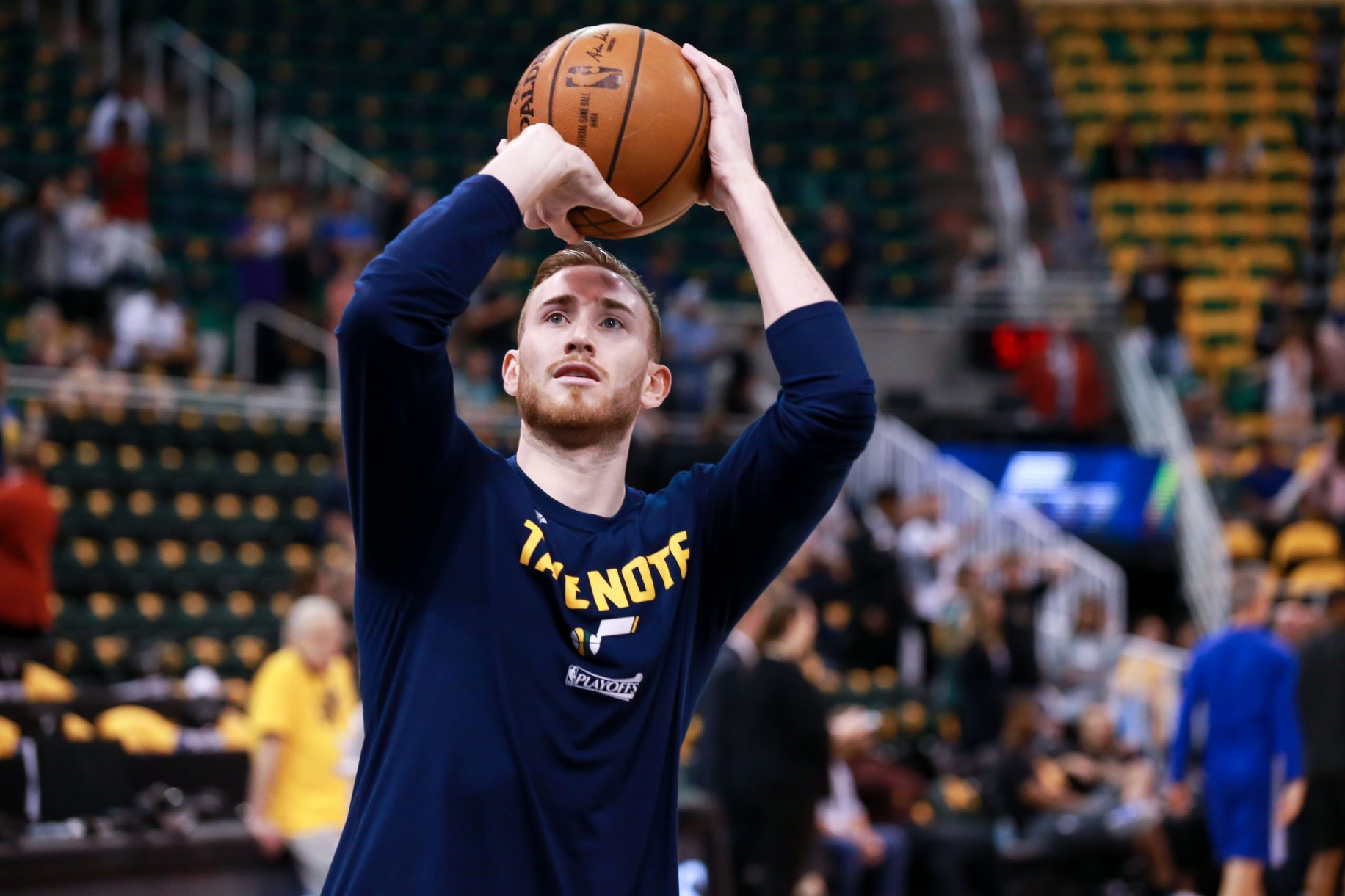 Utah Jazz centerpiece, Gordon Hayward, is set to opt of his deal and test the free-agent market and after being named an All-Star for the first time as well as leading the Jazz to the second round of the playoffs his market value is at an all-time high. He further floods the market of All-Star forwards which only lowers what New York could receive for Anthony if that is at all possible.
Hayward, who was drafted with a pick originally owned by New York, posted a career high 21.9 points per game while shooting 47 percent from the field and 40 percent from three point land. Both of those percentages are the highest since his rookie year when he posted a measly 5.4 points and this past year he took five times as many three-pointers as he did in his debut year. In a similar vein to George and Butler, Hayward is only getting better, unlike Anthony who is entering the tail end of his career.
The Boston Celtics are expected to make a hard push for the one-time All-Star, a team Anthony was rumored to possibly land on. Therefore a team is eliminated from Anthony's already dwindling market furthering the difficulty of finding a trade.
Former Knick, Danilo Gallinari will hit free agency this summer and Steve Kyler of Basketball Insiders believes that he is the Celtics' fall back option if Hayward. Gallinari mightn't be a better player than Anthony but his play style seems to what make the Celtics favor him over Anthony. Gallinari would be a release option for Boston and a good one at that; the Italian connected on 55 percent of his corner threes and 51 percent of his uncontested three point shots.
Moreover, Gallinari is five years the junior to Anthony and his payday isn't going to be anywhere near as high as Carmelo Anthony's is. As was previously mentioned, Boston seemingly prefers Gallinari over the Knicks' star which could be a sign that teams league-wide view Anthony as a declining talent and would rather invest in a younger, less ball dominant third option.
What Does all of that Mean?
If you didn't quite catch on, Anthony is now likely considered a sub-par talent as the market of available players at his position are simply just better players. The Boston Celtics would prefer to sign Gordon Hayward, if not then they would aim to trade for Butler or George or as a last resort sign Gallinari. Anthony isn't on that list. His market is minuscule and in addition to the available market being stacked with talent, his trade value was diminished in the season just gone. Many insiders believe that if New York were to trade Anthony right now they'd get pennies on the dollar.
Basically, if teams had a big board of trade or free agent targets at the small forward position Anthony wouldn't be in the top five of those lists except in a possibly a couple of cases.
How Anthony's Clause Could be a Positive
When Phil Jackson re-signed Carmelo Anthony to a five-year deal he gave him a no-trade clause which means Anthony cannot be traded unless he waives that and approves the trade. Over the course of past season when Jackson was exploring options for Anthony has adamant on remains g in New York and nut being run out of town. Despite the frustration that it caused the front office and fans, it could now end up being a good thing.
Anthony's value is incredibly low at the moment and the Knicks will be robbed in every trade scenario imaginable. However, Anthony's love for the city and being a member of the Knicks could mean that he wouldn't approve a trade in which the Knicks get short-changed. Therefore, he'd only be willing to move along once a trade is presented in which the Knicks get well compensated. It would make some sense that Anthony would not want to burn the organization that he loves.
What Should the Knicks do?
Wait. Keep Waiting. Continue to wait.
It wouldn't be all that surprising if Anthony is a Knick to begin next season. At the end of the day, he holds the trump card. In an ideal world, New York would wait until the deadline. Why? Because by late February the contenders will well and truly be sorted from the pretenders and teams on the brink will be looking for that piece to get them over the hump.
That is where Anthony comes into play. The dust will have settled around the aforementioned players and Anthony will be a readily available 20-plus point per game scorer. Those teams that are on the brink of contending or attempting to nudge out the Cavaliers or Celtics may start to panic a bit and a result will overpay for that final piece. It would be fairly similar to what the Knicks did to acquire Anthony in 2011. Full circle, huh?
The Knicks would not receive five players and four picks for Anthony but they would certainly receive more at the deadline or during the season than they would at the moment. Honestly, the clause could be some sort of blessing in disguise — grasping at straws, I'm aware.
Overall
Carmelo Anthony's trade value is plummeting by the minute as the market continues to be flooded with talent. His market was already minuscule, to begin with, and with the likes of Butler, George and Hayward available his market grows even smaller and his value drops even further. Right now he is a player that is out of favor trade wise and the Knicks wouldn't receive anything with real value in return right now.
New York would be bestowed waiting for a team to hopefully panic and overpay, even if it's only in the slightest degree. If not, they'll get what they would now at the deadline. If that were the case, the Knicks would take a loss but it wouldn't compare to what they've done in the past.