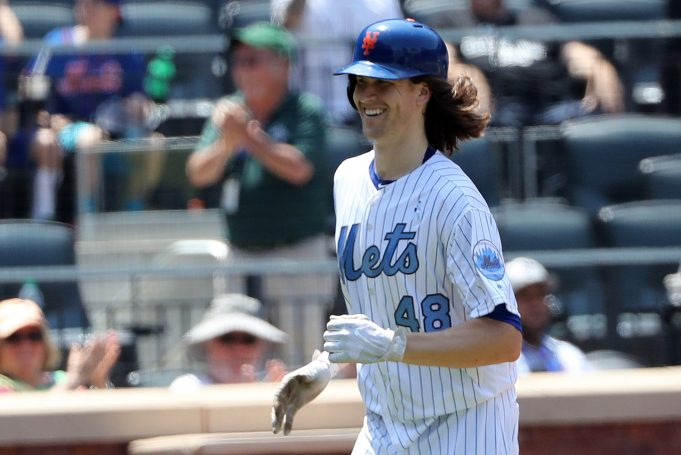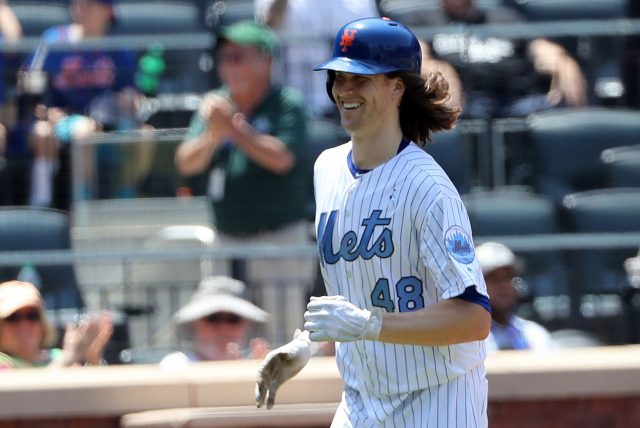 New York Mets star pitcher Jacob deGrom hit his first career HR against the Nationals on Sunday.
In the third inning of New York's series finale against the Washington Nationals, Jacob deGrom did the unthinkable. From now on, you can call him "Jack" deGrom. 
deGrom took a Joe Ross fastball to deep left center, and just like that, in his 177th at bat, he hit his first career home run. Even before deGrom blasted the homer, you could tell by his body language that he was ready to swing.
MLB: deMolished, by deGrom. https://t.co/oZphfFtR48 #PitchersWhoRake pic.twitter.com/55FnJjzZV1

— Sports Politicen (@sportspoliticen) June 18, 2017
The way things were looking, it appeared as if we were in for another weak offensive showing by the Mets. 
However, deGrom's homer tied the game at 1-1, and Citi Field blew up with excitement. Regardless of today's outcome, Mets fans got their money's worth seeing a pitcher hit a home run.
First career home run ✅

Game even at 1. #LGM pic.twitter.com/IpYVKjHCnC

— New York Mets (@Mets) June 18, 2017
Here's a look at Jacob deGrom's first career home run: #Mets pic.twitter.com/sFKSomsQBR

— David Adler (@_dadler) June 18, 2017
The last Mets pitcher that went deep was Noah Syndergaard, who did so this past August against the Arizona Diamondbacks.
Complete list of Mets pitchers to hit home runs, last 10 years:

1. Syndergaard (4)
2. Colon
3. Harvey
4. Hefner
5. Santana
6. deGrom

— Anthony DiComo (@AnthonyDiComo) June 18, 2017