Some New York Knicks fans are hoping for an end to an almost two-year long "Melodrama". Phil Jackson has been clear about his intentions to trade the fading star, yet there has been no definitive news to suggest this will happen anytime soon. Trading Carmelo Anthony will be close to impossible this offseason. It's more likely than not that you will see the aging face of the franchise in orange and blue to begin the season.
T
here are obvious barriers to trading Carmelo Anthony. Most have been discussed at length in various media outlets. Of course, Anthony's no-trade clause is the primary obstacle as he completely controls his destiny and Phil Jackson gave him this gift after Melo agreed to sign a five-year, $125 million extension in 2014.
Additionally, any team that trades for Anthony will have to pay his salary plus an extra trade kicker which will increase his annual salary, per season. Furthermore, Jackson's public comments regarding Anthony may hurt his trade value thus compromising the Knicks bargaining position. Finally, there is Anthony and his family. Melo has appears to enjoy New York and his family has as well.
When discussing his future, Melo has always been upfront, stating that it will be a family and basketball decision. Both Melo and the Knicks have a busy summer on their hands.
Let's dive into the detail as to why the former scoring champion will be playing his home games in Madison Square Garden this coming fall.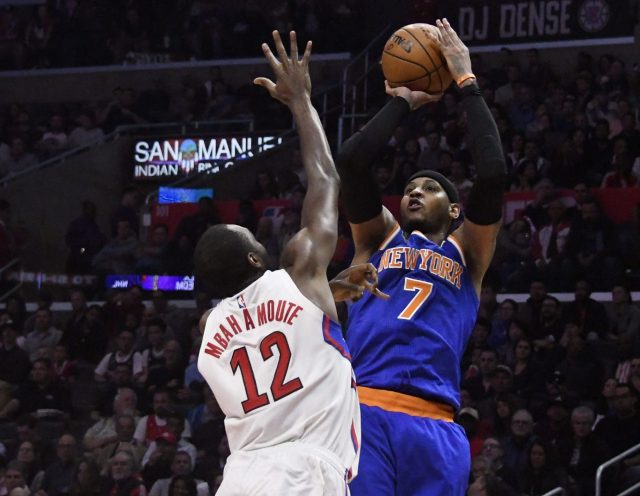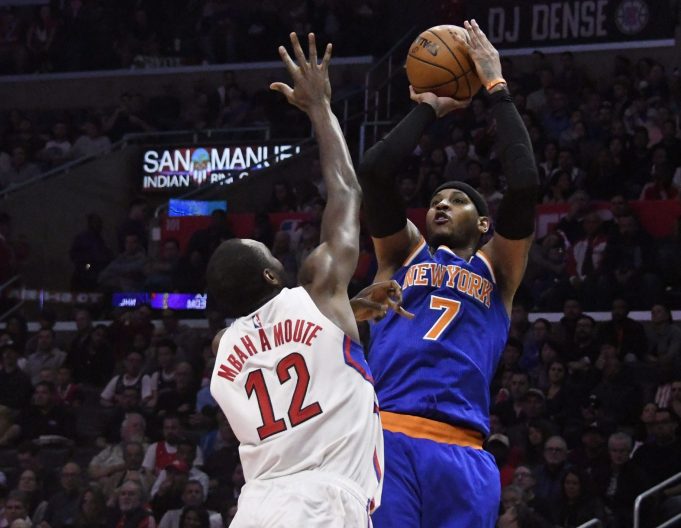 The No-Trade Clause
Currently, there are only three players in the NBA that hold an outright no-trade clause. In addition to Anthony, LeBron James and Dirk Nowitzki also can veto any trades that come their way. Although self-explanatory, this puts Anthony completely in the driver's seat.
Most fans and analysts have been critical of Phil Jackson, who gave Melo the no-trade clause after he agreed to sign a slightly less than max extension. Jackson vaguely explained that he felt it should prospective free-agents that the Knicks do right by their players and reward them for service to the team.
It seems Jackson's supposed altruism will backfire. Most rumors suggest that Anthony will only approve trades to the upper echelon team like the Clippers, Cavaliers, and Boston Celtics. This, in essence, handcuffs the Knicks ability to get the best deal possible. Teams can low-ball the Knicks if they feel that Melo will only approve deals to certain teams.
The Trade Kicker
In an ESPN article, Ian Begley explains the math behind an Anthony trade to either the Clippers, Celtics or Cavaliers. The key points are as follows:
Melo's current deal contains a 15% trade kicker that allows him to obtain 15% (8.1 million) of his remaining salary.
A deal prior to the June 30th allows Melo to waive part of his trade kicker, a deal after July 1st allows Melo to waive his entire trade kicker. (Most likely he would not do this, but if the Cavs coming calling, he might agree).
If Melo is traded after July 1st and does not exercise his early termination option (to become a free agent in 2019), teams will have sent out close to $27 million in salaries to Knicks in order to make a deal work.
The Clippers have a hard cap. It is possible for them to trade for Melo without having him waive his trade kicker, but it will be difficult.
The Celtics have a good salary cap and have the ability to pay Melo's full trade kicker. If Melo decided to waive the trade kicker, they would only need to send nineteen million in salary to the Knicks to make the deal work.
Although the Celtics and Cavaliers cap situation is different, a chance to play with the King may push Melo to waive his trade kicker. Similar to the Celtics, the Cavs would have to send nineteen million in salary to the Knicks to absorb Anthony's twenty-four million-plus annual salary.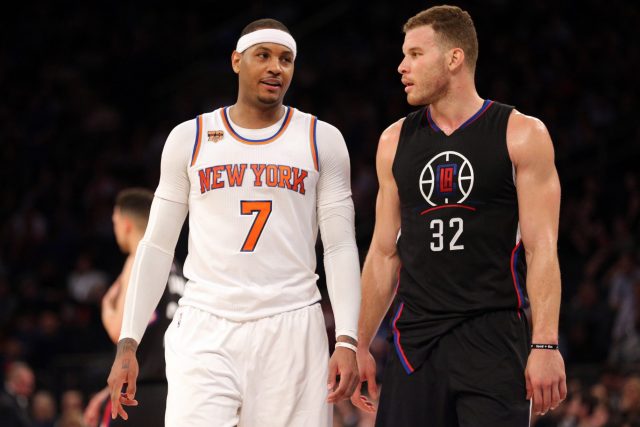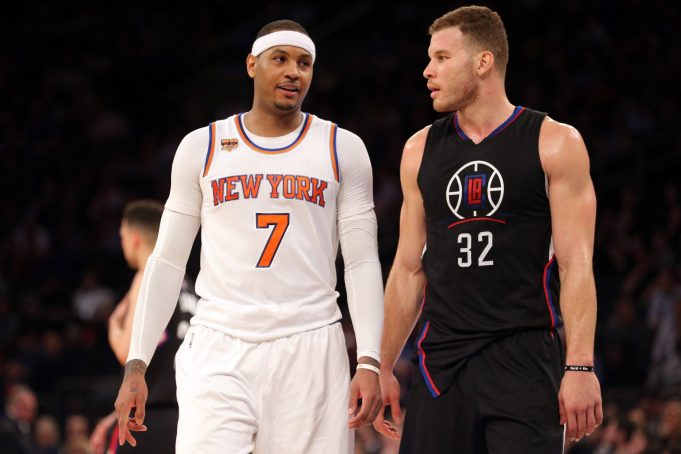 Anthony's Trade Value
After the 2012-13 season, Anthony finished third in the MVP voting and it seemed the Knicks were on the rise with Mike Woodson at the helm. Flash forward several seasons, the Knicks have been stuck in the lottery and in the middle of a rebuild or win-now philosophy. In that time Anthony's productivity has declined. As per basketball reference:
2012-2013: 28.7 PPG 6.9 TRB 3.6 AST
2016-2017: 22.4 PPG 5.9 TRB 2.9 AST
However, Phil Jackson has also damaged Melo's trade value. Jackson has criticized Melo for holding the ball and has stated that he does not feel he can change his style of play. He has also hinted that he feels Anthony has been resistant to the triangle offense. Yet the clearest statement of Jackson's feelings on Anthony was made post 2016-17 season.
The Washington Post quoted Jackson as he explains:
"We have not been able to win with him on the court at this time, and I think the direction with our team is that he is a player that would be better off somewhere else, and using his talent somewhere he can win or chase that championship."
Most have to wonder what team will hand over young promising players and/or draft picks for a player that is obviously not wanted by his organization. Jackson has been on record saying that he does not feel his feud with Anthony will impact the team's ability to trade him, but time will tell.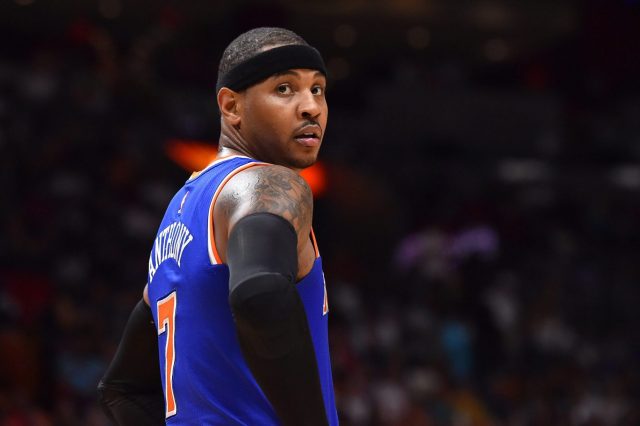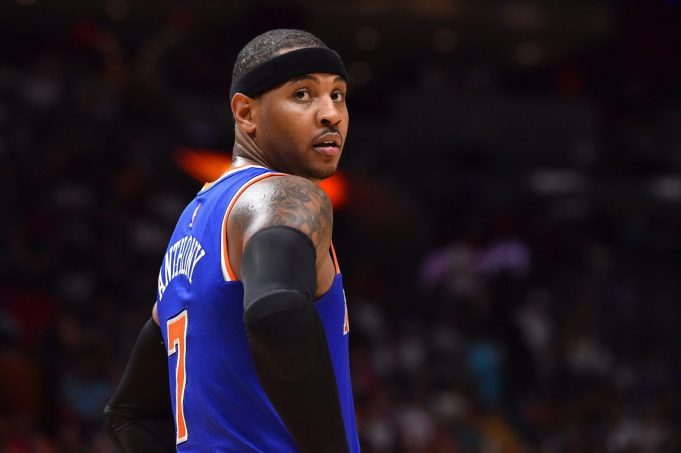 Anthony's Family and Life in New York
If you have the Snapchat app on your phone and follow Melo's wife LaLa, it takes about two seconds to see that their family is really happy here in New York. Professionally, LaLa's career has benefitted. She is a regular cast member on the popular STARZ show Power and has acted in movies like, Think Like A Man. You will also notice that Melo's son Kiyan, also seems happy as well. Reportedly, he is happy at school and has spent most of his pre-adolescent life in New York.
Despite the recent marital struggles between Melo and LaLa, the 3 time Olympic Gold Medal winner would have to think long and hard about uprooting his family to chase a championship ring.
Overall, trading Melo will not be easy. Furthermore, finding the right trading partner (where Melo will waive his no-trade clause), with assets and cap space will also be difficult. My firm belief is that Melo will have to play well in the beginning of the season to increase his own trade value, so contending teams may be enticed to trade for him at the trade deadline. However, there is so much that can happen between now and then. Until that time comes, the Melodrama continues.