The New York Knicks have been intrigued by a number of prospects, but most recently shooting guards Donovan Mitchell and Luke Kennard. However, they cannot and should not draft a shooting guard who will only add to a potential logjam at the off guard; they instead need to select the best point guard available when they select. 
W
ith the NBA Draft now just two weeks away, rumors and speculation continue to unfold around the New York Knicks. Most recently, news has broken that the Knicks have an interest in shooting guards Donovan Mitchell and Luke Kennard. However, both Mitchell and Kennard are not the type of players who the Knicks should be looking to snatch come draft night.
They should, instead, be looking to draft their point guard of the future; drafting Mitchell or Kennard is not doing that.
Last year, both Mitchell and Kennard played well for their respected teams. Leading his team in points scored (15.6), and racking in just under five rebounds a game, Mitchell was the motor that kept the red birds flying on the offensive end in the 2016-17 season. Mitchell though was also a presence on the defensive end.
Possessing quick feet, Mitchell has the ability to switch off defenders at ease and play tight perimeter defense. Another attribute to his game, though, is his wingspan. Despite standing at just 6-foot-2, Donovan has a 6-foot-10 wingspan — impressive for a shorter guard.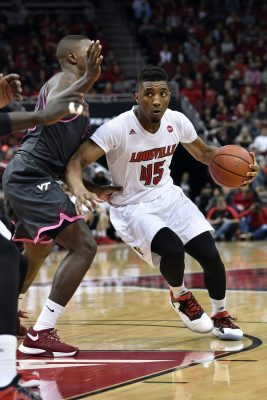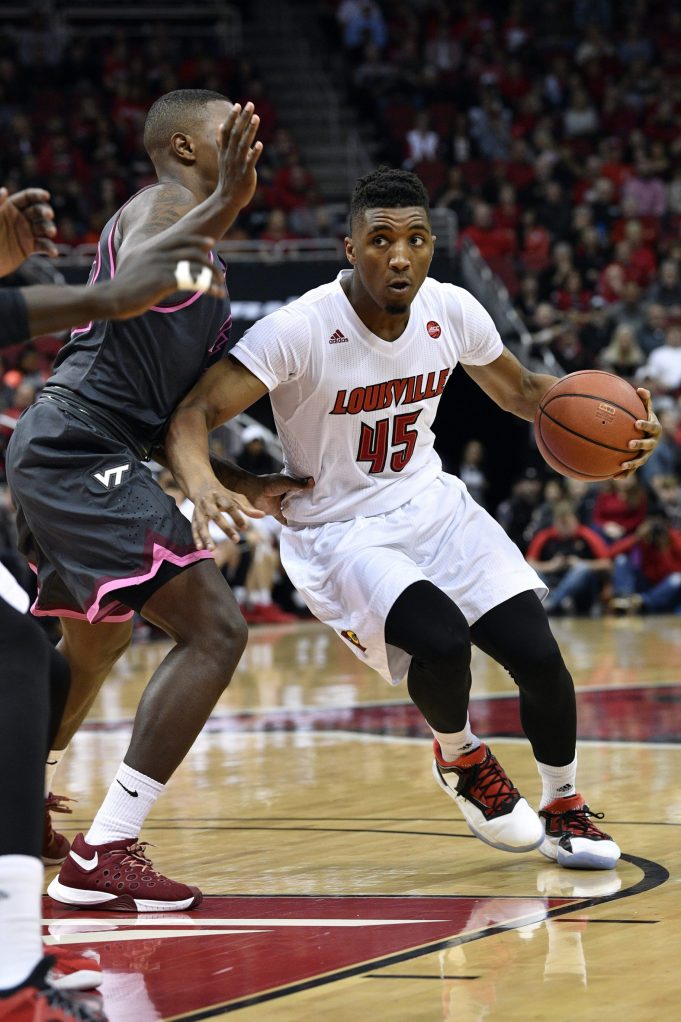 Kennard though, also played well last season in his sophomore at Duke.
Despite the presence of Jayson Tatum and Grayson Allen, Kennard lead the Blue Devils in scoring (19.5). Leading the charge on the offensive end, Kennard has helped build up the notion that he can be a go-to scoring option in the NBA. However, despite Kennard's offensive impact and Mitchell's two-way play, the Knicks should not be looking to draft either one of them.
While both talented products, Mitchell and Kennard do not make a whole lot of sense for the Knicks.
With shooting guard Courtney Lee, and potentially J.J. Redick (if he is signed and traded for Carmelo Anthony), as well as Justin Holiday and/or Ron Baker (assuming one or both are resigned), the Knicks will already have a plethora of off guards present; that makes drafting a shooting guard unnecessary. Instead of selecting a player who would just add onto the logjam at shooting guard, the Knicks should have their sights set on drafting a point guard — which would fill a void.
One name who the Knicks could opt to select if and when he's available when they select is NC State point guard Dennis Smith Jr. — who would be a great get.
Last year, Smith impressed many with his ability to be a two-way playmaker, and log major minutes. Playing a whopping 34.8 minutes per game, Smith showed he has the ability to play big time minutes; Smith took advantage of the opportunity to play that great amount of time by making an impact on both ends of the floor.
Posting 18.1 points, as well as dishing out 6.2 assists per game, Smith served as a go-to scoring option, as well as a facilitator for the Wolfpack attack. On the defensive end, he played with that same competitive spirit.
Stripping the ball at a 1.9 per game rate, Smith served as a gnat on the defensive end. Smith though, also played tight, contested on-ball defense out on the perimeter, in addition to picking pockets. Smith though, isn't the only player in this draft who possesses that skill set.
Much like Smith, Duke shooting guard Malik Monk is a two-way force. On the offensive end though, he's a force to be reckoned with.
Averaging just under 20 points per game, Monk lead the Wildcats in points per game last year. Him doing so though, went a bit under the radar, given the electric play of his teammate De'Aaron Fox. Regardless of Fox's upbeat play though, Monk proved his worth on the offensive end, especially as a perimeter threat.
Shooting just under 40% from behind the arc, Monk was a well-rounded offensive weapon for the Wildcats. However, while his ability to be a reliable scoring output is a key facet to his game, Monk's defensive impact is just as crucial.
In his freshman year, Monk played swarming defense both out on the perimeter and in isolation. That defensive versatility is a trait which could benefit the Knicks, especially given a key notion surrounding Monk.
While he played the two in college, many people around the association feel as if Monk is better suited playing the point, given his size. Standing a just 6-foot-3, some think Monk would be better guarding lead guards as opposed to two guards. That is a dilemma that could ultimately cure the Knicks point guard woes though.
While moving to the point could be a drastic change for him, Monk making such a maneuver would instantly fill the void at point guard.
Coupled with Kristaps Porzingis, Monk's two-way play and ability to progress into a well-rounded point guard could make the two a lethal duo going forward for the Knicks.
Monk, if available, is a player who the Knicks cannot pass up on. However, if he's unavailable when they select, they could very well opt to select French point guard Frank Ntilikina.
The Frenchman, while a bit of an unknown, is a player who the Knicks are said to be "enamored" with, given his defensive versatility and triangle-esque skill set. If he's available and neither Smith or Monk are there when they select, then the Knicks will almost have to select Ntilikina, being that he'll be the best lead guard up for grabs. However, while many will say the Knicks drafting Ntilikina, or even making Monk a point guard would be a chancy move, it makes a lot more sense and would be less of a risk than drafting a shooting guard.
While both Mitchell and Kennard could very well pan out to be solid NBA products, neither one exactly tore it up in their freshman year – which is a key liability in both their game's.
While they both performed well in their sophomore campaigns, both Mitchell and Kennard weren't one and done — which is becoming a telling tale. While there is nothing wrong with staying in college for another year and putting your potential NBA career to the side from a moral standpoint, it can simultaneously serve as a massive buffer.
It's rare in today's game that a sophomore, junior, or even a senior thrives at the NBA level, especially when they don't play at a high level in their freshman year. Granite there are exceptions such as Warriors' forward Draymond Green, it's not common to see two, three or even four-year college players pan out to be top or even second tier players in the NBA.
Smith and Monk both excelled in their freshman year and would fill a need at point for the Knicks. Granite Monk is a shooting guard at the moment, he can very easily make the transition into becoming a point guard; Mitchell and Kennard do not possess that ability or fill a need.
Based on the fact that this team needs to find a point guard for their future, they must avoid prioritizing a shooting guard with the eighth pick in the draft.