The New York Mets are 24-31 after 55 games here in 2017 and unless they can get some of their players back pronto, they are in danger of being out of contention come September. 
The Mets came north in April with high hopes for this year, one in which they expected to challenge for a championship. 55 games into the season, they are playing .436 ball and their pitching staff is in shambles. Only the horrible Phillies have a higher team ERA at the moment.
As per the website TeamRankings.com, the Mets are on a pace to win 75 games, which gives them only a 5.2% chance of making the postseason. Conservatively speaking, it may take 85 wins to get a wild card berth. Translation: the Mets will need to put a move on if they have any designs on getting close to that win total. They would need to go 61-46 (.570) the rest of the way to get there.
That is, if 85 is the number. Last year in the NL, the Mets and Giants tied for the wildcard with 87 wins but in 2015, both wild card teams had more wins than the Mets, who went 90-72. The Pirates won 98 and the Cubs won 97. With the division pretty much out of reach (Washington has an 11.5 game lead at the moment) the Mets can only hope for a wild card, and even the most diehard Met fan has to admit that the odds are against them.
This season has gone sideways and is now heading south (no, really….the Mets are in Texas and Atlanta this week) and although there are signs of clearing on the horizon, the damage done thus far may be irreversible.
Not to lament about all of the key injuries that have plagued them once again, but that would be the headline should the season continue to go south. The loss of Noah Syndergaard, Jeurys Familia and Yoenis Cespedes have gutted this team more than many expected. Those are three players they could afford the least to lose and they have lost them.
Cespedes has been the biggest loss. He is the Mets' best everyday player and their success is directly tied to his health and presence. We all know the impact he had after arriving via a trade in 2015, but since then the evidence is even clearer that they need their slugger to compete.
In 2016, the Mets were 74-58 with Cespedes in the lineup and 13-17 without him. This year, they were 8-10 with him and 16-21 since he went out with a hamstring strain in late April. The good news is that Cespedes could be back next week. The bad news is, the Mets needed him two weeks ago. They were hoping he could DH this week in Texas. Nothing doing.
Syndergaard tore a lat muscle and will be out until after the All-Star break at the soonest. Thor was clearly the hammer of the Mets' rotation and a steady arm that set up the rest father bunch. He started four games before exiting early in his fifth start with the injury. In his first four starts, Syndergaard went six, seven, six and seven innings with a 1.73 ERA and had struck out 30 batters without walking a single one.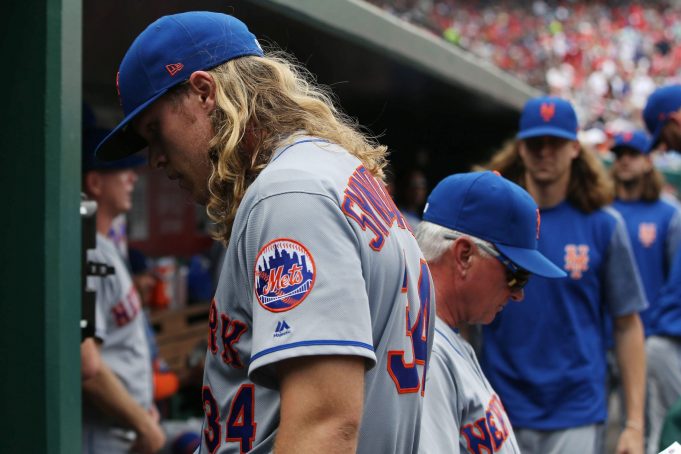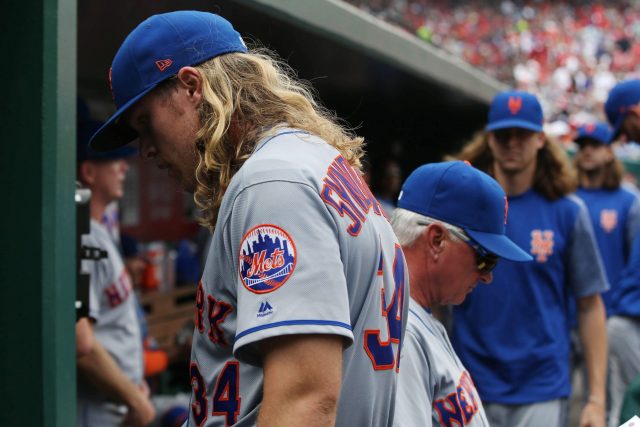 Do they miss him? As they say in Fargo, "you betcha". Without Syndergaard, the rotation has struggled. Jacob deGrom has been himself for the most part, but Matt Harvey, Zack Wheeler and Robert Gsellman have been consistently inconsistent.  deGrom has started 11 games and has only gotten past the sixth inning four times. His ERA has swelled from 2.84 in April to its current 3.97.
Harvey (4-3, 5.43 ERA) probably shouldn't have come north with the team as he is coming off surgery to address thoracic outlet syndrome. He began the season strong and his velocity is there at times, but he is only a shell of the pitcher they once dubbed "The Dark Knight". He has been hit hard in many of his starts and has pitched past the sixth inning just two times in eleven outings this season. He has a WAR of minus 0.3 and a WHIP of 1.484. Ouch.
Wheeler (3-3, 3.72 ERA) has held his own after missing two years to Tommy John surgery. Gsellman (4-3, 5.53 ERA) was godawful in the beginning of the season before logging in two quality starts in his last two appearances. The Mets are actually 8-5 in games that he's pitched. But the issue is, neither of these pitchers has been pitching deep into games, and that has has put a bigger strain on the bullpen.
Familia led the NL in saves in 2016 with 51 and had 94 saves over the past two seasons. He underwent surgery to address an aneurysm in his pitching shoulder and is likely out for the season. After his injury, the Mets moved 8th inning setup man Addison Reed into the closer role. Reed began the season in the role as Familia was suspended for the first 15 games. He has eight saves in ten opportunities.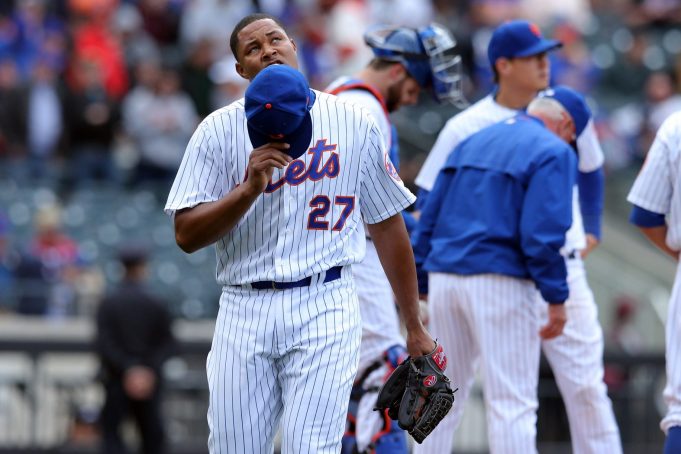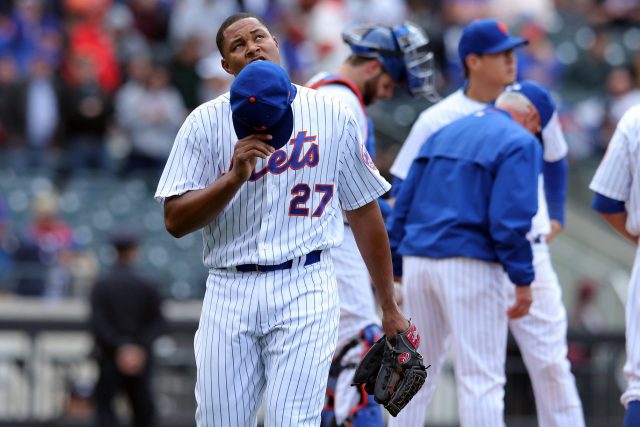 But it is the bridge to Reed that has collapsed. The Mets' bullpen has an ERA of 4.81, has given up a MLB leading 110 runs and have blown 11 saves. They cannot be solely blamed for two reasons: they are overused, and; they aren't that good to begin with. The club did not add any new faces to the team in the offseason.
Help is on the way, so don't fret just yet. Steven Matz and Seth Lugo, two starters who have missed the first third of the season with elbow issues, will be back in the rotation next week. That means the Mets can shift Gsellman to the bullpen, and maybe even Wheeler, since he is on an innings limit. That should sure things up a bit until they can get Syndergaard back. They may opt to go with a six-man rotation for a few turns but that's never a good idea.
The Mets can also toy with the prospect of promoting SS Amed Rosario now that it's June and the Super 2 cutoff is here, which means its safe to bring him up without accelerating his arbitration clock. If a player is brought up before his team's 60th game (that's an approximate), his arbitration eligibility moves up a year. If brought up afterward, he has to wait an additional year to become a free agent. It's more complicated than that, but essentially, June 4th has been bandied about as the cutoff date.
Not sure if the Mets are ready for this move, if not now, when? Astrubal Cabrera, Jose Reyes and Wilmer Flores are not long term solutions at either shortstop or third base, so the Mets might as well get this kid up here right away. It will be something new for the fans to chew on after these very bland, tasteless nine weeks they've had.