Rumors abound, but can the New York Knicks truly move Courtney Lee for another first round NBA Draft pick? 
E
xperts and fans across the league know the New York Knicks are moving in a new direction this season. They're ready to give up veteran for young talent, especially draft picks.
Is Courtney Lee a trade piece that can earn them a first-round pick?
A nine-year veteran, Lee has been a consistent score off both the bench and in starting roles. Last season, he averaged 10.8 points while shooting 40 percent from behind the arc. It was his best scoring year since his sophomore year with the New Jersey Nets.
For potential trade partners, teams with mid first round picks are the target. They will likely benefit and take interest in some win now talent.
I'm told #Knicks have had several teams contact them regarding guard C. Lee. If they want a 1st they would get that moving him.

— Sports News (@JSports_ent) June 2, 2017
Who's the draft target?
The New York Knicks primary target in this year's draft is De'Aaron Fox. They're hoping to land him at eight, despite the rumors of him falling way before.
Additionally, it's been rumored New York has taken a liking to UNC's Justin Jackson. Ian Begley of ESPN New York reported the Knicks' interest before the Draft Lottery.
"Some members of the organization are high on North carolina's justin jackson."
Projected to fall in the mid section of the draft, that's where the Courtney Lee trade comes into play. Though the latest Bleacher Report Mock Draft has Jackson falling at thirteen to the Nuggets. However, the Knicks will aim for as high as they can, and that may be with the Detroit Pistons at twelve.
Very possible. Stan has an affection for Courtney. They kept in touch after he was traded out of Orlando. https://t.co/7dnYQdIvMA

— Steve Kyler (@stevekylerNBA) June 2, 2017
The Detroit Pistons head coach is Stan Van Gundy, who was Lee's head coach when he played for the Orlando Magic. Earlier this week it was reported the Pistons were shopping their 12th overall pick for a "win-now veteran." Taking his relationship with Lee into account and their ready willingness to trade the draft pick, makes Detroit a liable trade partner.
Moreover, the Pistons may be losing Caldwell-Pope this summer to free agency. Trading for Lee now prepares them for the future void at shooting guard.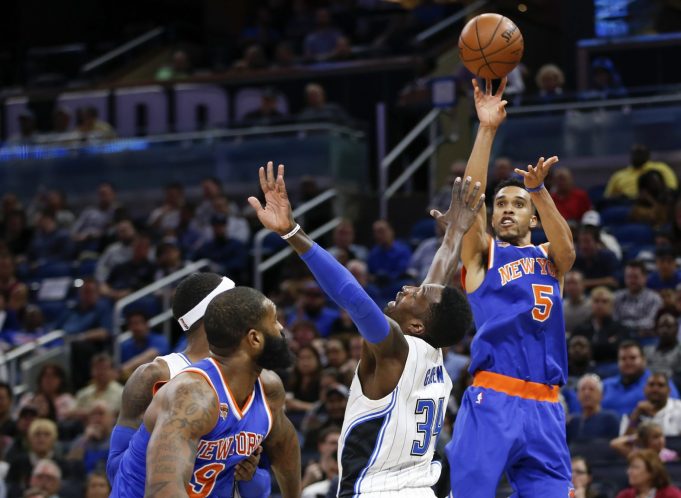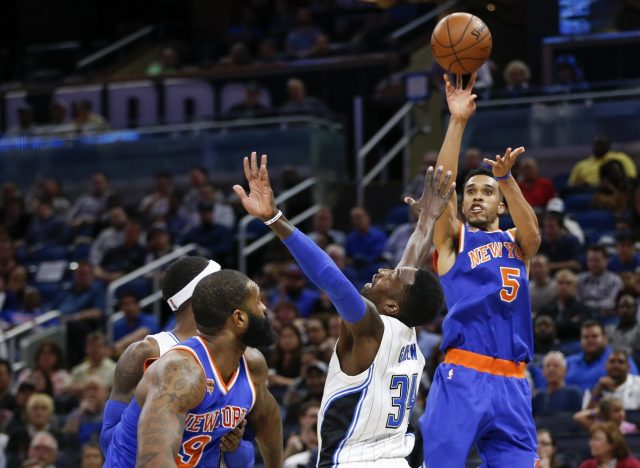 The Miami Heat are picking at 14th overall this year, but are already a young team. After going 30-11 in the second half of the season, they're ready to make a big splash in free agency, not so much the draft. Dion Waiters intends to decline his player option for $3.2 million, clearing free agency.
If Miami is determined to not pay him what he's due, they can take the bargain route. Trading the 14th overall pick for Courtney Lee saves them money, and upgrades them defensively at the two. Additionally, Miami takes that saved cash and puts it towards their free agent signing. A win-win situation for both sides.
The Portland Trailblazers hold three picks in the first round this year, at 15, 20, and 26. It's already been reported New York has entered trade talks with them regarding one, and it makes sense. Should New York have their eyes on Jackson, he could likely fall at fifteen.
Whether Courtney Lee is apart of those trade talks, is still up in the air. With Portland ready to make salary dump trades, it's not likely. Unless there are other players featured, Lee's $11 million dollar salary would only fit if someone else's was dropped.
In Conclusion
Courtney Lee's value is undeniable, and it may just reach a first round pick.
Dependent upon the team, Lee's win now veteran stature may be more pivotal to their success than adding young talent.
With New York ready to place young talent alongside Porzingis, trading Lee is a move that makes sense.
[graphiq id="3nMcT1LcvHf" title="Courtney Lee" width="600″ height="652″ url="https://sw.graphiq.com/w/3nMcT1LcvHf" frozen="true"]