Jacob deGrom has always been an efficient arm, but his current inflated K-rate has caused his total numbers to decline for the New York Mets.
T
he
New York Mets
' starting rotation has undoubtedly faced adversity throughout the first two months of the 2017 season. The loss of their ace
Noah Syndergaard
, paired with the prolonged absence of two quality starting pitchers in
Seth Lugo
and
Steven Matz
, has taken a harsh toll on the staff's overall performance.
It's in times like these that a positional group will lean on its top talents to calm the storm by producing overachieving numbers — these are the expectations that have been placed on former National League Rookie of the Year Jacob deGrom.
Let it be remembered that the deGrominator did recently go 8.1 innings against the Pittsburgh Pirates on May 26, allowing just a solo shot while striking out 10. That double-digit K-performance shows a sexy new trend that has gained deGrom new league wide recognition — it was his fifth such start of the season in 11 tries.
In today's major leagues, strikeout totals and power pitching are king, and deGrom possesses the ability to attain both of those attributes. So far this year, he has averaged 12.2 strikeouts per nine innings pitched, good enough for third in the MLB, behind just the Red Sox' Chris Sale and Indians' Danny Salazar.
However, the side effects of this punchout mentality may be more detrimental than positive to his overall season performance. The proof is in the staggering difference between deGrom's 2016 and 2017 seasons.
Walks allowed, one of the most important statistical pitching categories in baseball, has been deGrom's Achilles heel thus far in 2017. Last year, he walked a total of 36 batters over 148 innings pitched, resulting in a strong walks per nine rate of 2.2.
This season's rate of 3.4 is by far the worst of his career, and is only the beginning of the negative effects on his overall performance due to an inflated strikeout rate.
Another significant aspect of effective pitching is limiting pitch counts to reduce stress on your arm, and, therefore, to work deeper into games.
deGrom has been forced to throw roughly seven more pitches per game to start this season on average. In the long run, this will make him less effective, while also inflating his innings count.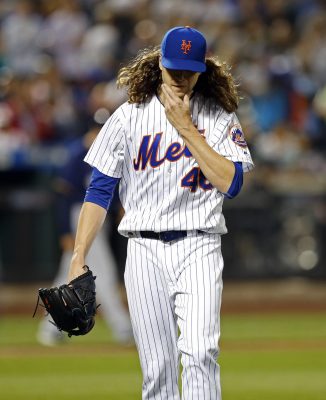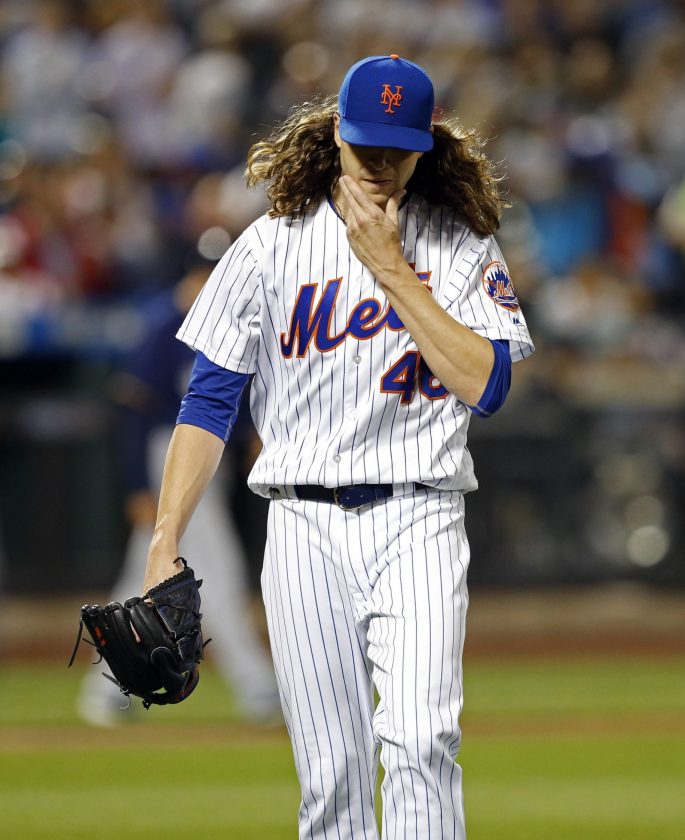 With some simple math, it's realized that seven extra pitches per start over a 30 start season results in about 210 extra pitches a year. In 2017, deGrom is averaging 16 pitches per inning, therefore causing those extra 210 pitches to equate to 15 extra innings pitched by year's end.
This may not seem astronomical, but there is a pretty significant difference between 195 and 210 innings pitched — especially with the Mets being as stingy with innings limits as they are. To go along with higher pitch counts, deGrom's batters faced per inning continues to rise to the point to where he is projected to face 15 percent more batters this year over his career rate.
All these developments have resulted because of a heightened strikeout rate, and have deGrom on pace to set career worsts in BB/9, HR/9, WHIP and ERA.
For how bad the strikeout culture has effected deGrom, it's evident the entire Mets' staff has also seen the ill effects.
Although the total staff K/9 has increased in 2017, their WHIP, ERA and pitches per games started are up across the board. The Mets are banged up as a rotation, but also sport an ineffective and over-taxed bullpen.
Right now, it is imperative for the starters to be pitching deep into games, especially for the team's current ace in the deGrominator.
The question moving forward will be whether or not he's prepared to sacrifice his strikeout numbers to more effectively pitch deep into his starts and help his beleaguered bullpen.
If he doesn't make that adjustment, fans may see his worst season yet, mostly because baseball cares more about the sexy strikeout than ever before.