The New York Knicks have reportedly partaken in discussions pertaining to potentially acquiring one of the Portland Trail Blazers' first round picks. However, despite the intrigue of adding another pick, it would be in their best interest to avoid making a such a move, based on the fact they'd have to take back an undesired contract from Portland.
T
he New York Knicks have reportedly held discussions with the Portland Trail Blazers about acquiring another first round pick. Possessing the 15th, 20th and 26th pick in the upcoming draft, the Knicks are looking to snatch one of many first round picks from the Trail Blazers.
If they're going to make such a deal though, the Trail Blazers would be looking to shed some money. While both teams could potentially help each other out in such a swap, it's not worth it for the Knicks to go forth with making a deal with the Trail Blazers.
If the Knicks were to acquire another first pick to go along with theirs (8) it could be beneficial, but at what cost?
While they're fond of UNC forward Josh Jackson and could very well be looking to put themselves in a position to land him in the mid rounds, it's not worth it for the Knicks to do the Trail Blazers a favor.
First off, given the plethora of picks they have at their disposal, it's unlikely that the Trail Blazers would be willing to trade away their best pick (15). Instead, they'll likely opt to put their other two picks up on the block. If the Knicks were to acquire one of them, they'd most likely still not be in a position to draft Jackson.
The biggest issue in any deal, though, is the additional piece or pieces the Knicks would be taking back in addition to a pick.
While getting a pick would be the top priority in any deal for the Knicks, the Trail Blazers on the other hand, would be looking to shed salary, by trading away some not too sexy contracts — maybe one player in particular.
According to Ian Begley, one name who has surfaced as a potential piece in a trade is forward Maurice Harkless, who will be heading into the second year of a four-year, $40 million dollar deal. Harkless heads into year two of that deal after a productive 2016-17 campaign.
Averaging 10.0 points and 4.4 rebounds per game at the three, Harkless was a solid presence in the Blazer starting five. However, his long-term commitment with the Blazers has them looking to potentially ship him off. The same goes for another Blazer wing.
One new who could potentially emerge in such a deal between the two teams is Evan Turner.
Last summer, Turner inked a four-year, $70 million dollar deal with the Blazers to come in and serve as a two-way, versatile wing. Turner though, while not terrible, didn't produce at the level Portland envisioned.
Averaging just 9.0 points, as well as 3.8 rebounds and 3.2 assists per game, Turner produced at an underwhelming level in the 2016-17 season. As a result of his not so sexy play, the Trail Blazers could very well look to dump him on the Knicks in a potential draft day trade — something the Knicks cannot and should not give into.
While Turner could very well bounce back next year, the Knicks shouldn't give into temptation and take on his hefty contract; the same goes for Harkless. While Harkless showed promise last year, the Knicks shouldn't be looking to worsen their salary cap space, which isn't a large figure, to begin with.
Possessing roughly $19 million to spend, the Knicks don't have an overwhelming amount of cap space to work with this summer; acquiring Harkless or Turner could decimate that figure even more. Many though, would argue that they shouldn't be looking to spend big in free agency – a reasonable notion – but regardless of that belief the Knicks still need to make crucial transactions; one of those moves is centered around a potential sign and trade for Timberwolves point guard Ricky Rubio, but also retaining some free agents of their own.
Throughout the past week, it's been reported that the Knicks still have interest in acquiring Rubio after a failed attempt to do so at the trade deadline. The side note of their interest in Rubio is that the Timberwolves have interest in signing Knicks' point guard Derrick Rose. Given the team's interest in the two, a sign and trade involving Rubio and Rose could come into play. If and when that goes through, the Knicks would be left with just $5 million in cap space, given Rubio's $14 million dollar salary.
Assuming that goes through, the Knicks would then be looking to grant themselves some cap space, via trade. If they could do so, they'd then look to re-sign some free agents of their own, but two in particular — Justin Holiday and Ron Baker.
Last year, both Holiday and Baker showed a willingness to compete on both ends of the floor, and the Knicks will be looking to retain the two in free agency because of it. However, they would need the appropriate amount of cap space to so; acquiring Harkless and Turner would hurt their chances at keeping both.
Another key facet of a potential deal with Portland is the pondering question as to what the Knicks would be surrendering?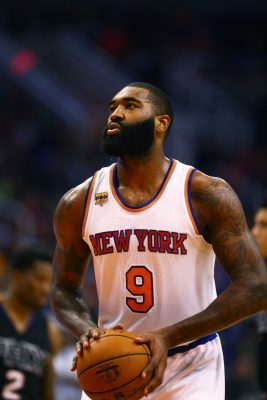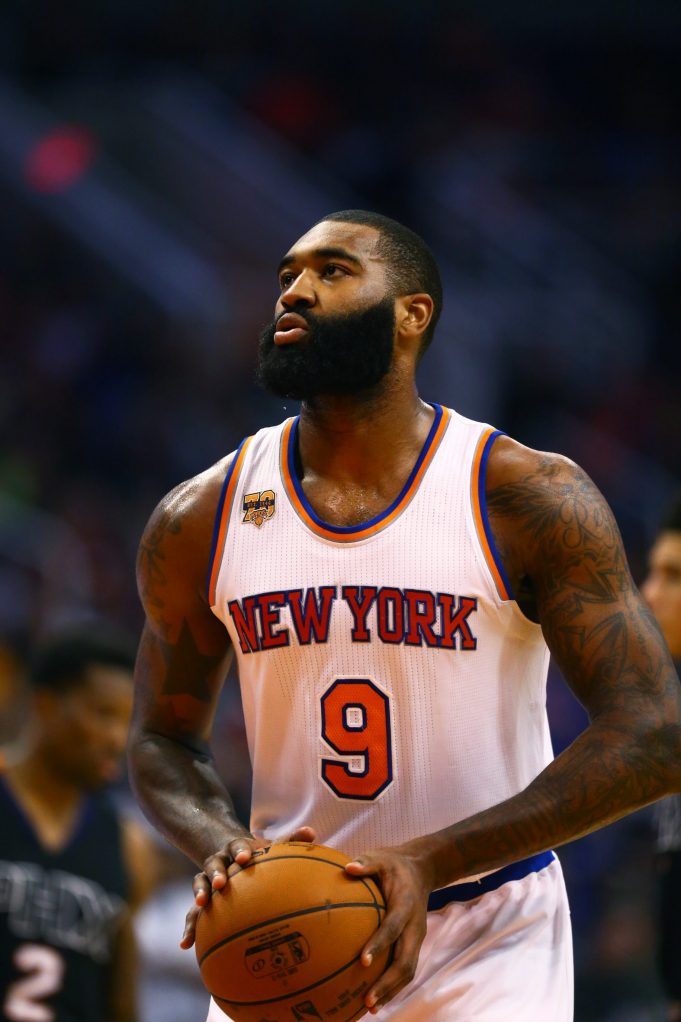 One name that could make some sense is big man Kyle O'Quinn. Given O'Quinn's two-way play, the Trail Blazers could look to snatch him to pair with Jusuf Nurkic at center. His presence could also help grant them some interior toughness.
After O'Quinn though, who could the Knicks offer up?
While shooting guard Courtney Lee has his value and could easily net them another first round pick, the Trail Blazers likely wouldn't want to take him back in any deal, given his contract.
Going into the second year of a four-year, $50 million dollar deal, acquiring Lee wouldn't assist the Trail Blazers in their efforts to clear payroll, as does the rest of the Knicks' trade assets.
While Lance Thomas is an established defender, he also possesses a pricey contract and endured an up and down 2016-17 to top it off. Center Willy Hernangomez could be the Knicks' best trade asset but they'd ultimately be complete fools to look at dealing him. In reality, when you look at everything they have to offer, the Knicks don't have much to fork over, making a deal make little sense for them, but also the Trail Blazers.
When you put it all together, the Knicks trading for one of the Trail Blazers' first round picks simply isn't worth it, for both their sake, as well as Portland's.