The New York Knicks had yet another disappointing season, after signing free agents Brandon Jennings, Courtney Lee, Derrick Rose, and Joakim Noah. 
With the front office convinced franchise player Carmelo Anthony is the root of all problems, why hasn't he been traded?
This season, he averaged (22.4) points, and (5.9) assists, on a (36%) percentage from behind the arc. Yes, this 10x NBA All-Star features a no-trade-clause in his contract, but that's only part of the problem. One of the most prolific scorers of the decade, Anthony hasn't shown signs of slowing down even at age 32.
So what's stopping teams from buying in on a championship hungry veteran?
The Phoenix Suns, and the Orlando Magic are both teams with attractive draft picks. The NBA Draft Lottery has come and gone. New York is set to pick at 8, which puts star prospects De'Aaron Fox and Malik Monk out of the picture. Couldn't a trade occur between these teams involving Carmelo Anthony?
It's not that easy. At this point in his career, Carmelo has been deemed as best fit for a team ready for deep playoff berth, or a shot at the title. Teams looking to rebuild, or that consider themselves still years off title hopes, won't consider it. By the time they find that lineup, and the stars align, Anthony won't be the same player they traded for years ago.
The Cleveland Cavaliers would love to have added Carmelo, long-time friend of LeBron James, into their fight with the Golden State Warriors. Simply put, there's no package worth the output. Kyrie Irving, Kevin Love, and Tristan Thompson, are too important to the offense for one of them to be replaced by a very specific isolation scorer.
The Knicks are desperate, but even New York hasn't reached a point of accepting J.R. Smith/Iman Shumpert/etc. for their most valuable player.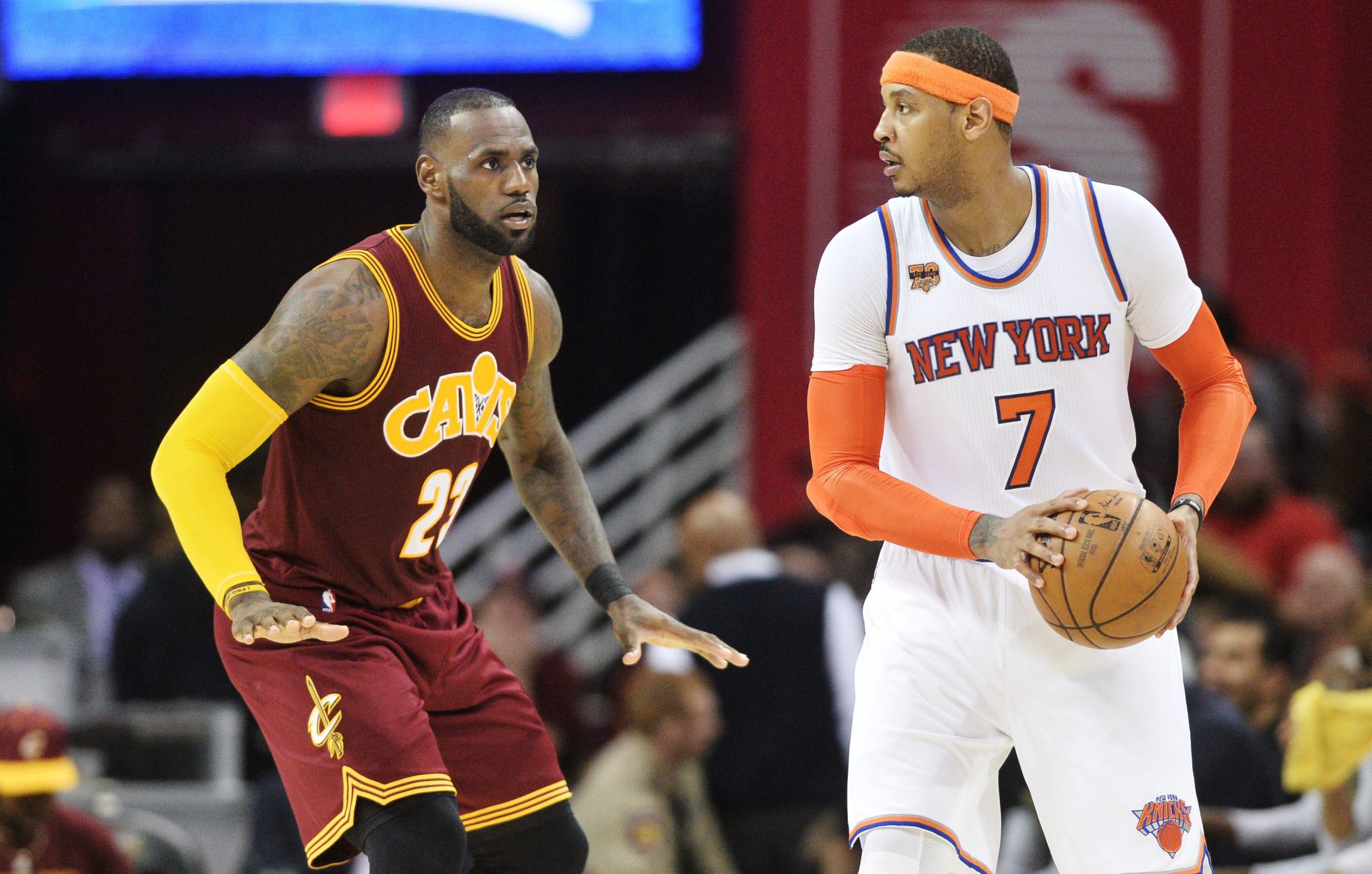 The Miami Heat had a Cinderella story season, and are on the cusp of playoff contention. On the surface, a Heat-Knicks trade makes sense. But Pat Riley and Erik Spoelstra were not born yesterday, and won't be keen on rearranging their offense to fit Anthony's style scoring.
The Oklahoma City Thunder would likely welcome some help for Russell Westbrook, and someone who actually scores on the wing. After the departure of Kevin Durant, the hole at small forward is bigger than the state of Oklahoma itself. The Thunder are a young team, but it's rare to see a trade involving young pieces in exchange for old. Unless draft picks are involved, the Knicks won't want any part in the young pieces available.
The Brooklyn Nets have uh, well, they've learned their lesson on trading for veterans.
The San Antonio Spurs are bound to pick up a top free agent come this summer. One has to think that the great Coach Greg Popovich would change the direction of Carmelo's career, but again, the money isn't there for this expensive vet.
The Los Angeles Clippers were rumored heavily in trade talks linked to Carmelo at the trade deadline, but the Knicks asking price was too high. Not willing to give up Blake Griffin, Deandre Jordan, or Chris Paul, talks never advanced.
The Boston Celtics are the only liable destination for Anthony, and that's if they come up short in free agency. Fans were worried about Isaiah Thomas' looming contract extension. However, Friday it was reported that he would hold off in hopes of signing free agent aid.
Should the Celtics fail to sign Gordon Hayward, Blake Griffin, or trade for Paul George, they may entertain a Carmelo transaction. As previously stated, he fits best on a team ready to compete for a championship, and Boston just reached their first Conference Finals since 2012.
Before making a risky trade for Carmelo, GM Danny Ainge will have to evaluate which pieces are most expendable in next year's title run, and it would likely involve their 2018 1st-round pick (via Brooklyn). Still, they're not giving up this year's number one overall pick, so it goes back to the urgency at which New York wants to move him.
In Conclusion
The best part, Carmelo would likely decline a trade to most of the teams listed.
For his current market value, he's overpaid at $26-million, and his player option for 2018-2019 is grossly unappealing. The team that signs Anthony will be likely bringing him on as a third option, and that's not worth the price tag.
Carmelo Anthony is still a reputable name across the league, he's just found himself playing for a franchise that doesn't value him, with his fate in his own hands.
Whichever team trading for Carmelo now, or signing him in the future will have to feel confident that his presence will lift them over the Golden State Warriors, or Cleveland Cavaliers. Until then, roll the Knickstape.