Contrary to popular belief, the New York Knicks actually trading away Kristaps Porzingis wouldn't mark the end of the world.
T
he New York Knicks have been surrounded by drama and controversy for the better part of
Phil Jackson
's tenure with the team. Only recently, though, has it involved New York's building block, Kristaps Porzingis.
The 7-foot-3 Latvian skipped out on his exit interview when the season ended due to his growing dissatisfaction with the direction of the team. Jackson struck back earlier this week when he decided to not renew the contract of Porzingis's favorite assistant coach, Josh Longstaff.
Some experts say that Jackson and his decisions are pushing Porzingis away. Others suggest that Porzingis is acting immature and that he needs to fall back in line. It all comes down to one question. Would the Knicks actually trade their third-year phenom if push came to shove? One thing is certain, it would not be the end of the world if they did decide to pull the trigger.
I get it. How dare I suggest such a blasphemous idea.
While the pitchforks are being sharpened I will explain. The idea will not seem so absurd.
Business Aspect
First and foremost this is a business. No player should be considered "untouchable," especially anyone on the New York Knicks. Kristaps Porzingis is in the middle of a very team friendly contract. He is scheduled to make $4.5 million this upcoming season, followed by a team option the next season worth $5.7 million.
This allows more teams the flexibility to try and obtain his services. New York can then put teams against each other and come out with the best return for the franchise. That is the exact opposite of the situation they are currently in with Carmelo Anthony. The team with Porzingis on their roster when his current deal is up can then offer him a five-year maximum dollar contract.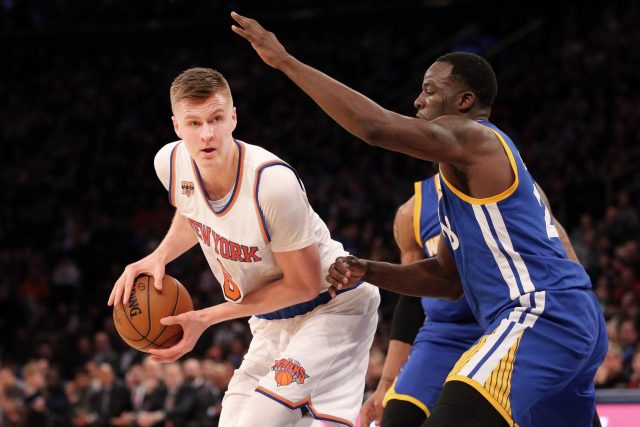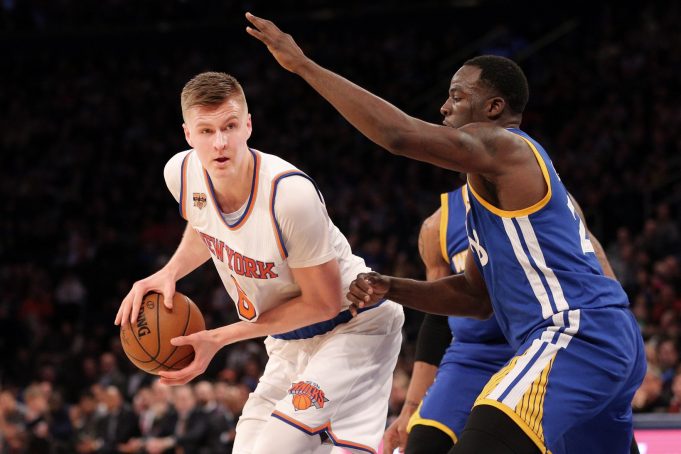 His contract is also an argument for keeping him in a Knicks uniform. It provides the team time to build around him until his rookie deal is up. Then they can go over the salary cap if need be to re-sign him. This is an off-the-court factor. There are also on-the-court factors that justify this move.
Overvalued
The Knicks' fan base has been looking to anoint a savior of the organization since the days of Patrick Ewing. How can you blame them?
Since the 2000-01 season, New York has only made the playoffs five times. That is five times in 17 seasons. No wonder the fans are so desperate for that franchise changing player. Guys like Latrell Sprewell, Stephon Marbury, Amar'e Stoudemire, Jeremy Lin and Carmelo Anthony were brought in to be the one to take the Knicks to the next level. Every one of those players fell short of that goal for one reason or another.
Once Kristaps Porzingis was drafted, he became the next in line to carry that burden. This is not to say that he will not end up being a star in the league. The point is that because of desperation and the failures of the team, Porzingis has been overvalued by the fanbase and some media members.
Backed by Numbers
The most alarming statistic for Porzingis is his rebounds. In 32.8 minutes per game last season, he averaged 7.2 boards. That was tied with the Indiana Pacers' big man Myles Turner for 26th in the league. In his defense though, that has a lot to do with New York playing him out of position at power forward. It also has to do with his 240-pound frame. He just does not get in there and bang around with the big boys. 60 percent of his rebounds are uncontested.
The other statistic that is worrisome is a number of fouls that he commits. Last season, he committed 3.7 fouls per game. That is almost a full foul more than the 2.8 that he committed his rookie season. His 244 total fouls last season ranked tenth in the league. He needs to cut that number down going forward in order for him to stay on the court be productive.
Durability is also a concern with Porzingis. Last season he missed 16 games due to an array of different injuries. That included the last five games of the season. His rookie year he missed ten games. I would not go as far as to say he is injury prone. It is, however, a cause for concern and something to keep an eye on.
Conclusion
Again, I am not saying that the Knicks should trade Kristaps Porzingis. That point is that it would not be the catastrophe that some would make it out to be. The Boston Celtics will trade the number one overall pick in the upcoming draft for Carmelo Anthony, but they would include it in a deal for Porzingis.
A lineup of Markelle Fultz, Courtney Lee, Jae Crowder, Jonathan Issac, Willy Hernangomez and the Brooklyn Nets' 2018 first round draft pick would instantly make New York an up and coming franchise.