The New York Knicks are interested in P.J. Tucker and Dante Cunningham. That interest shows they're taking the right approach this summer.
Despite recording yet another losing season, the New York Knicks do have some hope going forward, especially on their frontline. With big men Kristaps Porzingis and Willy Hernangomez present, the Knicks have a promising duo on their frontline to work with going forward. After the two friends, the Knicks have little to no pieces set in stone for the near future.
However, they appear to have the right idea when it comes to bringing in reinforcements for the 2017 season. One bright spot from the 2016-17 season, albeit the overwhelming amount of losses, was the play of shooting guard Courtney Lee.
The Knicks inked Lee last summer to a four-year, $50 million deal, and he was everything and anything the Knicks could've hoped. Serving as a threat out on the perimeter, as well as a defensive assassin, Lee was a "three and d" presence for the Knicks. His solid play, paired with his bargain contract though, could make him a valuable trade chip for the Knicks if they look to trade away their veterans for a youth movement.
However, according to Ian Begley, the Knicks are in fact seeking to find more players like Lee to add to their roster. Their desire to do so shows that they're approaching free agency the appropriate way, regardless of whether trading Lee is beneficial for them in the short term or not.
Based on the notion that forward Carmelo Anthony is bound to be shipped away this summer, the Knicks are likely set to begin building around Porzingis and Hernangomez. As a result, they'd be wise to avoid breaking the bank in free agency, which they're said to be looking at going forth with achieving. They will still look to bring in some pieces on affordable deals though.
Currently, the Knicks will have roughly 19 million to play around with in free agency, but that figure could change. If and when Anthony is dealt, the Knicks could free up some cap space, depending on the contracts they take back in a deal. They could also look to trade away other players on their roster to free up more space.
Given that they were fond of the play they received from Lee last year, the Knicks are said to have an interest in bringing in players who make an impact on the defensive end, resembling his play. One name who's on their radar and won't break the bank is Raptors forward P.J. Tucker.
Tucker is a force on the defensive end, where he serves as a gritty, tough as nails presence. His impact on that end of the floor could be crucial to the Knicks' short-term success, as well as their defensive attack as a unit. He also hits the boards. For his career, Tucker is averaging 5.7 rebounds per game. 
In addition to his ability to compete at a high level on the defensive end and pull in rebounds, Tucker has come into his own as a threat out on the perimeter. Shooting 40.0% from beyond the arc, Tucker showed his ability to play like the modern day "three and d" player. 
The Knicks were interested in acquiring Tucker during the regular season, but he was ultimately dealt to the Raptors at the NBA trade deadline.
For the Knicks to lock up his services, they will likely have to fork over roughly $12 million per year on average – a figure which they can meet. Inking Tucker would allow him to reunite with his former head coach Jeff Hornacek, who he played under for two and a half years with the Sun.
Another player who the Knicks are said to have an interest in though is Pelicans forward Dante Cunningham.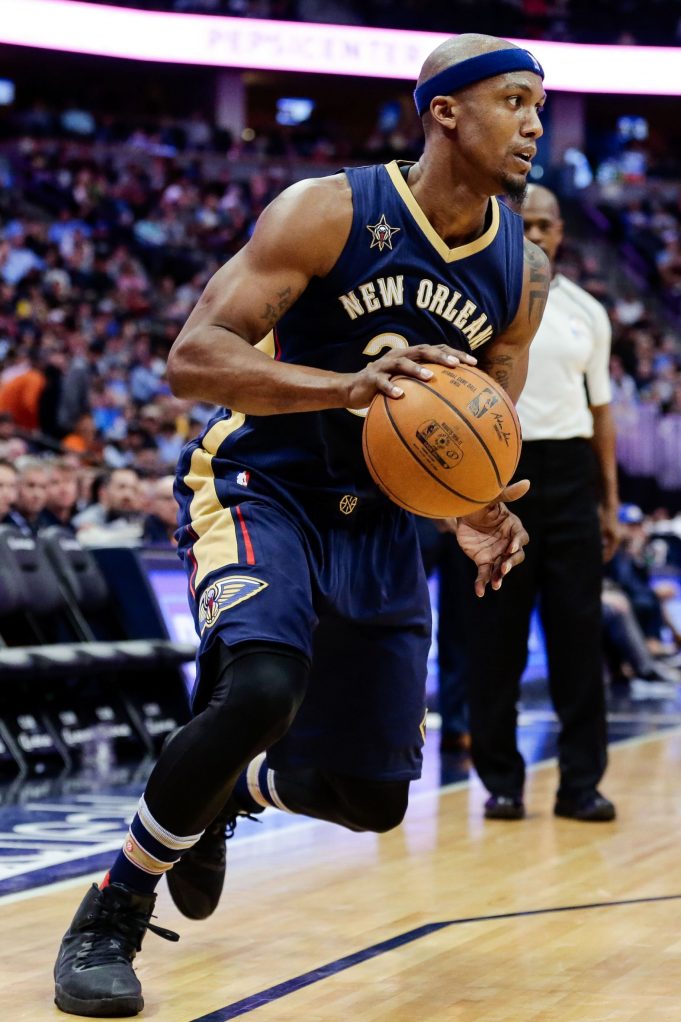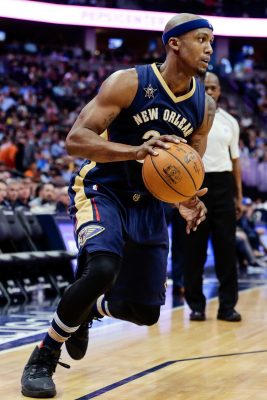 Cunningham, much like Tucker, poses a threat on the defensive end, but can also produce out on the perimeter. Last year, Cunningham came into his own as a perimeter threat shooting 39.2% from beyond the arc. His two-way play has the intrigue of the Knicks. However, the two-way play of swingman Justin Holiday also has the Knicks' attention.
Last year, Holiday was a productive two-way player off the Knick bench.  As a result of his play on both ends of the floor, the Knicks have an interest in resigning him. However, they can only have so many wings on their roster.
Working under the assumption that they can bring in either Tucker or Cunningham, the Knicks will have an immense amount of bodies out on the perimeter, especially if they go forth with trading Anthony to the Clippers.
In the rumored deal which would send Anthony to the Clippers, the Knicks are looking to snatch shooting guard J.J. Redick in return. However, such a transaction would have to be a sign and trade one, as Redick is an unrestricted free agent this summer. 
If that move gains traction and ultimately goes through, the Knicks would have an overwhelming amount of wings on their roster.
With Redick, Lee forwards Lance Thomas and Mindaugas Kuzminskas, as well as Tucker and potentially Holiday or free agent guard Ron Baker. Some could argue that the Knicks would have too much depth at wing. 
The Knicks are also said to be interested in acquiring another first round pick to select UNC forward Justin Jackson – a move which would add to the logjam. 
If all of them are present, the Knicks would likely have to resolve their issue of having too many wings. However, that's an issue they should want to encounter.
If nearly all of those wings are present, alongside Porzingis, Hernangomez and their first round draft pick (Dennis Smith Jr.? Frank Ntilikina?), the Knicks could have a well-balanced roster present. 
With some "three and d" players in their rotation, as well as the potential one-two scoring punch of Porzingis and their first round pick, their roster would finally begin to make some sense in today's three-point driven league. Another concept to keep in mind is that this Knicks team needs to start making decisions for the future.
By bringing in veteran defenders such as Tucker and potentially Cunningham, the Knicks could begin to build an identity on the defensive end – something which hasn't been present in a while. Their signings would also prevent the Knicks' organization from making an unneeded, pricey purchase in free agency.
The Knicks' interest in both Tucker and Cunningham shows how they're beginning to make the appropriate decisions for their franchise for the ensuing seasons.