It doesn't matter if you're a hardcore pessimist or bright-eyed optimist, it would be foolish to give up on the 2017 New York Mets.
I
t is an undeniable fact about bit time professional sports in the Big Apple. The narrative is much more interesting when things are negative.
The outlet doesn't matter. Whether it's hosted by the New York Post, the New York Daily News, Mike Francesa or even Loud Mouths on SNY, the discussion surrounding the nine professional sports teams in New York City is only spicy when times are tough.
It becomes a disaster. Experts try to get to the bottom of why everything's a wreck and fans simply want a platform to yell and scream before quietly holding hand-in-hand while having a warm shoulder to cry on.
Now introducing, the 2017 New York Mets, a club who fits this disaster narrative.
Sitting with a not-so-stellar record of 18-23, what we've seen through 41 games has been anything but impressive. Once again, injuries have highlighted the experience with the likes of Noah Syndergaard and Yoenis Cespedes, the club's best pitcher and hitter, going down, respectively, for a considerable length of time.
Those who believe the Mets injuries aren't anything spectacular in comparison to other teams, blame the construction of the personnel. The club's young arm philosophy has seemingly blown up in its face considering Syndergaard's injury, Jacob deGrom's up and down last year-plus, and Matt Harvey's incredible nose-dive.
They also point to the lineup. They scream to the sky that Sandy Alderson's "a base on balls and a blast" philosophy simply does not work. And watching this power-ladened lineup for awhile now, consistency is always a major issue.
What we ask today, though, is to be careful. Become a baseball historian and respect the National Pastime's history.
As much as you have the right to hoot, holler and jeer, there is no intelligent reason to give up on the 2017 New York Mets.
When it comes to this specific fanbase, heartache is a word closely tied to history. So when a team suddenly comes out of nowhere to shock the world — via the 2015 Mets — they instantly become a collection of the small sample of beloved.
Remember, the 2015 version wasn't all ice cream and roses.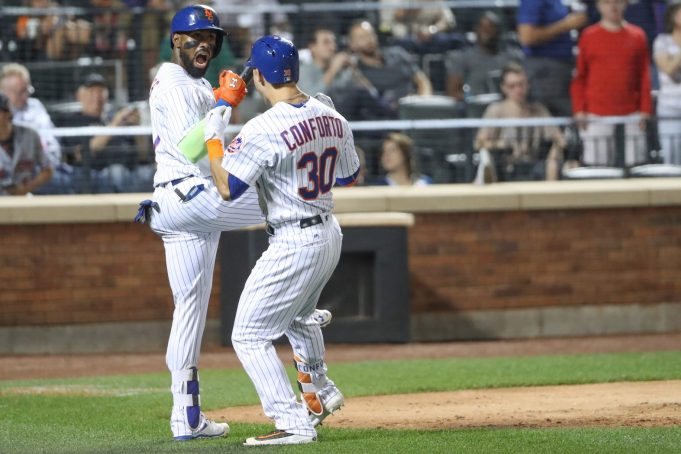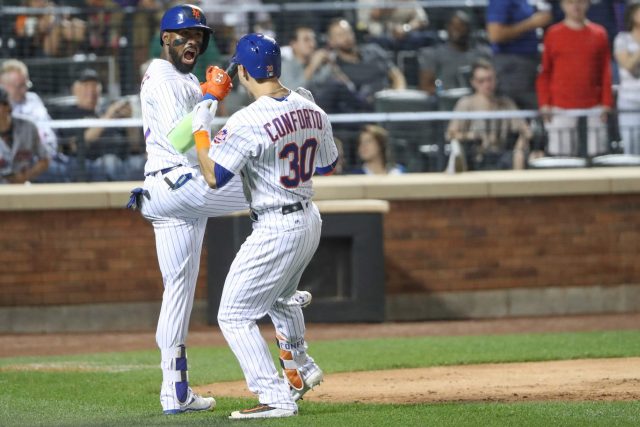 It was a team who got off to a hot start, one that carried them a long way (13-3 and then 15-5). After 41 games, exactly where the current team stands, the 2015 team's record is an exact opposite replica (23-18).
Through 82 games, a sample size consisting of half of the campaign, the 2015 Mets sported a record of 41-41. That's right, the eventual NL Pennant winners were a disastrous .500 ballclub halfway through.
Are you telling me this 18-23 ballclub can't be better than 41-41 82 games through the year?
That'd be a tough argument to sell.
Even worse, that 2015 club was 49-48 a few weeks later on Jul. 24, during the thick of the pennant race. Yet they caught fire and finished as the NL East champs.
All Terry Collins has done since he arrived on the scene is solve problems. An injury here, a call-up there, TC has effectively gotten the job done during each specific situation. He did in 2015 after additions were made the injured cavalry returned (see David Wright, etc.), and did it a season ago while facing similar circumstances.
[graphiq id="h6UWewAqNa5″ title="New York Mets Most Recent Game Recap" width="600″ height="553″ url="https://sw.graphiq.com/w/h6UWewAqNa5″ frozen="true"]
This Mets club sports an 18-23 mark without it's two best players. It's held its head above water without Harvey doing anything and deGrom maintaining his up and down throwing. The Mets have made it to this point despite their closer, Jeurys Familia, not only going down for the season, but struggling during the few games he took part in (via the 15-game suspension).
After losing seven straight on the road, the same gloom and doom narrative lived on in Flushing: these Mets aren't going anywhere. Fans would cite on-field performance and experts would reference a dead "feeling" at Citi Field.
Apparently, the memo wasn't relayed to Michael Conforto, the Mets best hitter, a kid whose talent is now bursting at the seams on a nightly basis. Jose Reyes hasn't received this death wish, as his 2,000 hit on Saturday night against the Los Angeles Angels helped the Mets win their second straight at home. Young Zack Wheeler also doesn't feel this club is out of it, as his start against the Halos continued the momentum behind his electric comeback bid.
While the doom and gloom theory will ride its life duration for the purpose of ratings and discussion, this team has done a workmanlike job of maintaining a striking distance position while deadline with more crap than any other club has dealt with in recent years.
Go ahead and gripe, vent and howl the moon, but don't you dare give up on the 2017 New York Mets. It'd be extremely foolish.