With Carmelo Anthony potentially being traded away this offseason, the New York Knicks should look to fill the potential void at small forward with both Lance Thomas and Justin Holiday.
With the NBA lottery all said and done, the New York Knicks will be selecting eighth in the 2017 NBA draft. After the question, in regards to where they'd be drafting has now been resolved, the dilemma now becomes who or what position of need should the Knicks draft?
With a plethora of high-octane lead guards entering the draft, the Knicks would be wise to select a point guard with their pick. With UCLA's Lonzo Ball, Washington's Markelle Fultz, Kentucky duo De'Aaron Fox and Malik Monk, as well as N.C. State's Dennis Smith Jr. and international prospect Frank Ntilikina, the Knicks will have the opportunity to draft their point guard of the future.
If and when they do so though, they will then later have to decide who will start at small forward, assuming Carmelo Anthony is dealt? The answer is to platoon Lance Thomas and Justin Holiday.
If and when he is dealt, the Knicks will have to find Anthony's replacement for the 2017 season. However, they could and should find that solution internally. With rumors stating that Anthony could waive his no-trade clause to be traded to the Los Angeles Clippers for a package centered around point guard Austin Rivers and shooting guard J.J. Redick, the Knicks could very well have a void to fill on their frontline. They can fill that void with both Thomas and Holiday.
While he did miss a reasonable chunk of time last year, Thomas made an impact on both ends of the floor for the Knicks. In the first year of his four years, $31 million deal, Thomas averaged just 6.0 points per game but shot 44.7 percent from bend the arc — which led the Knicks. In addition to his perimeter shooting though, Thomas also made an impact on the defensive end.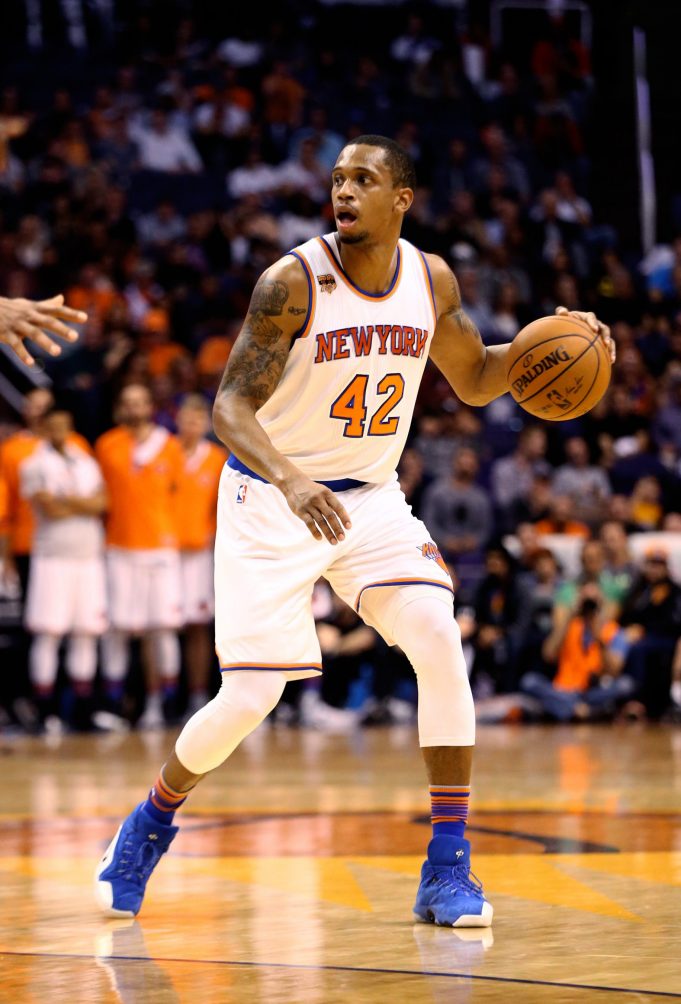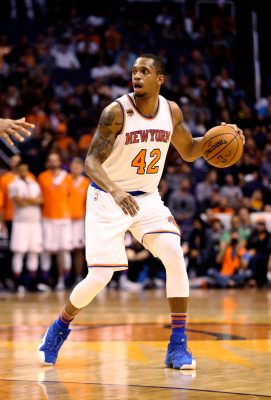 Playing tight perimeter, as well as on-ball defense, Thomas was arguably the Knicks' best defender. Also, despite recording just 31 wins, the Knicks' defense looked much better when Thomas was out on the court, rather than on the bench. Thomas, though, wasn't the only wing who showed a willingness to play on the defensive end for the Knicks.
Much like Thomas, Holliday was a presence on the defensive end. Guarding the outside, as well as taking on opposing team's go-to scoring options, Holiday was an asset for the Knicks' on the defensive end. Also, while not by any means an elite scorer, Holiday found his niche offensively. Averaging 7.7 points in just 20.0 minutes per game, Holiday was able to serve as a reliable scoring product off the bench. His two-way play is a quality that the Knicks should value going forward, and lead them to pursue resigning him this summer.
While the Knicks would likely love to get their hands dirty in free agency, it's in their best interest to not make any substantial or headline signings. Based on the fact that they're looking to begin building around Kristaps Porzingis, Willy Hernangomez, their future first round draftee, as well as whatever they can get back for Anthony, the Knicks shouldn't pursue a quick fix on the free agent market. Resigning Holiday would be a safe and low-risk move — at the right price of course.
Being that the NBA salary cap will likely be rising for a fourth straight summer, there will be an overwhelming amount of cash dished out to a number of free agents this summer. Holiday though, won't break the bank, but he will still cost a ton.
Given his two-way play and rise in salary cap, Holiday will likely value himself at around $10 million per year – a figure which the Knicks can match, but only for the right amount of years. While Holiday is a nice player to have though, the Knicks shouldn't give him a $10 million dollar figure for a crazy amount of years. Offering him a two-year deal would be appropriate.
Assuming they can come to terms with Holiday and can swing a deal with the Clippers for Anthony, the Knicks will then have to address the logjam that would be present out on the perimeter.
In order for the rumored Anthony trade to go through, he would have to waive his no-trade clause, yes, but Redick will also have to agree to a deal with the Knicks. Currently, Redick is seeking a deal within $18-20 million a year. If they meet him in the middle and offer $19 million a year, and take in Rivers' $12 million dollar figure, the Knicks would still have enough cap room to bring back Holiday. If and when that transpires, the Knicks would then have to make some moves to clear up space in their rotation.
One move that could be made is dealing shooting guard Courtney Lee. Lee signed a four-year, $50 million deal with the Knicks, just a year ago, and has played up to his contract. Serving as a threat out on the perimeter, as well as a threat on the defensive end, Lee has helped build the notion of being a two-way player. That notion, as well as his bargain contract, make him an attractive trade chip, and one that could net the Knicks a late first round pick or several second rounders.
If they can swing a Lee trade and maybe even deal away second year forward Mindaugas Kuzminskas, the Knicks could then platoon Thomas and Holiday at the three. Whether Holiday or Thomas starts, the Knicks would have a two-way presence on their frontline. Their ability to play on both ends of the floor would allow them to slide right into a starter's role, or a role consisting of bigger minutes.
---
---
Also, by not making any panic moves, and staying internal with Thomas and Holiday, the Knicks could experiment to see whether either one of them could pan out to be a long term starter. Doing would be safer than spending big bucks on an unneeded frontline piece.