It's official: The New York Mets have the worst pitching in Major League Baseball. And the worst part is there's no relief in sight. 
How did it come to this? The season started with such high hopes and now, seven weeks in, the New York Mets have fallen apart. The reason? Their pitching, considered the foundation of their entire organization, has been absolutely horrendous. 
The pitching is not only a disappointment, it has become an embarrassment. After another bullpen implosion on Monday night in Arizona in which reliever Hansel Robles was smacked around for six runs in the eighth inning, the Mets' team ERA ballooned to 5.13, the worst in all of baseball.
The sad part about this latest blowup was the fact they finally got a quality start from Zack Wheeler (6.0 IP, 1 ER 1 BB 6 K ON 103 pitches). Manager Terry Collins had no choice but to take Wheeler out in the bottom of the seventh of a 1-1 game only to have his bullpen get lit up like the Christmas tree at Rockefeller Center again. They surrendered six runs in the Diamondbacks' 7-3 win over the free falling Mets (16-21), who are in the throes of a five-game losing streak.
According the the Elias Sports Bureau, the Mets have lost each of their last three games in which the team led in the sixth inning or later. Since the 2012 season, the only other time the Mets lost at least three straight games of this type was in June 2014 (also a streak of three). The Mets have allowed at least four runs in an inning in each of their last five games, tying the longest such streak in franchise history (previously done in August 1984).
The bullpen can't be faulted too much here. The Mets' starters have not exactly met them halfway. The bullpen is being overused since the starters have not been able to go deep into games, sending Collins out to get the ball earlier than he wants to every night.
Monday was only the second time Wheeler has pitched past the sixth inning in seven starts this season. Jacob deGrom has pitched seven full innings just twice in his eight starts. Matt Harvey and Robert Gsellman have only gone seven only once each in their 14 combined starts.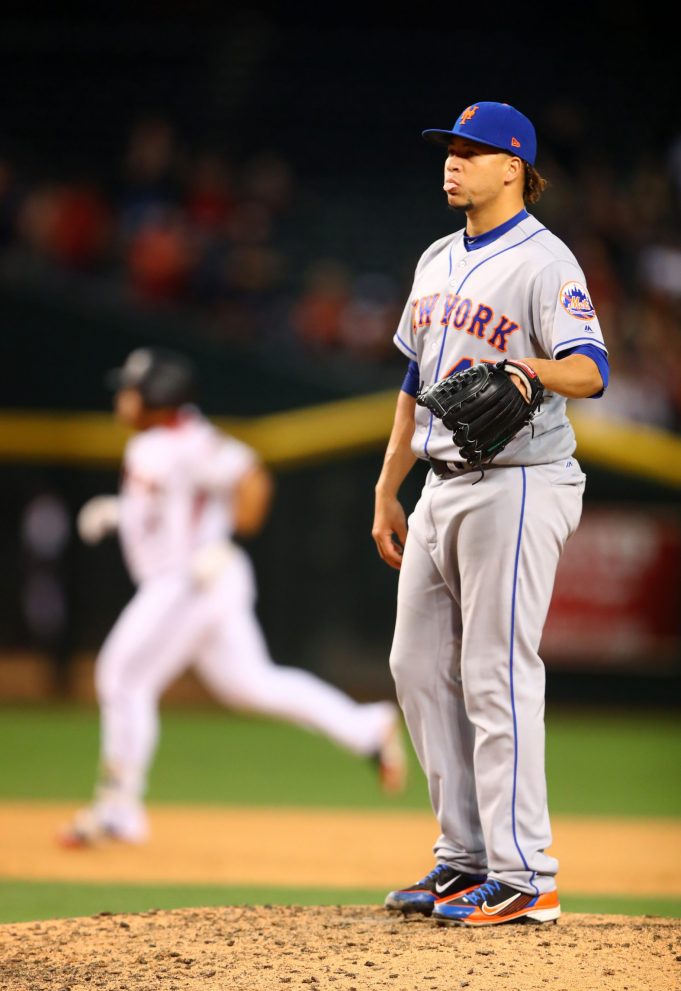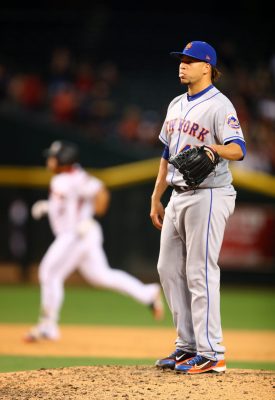 Noah Syndergaard, the team's ace, went seven just twice in his five starts before going on the 60-day disabled list earlier this month. Other spot starters have fared no better. Adam Wilk went 3.2 innings in his lone start. Tommy Milone went five innings and Rafael Montero didn't get through the fourth in his spot appearance.
Steven Matz and Seth Lugo, two other starters, are currently both on the shelf with elbow issues. Neither has taken the mound this season. The Mets are scratching their heads trying to figure out who they pissed off to get into this sorry state.
It is a recurring theme for these Mets. Yes, their starting pitching is the envy of all of baseball, but that is in theory only. In practice, they are coddled too much, perhaps due to their fragility. deGrom, Wheeler, Matz and Harvey have all undergone Tommy John surgery in their careers. Syndergaard is dealing with a torn lat muscle, probably the residue of his offseason workout program in which he packed on twenty pounds of extra muscle.
Closer Jeurys Familia just underwent surgery to address an arterial clot in his throwing shoulder. He's likely gone for the season. His absence puts an even greater strain on the bullpen. Setup man Addison Reed moves into the closer role and everyone else moved up an inning as well, such as Hansel Robles, last night's goat. GM Sandy Alderson did nothing to bolster the bullpen in the offseason and the Mets are paying the price.
From Anthony DiComo of MLB.com:
"It is worth noting, however, that Monday's appearance was Robles' 20th in the Mets' first 37 games, making him one of the National League's 10 most frequently used relievers. The Mets have four relief pitchers in the top 10, including Jerry Blevins, who leads baseball with 22 appearances. Blevins, Robles, Addison Reed and Fernando Salas all also rank among the league leaders in usage on zero days' rest.
For the Mets, this is not a new trend, but an old one taken to an extreme. Last year, Reed finished second in the NL in appearances, shattering his previous career high by a dozen games. Jeurys Familia was fifth and Blevins was tied for 12th, though his 73 appearances resulted in only 42 innings.
Familia leads the NL with 214 appearances since the start of 2014, though he won't be adding to that total anytime soon. Since Robles broke into the Majors in 2015, he is tied for 15th."
There will be no rest for the weary anytime soon. Milone will take the mound again on Tuesday. He's started two games this season, one for Milwaukee and one for the Mets. He went five innings each time. Collins will give the ball to Harvey in the series finale on Wednesday. Needless to say, not much is expected from him at this juncture in time, either.
The future looks as grim as the present. With Syndergaard not due back until after the All-Star break and Familia likely gone for the season, the Mets are without their two best arms. There is no set timetable for Matz and Lugo at the moment and Wheeler is on an innings limit after missing two seasons.
I've been watching this team since 1965, folks. I'm sorry to say that this is going to be one long summer for the Mets and their fans.