We put an ugly bow on the 2016-17 NBA season for the New York Knicks by dishing out report cards. Does Carmelo Anthony lead the way?
T
he
New York Knicks
find themselves in a similar situation this offseason, watching the playoffs instead of playing. Some players can be attributed to this more than others, so naturally, here are the report cards for the 2016-17 New York Knicks.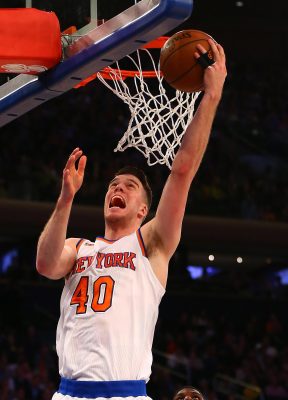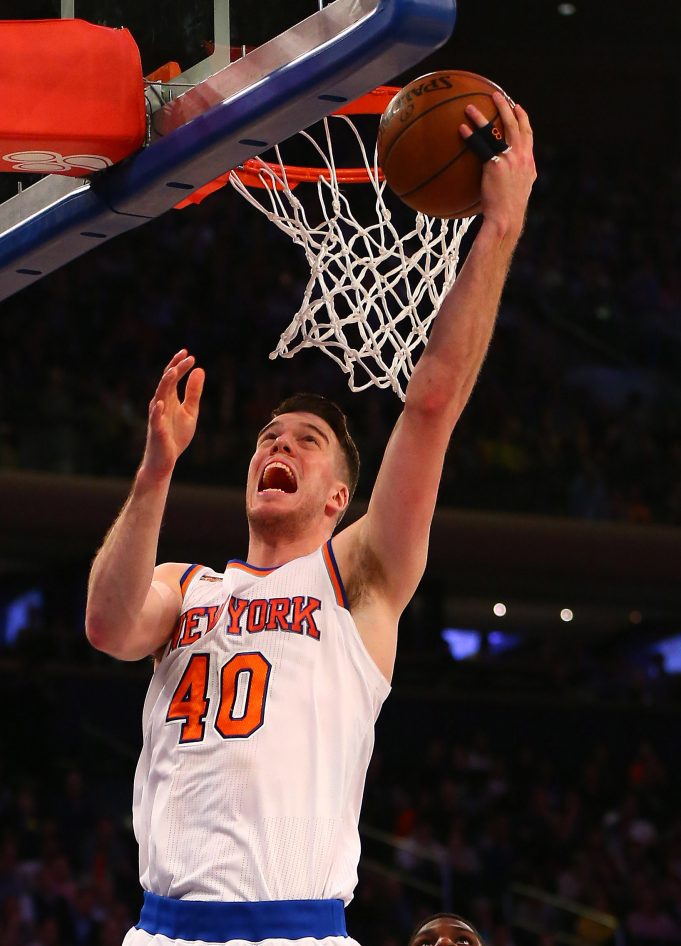 The Knicks sport a roster full of young, impressive big men. As a result of this, Plumlee did not see the floor often in his rookie season. In his limited time the former Duke star has not proved to be exceptional at anything, although he has potential to be a solid rebounder. Towards the end of the season Plumlee saw more action. In the Knicks last game of the season the Knicks gave Plumlee 26 minutes and he had an impressive rebounding performance, grabbing eleven rebounds for the Knicks. Delving deeper into Plumlee's rebounding numbers that game, five of his 11 boards were contested.
Plumlee could have a role in the NBA as an impressive rebounder. In the five games he saw 19 or more minutes, he grabbed 6.8 rebounds per game. Unfortunately, Plumlee does not offer the Knicks much else. He is not nearly athletic as his brother Mason, and has not shown as ability to create in the post.
Final Grade: C-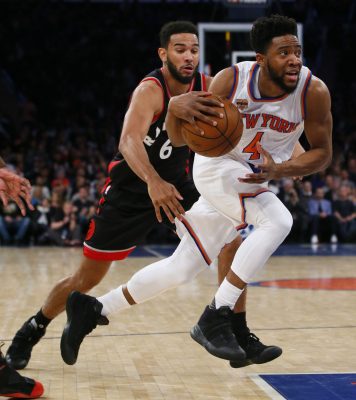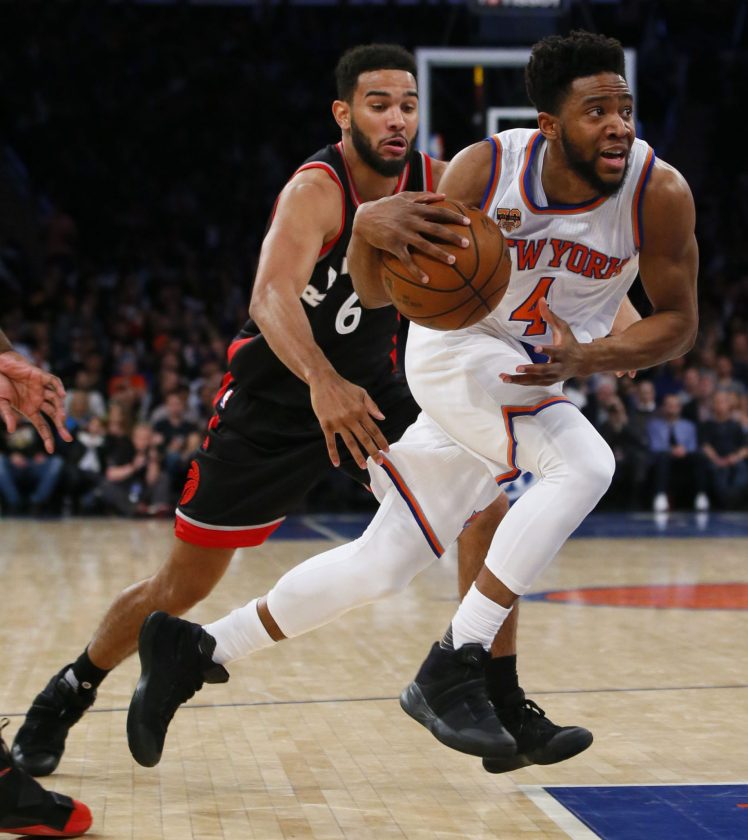 Chasson Randle lit up the NBA D-League with the Weschester Knicks, scoring 20.7 points per game while shooting above 40 percent from three. After a brief stint as a member of the Sixers, Randle returned to New York, this time as a member of the NBA team.
In Randle's first action with the Knicks he helped lead the Knicks from behind in Orlando. A strong seven point, five rebound and five assist performance by Randle led many Knick fans to believe Randle would be able to assume the role as the Knicks backup ball handler. While scoring the ball has not been a problem for Randle, shooting efficiently has been. Randle shot 31 percent from three point range with New York and failed to separate himself from Ron Baker, who we will get to next.
Final Grade: C
Ron Baker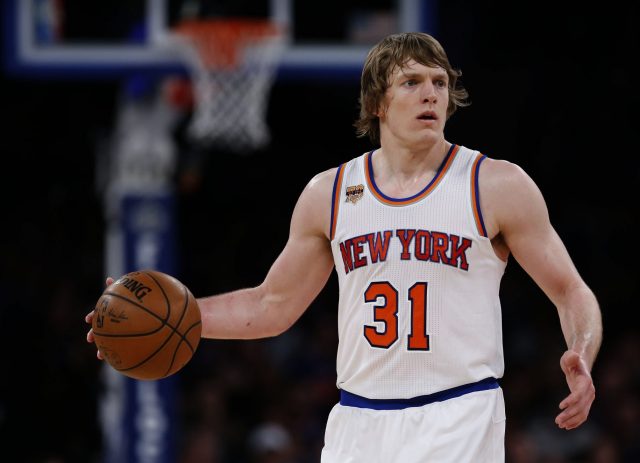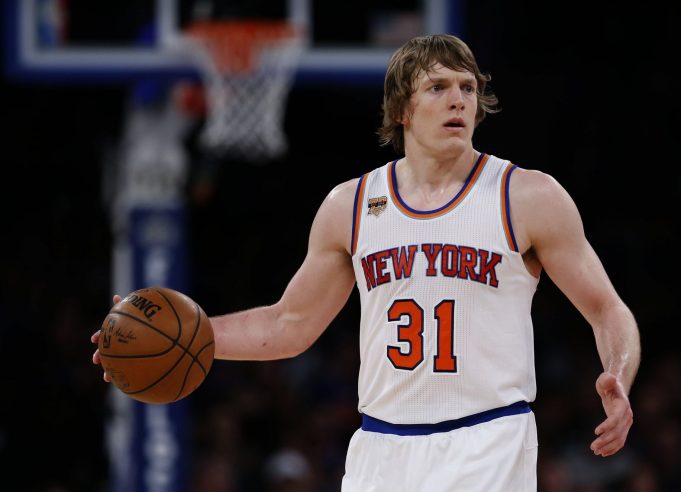 Baker came to the Knicks as an undrafted free agent from Wichita State. Like Baker's alma mater, he had a reputation for being a gritty, smart basketball player who works hard on defense.
Baker was certainly the Knicks best defensive guard, but that is not saying much. He finished with the best defensive rating of the three Knick point guards, although a 106 defensive rating is still nothing to write home about. Baker did however have a steal percentage of 24.8 and leads the Knicks with 3.5 deflections a game per 36 minutes.
On the offensive side of the ball Baker struggled to hit the three ball consistently, shooting a putrid 27 percent from beyond the arc. Baker also owns the worst BPM for the Knicks, coming in at -4.4. Baker still has a ton of work to do on offense, but Baker was the best Knick point guard on the defensive side of the ball.
Final Grade: C+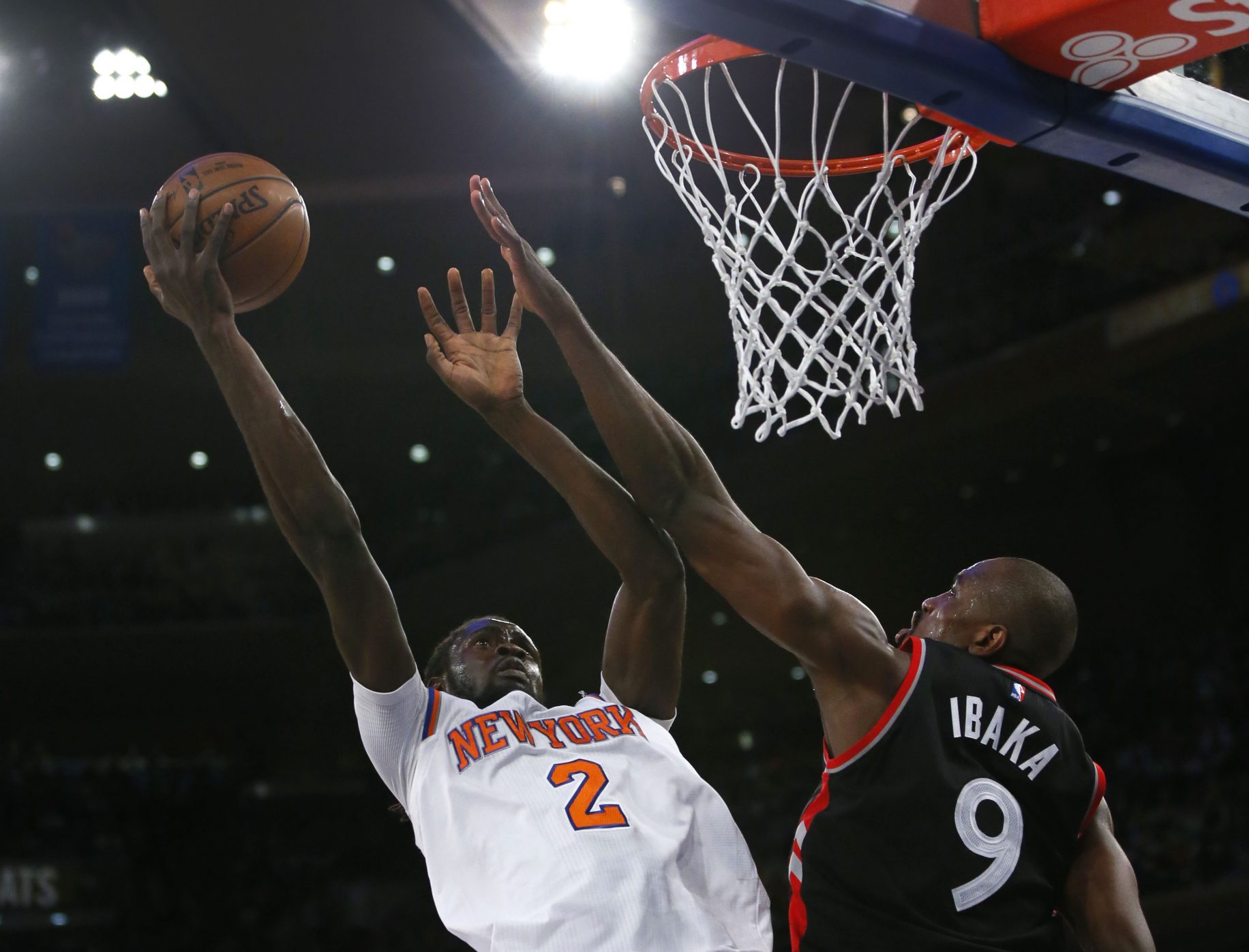 Another big, like Plumlee, who simply could not see the floor behind a crowded depth chart of big men. When Ndour got the chance to play big minutes he made the most of it. In the month of April Ndour averaged 7.3 PPG and 4.5 RPG in 24.5 MPG, including a game-winning jump shot in the final minute of game number 82. Ndour, much like Plumlee, simply does not do enough, or is not great enough in one facet of his game to warrant a roster spot. He's certainly an agile big-man, as indicated by his Knicks head coach Jeff Hornacek, but when he gets looks outside the paint he seems to struggle (37.5 percent shooting in the paint outside the restricted area and 32.3 percent mid-range shooting.)
Hornacek says a Ndour "probably most athletic guy on the team."

— Marc Berman (@NYPost_Berman) April 6, 2017
At 6'9″, might not have the length to defend bigger players Ndour might have the athleticism to keep up with them.
Final Grade: C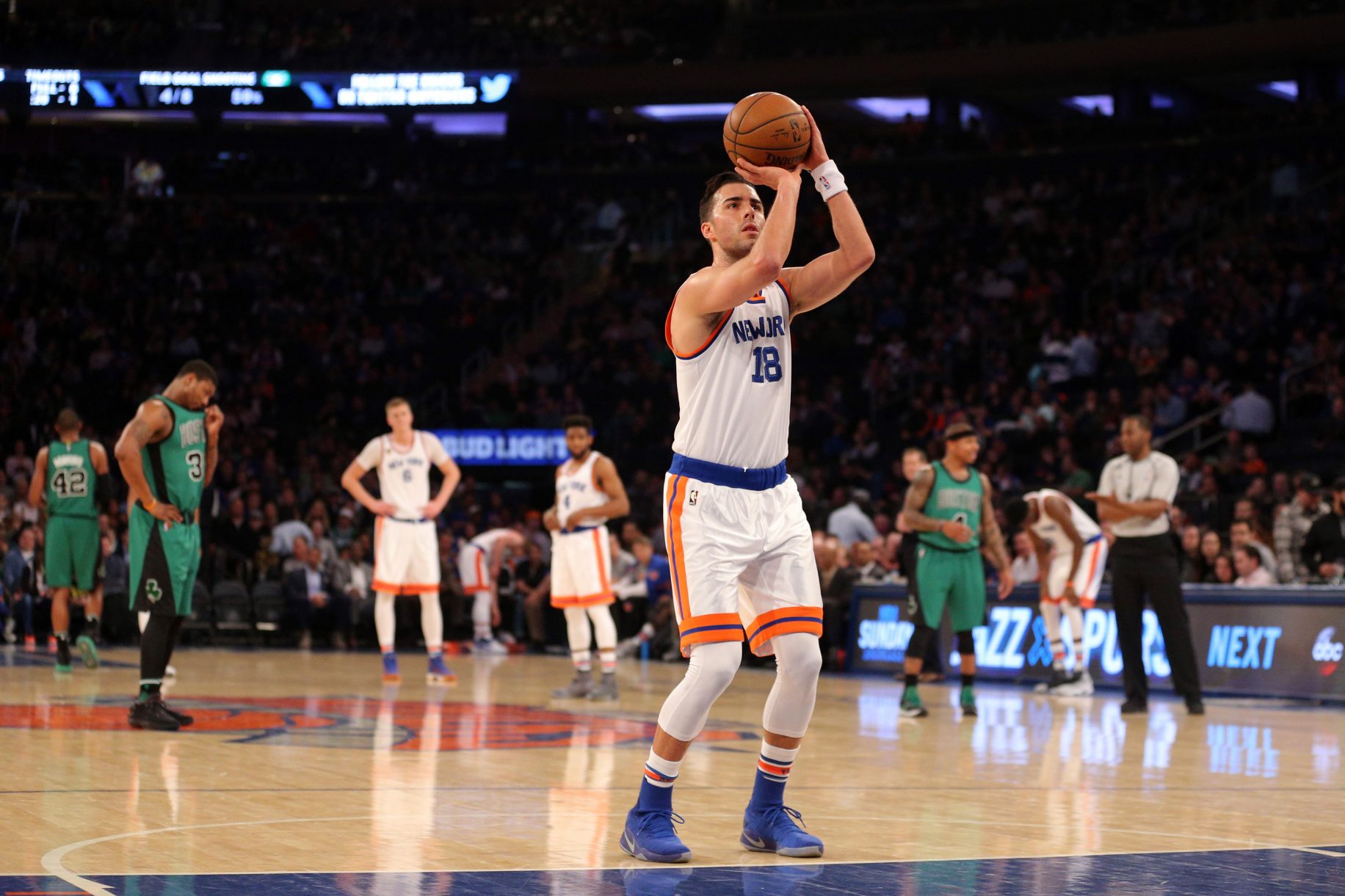 Behind Jose Calderon, Sasha Vujacic was the most loathed New York Knick from the season prior, and for good reason. The Machine was a notoriously poor three point shooter, a bad defender and was seemingly only employed to help teach and out of date offense. There are a handful of plays where Vujacic contributed positively to the Knicks this season, including a number of four point plays. This does not cover up that Vujacic shot 31 percent from the three point line this season, down from last season and let opposing guards blow by him at will.
Vujacic is no longer an NBA caliber player. The sooner the Knicks learn this the better.
Final Grade: D+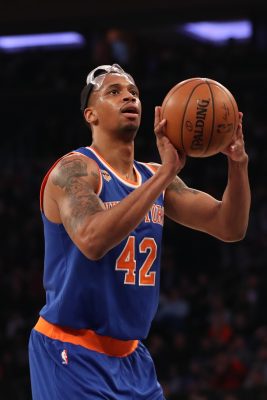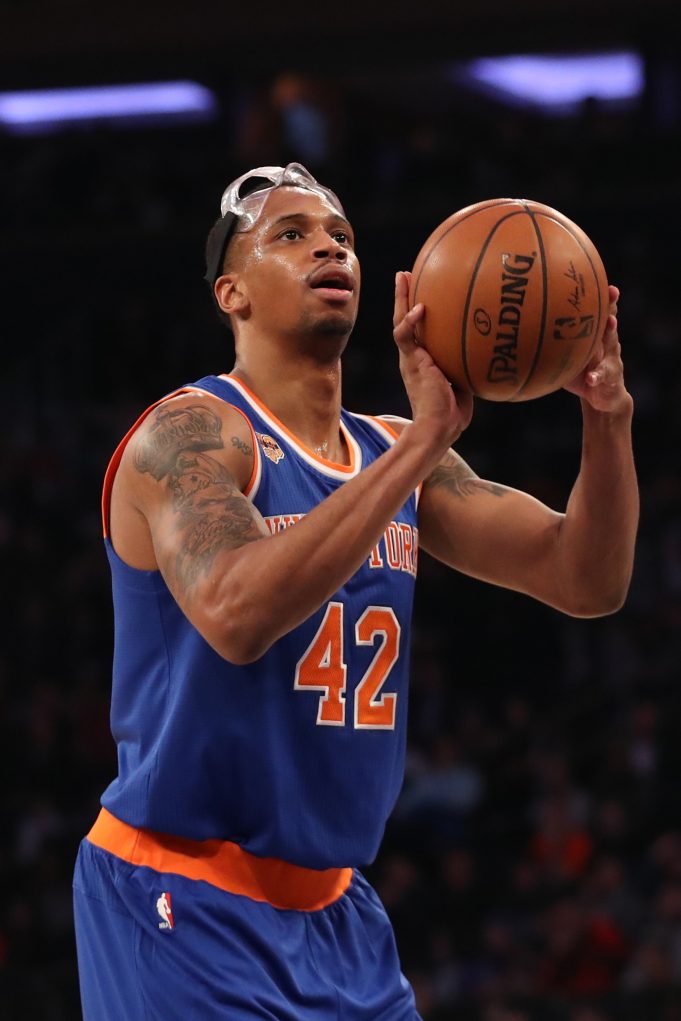 The Knicks made the choice to bring back Thomas over guard Langston Galloway over the summer of 2016. Thomas's ability to him the three ball (in spite of a shooting stroke that screams he does not want to shoot the basketball) as well as his solid defense led the Knicks to choosing him instead of the sharpshooting Galloway.
This decision simply did not work out this season. Thomas managed to only see the floor 46 times due to numerous nagging injuries.
After a disastrous first three months to the season, Thomas began to shoot the three ball above 40 percent. The problem is Thomas's ideal role for the Knicks is a glue guy you stick on the opposing team's leading scorer. Injuries made this impossible for him to do this season. With a full offseason to recover Thomas should return to the "3 and D" player he was in his first season with the Knicks. If he does not, he has a manageable contract to move.
Final Grade: C-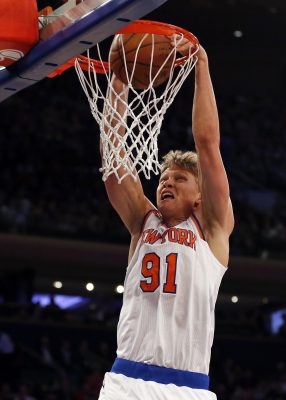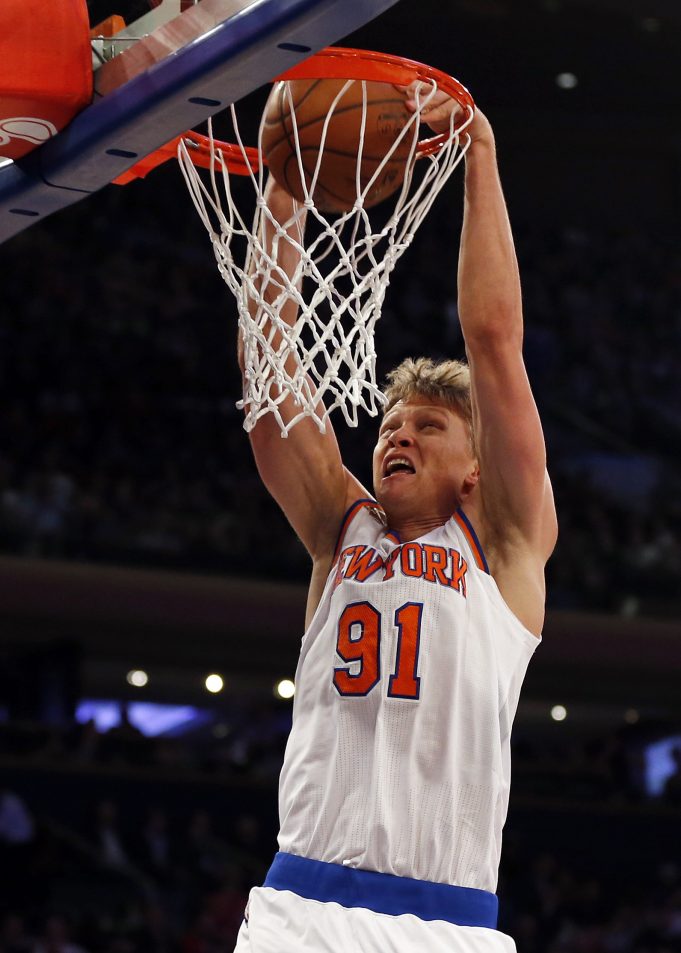 Kuzminskas proved his worth as a valuable cutter this season. Basketball Reference tracks him as shooting 60 percent at the rim. Surprisingly, Kuz is only assisted on such shots 67 percent of the time. He has the ability to create on offense fairly well…if it is near the rim.
His shot chart is pretty horrific outside of the paint. He does not take many mid-range jump shots and when he does the result is poor. Kuz's three pointer is also below average at 32 percent.
Kuzminskas has value as a spark off the bench. It's just a matter of the Knicks putting him in more situations where he is able to come off off-ball screens and head to the rim.
Final Grade: C+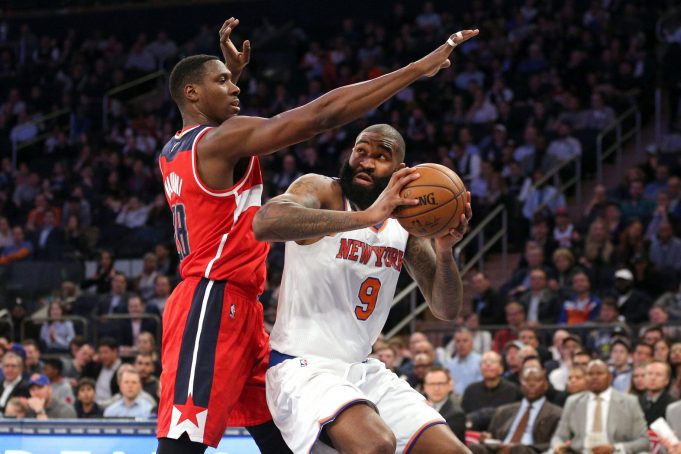 Much like Sasha Vujacic, O'Quinn was held with contempt by Knick fans prior to this season. Unlike Vujacic, O'Quinn was able to shed his reputation as another failed Phil Jackson signee.
O'Quinn delivered on exactly what was advertised when Jackson signed him from Orlando, a big who can hit the mid-range jumper with ease and thread the needle on passes. O'Quinn's mid-range numbers diminished slightly this season compared to last but his inside game improved quite well (3 to <10 ft shooting percentage increased by nine percent.)
The one area O'Quinn still needs to improve is keeping his composure. When he is having an erratic game in one area he checks out of games. If his shot is not falling, he makes lazy, errant passes on offense and checks out on defense. This being said, the 2016-17 season was a much improved season for O'Quinn. He was also able to finish the season with the highest PER on the team, at 20.5
Final Grade: B-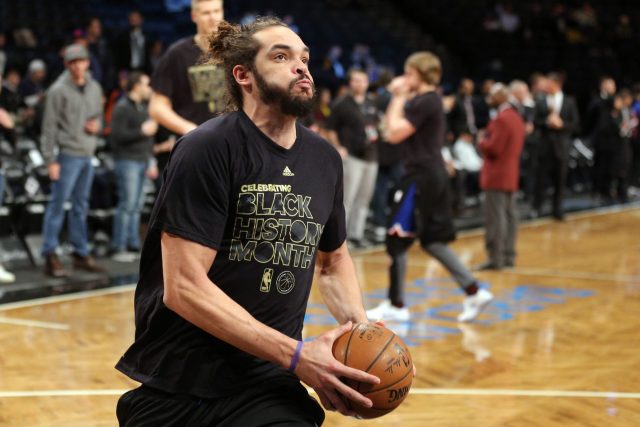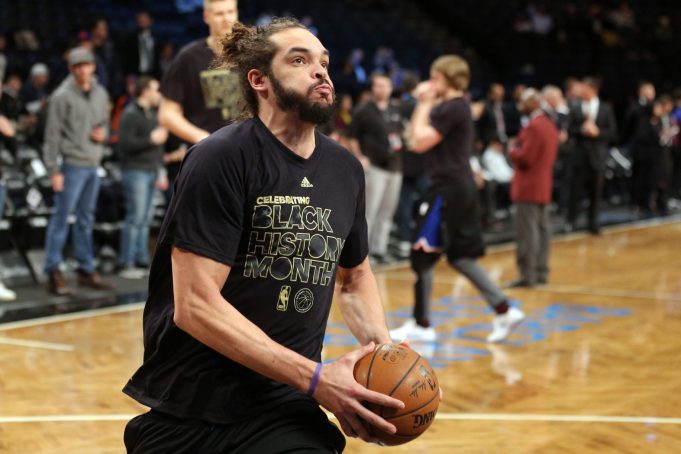 Oh boy.
Let us recap Joakim Noah's year.
Noah signed a four year, $72,590,000 million contract during the summer. Prior to that, he missed 53 games with the Bulls. Many Knick fans begin to worry that they signed an injury prone, past his prime player to a immovable contract.
Noah plays a total of 46 games in which he looks lost on defense, slow, and unable to finish around the rim on offense.
Hamstring injuries begin to pile up the amount of games Noah misses before he is ultimately shut down in February due to surgery on his left knee.
A month later he is suspended for violating the NBA's anti-drug program.
A month after his suspension Noah needs surgery to repair his torn left rotator cuff.
The Knicks are stuck with Noah for the next three seasons, as no team is going to trade for an injury prone, aging big man who makes nearly $20 million dollars a season.
Final Grade: F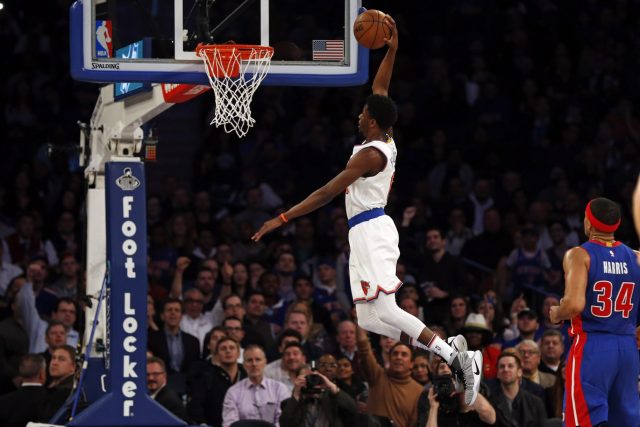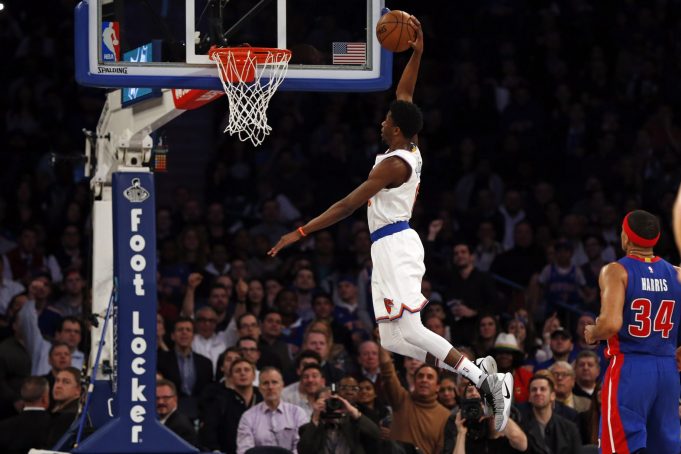 A throw-in in the Derrick Rose deal, Holiday proved to be the best player acquired in the trade.
Holiday turned into the player the Knicks hoped Thomas would be. At 6-foot-6, the Knicks are given a lengthy defender who pressures opposing players with a long wingspan.
But even more important is Holiday's propensity to hit the three ball. On threes above the break he struggled (29.7 percent). This dramatically lowered his three point percentage, as he hits the right corner three at a clip above 50 percent and the left corner three at a rate slightly under 40 percent.
Resigning Holiday should be a priority for the Knicks this offseason.
Final Grade: B
Hernangomez will likely finish around the top three in Rookie of the Year voting this season. Hernangomez is a scoring machine in the post. Hernangomez puts in 62 percent of his shots around the rim, and sports a well developed post-game well beyond his years.
Where Hernangomez must improve is his defense. Hernangomez's net rating is a negative despite a high offensive rating. This is because his defensive rating is 107.6.
Hernangomez is only 22 years young. He will develop on the defensive side of the ball in time. For now, fans should marvel at his offense.
Final Grade: B+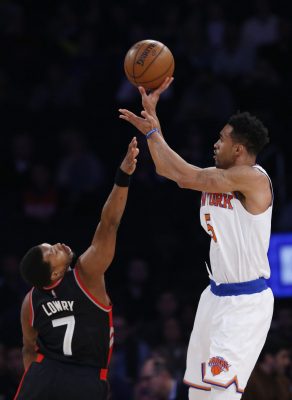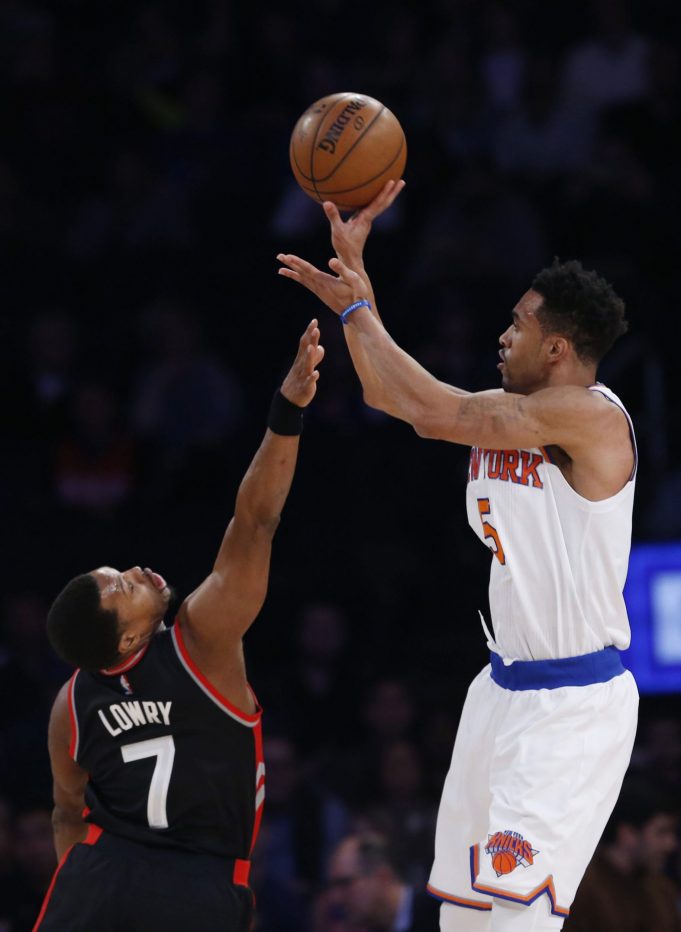 Players who can hit the three ball at a consistent rate while providing hard nosed defense come at a premium. When the Knicks signed Courtney Lee the consensus around the NBA was that they signed him to a bargain deal.
Lee provided the Knicks with above average defense this season. He did not provide a culture shift on the defensive side of the ball for the Knicks, but playing alongside one of the worst defenders at the point guard position makes it hard to do so.
Lee was also able to provide the Knicks this season with a reliable scoring option for Kristaps Porzingis and Carmelo Anthony, finishing the year with an eFG of 53 percent, the highest on the team.
Final Grade: B-
Derrick Rose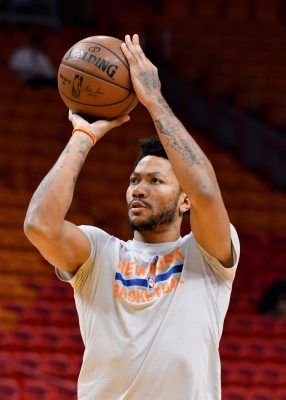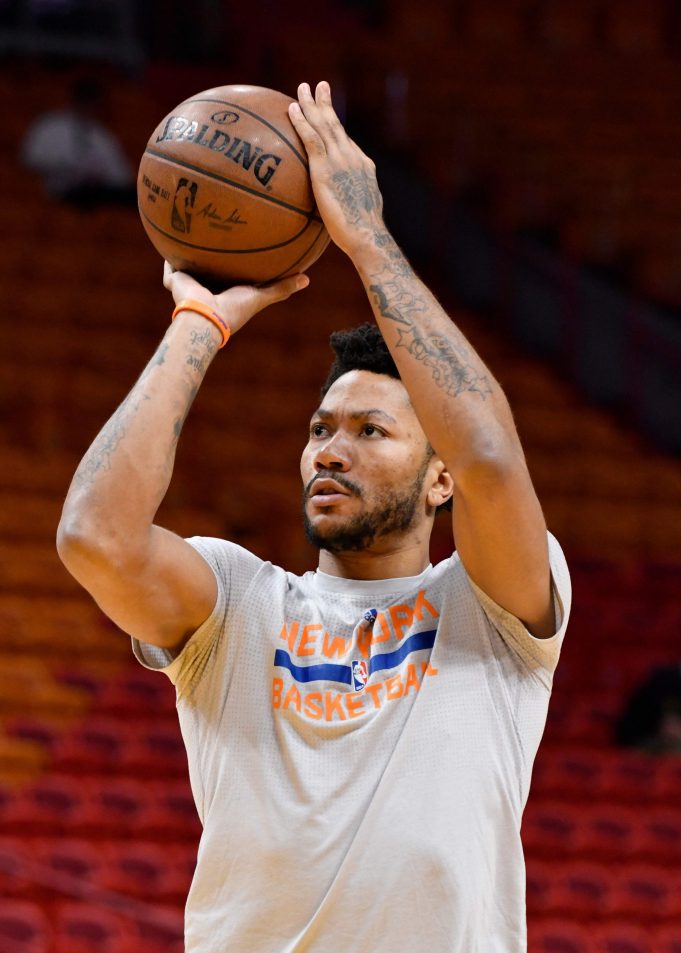 The association's youngest MVP in league history will be a free agent this summer after his first season in New York. If the Knicks choose to resign him it will be one of the biggest mistakes in their franchises history.
Rose is no longer a starting point guard in the NBA. With no respectable jump shot, teams can sag off him. He does a remarkable job at still getting by his defenders and finishing around the rim (56 percent at the rim) but does not create for others. When he drives to the rim he looks to shoot, not pass. A team trying to develop young players needs to be able create east looks for them. Rose missed Porzingis constantly on pick and pops and could not execute pick and rolls with Hernangomez.
On the defensive side of the ball Rose is equally infuriating, letting his man blow by him for easy penetration.
Rose might still have value for a contending team trying to add some scoring off the bench. That team is not the Knicks.
Final Grade: C
Carmelo Anthony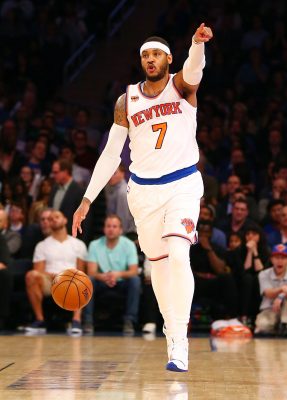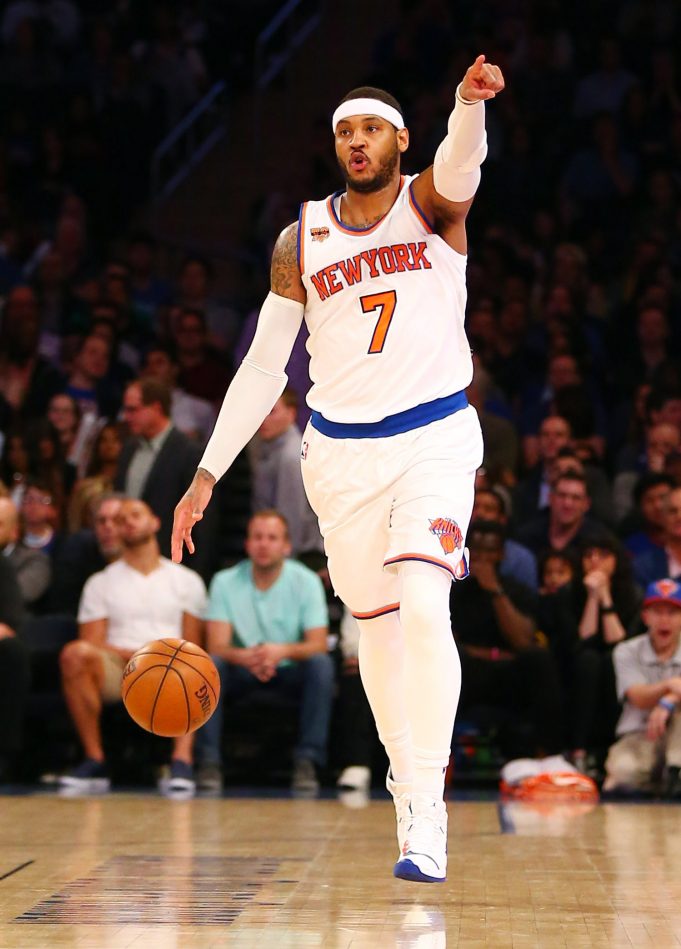 At this stage of his career Carmelo Anthony should be looked at as a spot up shooter. It's been said numerous times but it is nevertheless true. The more Carmelo Anthony dribbles the lower his field goal percentage is.
Less than 30 percent of Carmelo Anthony's field goal attempts are catch and shoot yet he is shooting 44 percent on such shots.
Anthony can create his own shot when he needs to. But asking Anthony to do this for more than 70 percent of his shot attempts is simply incompetent.
While the Knicks continue to use Anthony wrong this does not excuse his defense. Anthony consistently found himself beat on defense due to a lack of communication, and quite frankly, a lack of effort.
With the ongoing feud between Knicks President Phil Jackson and Carmelo Anthony continuing, it is likely that this was Anthony's last season in orange and blue. Unfortunately for Melo, it was not nearly his best.
Final Grade: C+
Kristaps Porzingis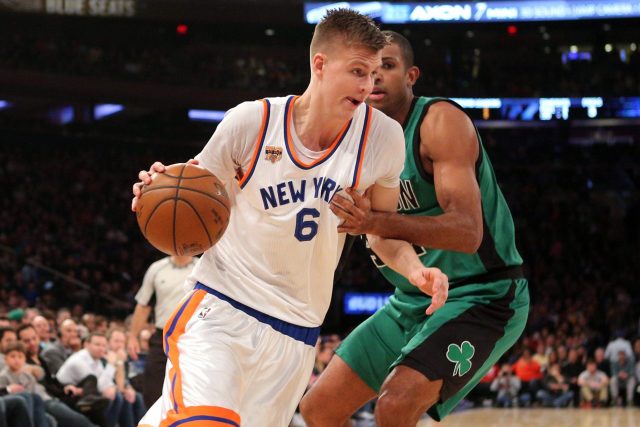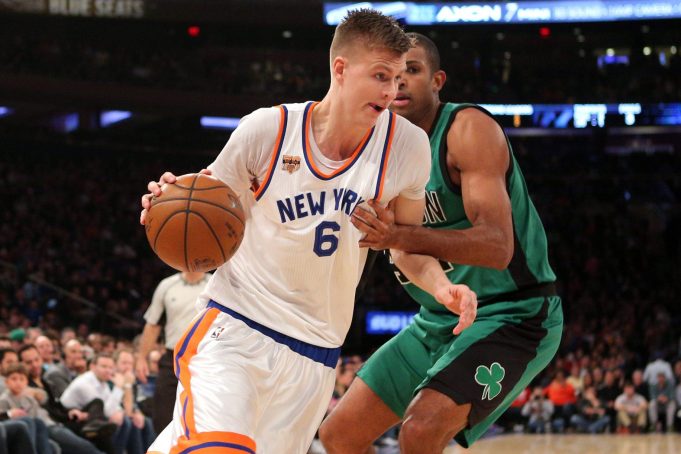 Before taking a look at what KP fell short in this season, let us look at the ways in which he improved from a season ago,
Porzingis was one of the better rim protectors in the NBA last season, and managed to enter elite territory this season. He finished 4th in the NBA in DFG percent against shots less than six feet from the rim (min 5 DFGA). He actually finished with the same exact DFG percent than he did the season prior, however, he was playing alongside Robin Lopez, who was 4th in the league the year prior.  Both his scoring and three point percentage also were able to increase in his sophomore season.
Saying Porzingis regressed in his second season is simply false. Saying that the Knicks's one beacon of light did not develop as well as the Knicks had hoped this season is more reasonable.
Porzingis went through long stretches in which his shot was erratic, he was not rebounding the ball well, and the game looked too fast for him.
This being said 2016-17 was a successful year for the Latvian.
Final Grade: B