Given his injury history and potentially odd fit with them, the New York Knicks should avoid Blake Griffin like the plague.
A
fter losing game seven on their home court, the Los Angeles Clippers have been bounced out of the first round of the playoffs for the second consecutive season. Will their playoff woes result in some new faces playing in the Staples Center? With longtime point guard
Chris Paul
and lifelong forward Blake Griffin hitting free agency this summer, the Clippers have some hard decisions to make in regards to roster transactions.
With Paul and the Clippers expected to reunite on a long-term deal in the offseason, the question becomes whether Griffin stays. The answer may very well be no.
Paul's deal would likely be worth upward of $200 million, and it's also likely that Griffin looks elsewhere. If and when that transpires, Griffin will have some suitors — one being the Boston Celtics.
Regardless of how the Eastern Conference plays out for them, the Celtics could be a fit for Griffin. If signed, Griffin would give Boston a go-to scoring option in the paint while providing some extra athleticism. Coupled with center Al Horford, Griffin could help give the Celtics a formidable frontcourt duo. If the Celtics decide to look elsewhere for upgrades though, the Miami Heat could be another potential destination for Griffin.
After a rejuvenated second half, the Miami Heat showed that they have the ability and talent to compete in the Eastern Conference. Led by point guard Goran Dragic and defensive demon Hassan Whiteside in the middle, the Heat have the veteran makeup to improve down the road. Additionally, they also have the youth.
With guards Dion Waiters (who had a scintillating 2016-17 campaign), Josh Richardson, Tyler Johnson, as well as Justise Winslow at their disposal, the Heat have a malleable young core to work with. Their dichotomy of youth and experience could make for intrigue on Griffin's part, as the Heat would potentially challenge the Cleveland Cavaliers in the Eastern Conference with him.
Despite the Celtics and Heat being logical landing spots for Griffin, one team who may also pursue him is the New York Knicks.
After a fourth consecutive losing season, the Knicks are now bound to undergo a full-on rebuild. However, could they look to jumpstart their efforts in doing so by bringing on Griffin?
With team president Phil Jackson and the Knicks essentially running franchise forward Carmelo Anthony out of town, they'll likely be trading the All-Star forward this summer. Ironically, Griffin's Clippers could be a fit for the veteran forward.
Despite his no-trade clause, Anthony would be willing to waive it if the right deal came along. Los Angeles is a team who could create a package that he agrees with.
With Paul likely re-signing, as well as center DeAndre Jordan remaining in Lob City, Anthony could very well see himself as the missing piece in a title chase for the Clippers.
If traded, Anthony could play the four, right next to Jordan — a position which he's suited to play. Being that he's turning 33 this offseason, Anthony is best suited playing power forward, as he's worn down a bit over the years and isn't the physical specimen he once was. However, the Knicks would still have to find a deal of their liking from the Clippers. One player who Jackson and the Knicks are said to be fond of is point guard Austin Rivers.
Rivers, while a backup, has shown some promise. Serving as a facilitator, as well as a secondary scoring option at times to both Paul and Griffin, Rivers has showcased an ability to run the point in the NBA. However, despite his high basketball IQ and scoring spark, a lack of depth at the Clippers' point guard spot is a hold-up in any Anthony-Rivers deal.
If Los Angeles traded Rivers, they wouldn't have a legit backup for Paul at the point since Raymond Felton is hitting free agency this summer. Given that depth would be a liability for them, the Clippers may opt to pursue a bigger deal for Anthony — one that would be better for their team as a whole. That deal is a sign-and-trade for Anthony, in which Griffin gets traded to New York.
Friday afternoon, Steve Popper of northjersey.com speculated the possibility of the Knicks and Clippers pulling off an Anthony for Griffin sign-and-trade.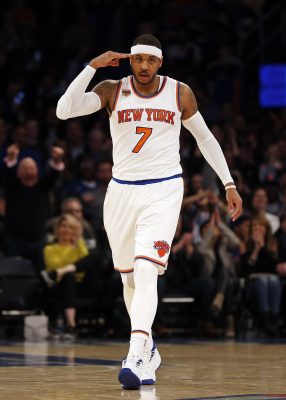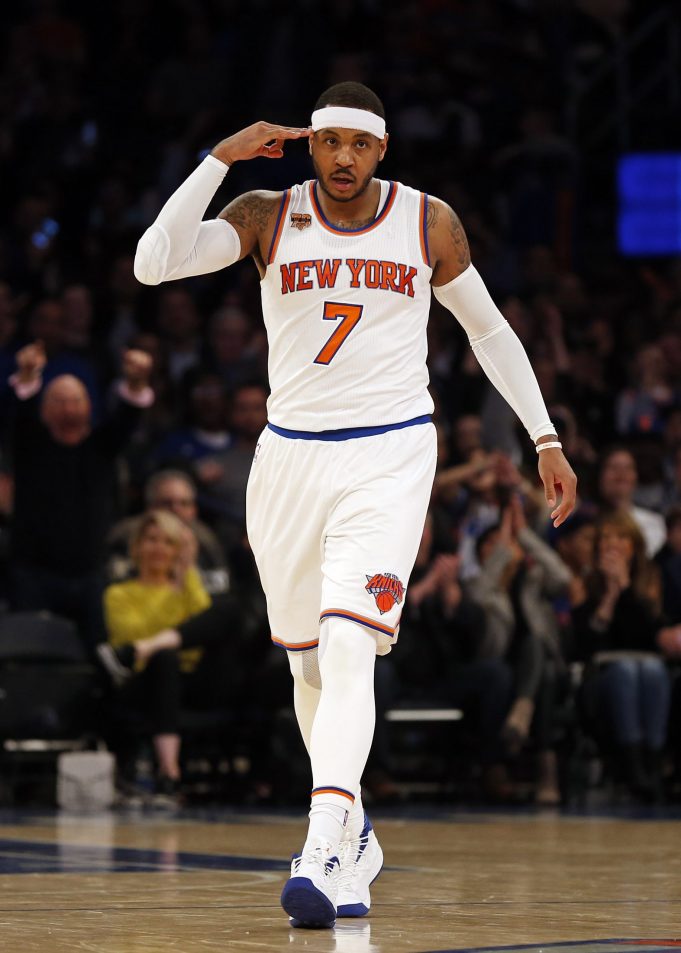 In a possible transaction, the Clippers could acquire Anthony, while not surrendering anyone on their current roster — being that Griffin may walk this summer. If the Clippers present that offer, though, the Knicks should avoid agreeing.
For starters, Griffin has been plagued by injury in years past. In the 2014-15 season, he missed 15 games, and then missed more than half the season the ensuing year. This year, Griffin was sidelined for 21 games, and then suffered a season-ending toe injury in game four of the Clippers first round matchup with the Utah Jazz.
Griffin's potential fit with the Knicks is another factor in them acquiring him.
Currently, the Knicks have a promising big man duo of Kristaps Porzingis and Willy Hernangomez. Obtaining Griffin would mean that one of the two would have to be benched or traded. Doing so would be foolish on the Knicks' part, as having the luxury of young talent is an asset they've been deprived of in recent years.
Despite his odd fit and injury history, there's no doubting Griffin's talent. For his career, he's shown an ability to play at a high level on the offensive end. Evidenced by averaging 21.5 points per game on 51.8 percent throughout the duration of his career, Griffin has been a high-octane scorer for the Clippers. However, given that they need to begin getting younger and injury free, Blake Griffin is someone who should be at the bottom of the "to be acquired" list.