While the New York Mets' future looks relatively bright, the players necessary for that possible success need to be re-signed — and soon.
I
t's the thing of every MLB general manager's dream — a homegrown, ace-filled rotation that's under team control for the foreseeable future.
The downside? Needing to sign back all those aces within a few years of one another.
The New York Mets and GM Sandy Alderson are still firmly handcuffed by the massive "Yankees and Alex Rodriguez-esque" contract given to David Wright in 2007– a deal due to pay the veteran $67 million over the next four seasons combined, including 2017.
All that dough for a corner infielder that has played in just 75 games combined since 2015, and was even recently transferred to the 60-day disabled list because of a shoulder impingement that caused him to miss a significant chunk of Spring Training.
Below Elite Sports NY takes a deeper look into the expanding financial and contractual issues that the Mets could face over the next few years.
All financial figures and related facts in this article are courtesy of Spotrac.com and BaseballReference.com.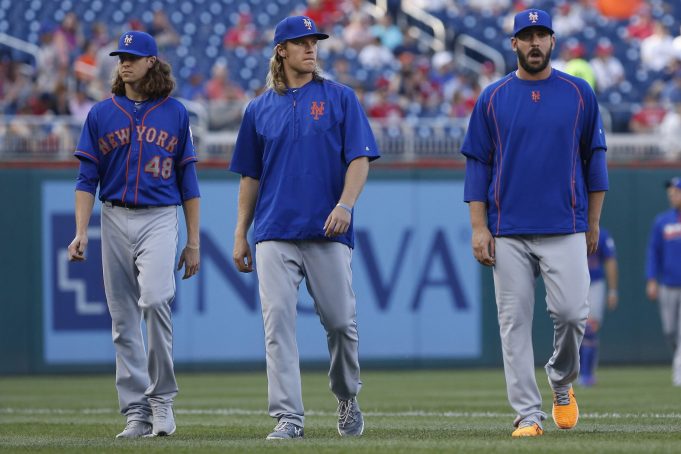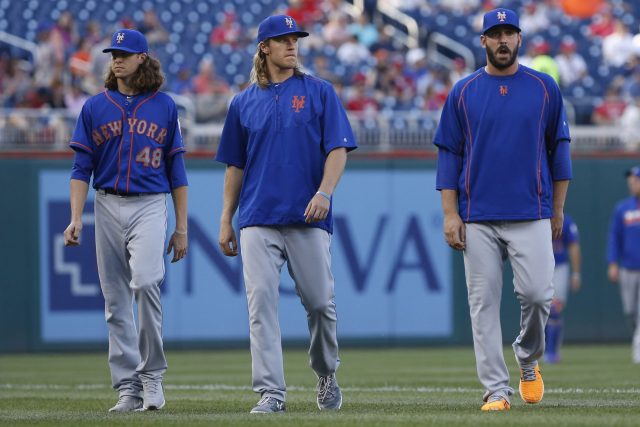 The Starting Staff
The startlingly powerful trio of Mets aces, including the likes of Noah Syndergaard, Jacob deGrom and Matt Harvey, have each finished in the top-10 of the National League Cy Young vote once since 2013. On top of that, all three of them were homegrown talents, borne out of the depths of the Mets' minor league system.
Syndergaard is under the longest team control of any of the above names, as the righty is going to enter his first of four arbitration years following this season. But when the time comes in 2022 for Thor to get paid, expect a Max Scherzer-like, seven-year, $210 million deal or more, especially if Syndergaard's career trajectory keeps pointing upward.
Harvey is nearing his free agency year of 2019, when the money he'll receive then very strictly depends how well his pitching abilities are intact at that point in time. If the Dark Knight picks back up the sub-3.00 ERA, nearly 200 strikeout a year performances of his past, Harvey too could receive a massive deal.
As that time approaches though, it's looking less and less likely that Alderson will dish out what the Harv-ster will need to stay in Queens.
The most likely deal to get done is for deGrom, as the long-haired ace is due to become a free agent in 2021 — the same year that Wright's contract will be completed, leaving the Mets plenty of money to pay up and hold on to one of their core stars.
Zack Wheeler and Steven Matz are in starkly different positions contractually — Wheeler is set to become a free agent in 2020, a year after Harvey; Matz is on pace to enter free agency in 2022, when he'll be 30-years-old.
Both pitchers have been moderately successful during their brief few seasons in the majors, although injuries have become a significant detractor for both their' careers.
Unfortunately for Wheeler, but fortunately for the Mets, a prolonged, two-year return from Tommy John surgery may prove to be a weakening factor in how much the righty could receive in a contract to remain in New York.
Matz' injuries haven't career-altering, while his numbers have been even better than Wheeler's, making it very feasible that the southpaw may require a sizable deal to stay near his hometown with the Mets.
Many Mets fans would likely be seen sobbing in the streets should any of their beloved rotational arms ditch the Big Apple and follow in the footsteps of say, Daniel Murphy.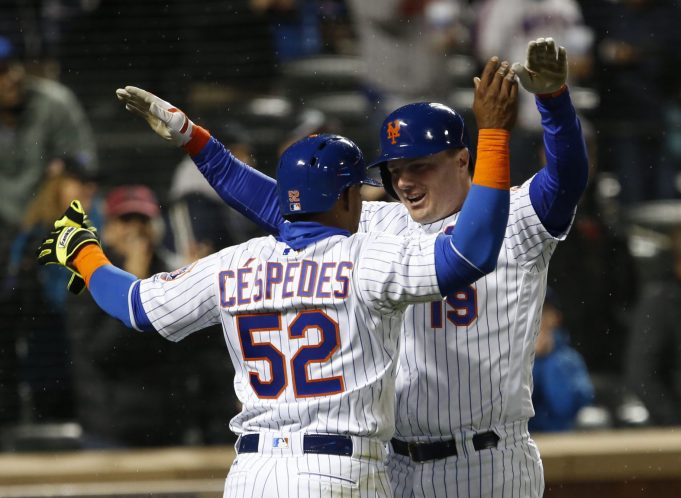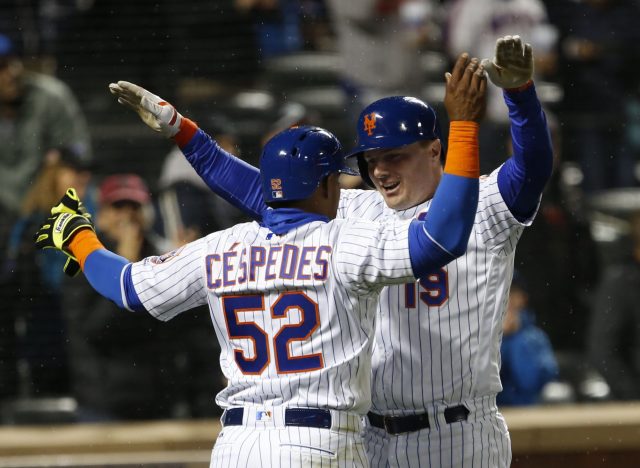 The Lineup
Alderson and the Mets have quite a few decisions to make following the 2017 regarding their starting lineup, as six starters could well be on their way out of Flushing come next year.
That list includes Neil Walker, Lucas Duda, Asdrubal Cabrera, Jose Reyes, Curtis Granderson and Jay Bruce.
Cabrera is the only member of that group that has a chance to stay on his current deal with the Mets in 2018 due to an $8.5 million team option available for the front office to pick up. But with ESPN's Keith Law's top prospect in the majors, SS Amed Rosario, nipping at his heels from Triple-A Las Vegas, it's unlikely that the veteran will be manning short for the Mets next year.
Duda should be sharing Cabrera's worry of the hands on the farm with MLB.com's 63rd ranked prospect in the majors, Dominic Smith, increasingly proving he belongs in Queens in the very near future. So while Duda has shown 30-homer pop recently, it likely won't be enough for Alderson to sign him back — at least not for a starting gig.
Grandy and Bruce are in extremely similar positions, as they both would occupy the left-handed, power-hitting corner outfielder role in free agency. Bruce, though, will be just 31 on Opening Day 2018, while Granderson will turn 37 next March.
So while there remains a distinct possibility that Bruce could be back with the Mets next season, it mostly hinges on his performance for the rest of 2017 as to whether Alderson will value the powerful lefty enough over one of the team's younger, cheaper and more controllable talents in Michael Conforto and Brandon Nimmo.
Walker signed a $17.2 million qualifying offer last fall, guaranteeing his Mets' return only for this season.  But like his colleagues listed above, Walker has infield prospect Gavin Cecchini waiting in Vegas to usurp him of his starting role in Queens.
Reyes has had a historically horrible opening to his 2017 stat-line, batting just .114 over 20 games. But contractually, he's in very good standing with the Mets, as the switch-hitter is making only $535,000 this season — an incredible bargain for a 15-year, former batting champion vet who has proven to be open and able to playing at short, third, second and in the outfield. It's likely that Alderson will retain Reyes for next season, even if for just a bench spot.
The moral of the story with the lineup is that Mets management has a lot of decisions to make of the "Rookie vs. Veteran" variety in 2018, as more positional prospects are licking their chops waiting to make their debuts in New York.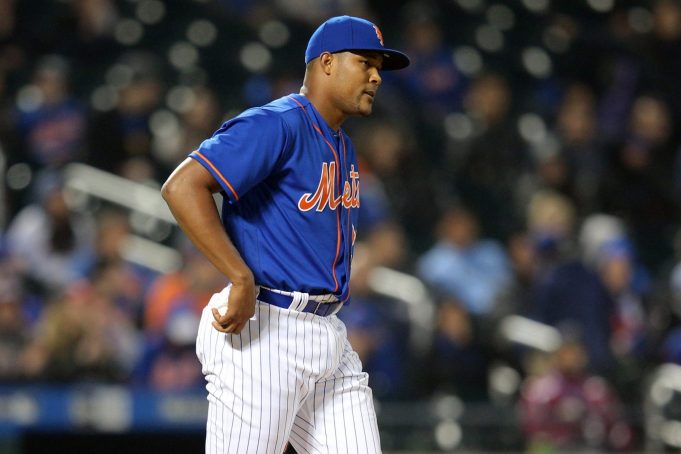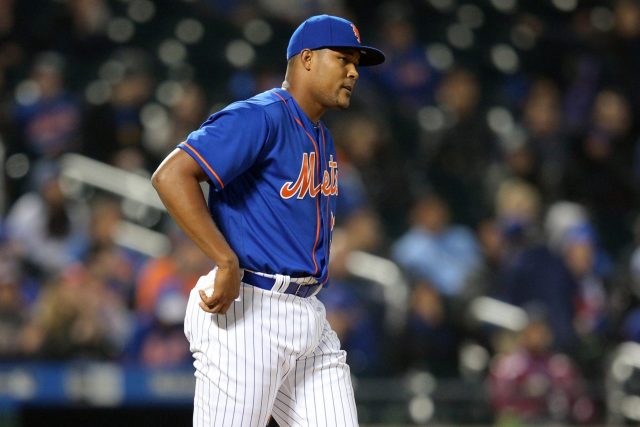 The Bullpen
Most major league 'pens have a high turnover rate year-to-year, as relievers are especially prone to inconsistency given the lengthy times they may never see the mound — and the Mets' bullpen is no different.
Closer Jeurys Familia will be arbitration-eligible for the final time prior to 2018, meaning the earliest he'll see free agency is 2019 — the same schedule Harvey is a part of. If Familia continues to be near the top of the MLB saves list until the above time, then expect him to require a Mark Melancon-type deal (four-year, $62 million) in order to remain a Met.
That's become the going rate for top-end closers in today's market, so Alderson would likely have to break his "rule" of not signing relievers longer than a year for Familia to return.
Set-up extraordinaire Addison Reed has shown a career revelation since joining the Mets, posting a 2.00 ERA and 0.92 WHIP over three seasons there, even converting four saves while Familia was suspended for 15 games to open 2017.
While the Mets are ecstatic about that turnaround now, Reed's pending free agency visit following the regular season is likely to garner him a Brett Cecil-type contract (four years, $30.5 million), putting him out of reach for Alderson if he's interested in signing any other homegrown relief arms over the next few seasons.
Besides the currently struggling Fernando Salas, whose deal in New York expires after 2017, the Mets have tremendous financial control over their other relievers for the foreseeable future.
Jerry Blevins is under contract through this season with a club option for 2018, Hansel Robles and Sean Gilmartin are under contract through 2021, Josh Smoker is under contract through 2022 and Josh Edgin is under contract through 2019.