Although the lineup has continued to show inconsistencies so far this year, the New York Mets have plenty of options to fix that issue.
A
fter a magical run to the 2015 World Series, most
New York Mets
fans believed that the future was now. The dream of bringing another championship trophy to Queens in 2016 was destroyed, as an injury plague struck the Mets entire roster.
Going into the 2017 season, it appeared as though the Mets were healthy and ready to go.
But, less than 20 games into the baseball year, "Panic Citi" is beginning to rumble. The Mets roster is hurt and not scoring, and manager Terry Collins continues to run out a head-scratching lineup, game after game.
The Mets' window to win a World Series is still open, but after the 2017 season, that chance gets a whole lot smaller. New York is set to have seven key pieces of the roster venture out into free agency this offseason, as Lucas Duda, Neil Walker, Jose Reyes, Curtis Granderson, Jay Bruce, Addison Reed and Fernando Salas are all out of team control come next season.
And one year later, the Mets will lose Matt Harvey, Asdrubal Cabrera, Jeurys Familia and Jerry Blevins to free agency.
It's clear that the Mets need to capitalize on having one of the best pitching rotations in team history within the next few seasons. After 2018, this Mets team as we know it currently will look vastly different.
For argument's sake, let's assume that Yoenis Cespedes, Duda, Wilmer Flores and Travis d'Arnaud all come back healthy within a week's time. All of their injuries are relatively minor, so this is a very real possibility.
This puts TC in a position to either propel the Mets to the playoffs, or to keep sending out a lineup that just isn't getting the job done.
Both Collins and general manager Sandy Alderson need to come together and figure out what their winning formula is for the 2017 Metropolitans.
For starters, the Mets need to keep the tradition alive of adding infielder Kelly Johnson. Johnson is a professional hitter, who can play three different infield positions adequately.
During his two stints in Queens, Johnson hit .260 with 14 home runs and 37 RBIs. While these numbers aren't anything too special, he proved he can provide the Mets with a clutch pinch-hit bat. Plus, his .260 batting average is much better than any option the Mets currently have in terms of depth.
Aside from being a legitimately professional major league hitter, Johnson also has also been known to be a great guy to have in the clubhouse. He was part of the 2015 Amazin' run, and the special August-September the Mets had last season. Only a few position players currently on the roster have had that experience, so adding KJ will give the clubhouse a key component.
There really isn't a valid reason to not at least give Johnson a shot, as it would be a very low-risk, high-reward move for the Mets.
Although this can be a very controversial debate for Mets fans, it's time to call up the future of this franchise in shortstop Amed Rosario.
With Reyes batting under .100, it's becoming necessary to shift Cabrera to third base, letting Rosario begin his reign as the best shortstop New York has ever seen — sorry, Jeter.
Rosario is the future of this franchise and should be here during the Mets' World Series window.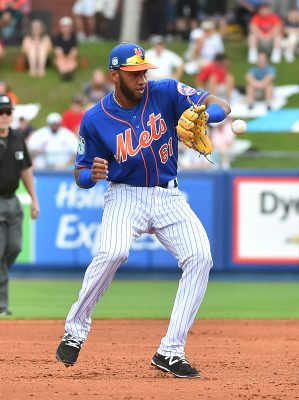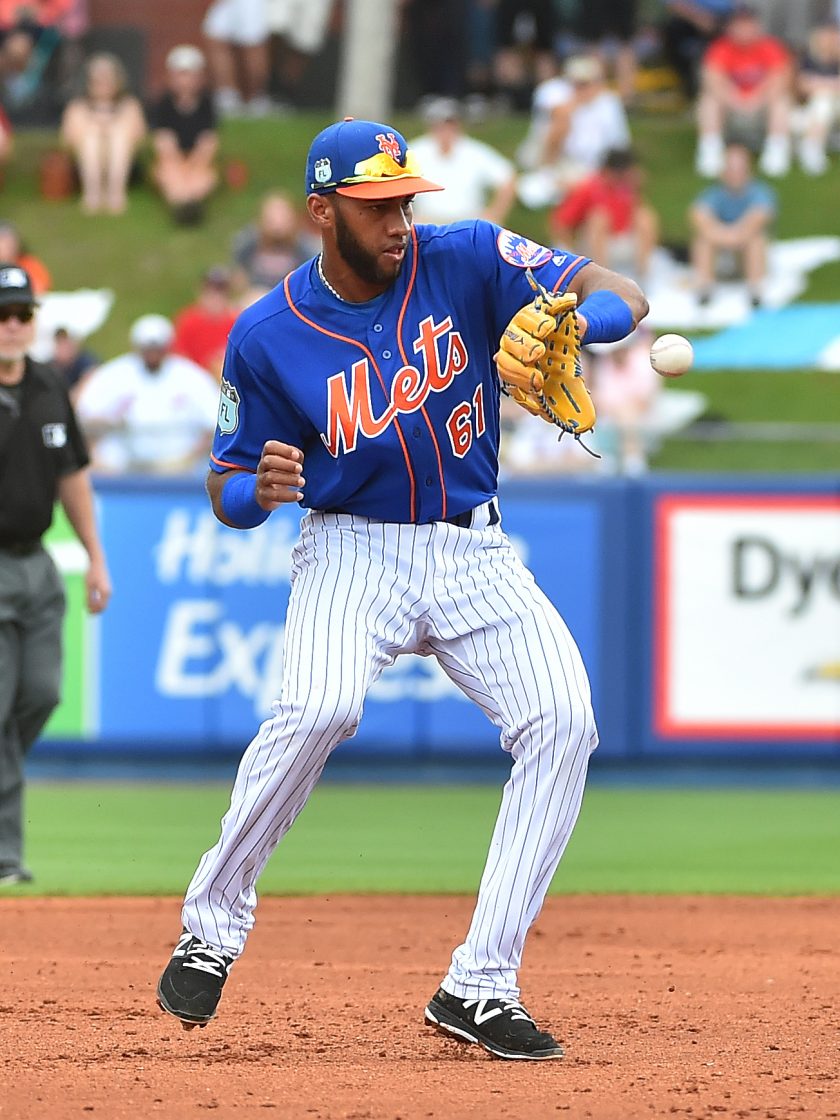 "The kid" has continuously dominated the minor leagues — in 56 games at Double-A, Rosario hit .330 with 21 extra base hits and 32 RBIs, while also stealing seven bags and walking 19 times.
Similarly, in 45 games at Double-A, fan favorite Michael Conforto hit .312 with 20 extra base hits and 26 RBIs —  although Conforto stole just one base and walked 23 times.
In his short stint at Triple-A thus far, Rosario is off to a roaring start. Just 67 at-bats in, he's hitting .403, with four extra base hits and a whopping .908 OPS.
Las Vegas also treated Conforto well last season, as the southpaw hit .422 with nine homers and 28 RBIs. Conforto's OPS was also off the charts, sitting at 1.209. These numbers followed after he became used to seeing MLB-caliber pitching, making Rosario's hot start that much more impressive.
These numbers are eerily similar, and Conforto had instant success and provided a huge impact for the Mets following his call-up. The same argument was made against calling him up to the majors back then, as many believed they should wait one more year. Conforto proved everybody who doubted him wrong, and there is no reason Rosario cannot, and will not, do the same.
While there was a tremendous amount of hype surrounding Conforto, that does not even begin to compare to the excitement surrounding Rosario. So much so that Keith Law of ESPN recently ranked Rosario the best prospect in all of baseball.
There really is no downside to bringing up Rosario fairly soon. The worst-case scenario — if he does not succeed right away — he will have gotten a great experience with a contending ball club, a taste of what it is like to play in New York and can go back to the minors and fix his game, much like Conforto did last season.
Rosario will likely be the shortstop and leadoff man of this team for a very, very long time. It's only a matter of time before Collins and Alderson let the kid shine.
Don't be surprised, be ready.
While many might fully support calling up Rosario, the same may not be able to be said the same about promoting first baseman Dominic Smith quite yet.
Smith is in line to be the Mets first basemen for years to come, but that should begin next season.
Unlike in Rosario's case, the Mets are getting production from the first base position. Once Duda comes back from injury, he will have a lot to play for, as this is Duda's final year on his Mets contract, and he is set to be a free agent this offseason.
Duda will do everything in his power to show teams he can stay healthy and be a power bat.
It makes little sense to call Smith up to be a bench player, as he is still in the development stage of his career and needs consistent at-bats.
What the Lineup Should Look Like
It sounds like a broken record now, but Conforto needs to be in this lineup, every single game.
If Alderson decides to not call up Rosario, here's how the Mets should be batting on a daily basis:
CF Michael Conforto
SS Asdrubal Cabrera
LF Yoenis Cespdes
RF Jay Bruce
2B Neil Walker
1B Lucas Duda
C Travis d'Arnuad
3B Wilmer Flores
Yet, if Rosario does get the call, things should look as follows:
SS Amed Rosario
3B Asdrubal Cabrera
CF Michael Conforto
LF Yoenis Cespedes
RF Jay Bruce
2B Neil Walker
1B Lucas Duda
C Travis d'Arnuad
The Mets should be in a win-now mode, so signing Johnson and calling up Rosario can only benefit this team.
It's your move TC.